I wanted to make something that takes minimal work for maximum impact. Stephanie recently posted a tutorial for a nautical necklace so I'm bringing you a complimentary nautical knot bracelet.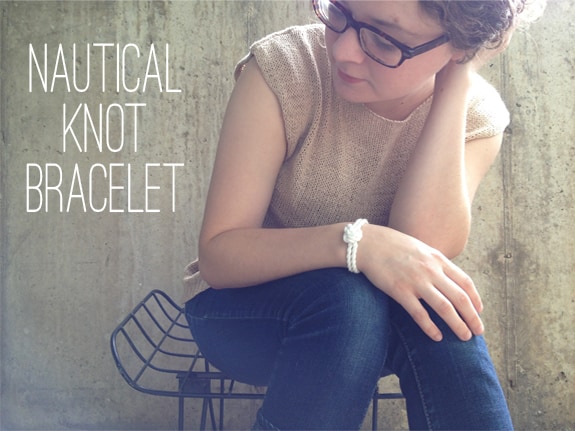 Read below for the steps to this easy knotted bracelet!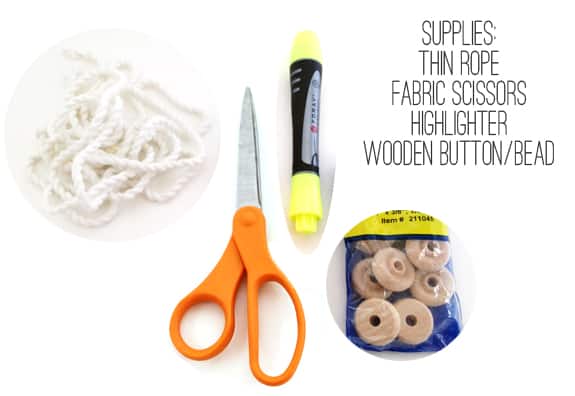 The supplies are super basic. I got this thin white rope from Hobby Lobby for .99 cents (on 50% ribbon day, of course). To find the correct amount of rope – I wrapped the rope around my wrist three times, left a little extra and cut.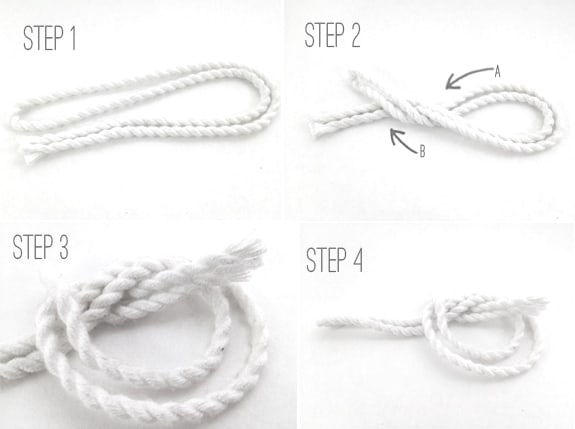 This appears more difficult than it actually is. It is very easy if you follow the steps exactly. Step 1: Fold your rope in half and then half again. Lay it down with the looped in to the outside, as shown in the photo. Step 2: Pull your looped end under the loose ends and back over the top, as shown. Step 3: Now pull your loose ends through the big loop you have created. Step 4: This should start to form your knot, tighten the knot wherever you want it (thinking about the placement of your end knot and the possibility of cutting loose ends).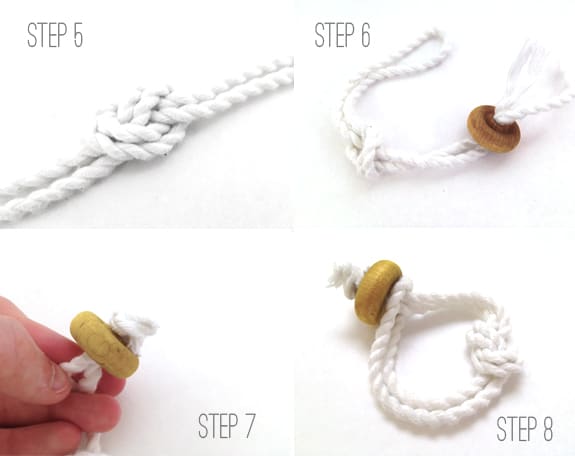 Step 5: Make sure you keep the knot flat, you should be pushing it down into shape. Step 6: Thread your bead through the loose ends. Step 7: Tie the loose ends into a knot, seal with hot glue (or any glue that will keep the ends from fraying). Step 8: Now you can secure your looped end over the big bead. Voila!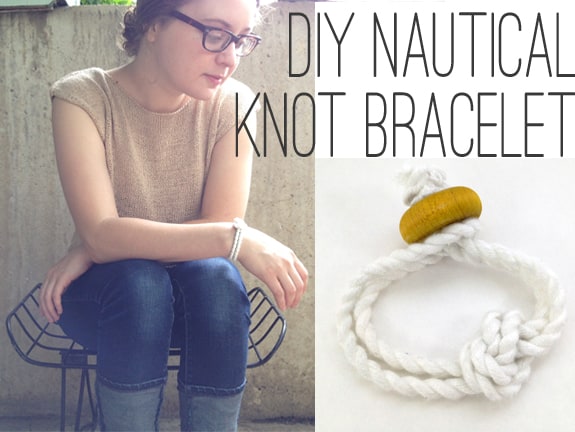 I wanted to add a little pop of neon but I wasn't really in the painting mood. So I took my wooden bead (actually a toy wheel) and colored it with a highlighter. I tried the highlighter on a thinner piece of wood and it looked very neon. On this thick bead, the highlighter soaked in and gave it a pickled paint look. I happen to love that look, so yay! I would love to see it if you try this technique…
And that's it! Enjoy your nautical bracelet and pair it with Stephanie's necklace for a fun summer look.