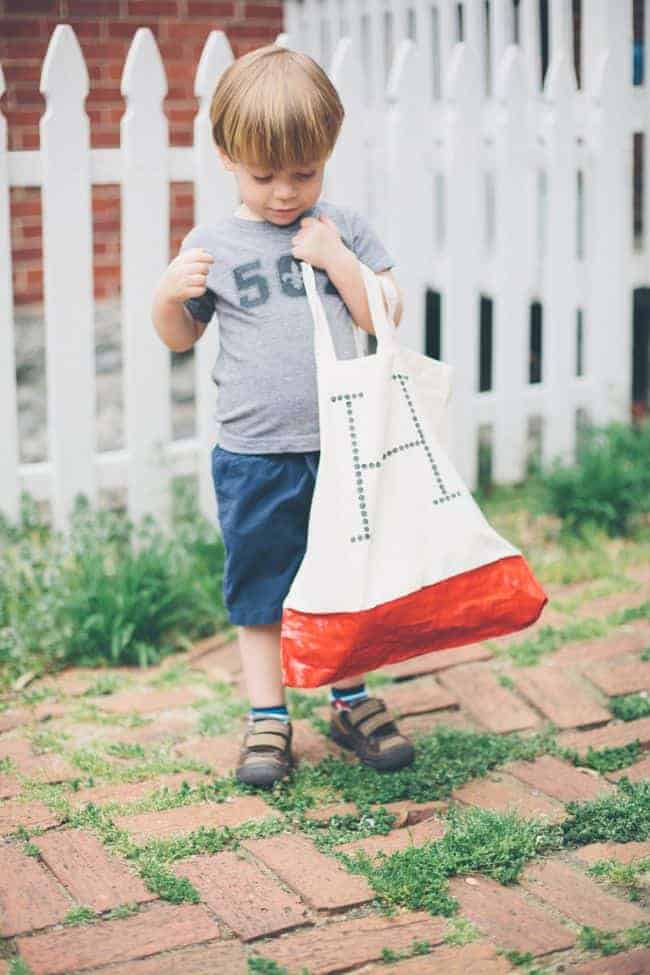 The H-Man got a new school bag. After seeing these West Elm totes I thought the dotted initial would be perfect since he points out every "H" he sees and says "H for Henry!" One letter down, 25 to go….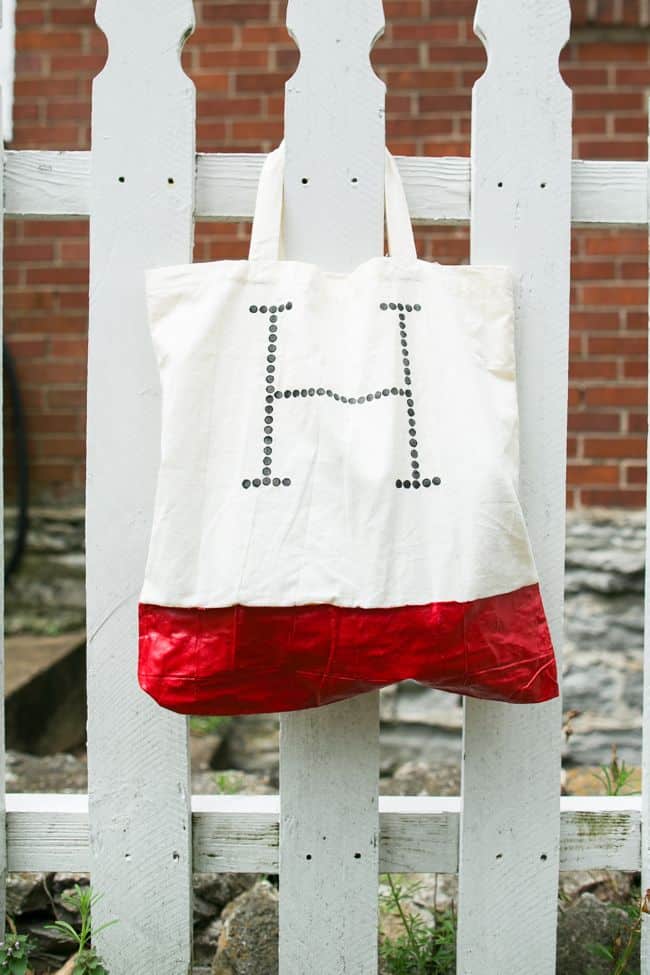 And after waiting – no joke – two months for my Plasti Dip to arrive, I finally got to try it out. And it was worth the wait because this stuff is the coolest. Yes, it stinks like crazy so don't use it indoors. But it makes a thick, rubber-like coating on the bottom of the tote bag so it can stand up to more wear and tear.
It is the cutest thing to watch Henry carry his little bag. Now he is ready for all kinds of adventures!

To make your own West Elm inspired totes, you will need:
A plain tote bag. Hobby Lobby has a cheap one that I love because the handles are longer. However it is pretty thin so it might not last as long.
Fabric paint.
Pencil with eraser.
Plasti Dip, metal can and disposable paint brush.
Tape and ruler.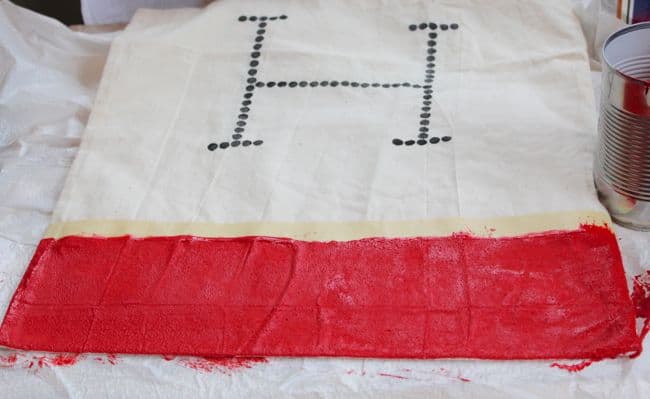 First, draw the initial lightly on the tote with a pencil. You could also draw the letter on paper and slide it inside the bag if it's thin enough to see through. Dip the pencil eraser into the paint and outline the letter with dots. Make sure to put something inside the bag so the paint doesn't seep through.
When the paint is dry, tape off the bottom of your tote. Mix the color of Plasti Dip you want to use in a metal can. (Note: don't use a plastic container.) Then paint the bottom of the tote. Let it dry about 30 minutes and add another coat. Keep adding coats of paint until you have the thickness you want. Three or 4 coats is probably good.
And remember these 26 ways to jazz up a tote bag? It got me all inspired, and I couldn't resist adding some color to my new tote.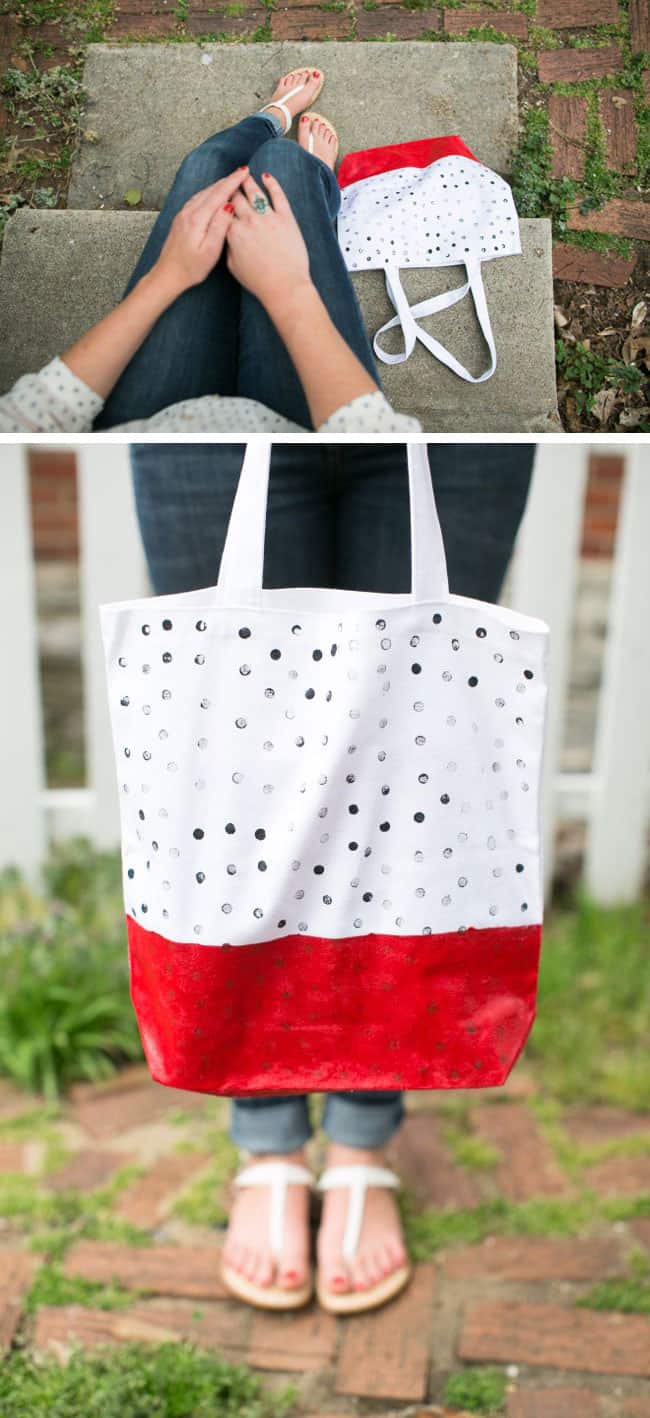 Nothing says summer like a new tote bag. Perfect for end-of-school picnics and afternoons at the park.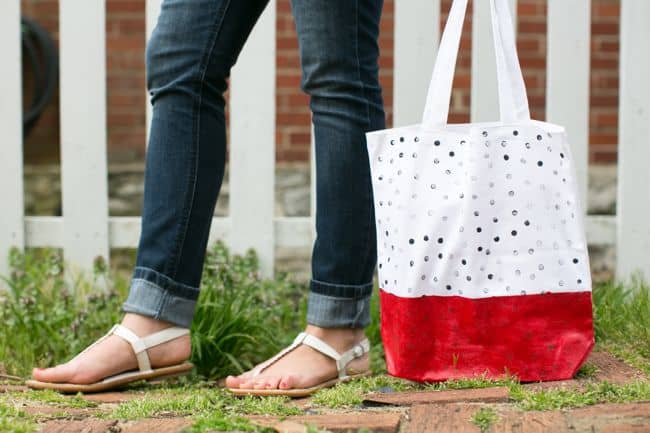 What's your favorite thing to carry in the summer? Let me know if you've decorated any tote bags!