Essential oils are truly amazing. They make your house smell good with just a few drops. But did you know that essential oils can also be used to disinfect your home?
Many people still use cleaning and disinfecting products they find in shops, but these substances are full of harmful chemicals. For this reason, many are switching to less toxic cleaning solutions for their house, and essential oils can help in this regard.
But which oils are the best for disinfecting? If you want to change your cleaning and disinfecting routine, here are the oils with the best properties that can keep your house fresh.
Best Disinfecting Essential Oils
Lemon Oil
Lemon is a popular ingredient often used in home cleaning routines. For this reason, you may not be surprised to see lemon oil on this list.
Lemon has disinfectant, anti-fungal, antiseptic, and antibacterial properties, making it a valuable aid during the cleaning and disinfecting process. Moreover, it has a very pleasant smell. So, adding a few drops of lemon essential oil to your homemade disinfectant will leave a fresh scent in your house.
This oil is made using cold-pressed lemon peels. The essential oil will help fight grease while getting rid of bacteria, and it can even remove sticky marks from labels or price tags.
Clove Oil
Cloves are not only used to add flavor to your favorite foods – clove essential oil is also great for cleaning and disinfecting your house.
This is because cloves are extremely powerful allies. Clove oil has been proven to have antioxidant, insecticidal, antifungal, and antibacterial properties. This means that Pseudomonas aeruginosa, Staphylococcus aureus, and Salmonella Typhi have no chance against clove essential oil.
Tea Tree Oil
Tea tree essential oil can be a key ingredient in your homemade disinfectants. This is because it is renowned for its antimicrobial and antiviral properties. For many centuries, tea tree oil has been used as a disinfectant as it's effective in killing various viruses, bacteria, and fungi.
Added to your disinfectant, the essential oil can help eliminate unpleasant smells, but it can also work against mold or mildew. Furthermore, it can get rid of germs and bacteria on various surfaces.
Wild Orange Oil
Wild orange has proven its antimicrobial and antioxidant properties in different studies. When your house is tainted by grease, this essential oil can help get rid of it and make your house look clean once again. Not only that but it can also disinfect surfaces.
What makes wild orange oil different from sweet orange oil is that the former is extracted from different types of oranges grown in the wild. Thus, its cleaning and disinfecting properties are more powerful. Meanwhile, sweet orange oil is made using regular oranges. The two oils also have different scents, with sweet orange oil having a milder scent, while wild orange oil has a tart and tangy smell.
Lavender Oil
Lavender is popular mainly due to its calming scent, but it can also work amazingly as a disinfectant when it's in essential oil form. It can get rid of bacteria, therefore a few drops in your homemade disinfectant will do wonders.
Peppermint Oil
Did you know that peppermint essential oil is antifungal and antibacterial? According to studies, peppermint essential oil can have good antibacterial effects against Gram-negative and Gram-positive bacteria. Besides, it leaves a nice scent behind, making your house smell clean and fresh.
Eucalyptus Oil
Eucalyptus essential oil is also a must-have in your house if you want your rooms to smell good. Moreover, eucalyptus oil is antimicrobial, and it can cleanse and purify the surfaces and air in your home.
Thyme Oil
Thyme oil is another useful ingredient, as it has anti-fungal, antiviral, and antimicrobial properties. Thus, it can be safely added to homemade disinfectants.
Oregano Oil
Similarly, adding oregano essential oil can also provide your homemade cleaning substances with antifungal and antiviral properties.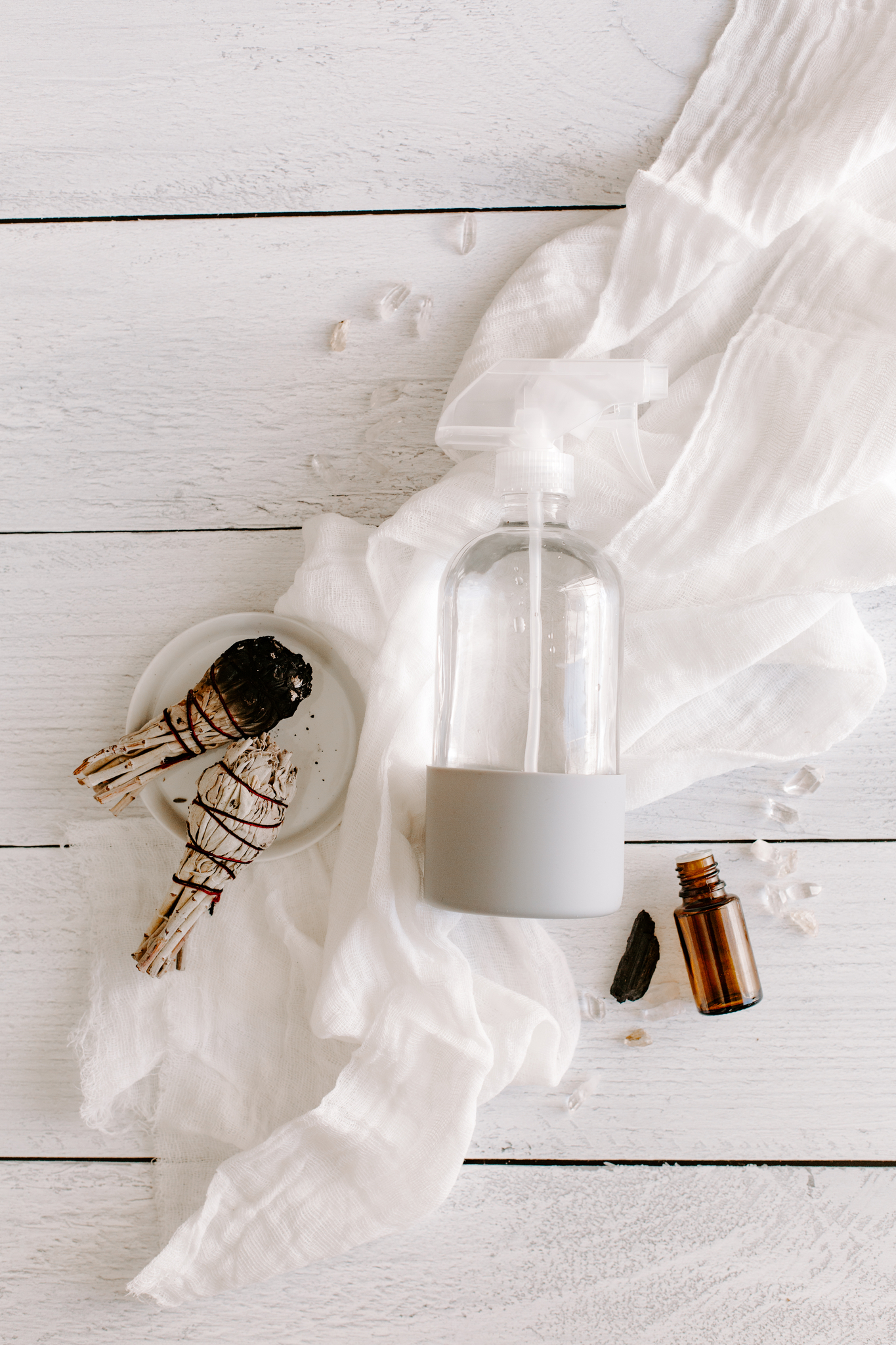 Ways to Use Essential Oils for Disinfecting
One of the best ways to use essential oils for disinfecting is by adding them to homemade cleaners. You can mix some oil and vinegar, then add some essential oil drops. Put this mixture into a spray bottle and spray it on surfaces, then gently rub it with a clean cloth to disinfect the areas.
Once diluted, essential oils can be used directly on the problematic surface. Don't add undiluted essential oils on any surface because they can damage it.
Moreover, you can diffuse essential oil into the air by using an oil diffuser. This will purify the air in your home and keep germs away.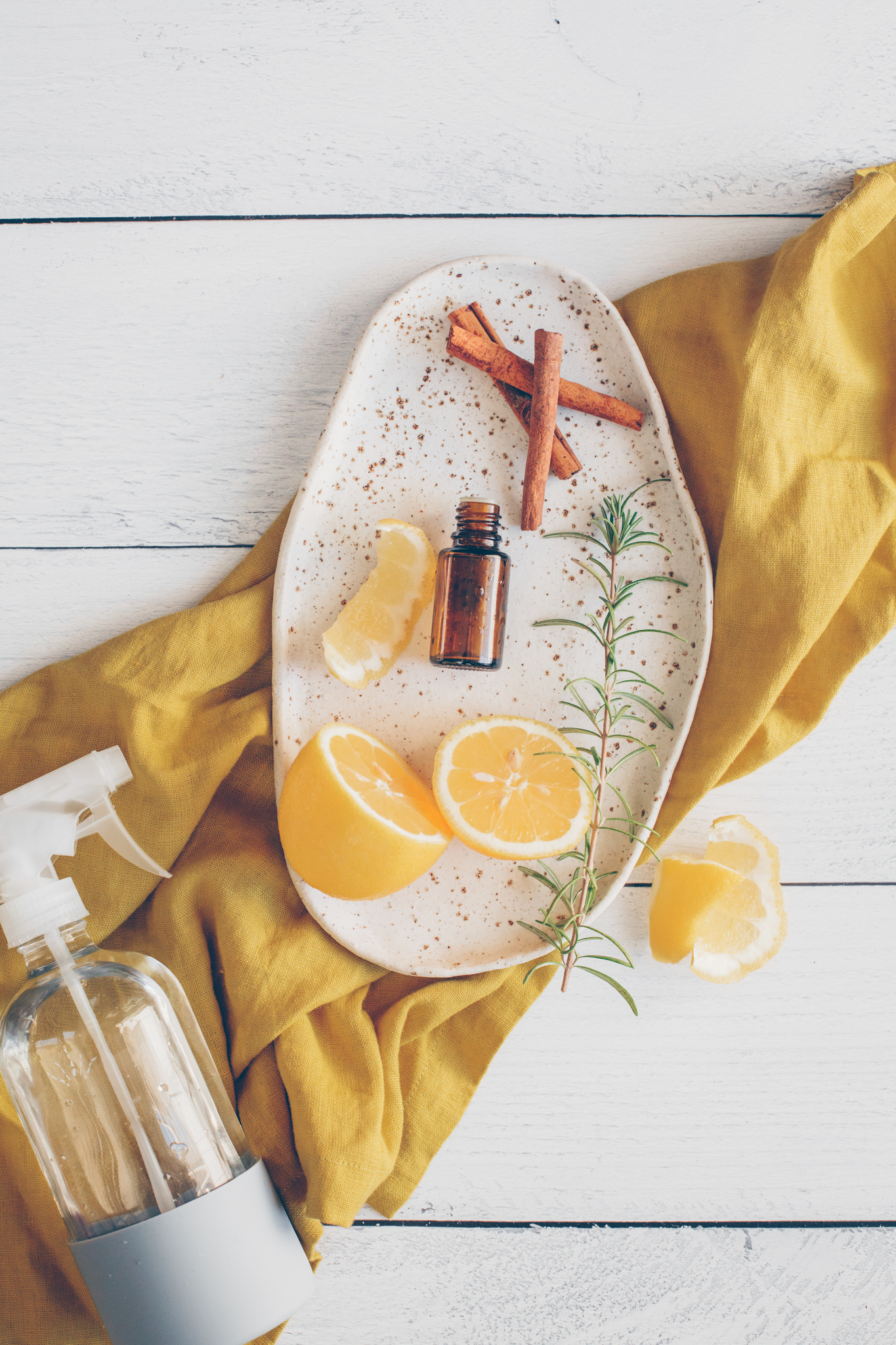 Cautions for Using Disinfecting Essential Oils
If you want to use essential oils for disinfecting, there are a few things to keep in mind first.
To begin with, you should store the substance in glass containers, as some pure essential oils can dissolve plastic over time. In turn, this makes the oil less effective.
Furthermore, essential oils should always be diluted before use. Without dilution, essential oils can lead to skin rashes or allergic reactions.
Also, keep the oil's purity in mind before adding several drops to your homemade disinfectant. The label should tell you everything you need to know about the composition and purity of the product. Fewer drops are required with high-purity essential oils.
Recipes for Cleaning and Disinfecting with Essential Oils
Here are some recipes you can try if you want to make a DIY disinfectant:
Kitchen Sink Scrub with Essential Oils
Ingredients
2-3 drops of lemon essential oil

1 cup baking soda

1 teaspoon nutmeg

2 tablespoons cinnamon
Instructions
Take a bowl to add the baking soda and the essential oil.

Add the nutmeg and cinnamon.

Stir properly until all lumps are removed.

Keep it in a shaker container with a sprinkler top.

Sprinkle some of this on the kitchen sink to clean it thoroughly.
All-Purpose House Cleaner
Ingredients
1 ¾ cups water

¼ cup white vinegar

15 drops of lavender essential oil

15 drops of lemon essential oil
Instructions
Add all ingredients to a spray bottle.

Shake the mixture to combine all ingredients.

Spray it on various surfaces and wipe it with a clean cloth.
Floor Cleaner with Essential Oils
Ingredients
¼ cup of baking soda

Half a cup of white vinegar

1 gallon of hot water

5-10 drops of peppermint essential oil
Instructions
Mix all ingredients in a spray bottle or a bucket.

Spray the mixture on the floor and mop, or simply mop the floors with the solution added to the bucket.
Hand Sanitizer
Ingredients
1 tablespoon aloe vera gel

1-2 cups of water

20 drops of tea tree oil
Instructions
Mix all the ingredients.

Add them to a small spray bottle and use the solution whenever you feel the need to disinfect your hands.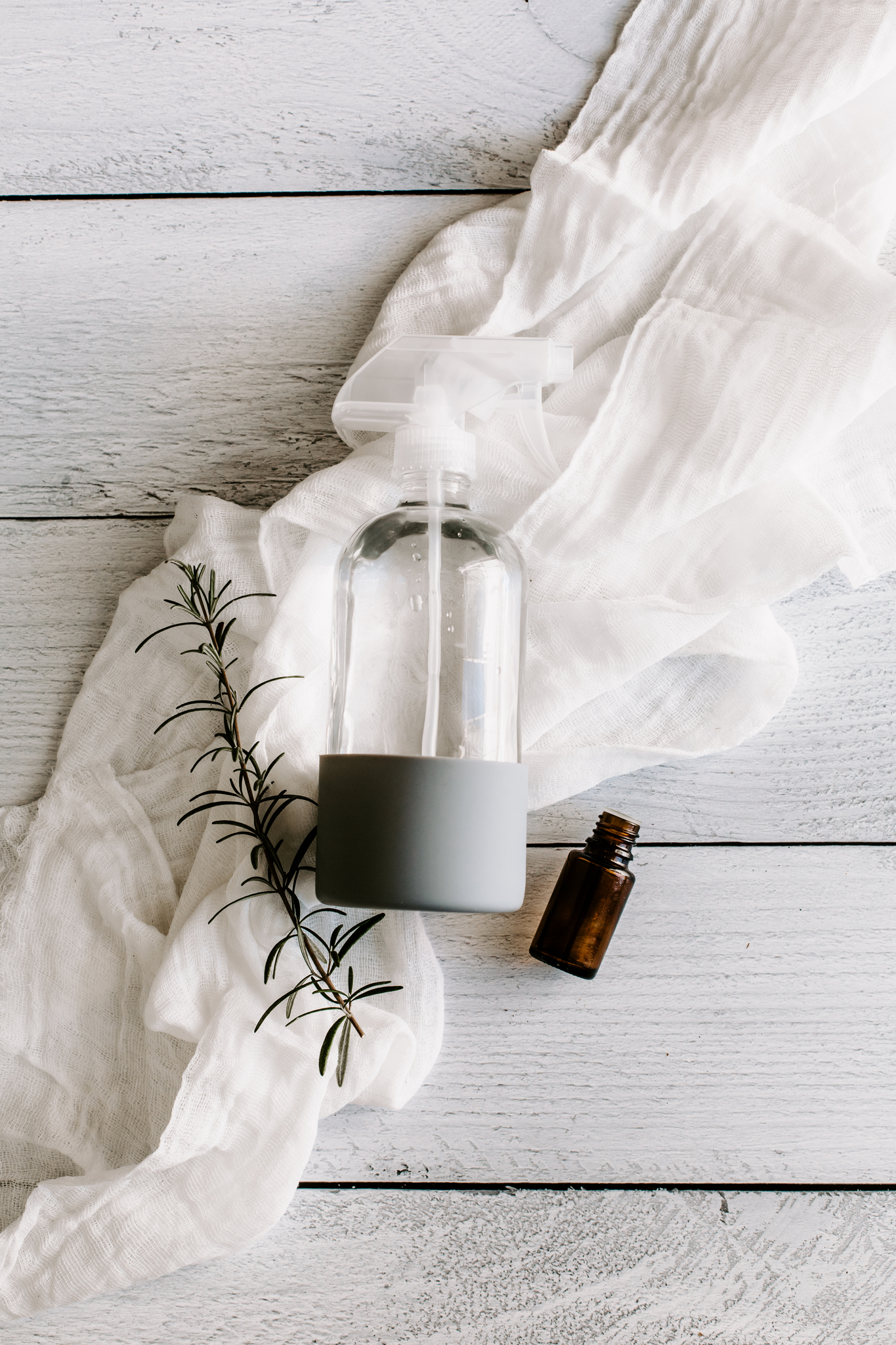 FAQs
Which essential oil is the most antibacterial?
The most antibacterial essential oils are oregano, eucalyptus, peppermint, thyme, tea tree, and cinnamon oils.
Can you use essential oils as disinfectants?
Essential oils can be used as disinfectants when diluted and mixed with the right ingredients. Many essential oils have antiviral, antibacterial, and anti-fungal properties.
Can lemon essential oil disinfect the air?
Due to its antibacterial and antiviral properties, lemon oil can help disinfect the air in your home. It can also get rid of unpleasant odors.
Final Thoughts
Essential oils can be very effective during your cleaning and disinfecting routines. So, don't hesitate to add them to your homemade disinfectants for the best results. Let us know if you've used any of the recipes above.
0