While there are a handful of essential oils I'd recommend everyone have for their home (I'm looking at you tea tree, lavender, peppermint, eucalyptus), lemon oil is one of the most versatile. This bright, clean citrus oil is great for elevating your mood via a sunny diffuser blend, cleaning surfaces in the kitchen, fighting mildew in the shower, and freshening up sheets and laundry among a myriad of other uses.
Cleaning with Lemon Essential Oil

Wondering how you might begin to put your best citrus essential oil to work? Combined with a few simple ingredients—think salt, baking soda, and liquid Castile soap—you can render your home spotless without the toxic chemicals found in store-bought cleaners. Here's a list of easy and effective ways to start using lemon oil around the house.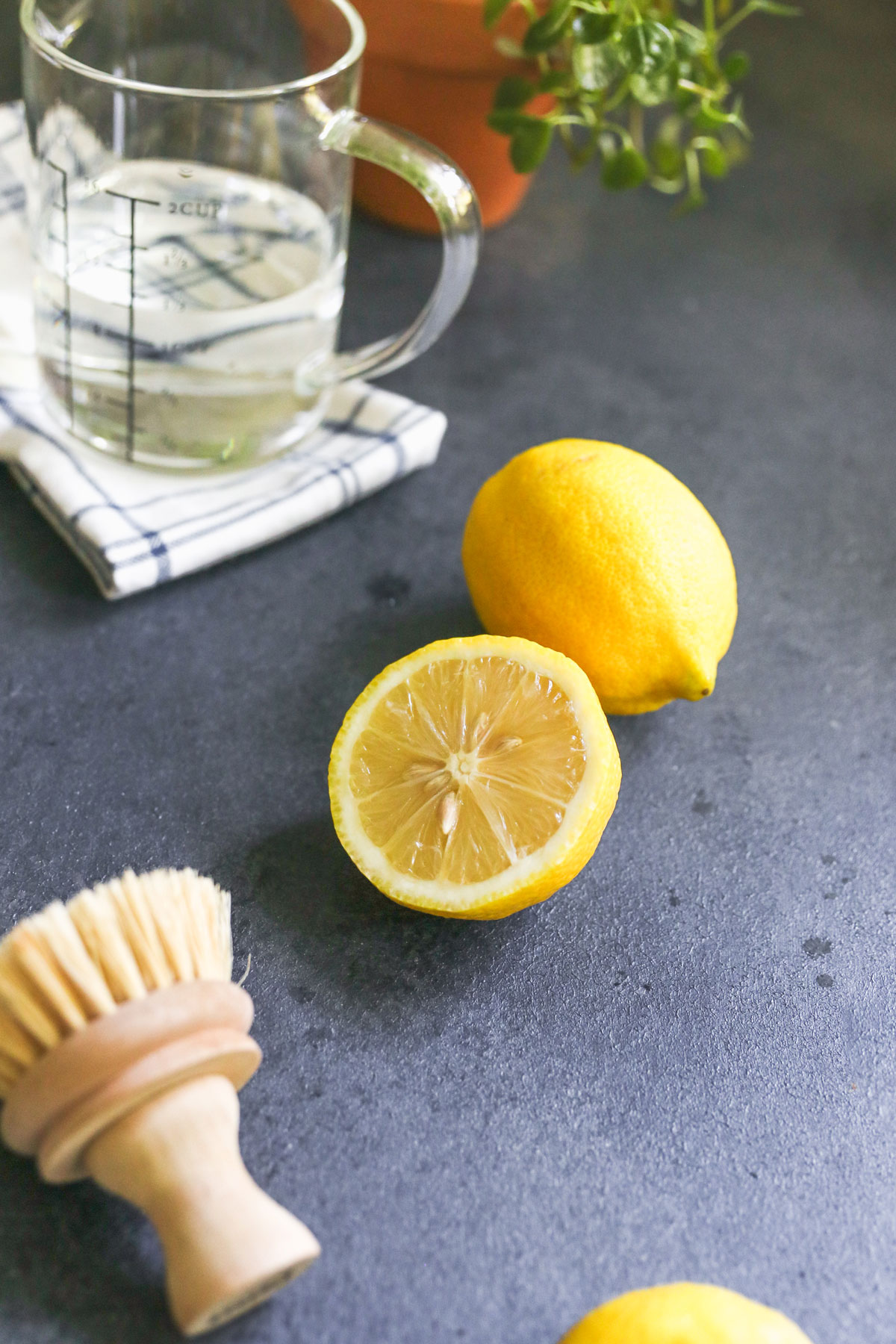 Using lemon oil in the kitchen
Naturally antibacterial and antiseptic, lemon essential oil is especially awesome in the kitchen where it can degrease stubborn food stuck to dishes as well as freshen the air.
1. Citrus cutting board scrub
1/4 cup soap flakes
1/2 cup coarse salt
1/2 cup baking soda
10 drops lemon essential oil
12-ounce jar
Combine the soap flakes, salt and baking soda in a mixing bowl. Add the lemon essential oil and stir, then transfer to a jar.
To use, sprinkle on cutting boards—or on dirty pots and pans—and scrub with a wet cloth or sponge. For tough jobs, apply the scrub withe the cut side of a lemon half—it'll disinfect and kill odors too.
2. Simple fridge deodorizer
20 drops lemon essential oil
16-ounce box of baking soda
Stir the lemon essential oil into your box of baking soda. Place the open box in the back of your fridge to absorb odors and make it smell fresh and clean.
To give it a burst of freshness, periodically stir to release the scent from the essential oils and add more drops of oil if the scent starts to dissipate. Replace with fresh baking soda and essential oils every 3-4 months.
3. Microwave cleaner
A lemon steam has to be the easiest way to prep your microwave for cleaning.
1 cup water

5 drops lemon essential oil
1 lemon, halved
Pour the water into a microwave-safe glass bowl then add the lemon halves and essential oil. Heat on high for 3 minutes, and let the hot, lemony steam coat the inside of the microwave.

Turn off the heat and leave it to sit for a few minutes with the door closed. When you open it, be careful when removing the container (it will be very hot!), and simply wipe down the interior of the microwave with a damp cloth to remove food remnants and other stains.
4. Granite cleaner
What if your kitchen top surface is a more finicky granite? Try this all natural, make it yourself granite cleaner with lemon oil—and worry not, while lemon isn't good for the granite sealant, lemon oil is safe. This recipe will kill germs, cut through grease, dry quickly, and buff up to a nice shine.
5. Garbage can deodorizer
Even if your garbage can isn't kicking up the offensive, at the very least, it's probably not the best smelling place in the house. Whether we're talking about the kitchen catch-all, or the smaller bins tucked into powder rooms, offices, or bedrooms, try adding a few drops of lemon oil onto a cotton makeup pad or cotton ball, and popping it into the bottom of the container. While you may need to freshen it up every few days, your nose will thank you.
6. Air freshener
Rather than burning scented candles around the house to brighten things up, try running an essential oil diffuser with a combination of fresh citrus and a dash of cool mint. This is a perfect blend to run in the kitchen after a particularly odorous cooking session, or when scents are just lingering more than you'd like.
Swap out the four drops bergamot/sweet orange for eucalyptus, and it could work well in the bathroom too. To 200mL of water, add:
5 drops lemon oil

2 drops bergamot oil

2 drops sweet orange or grapefruit oil

1 drop peppermint oil
Other kitchen ideas:
—Apply a few drops of lemon essential oil directly to counter stains and wipe away. This comes in super handy when cooking with turmeric! (Test in an inconspicuous spot if you're worried about your counter surface. I use on my quartz counters all the time.)
—Add few drops of lemon to the dishwasher every time you run it to cut grease. Or add lemon to liquid dishwasher detergent.
—Put several drops down both sink drains after you finish doing the dishes. You'll erase food smells and degrease garbage disposal blades.
—I also like to use lemon oil cleaners for scrubbing down fridge shelves and cleaning cupboard doors as well, as it leaves behind a food-friendly scent in your kitchen that won't fight with anything you're cooking up. Plus, the lemon helps to curb the smell of the vinegar in homemade all-purpose sprays.
Using lemon oil in the laundry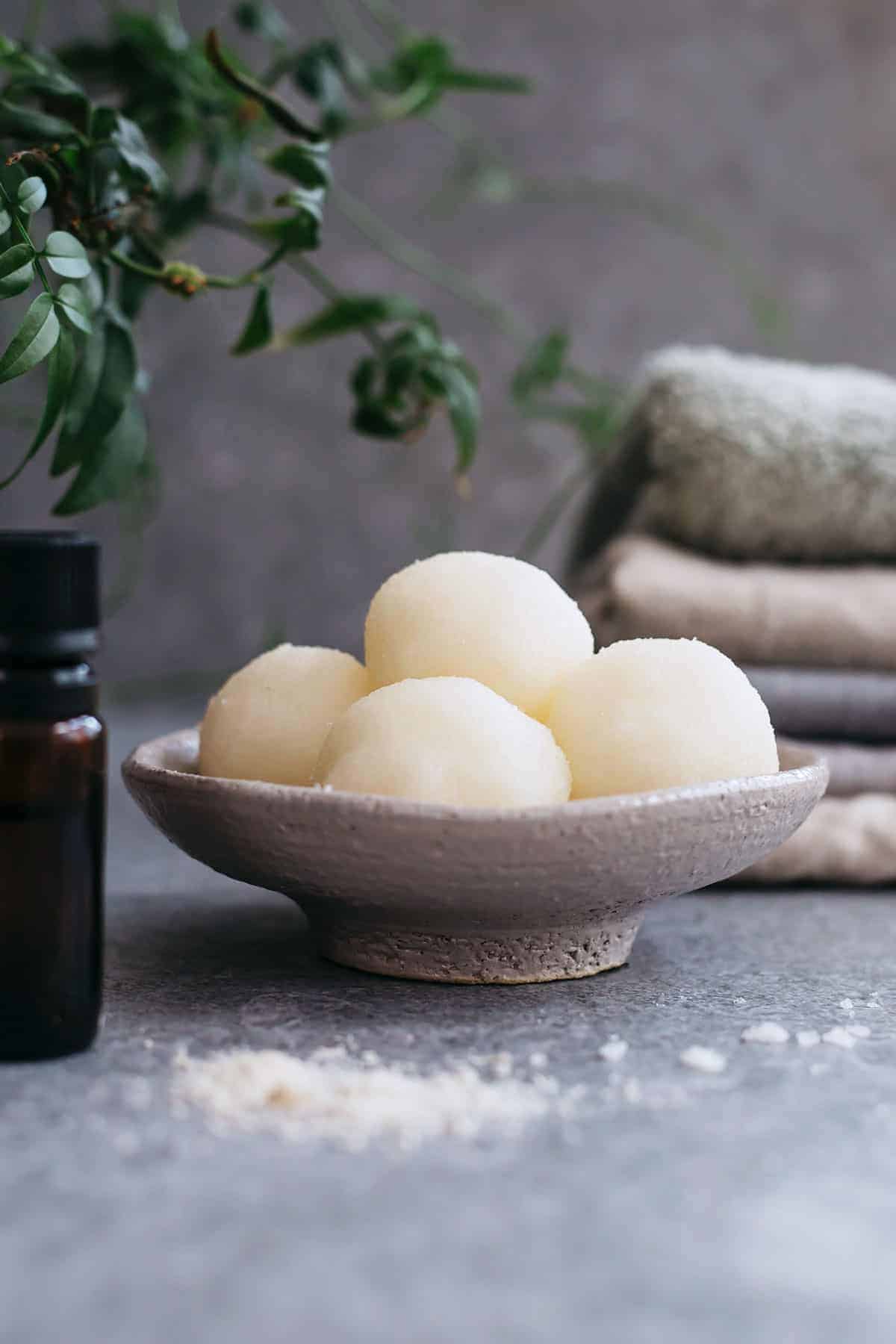 7. Linen spray
Dream of sliding into clean sheets that smell fresh and summery? If you don't have a clothesline for that unmistakable scent of sheets dried in the sunshine (or just don't have the time!), this linen spray is a perfect refresher for your bed.
In the winter months, you may want to stick with just the lavender used in the recipe (or add a drop or two of something soft like ylang ylang), but in the summery months, a time of wide open windows and curtains in the breeze, I think a lemon floral is perfect. Instead of the full 40 drops of lavender used here, try 30 lavender and 10 lemon.
I recommend spraying the top sheet/comforter in the morning, rather than right before bed so that you get a nice suggestion of a scent by bedtime, rather than the full brightness of a fresh spray. Remember, citrus is energizing, so don't add too much or you may disrupt your zzzs.
8. Laundry detergent
There are a few ways to incorporate essential oils into your laundry regimen, but one of the coolest has to be in making your own laundry bombs. This recipe uses all-natural, plant-based soap, Epsom salts, laundry soap, vinegar, and hydrogen peroxide.
In addition to this recipe, add in 10 drops of lemon oil, and 5 of another citrus oil of your choice such as grapefruit, bergamot, lime, or sweet orange. Geranium would smell amazing with lemon!
Other laundry ideas:
—Add a few drops of lemon essential oil to vinegar for a simple fabric softener.
—Apply a few drops of lemon essential oil to wool dryer balls for summer-y scented clothes.
Using lemon oil in the bathroom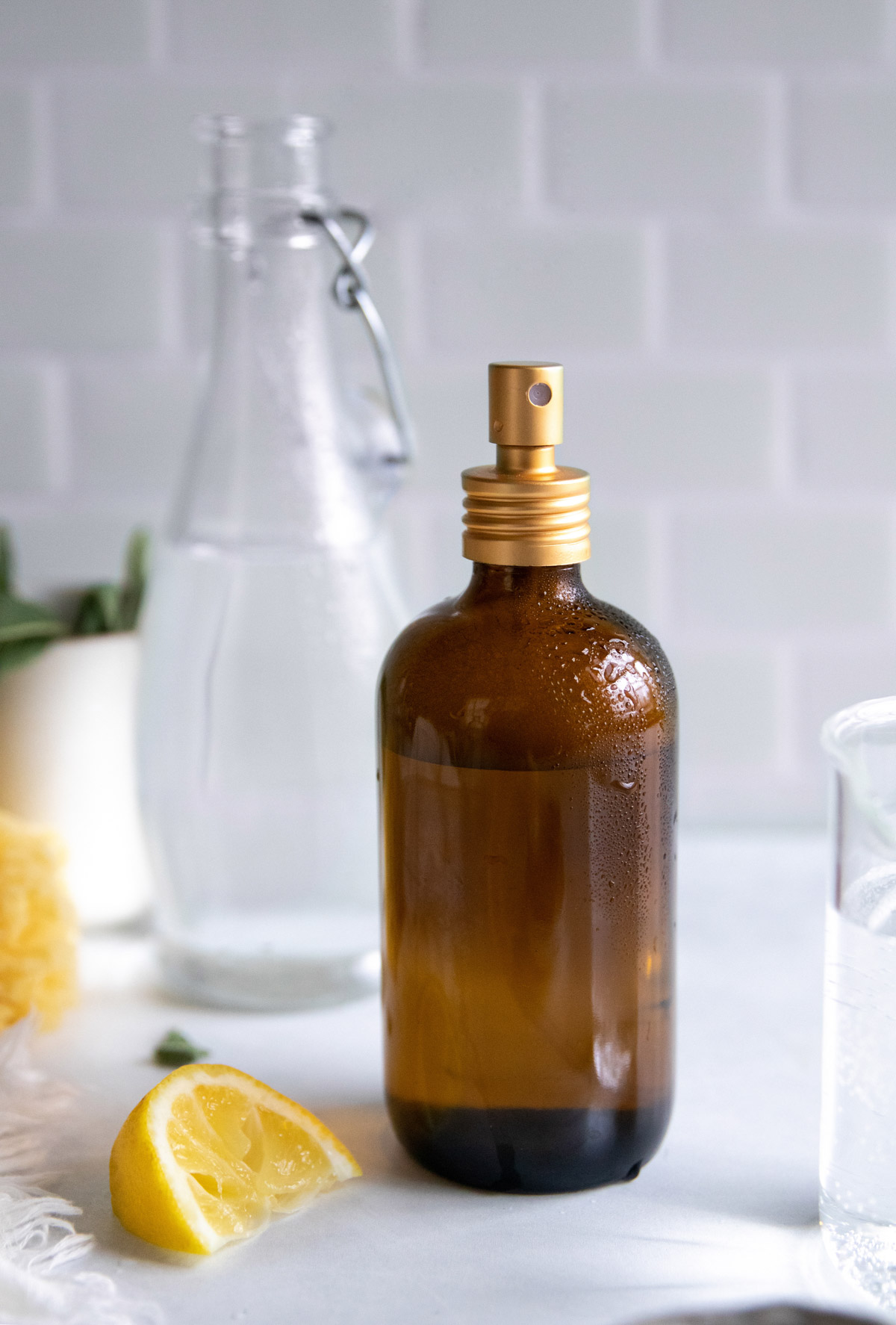 9. Bathroom shower spray
Lemon oil is also a great choice when making your own shower cleaner. This spray will kill germs, help to eliminate and fight mildew, and combat tough soap scum buildup. Paired up with sage oil, it not only works, it smells great too!
10. Surface cleaner
One of the best uses of lemon oil is in a natural, homemade surface cleaner, and when it's paired up with tea tree, it makes for a great antibacterial and antiseptic spray. An all-purpose cleaner can be used on kitchen or bathroom countertops, and is a breeze to make.
1/2 cup infused-vinegar
1/2 teaspoon liquid soap/detergent (not Castile soap)
1 cup warm, filtered water
Spray bottle
Other bathroom ideas:
—Add a few drops of lemon essential oil to a tub scrub to remove oily residue and leave behind a fresh scent.
—The energizing and naturally antibacterial scent of lemon is great for hand washing. Add 10 drops to your homemade foaming hand soap.
—Lemon is a great addition to homemade mirror cleaners to cut grease without leaving streaks.
Using lemon oil in the living room & beyond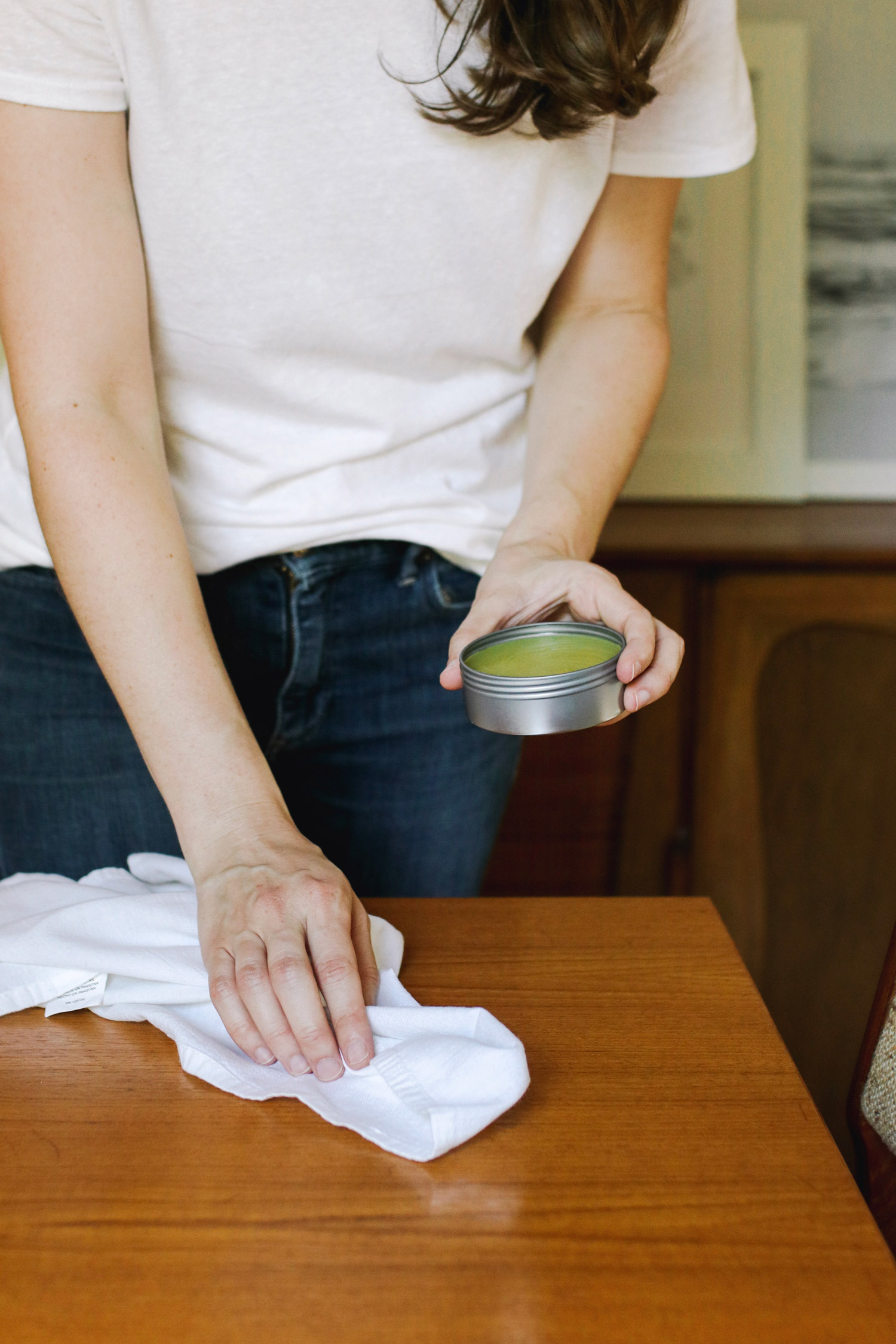 11. Wood polish
Gone are the days of needing to spray lemon furniture polish over everything once a week to keep things shining and dust-free like I remember my grandmothers doing. Making your own wood polish is easy, natural, and smells just as good…okay, better. Buff up your dull armchairs, or use it to keep table surfaces looking as good as new!
12. Rug freshening power
As an owner of both a large dog and a shag rug, I know the importance of rug refreshers. I used to sprinkle down baking soda and leave it for the afternoon before vacuuming it up, but I now much prefer to use essential oils in the mix. (Keep in mind that pets can be sensitive to essential oils, so let the room air out after using before allowing them to traipse back in!)
This rug deodorizer recipe combines baking soda, borax, lemon essential oils, and lemon to create a carpet powder that will make even the most stale rug smell like a citrus grove.
10 drops lemon essential oil
1 teaspoon olive or coconut oil
Combine the oils and apply liberally to sticker residue or other stuck on gunk. Let it sit for at least 5 minutes and then wipe away. You can also use this to un-stick gum or to remove crayon stains from walls.
Other lemon oil uses:

—You can add lemon essential oil to the cleaning solution for any type of floor. For mopping, just add a few drops of lemon and a couple drops of pine oil to the mop water.
—Make a simple car air freshener and use lemon and orange to boost your energy and clear out stuffy air.
Do you have a favorite way to use lemon oil around the house, or know of a recipe for a natural, DIY lemon oil cleaning product you think we should know about?

2