The holiday season is almost upon us, and it seemed like the right time to get my 4-year-old daughter involved in the giving as well as the receiving of gifts! But if it isn't pink, sparkly, unicorns or rainbows, she just isn't interested. So I came up with the idea of making woven felt rainbow coasters! This is such a quick sew project that you could easily whip up a set as a present.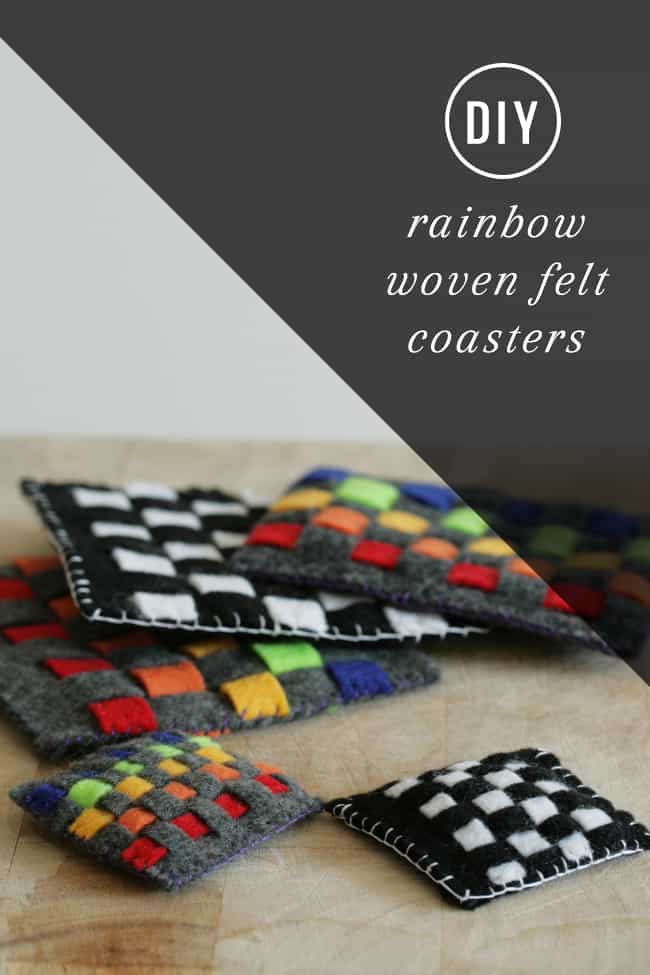 Supplies
Two, four inch squares of grey felt
Six, four inch by a half inch rectangles of coloured felt (red, orange, yellow, green, blue)
Embroidery thread in a contrasting colour
Scissors
Needle
Paper clips or pins
We like to keep things eco-friendly around our neck of the woods, so we used Kunin Eco-Fi felt, which is made from recycled plastic bottles and organic cotton sewing thread.
Instructions
Step 1
First, create vertical cuts in one of the four inch squares of grey felt, a half inch apart, leaving a half inch border at the top and bottom. If you prefer, you can mark these lines on the back of the felt using a fabric marker.
Step 2
Weave the rectangles of felt over and under the grey vertical strips. Alternate whether the colored felt starts on top or beneath the first grey strip.
Step 3
Place the remaining four inch square of grey felt on the back of your woven piece You may like to pin or hold everything together [to avoid too many sharp pointy ends, I used paper clips. You can find more tips for sewing with kids on my blog].
Step 4
Sew around the edge of the coaster. I am partial to a nice blanket stitch, but my daughter prefers to use a whip stitch or straight stitch!
Variations
Try a monochromatic look
Scale down the coaster and insert a magnet to create a two inch square fridge magnet.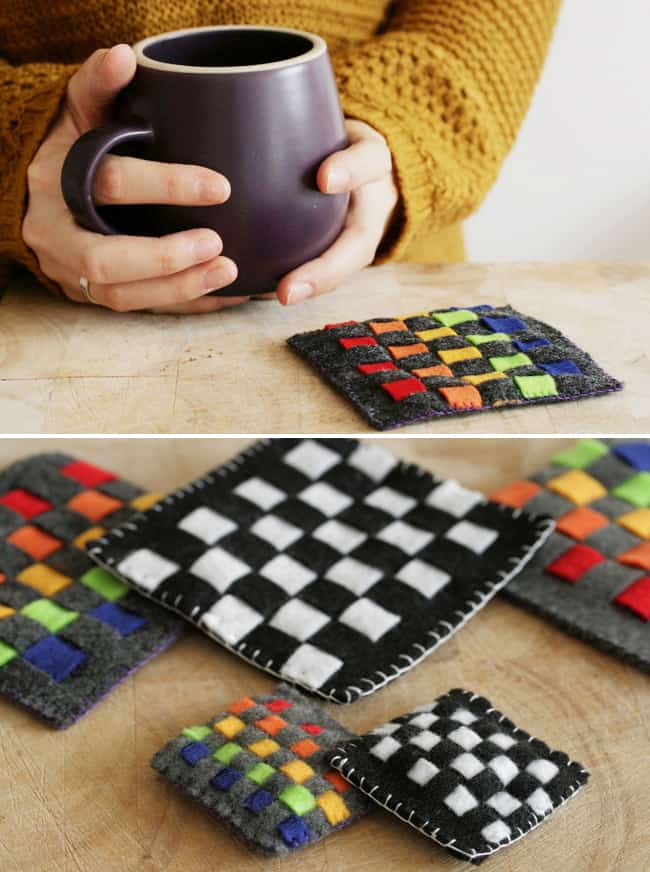 For more colorful ideas to keep the kiddos busy on Thanksgiving and beyond, check out these fun craft ideas for kids. What mom isn't thankful for an activity that provides a few minutes of adult conversation?
1