If you love drinking your coffee black then this post isn't for you. Don't get me wrong – I admire folks who actually enjoy coffee that way. Very hardcore. But for most of us, let's be honest, the creamer is the best part. Some people are coffee snobs, I'm a creamer snob. There are three pretty simple reasons to make homemade coffee creamer:
You can skip the scary ingredients.
I used to be completely addicted to refrigerated non-dairy creamers. The 'sugar free' claim totally sold me. That means it's healthy, right? Well. Here's the ingredient list from my old favorite:
Water, Corn Syrup, Vegetable Oil (High Oleic Soybean and/or Partially Hydrogenated Soybean and/or Partially Hydrogenated Cottonseed), and Less than 2% of Sodium Caseinate (a Milk Derivative), Maltodextrin, Mono- and Diglycerides, Dipotassium Phosphate, Color Added, Natural and Artificial Flavors, Carrageenan, Sucralose, Acesulfame Potassium (Non-Nutritive Sweetener).
Corn syrup and vegetable oil, yum! Right.
Our homemade recipe has three ingredients: coconut milk, a vanilla bean and cinnamon. And that's it.
It's wayyyyyyy cheaper.
Prepare for sticker shock when buying coconut or almond milk creamer. That stuff is expensive! Good news: a can of coconut milk costs about a buck.
Which leads us to the best homemade creamer benefit….
Think of the flavors!
We're using cinnamon and vanilla here, but other options are lavender honey or cashew cardamom. Creamer fans know that it's not fall with pumpkin spice or Christmas without peppermint.
Make it a mocha with a little cocoa powder. Or create a hazelnut flavor by adding a couple of teaspoons of hazelnut extract. Want maple or caramel or raspberry flavor? Baking extracts will be your new favorite thing.
Whatever you add to your coconut milk, know that your creamer will be creamy and delicious!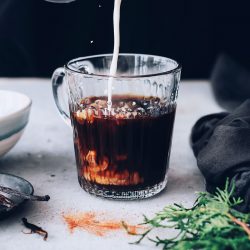 Coconut Vanilla Homemade Coffee Creamer
Ingredients
1

vanilla bean

1/2

teaspoon

cinnamon

1

can coconut milk
Instructions
Split the vanilla bean lengthwise. Using the tip of a sharp knife, scrape seeds from the center into a small saucepan; add vanilla bean

Add coconut milk and cinnamon and cook over medium heat, stirring until heated through. Remove from heat and let sit covered for 15 minutes

Discard vanilla bean. Store in an airtight container in the fridge for 2 weeks. Stir before using.
Photos by Ana Stanciu
10