Investing in a cast iron skillet is one of the easiest steps toward healthier and more flavorful meals. Its heat retention, natural non-stick surface and durability are unbeatable. I remember my grandmother cooking in a huge cast iron skillet that she inherited from her mother. Now I use it, and it's still in great shape!
While cooking in cast iron is really easy, a lot of folks don't because they're afraid of the maintenance. Learning how to clean a cast iron skillet isn't rocket science.
You only need to follow a few simple steps to season the pan before cooking with it for the first time, and then establish a very easy cleaning routine after each use. If our grandmothers could do it, we definitely can too.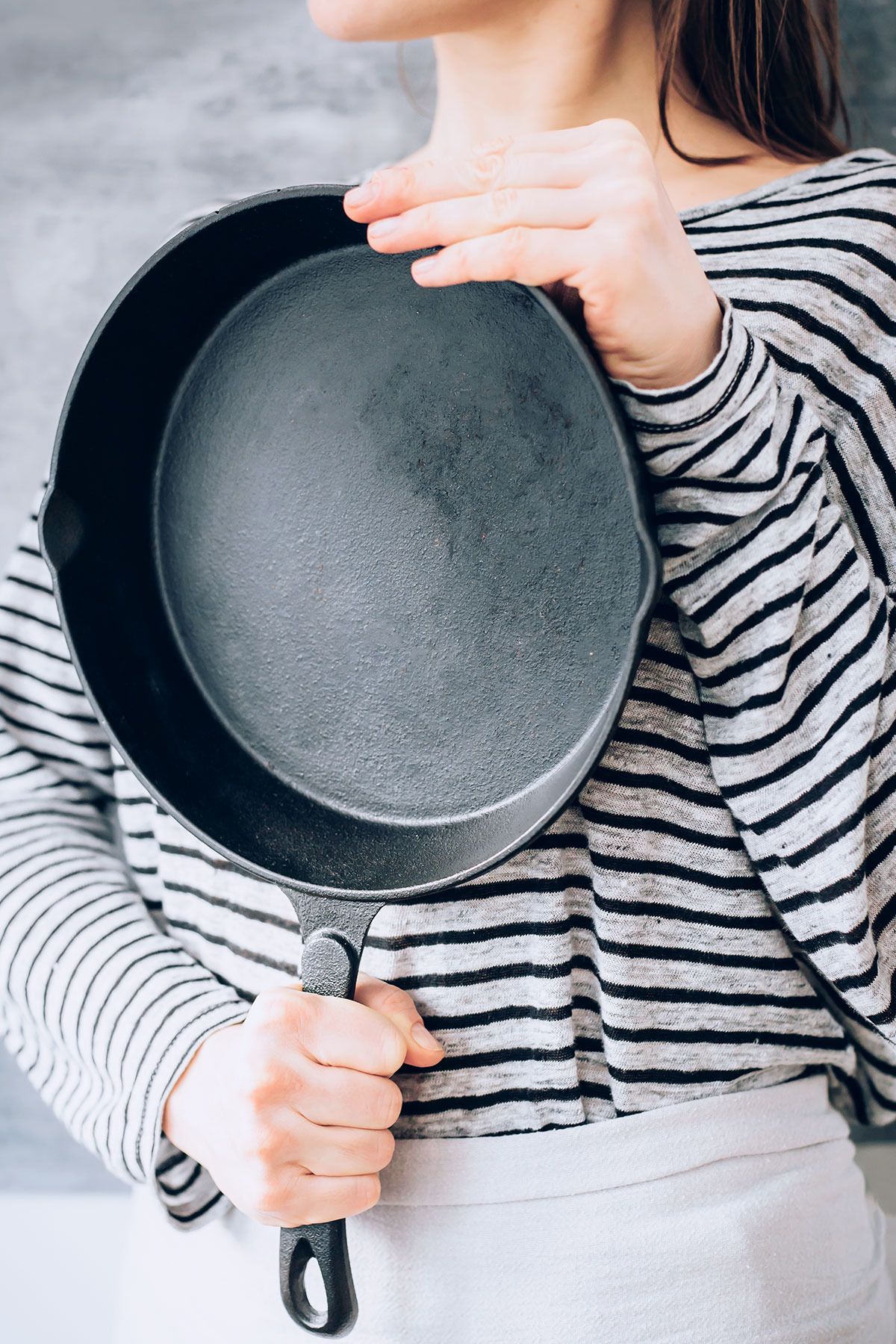 How To Season Cast Iron Skillets
Before the first use, you need to season your cast iron skillet. This step ensures its non-stick property from the first cooking. You only need a vegetable oil (canola or sunflower) and your oven. Here are the steps:
1. Remove the cast iron skillet from its package, wash with warm water and dish soap, using a sponge, and rinse well.
2. Preheat the oven to 375F.
3. Use paper towels to perfectly dry the skillet.
4. Add 2 teaspoons of vegetable oil into the skillet and use your fingers or a paper towel to rub it evenly onto the whole surface.
5. Use another 2 teaspoons of vegetable oil to grease the outside of the skillet.
6. Place the cast iron skillet upside down on a baking sheet lined with parchment paper in the oven on a middle rack.
7. Bake for 1 hour, then turn off the heat and let the skillet cool in the oven.
8. Now your cast iron skillet is ready for its first use!

How To Clean Cast Iron Skillets
The routine after each use of your cast iron skillet is also very simple. The goal is to eliminate any food that might get stuck to the skillet and re-establish its protective oil layer.
However, there's a difference between seasoning and maintaining your skillet. You'll use less oil when you're just maintaining it. A larger amount could go rancid by the next use so only use a few drops of vegetable oil.
1. After cooking with your cast iron skillet, add 1 tablespoon of baking soda into the pan and use a stiff bristled brush to eliminate the food particles (a scrubber will also work).
2. Wash with warm water and a bit of dish soap and rinse well. Don't be afraid that dish soap will ruin your seasoning – it's more important to be sure that all the food particles are eliminated, as the next step will replenish the seasoning.
3. Add just a few drops of oil inside the pan and spread them evenly using your fingers. The oil will be absorbed into the pan pores, which will prevent rust and ensure the non-stick performance for the next use.
4. Repeat this routine after each use of your cast iron skillet.
6