I think oatmeal has to be the quickest, most versatile breakfast ever. Growing up, my mom used to make oatmeal almost every morning. She would wake up early, put a huge pot of steel cut oats on the stove and let it simmer for an hour before everyone was ready to eat.
Since she never let us buy those instant oatmeal packs that were flavored like peaches and cream or wild cherry, it wasn't until years later that I realized making oatmeal could be easier. A lot easier.
I recently discovered DIY instant oatmeal packs, and it's a game changer. They're so simple to throw together and you can create a variety of flavor options using everything from dried fruit and nuts to superfoods like chia seeds and cacao nibs.
You can even fix them up days or weeks ahead of time and store them in your pantry until you're ready to eat them. I like to make mine even simpler by storing them in glass mason jars so I can just add water and toss them directly in the microwave before heading out the door to go to work.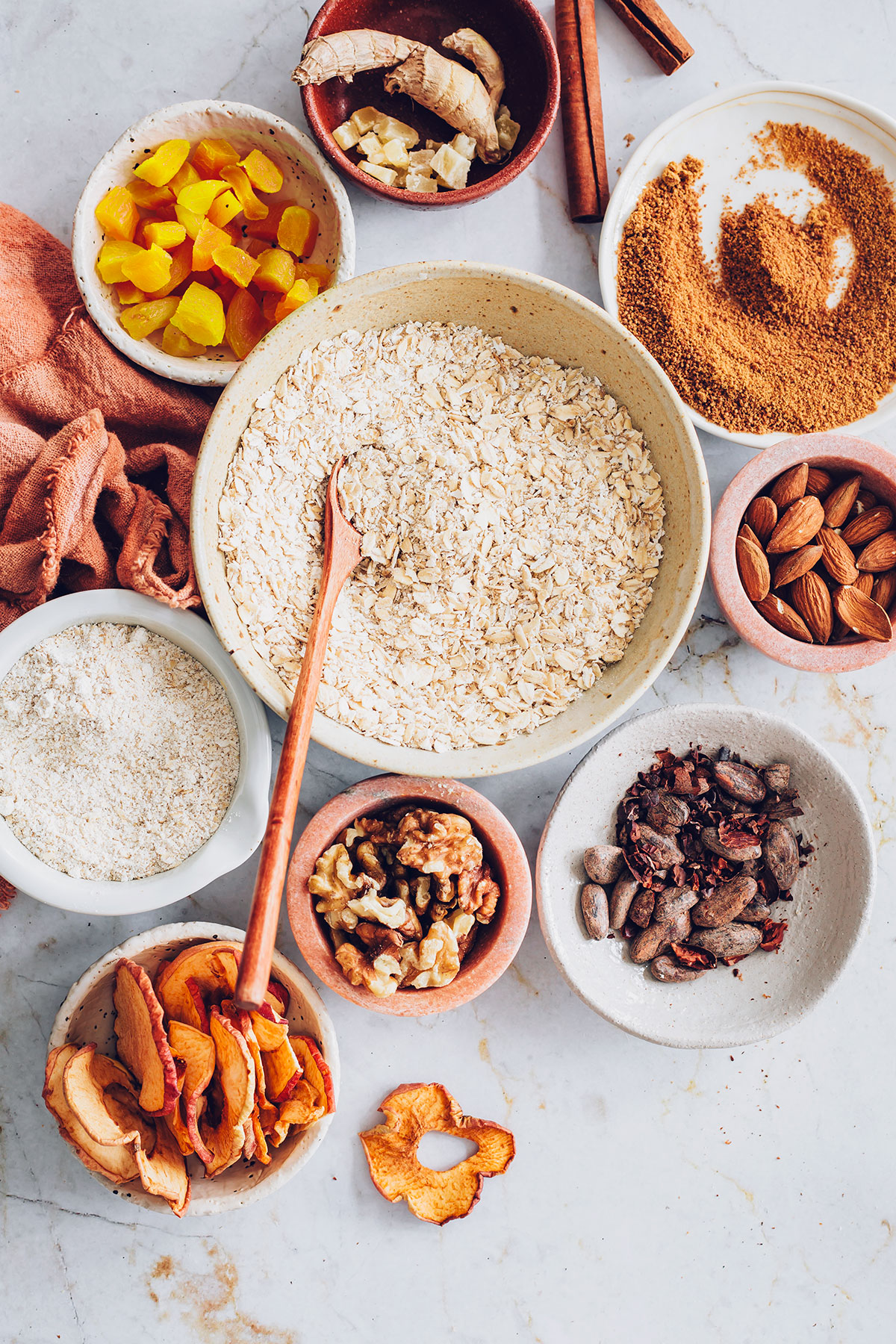 Ever since giving up dairy, I like to get the creaminess of store-bought instant oatmeal packs by topping mine off with a dairy-free nut milk. My favorite is sugar-free cashew milk. It's a lot smoother and thicker than other nut milks, and it adds a little bit of texture to my oatmeal without the additional sugar.
DIY Instant Oatmeal Packs
To make each oatmeal pack you will need:
½ cup instant oats
1 tablespoon ground oats (just grind them in the food processor until you get a fine powder)
1 teaspoon coconut sugar or sucanat
Combine everything in a plastic bag or glass jar and it give it a good shake. If I'm going to be storing mine for a while I like to write the ingredients and the date on them so I can remember what's in them and how long I've had them.
From here it's all about the add-ins. Here are 3 tasty ideas!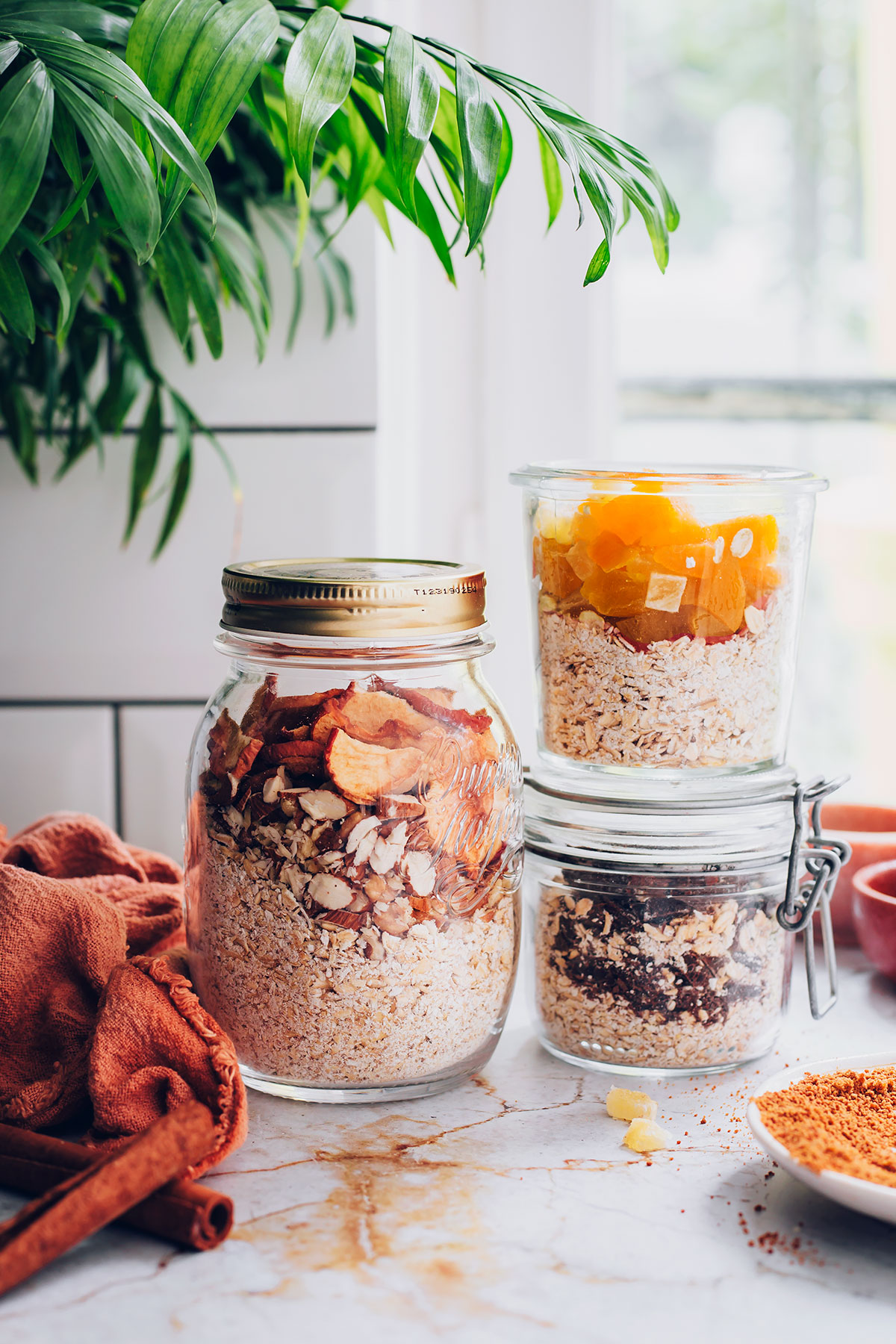 Cinnamon Apple with Mixed Nuts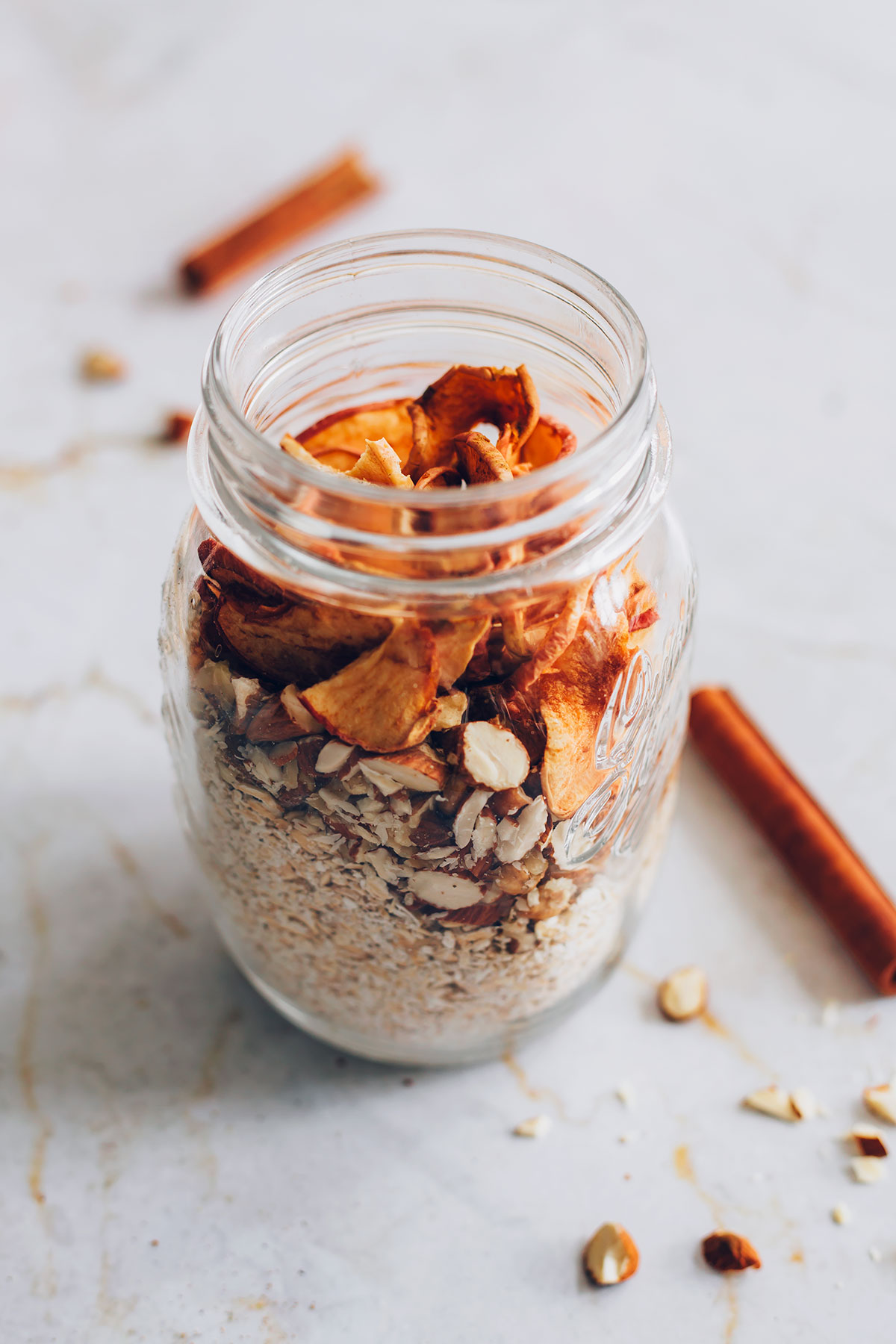 If you like more of a warm, hearty flavor try:
1/4 cup dried apple slices
Handful of chopped walnuts and almonds
Large pinch of cinnamon
Ginger Mango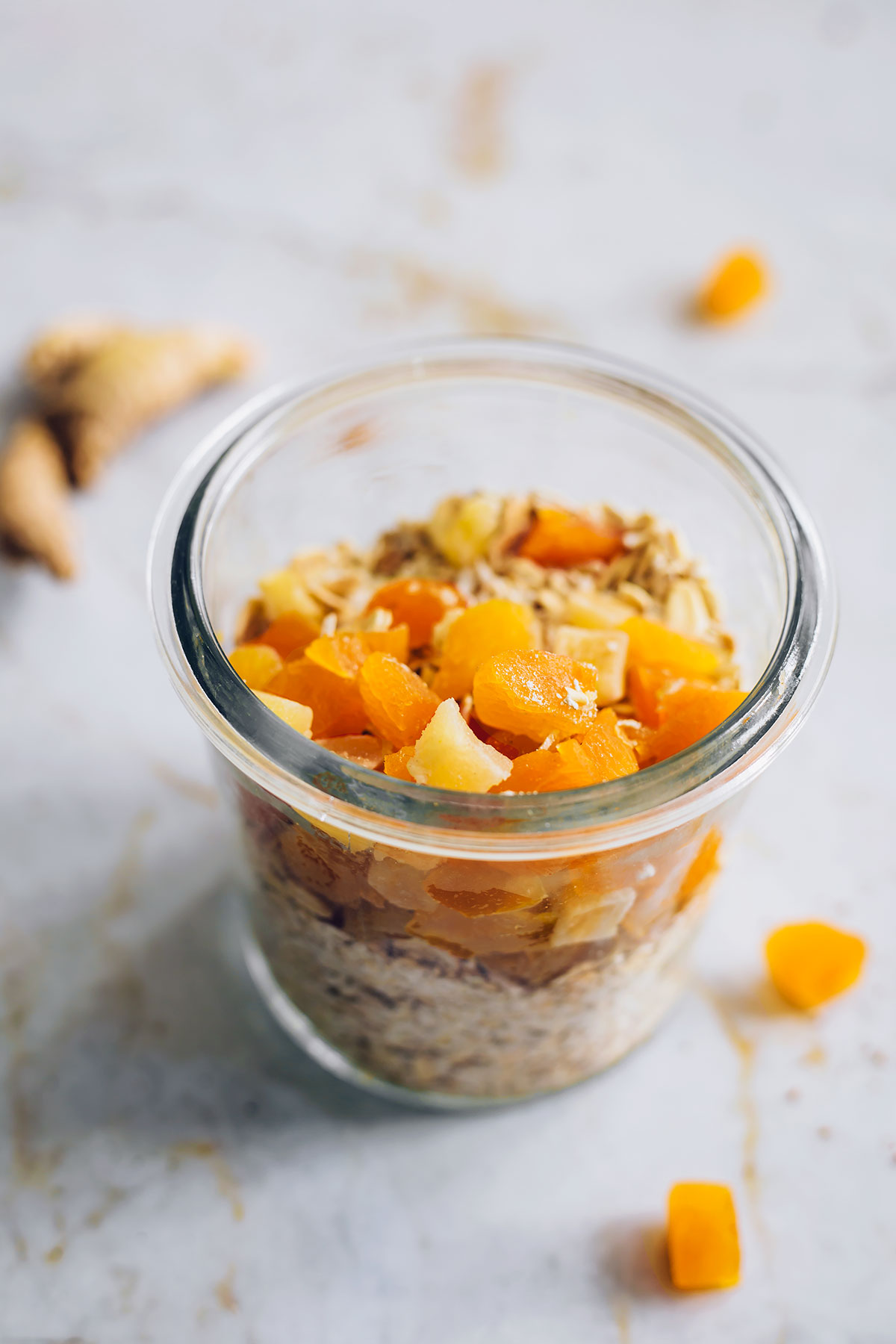 For a slightly spicy, tropical flavor add:
1/2 teaspoon dried ginger
1/4 cup dried mango
Chocolate Lover's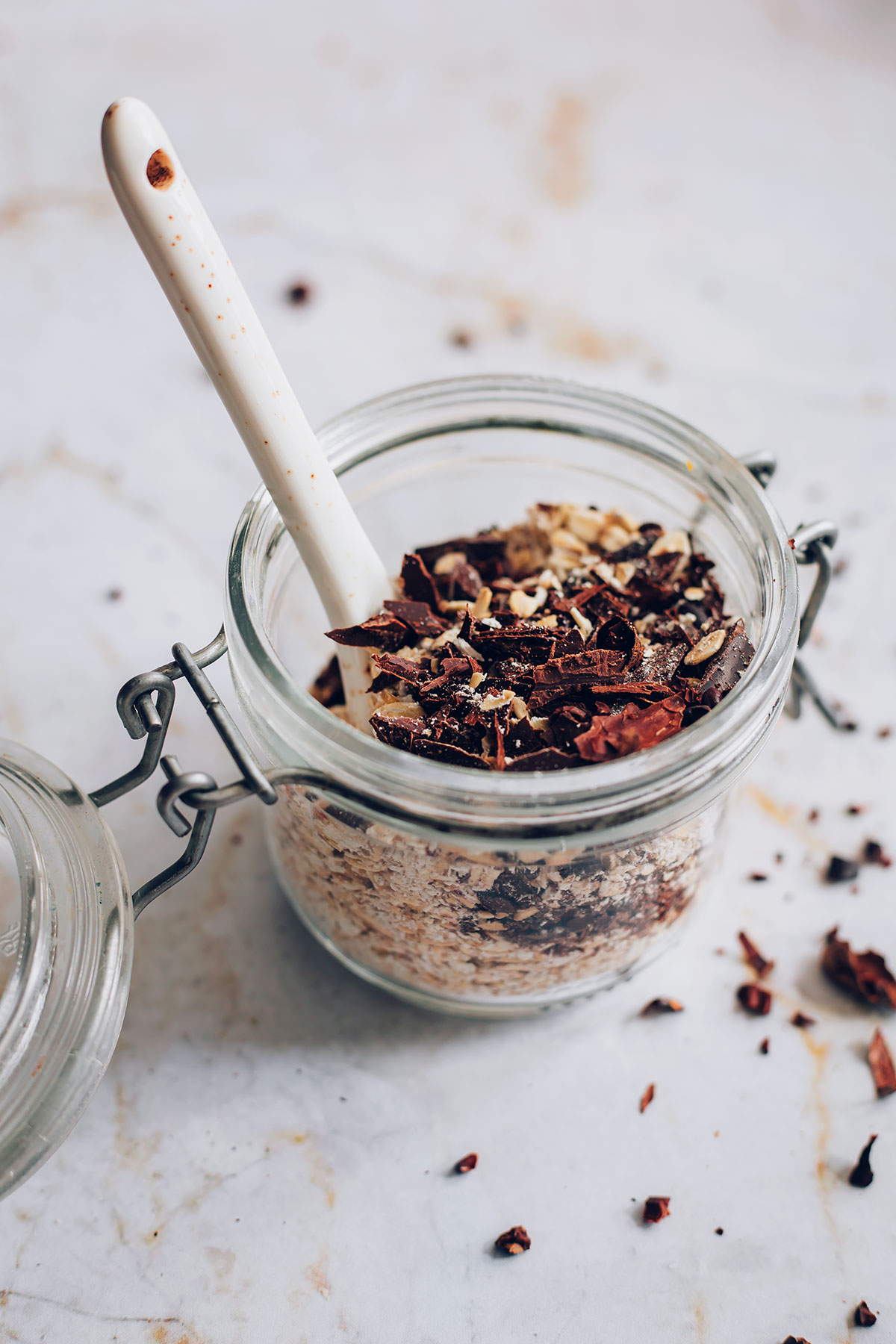 For a sweeter, antioxidant-packed breakfast try:
1/8 cup dark chocolate covered cacao nibs (I got mine from Trader Joe's but if you can't find them, substitute with 1-2 squares chopped dark chocolate and 1 tablespoon cacao nibs.)
Use chocolate cashew milk instead of plain
To Cook:
Simply add 1 cup milk or water to your oatmeal and give everything a good stir. Microwave on high for 2 minutes, give it another stir and then continue microwaving for an additional minute until you reach your desired consistency. Top with your favorite nut milk and enjoy!
Photos by Ana-Maria Stanciu
6