My husband and I bought a car somewhat recently and, for the first few months, every time we climbed in we'd take a big whiff. Ahhhh. New car smell. In a perfect world that smell would last forever. But this is the real world and, sadly, that fresh-off-the-conveyor-belt smell only lasts for a few months – maybe a year, tops.
Which is where we're at right now. Officially on the hunt for new, natural scents to replace the new car smell. I'm a fan of relaxing floral fragrances like vetiver, lavender, and neroli that take the edge off a stressful drive. But my husband likes the subtler (read: "manlier") fragrances of pine and cedarwood. Since we're hard-pressed to find commercial air fresheners that fit the bill, I settled on making my own.
These air fresheners use a variety of easy-to-find ingredients and can be customized to fit your needs. If you have kids or pets, the sea salt diffuser can help neutralize odors. If you want a subtle, barely there scent, the infused vent clip smells fresh without knocking your socks off. Or if you're looking for the aromatherapy benefits of essential oils, choose one of the natural diffusers that you can pair with any oils you like.
4 Naturally-Scented Car Air Fresheners
1. Citrus and Herb Sea Salt Diffuser
Sea salt is said to attract water vapor (and the dirt, bacteria and allergens it carries) to its surface and remove it from the air. That's what makes this cup holder diffuser perfect for those of us with kids and pets.
Customize the scent with whatever herbs you have on hand or use essential oils for a bolder fragrance.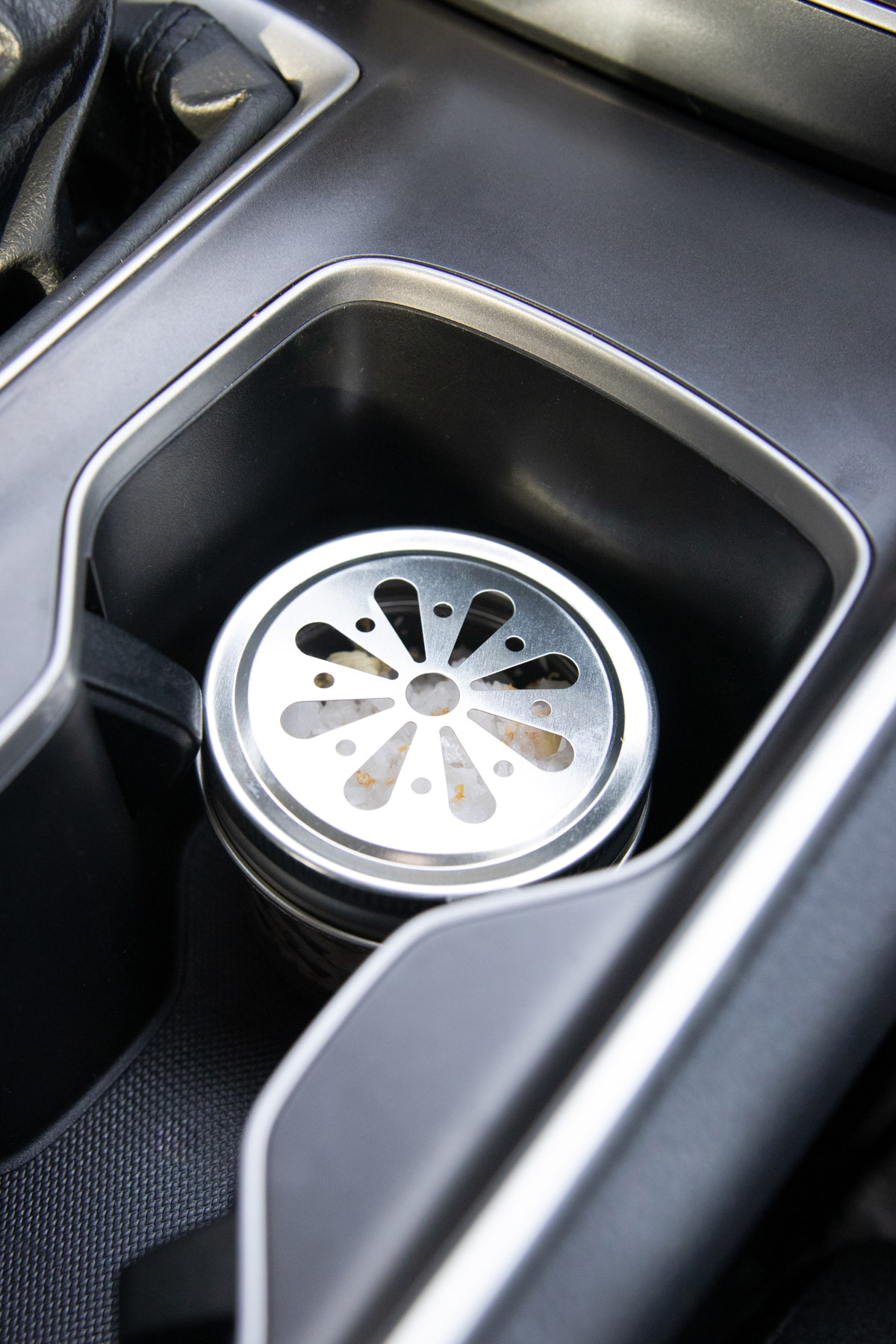 Supplies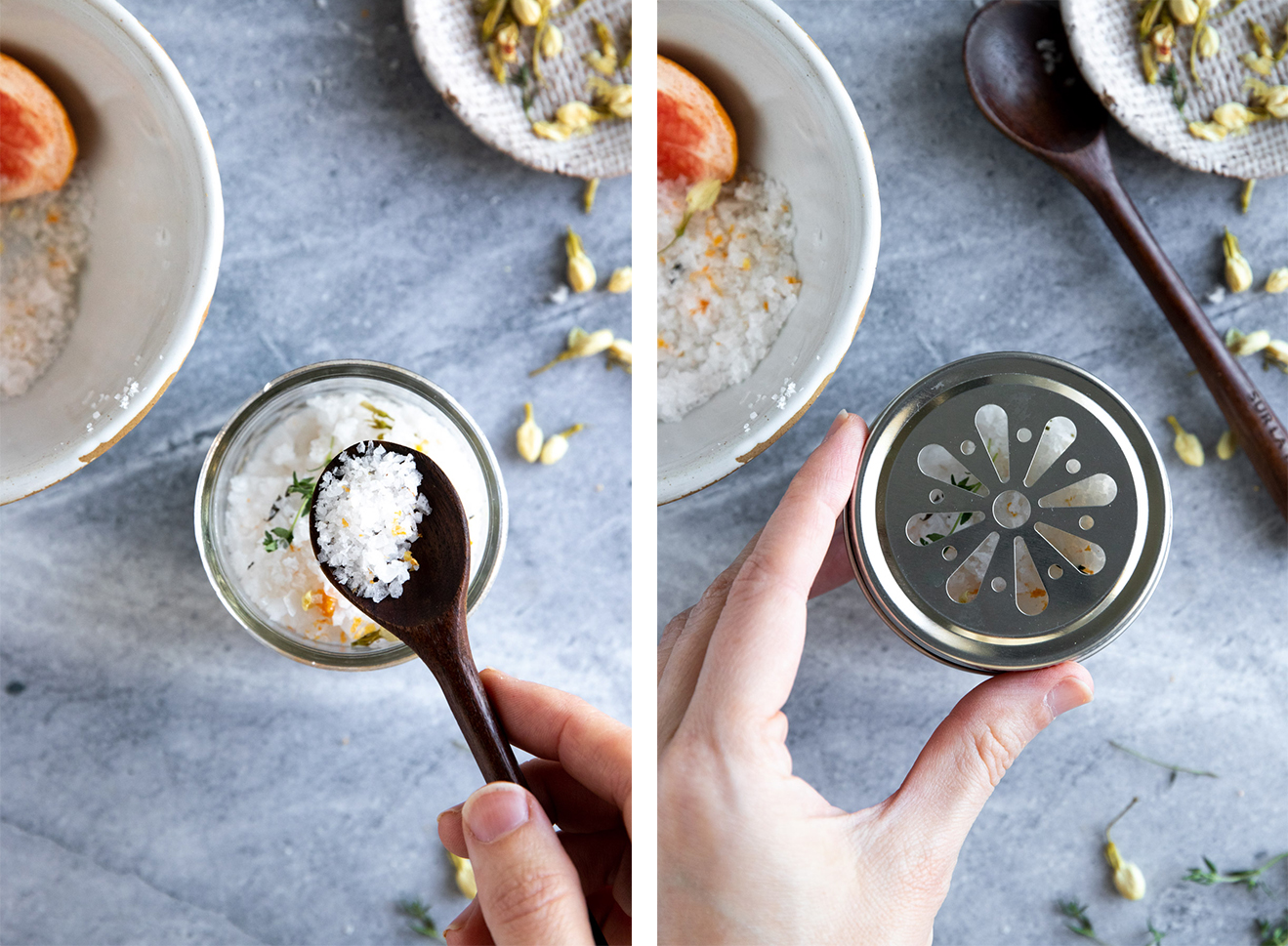 In a small bowl, combine the sea salt with the citrus rind, herbs and spices. Spoon the mixture into the glass jar and screw the lid on tightly. Place the diffuser in your car's cup holder, preferably near an air vent to encourage the scent to circulate through the car.
Don't worry too much about using fresh grapefruit rind (or other fresh herbs, for that matter) in this. Salt is drying, so as long as your car is dry and it's not too humid outside, the rind should dry out before you see any mold.
Once the scent fades, throw it out and make a fresh batch.
2. Orange Blossom Vent Clip
As far as car air fresheners go, this is about as easy as it gets. Soak a couple of clothespins in orange blossom (neroli) water and let them air dry for a bit before clipping them to your car's vent.
The subtle scent will diffuse through the car while they dry. And when you're ready to boost the scent, just re-soak them in orange blossom water for a few minutes.
See? Easy.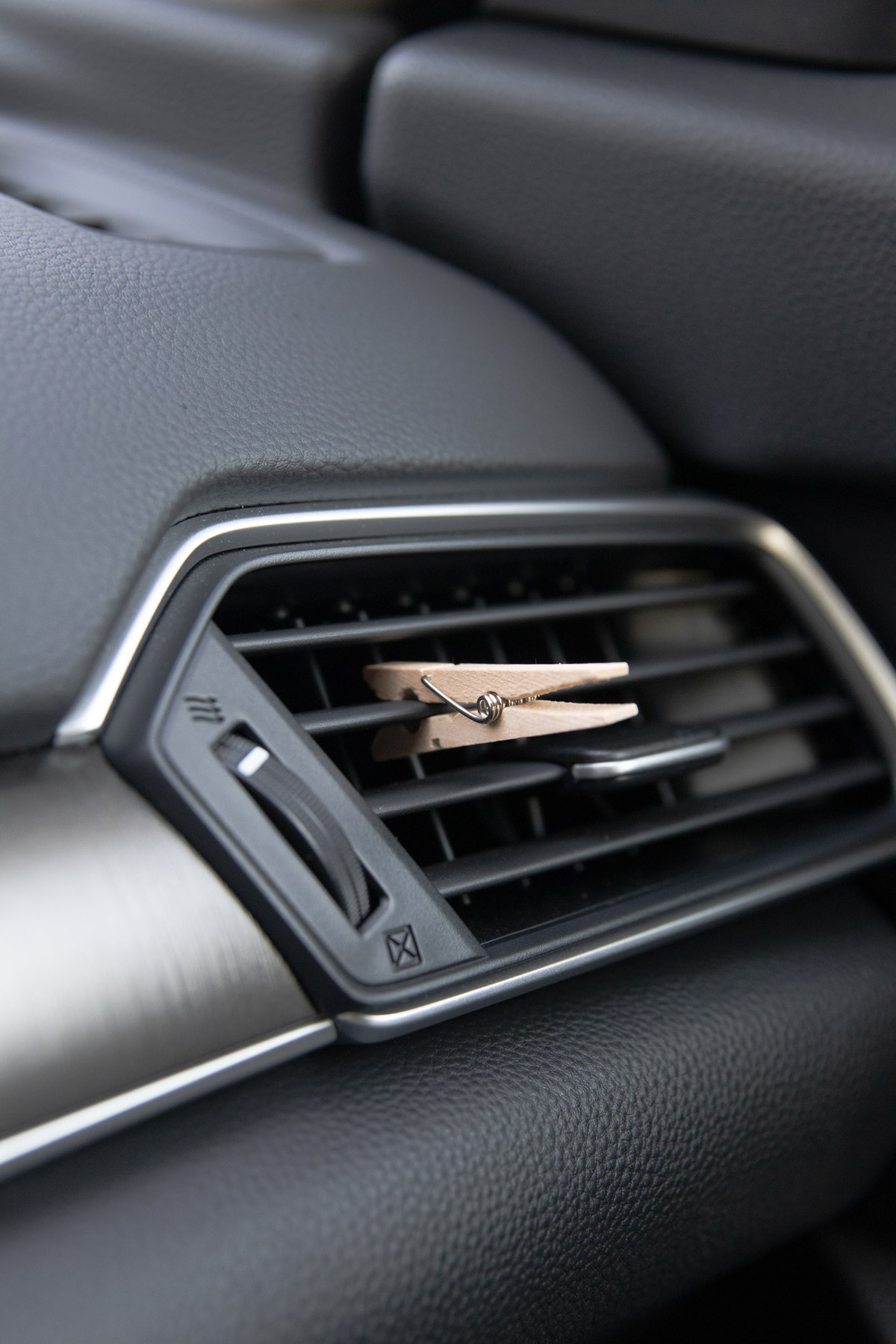 Supplies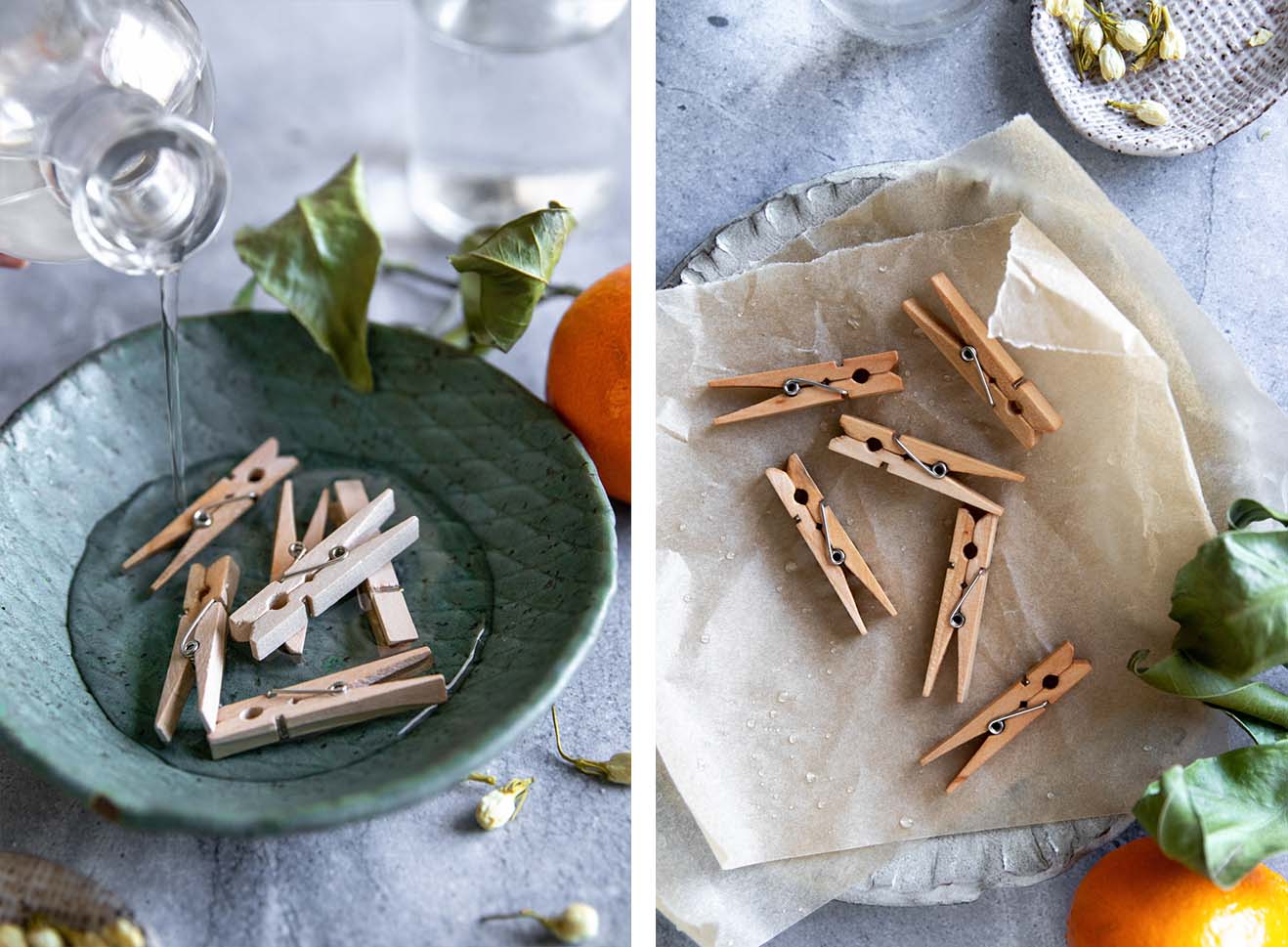 Place several clothespins in a small bowl and cover with orange blossom water. Let soak for 5-10 minutes, then spread them out on a plate and let dry for another 30 minutes.
When they're no longer dripping wet, clip them to your car's air vent. The vent clips will dry out over time, so feel free to give 'em another soak whenever they need a boost.
3. Hanging Car Air Fresheners
While my husband likes the subtler fragrances, I'm always looking for ways to bring my floral essential oils on the road with me. This simple hanging air freshener can be customized with any essential oils you like. Vary the oils depending on your mood or make several different blends that you can switch out whenever the mood strikes.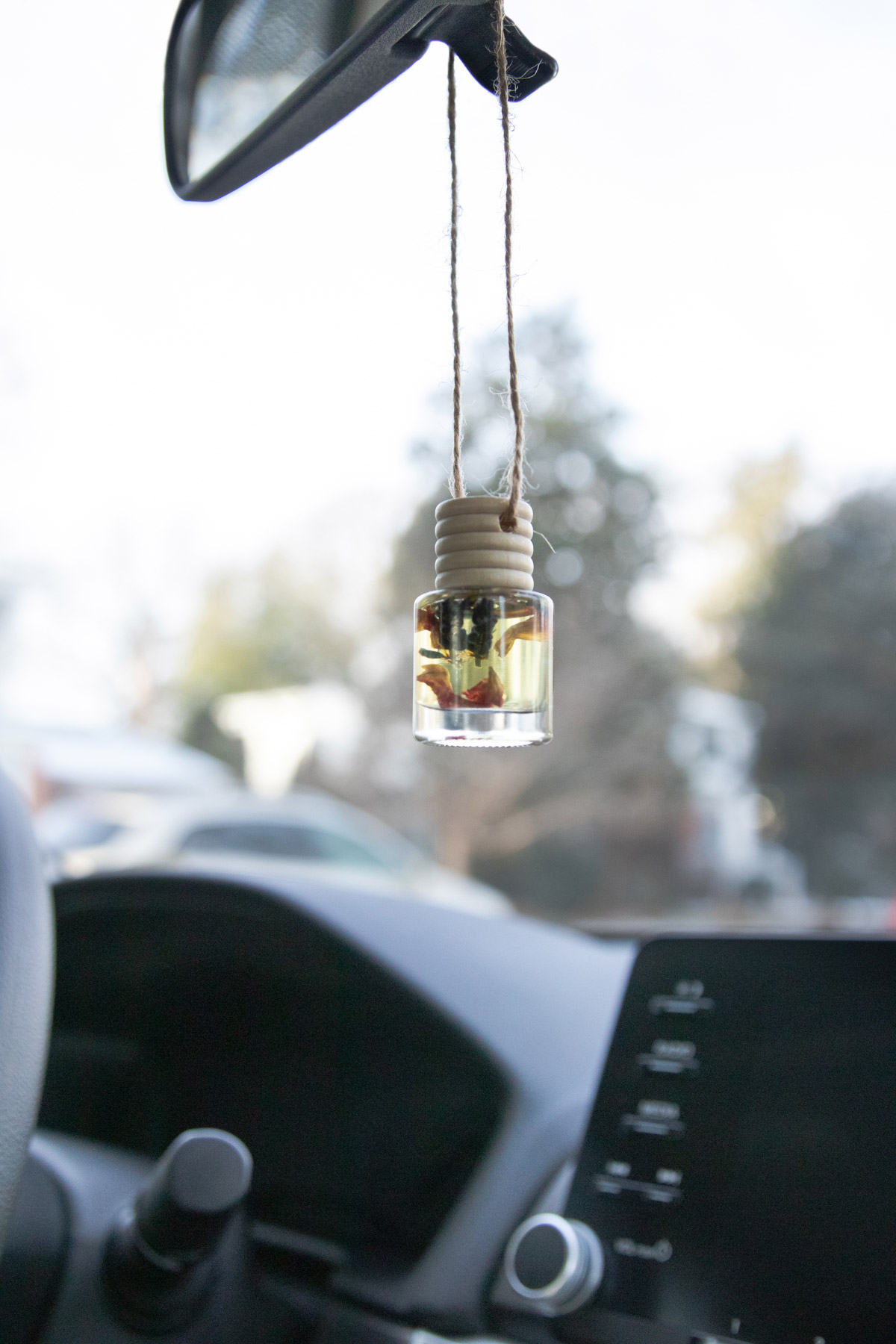 Supplies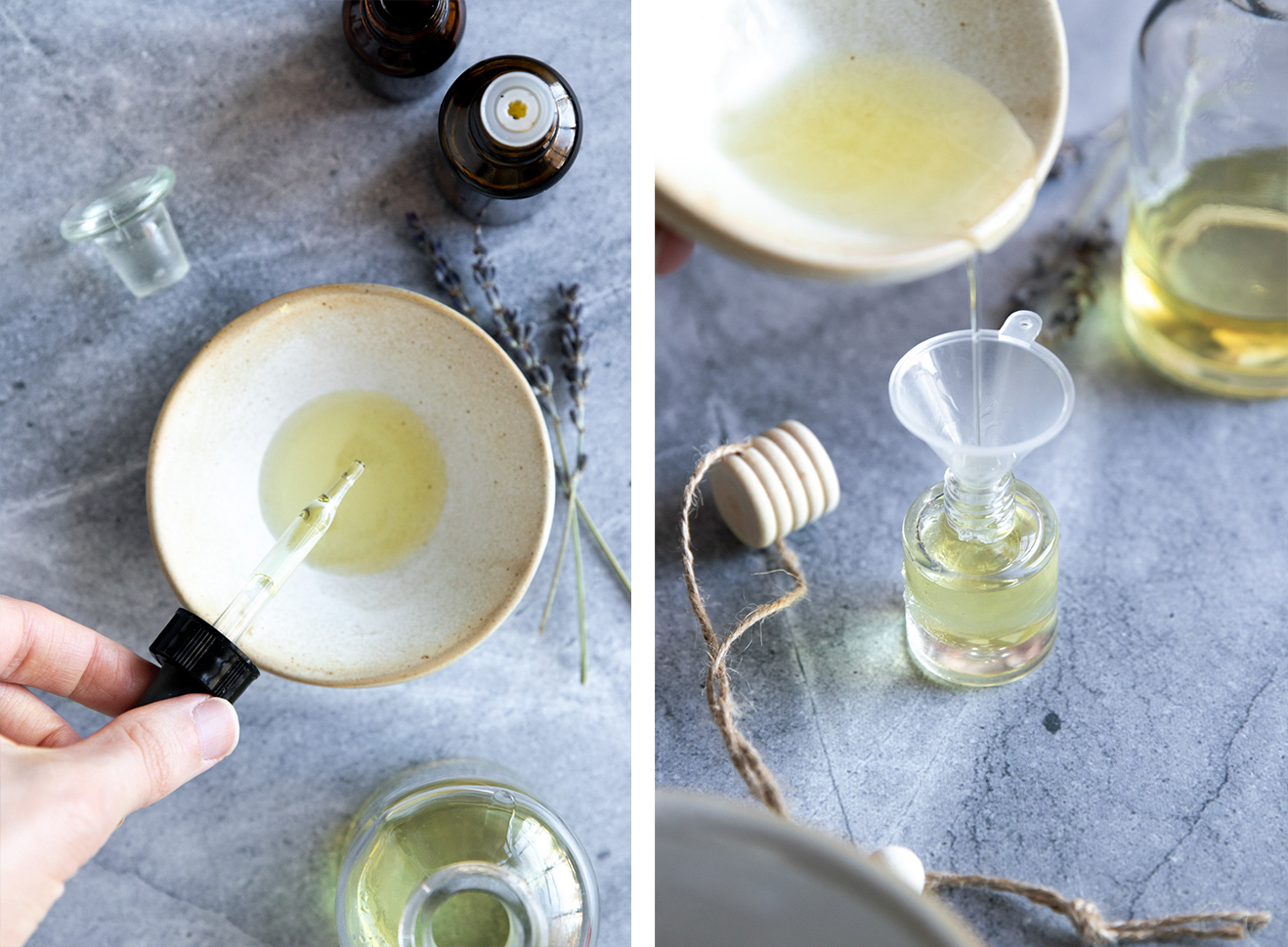 In a small bowl, combine the essential oils and carrier oil. With the help of a funnel, transfer the blend to the air freshener bottle and screw on the lid.
Hang the air freshener from your car's rearview mirror. Replace with a fresh blend every 5-6 months.
4. Felted Vent Diffuser
I have seen these felted car air fresheners everywhere lately. While I love the look of them, I haven't really found a color combination that I'd love in my car. But simple white pom poms with an olive green tassel? Yes, please.
Obviously, you can use whatever color combination you like, so get creative! And play around with your essential oil combinations, while you're at it. The world is your oyster.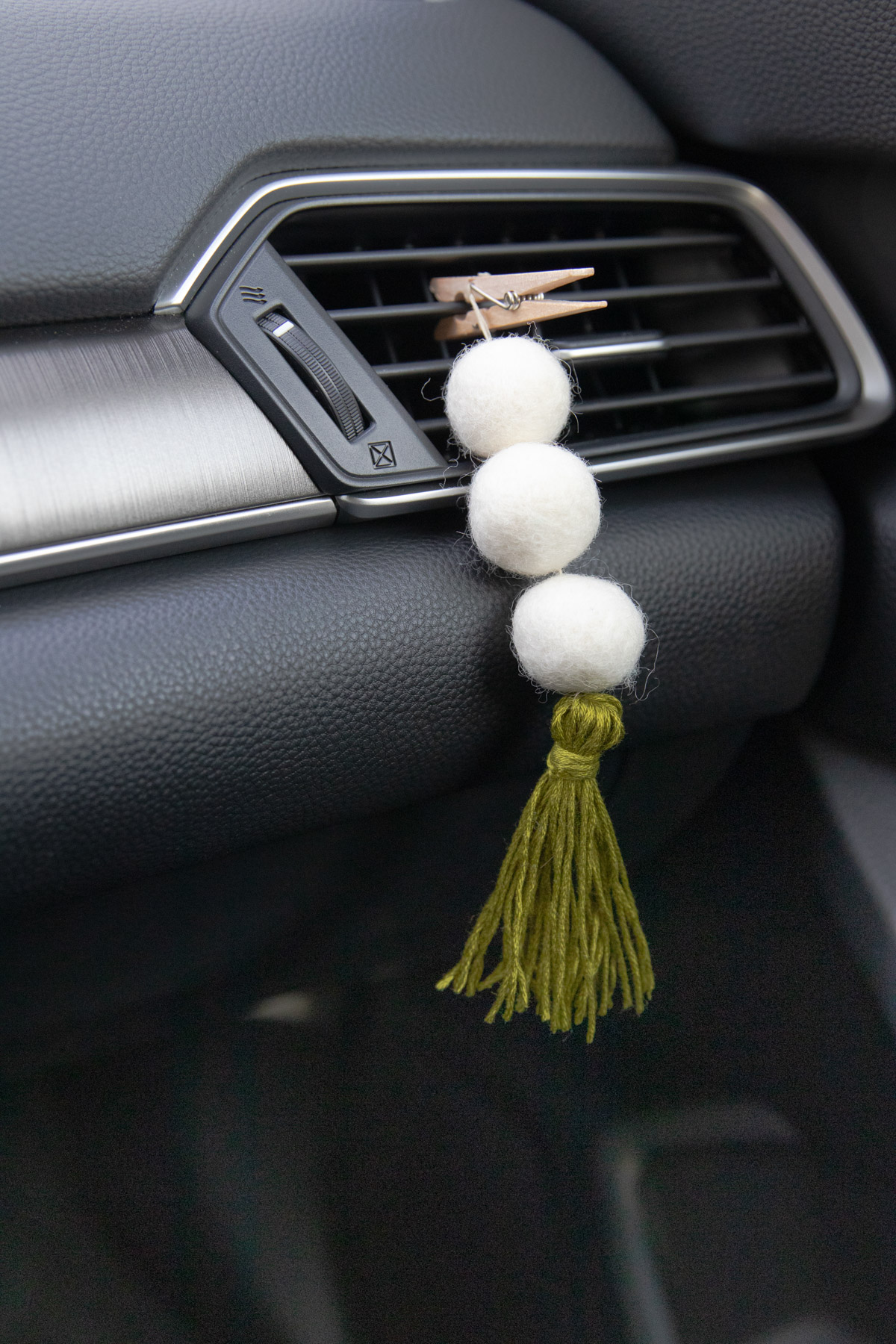 Supplies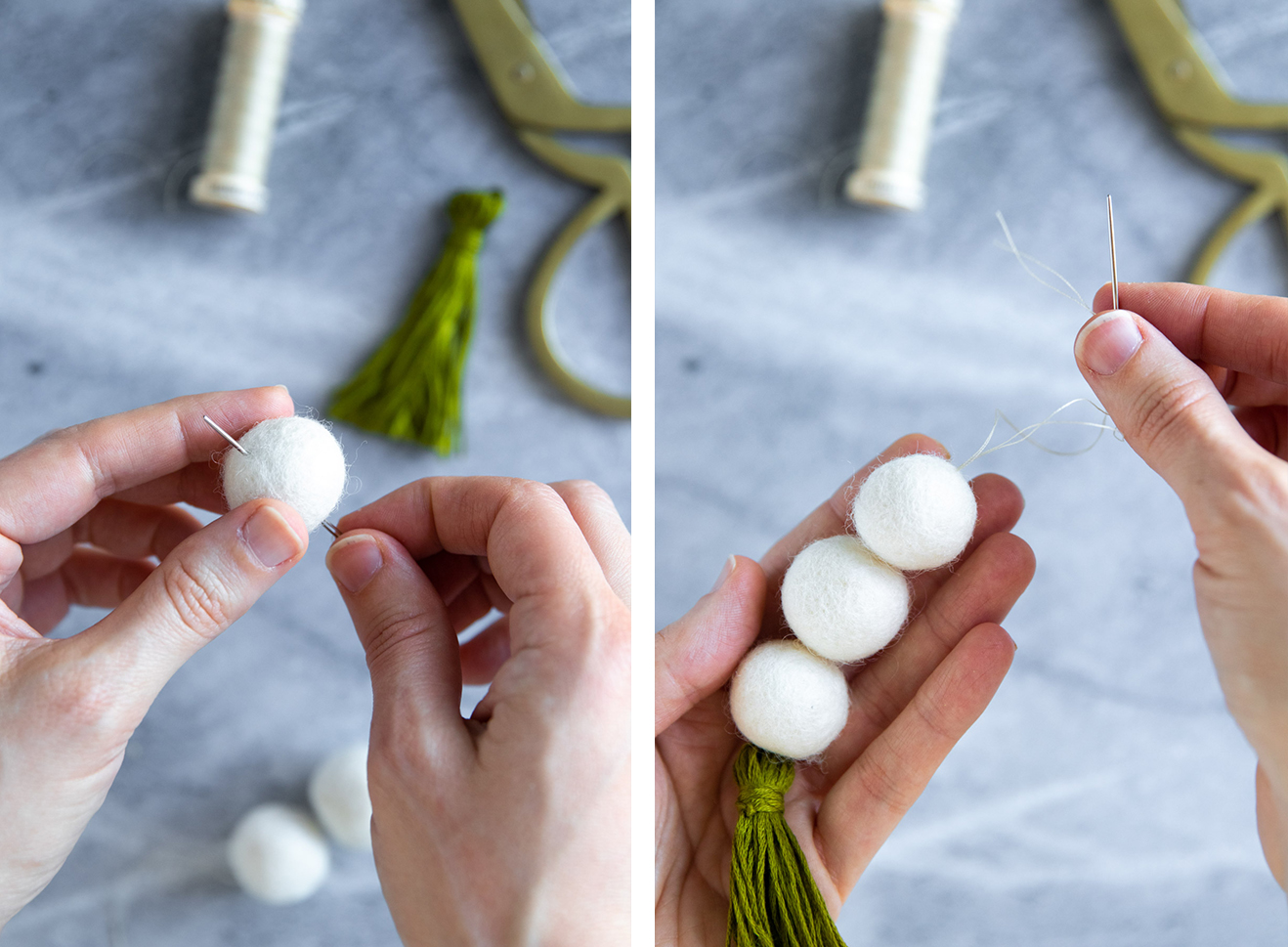 Take a 24″ piece of sewing thread and thread it through the eye of a large needle.
Run the thread through the center of all three felted wool balls.
Run the needle through the top of your tassel and then go back up through the felt balls (the same way in which you came) a second time so that the tassel is attached to the bottom of the trio of felted balls.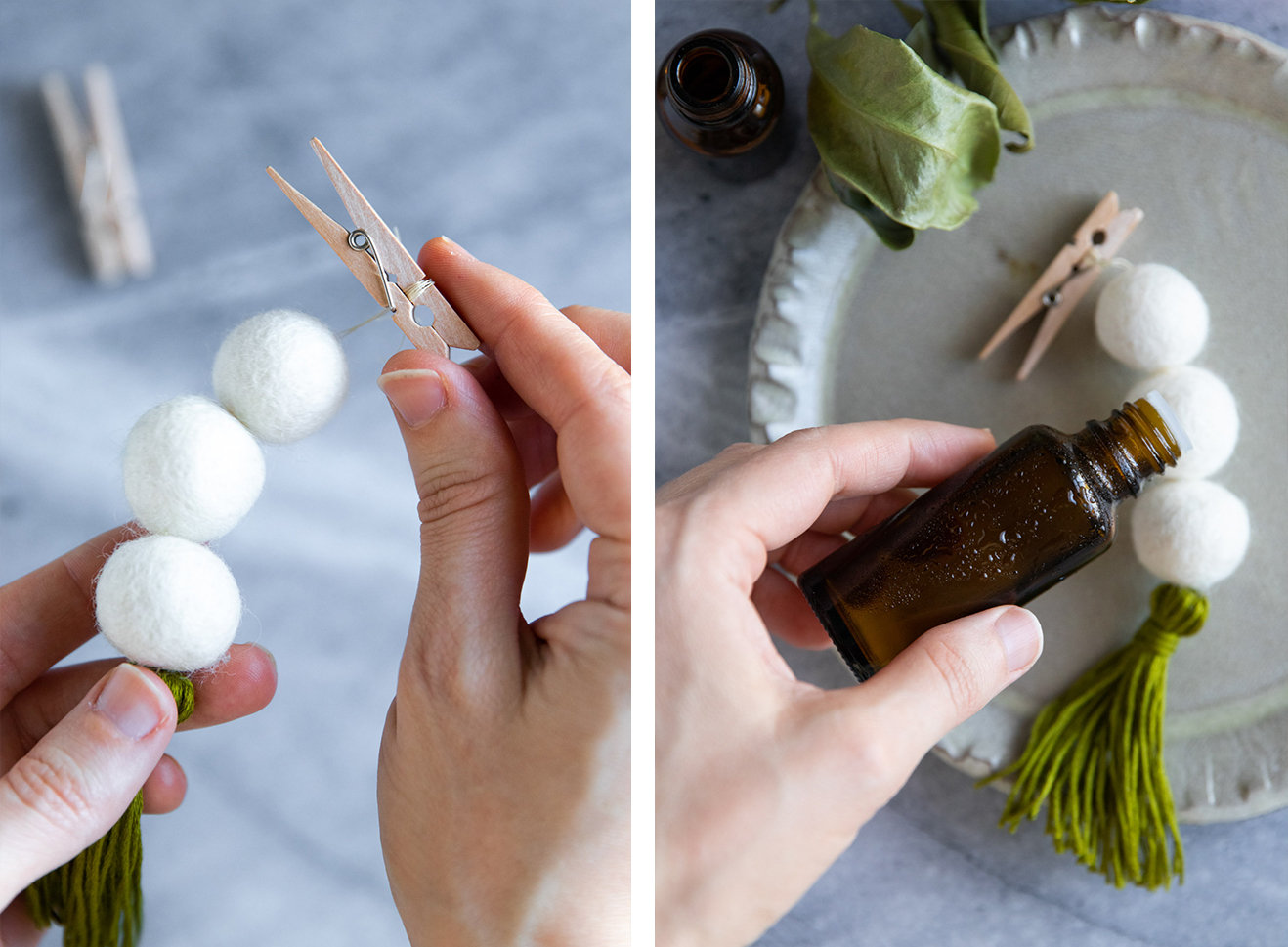 Cut the thread to remove the needle. Then wrap the thread several times around the center of a small clothespin. Secure with a dab of crazy glue and trim any loose strings.
Place several drops of essential oil in the center of the felt balls and clip the diffuser to one of your car's air vents.
Add more essential oils whenever the scent starts to fade.
Which one of these car air fresheners would you use?
4