The fall and winter seasons are the year when we are called energetically to do slow it all down, to take our cue from the fallow fields, long nights, and hibernating animals and turn inwards. It's an opportunity to get quiet and allow for more contemplative, reflective exercises, and to tend to our most elementary needs and the rituals that bring us comfort and joy, and help us to feel rooted and secure.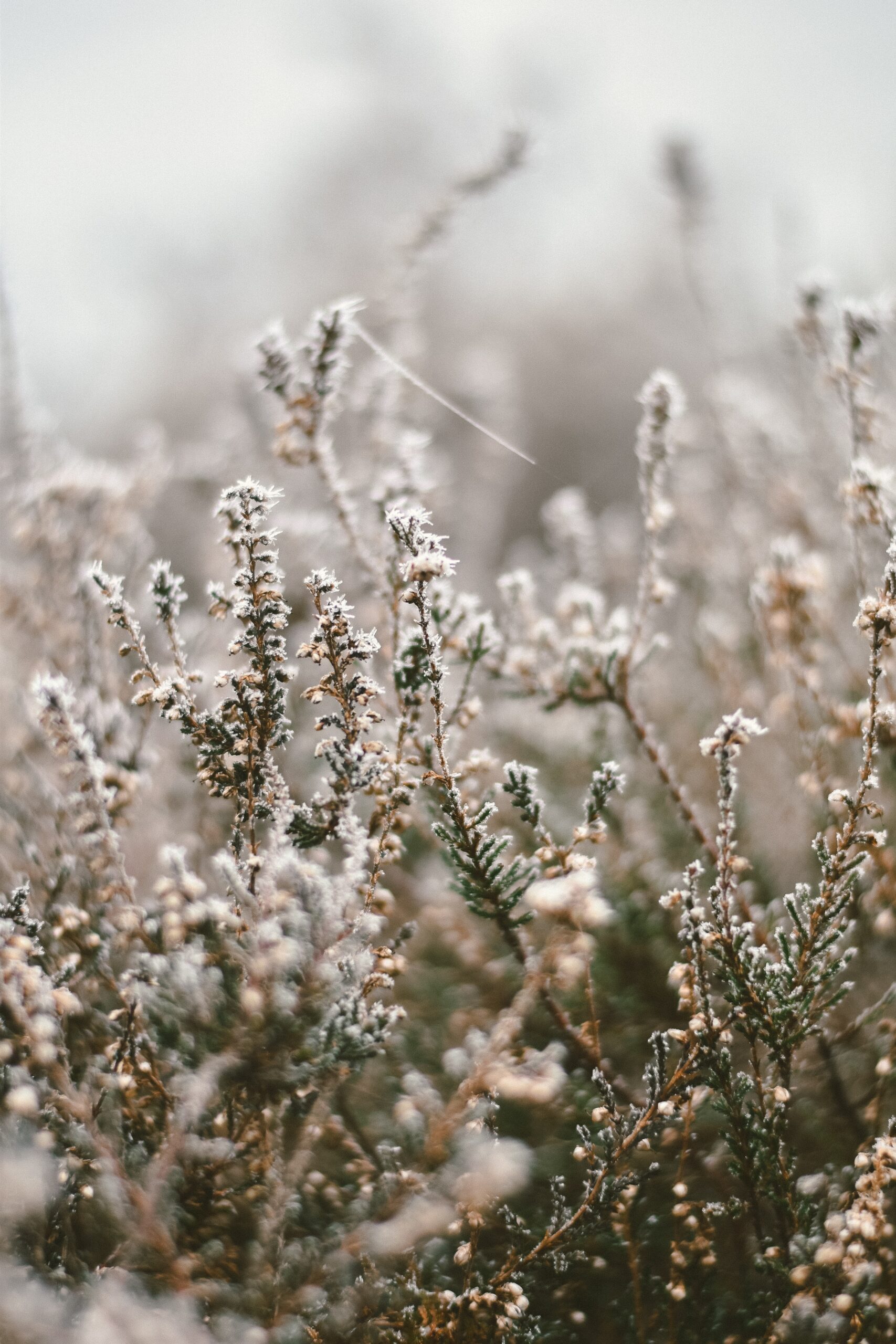 As a yoga teacher who's also been schooled in the Ayurvedic wellness system, I have come to see and understand this time of year as having an elevated vata or dry "wind" energy; too much of this element in our systems can leave us feeling scattered, anxious or worried, sleepless, forgetful, or nervous. To help regulate the vata in our bodies (and minds), it's recommended that we turn our focus towards a warming, nourishing diet, to movement that helps us to find our centers and feel balanced and calm, and to partake in rituals of self care that encourage feelings of groundedness. For some of us, this may mean adding in nightly Epsom salt baths, whipping up some comforting stews and soups on the weekends, dressing in layers to avoid the chills, reading (no screens!) before bed to help foster a healthy sleep hygiene, or opting for more long, contemplative walks in the soothing elements of nature.
For ever season, there's a shift in energy and an inward call for us to change it up to suit what we need most at that time. Spring is for starting new cycles and making changes, and summer is a high energy manifesting time, but what's needed most at this time of year is getting grounded, and finding our way back down to earth.
Aromatherapy is one of my favorite self-care tools to use whenever I need some help getting centered and regulated in vata season. In particular, those woodsy, earthy, resinous oils that harken back to the forests, to crackling fires, and to the sturdy steadfastness of the evergreens can be the most grounding of all. Whether you're pairing up these scents with a slow and strong yoga practice, a root-vegetable-filled cooking extravaganza, an après-ski, or a cozy family game night, adding in a grounding essential oil blend surrounds us in the rootedness we're looking to cultivate.
The Best Woodsy Essential Oils
Our favorite forest-scented essential oils to use whenever we're looking to feel more balanced and calm at this time of year are:
Cedarwood oil— one of the warmest and most classic of the woods oils, cedar is reminiscent of deep winter, saunas, and wool sweaters (thanks to its notable anti-moth qualities!)
Cypress oil— dark, green, and mossy, cypress essential oil is said to help with respiratory issues, and to promote deep breathing (source.)
Pine oil— not just the scent of your grandmother's furniture polish, pine oil is a wonderful uplifting addition to blends whenever you want to lend an air of green cleanliness.
Balsam fir oil (can also use Douglass fir oil)— my favorite evergreen note, this is the classic "Christmas tree" scent. It can help to promote clarity and calm, while also helping settle the nerves.
Juniper berry oil—most known as the aromatic source of gin, juniper berry oil is positively sparkling, and can bring a levity to some of the other heavier evergreen scents.
Frankincense oil—known as the "king of oils", warming and soothing frankincense is distilled from the resin of the tree, which gives it a deep, soulful note.
Sandalwood oil—one of the most ubiquitous essential oils for a reason, sandalwood is powdery soft, a bit sweet, and is often used to help with inflammation and anxiety (source.)
Woodsy Essential Oil Diffuser Blends
If it's a grounded diffuser blend you're looking for, we've also put together a few wonderfully woodsy recipes that combine the earthy notes of evergreen. Give these a try and transform the vibe of your home into a cozy, rustic, forest-like haven–your very own cabin in the woods!
*Note that each of the following is meant to be diluted in 200ml of water.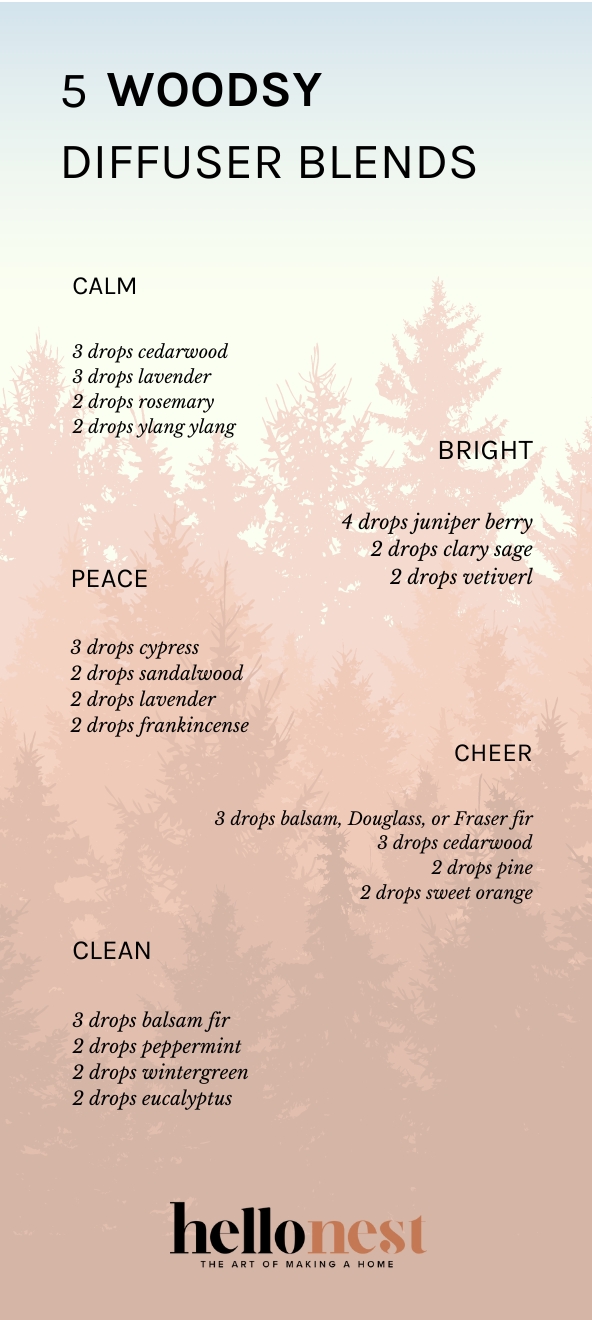 Woods Blend: Calm
When you want a diffuser blend that offers the natural scents of the woods, but also incorporates some of the most relaxing notes to help you unwind, this is it. These three essential oils are known to help reduce anxiety and promote calm and relaxation, making it the perfect before-bed blend to use any time of the year. (Your closets may also enjoy a burst of this blend, as both cedar and lavender are known to keep the moths away from your woollen treasures!)
3 drops cedarwood
3 drops lavender
2 drops rosemary
2 drops ylang ylang
Woods Blend: Bright
The bright, gin sparkle of juniper berry works so well when blended with herbaceous notes such as clary sage and vetiver. This is a grassy, green grounding scent, more evocative of the forest floor than the tree tops above.
4 drops juniper berry
2 drops clary sage
2 drops vetiver
Woods Blend: Peace
One of the things I love most about the woody oils is that they naturally lend a contemplative, introspective tone, a bit of sacred solemnity that can be perfect for silent meditation sessions, quiet reading time, or whenever you feel like you need a good dose of a soulful unwind.
3 drops cypress
2 drops sandalwood
2 drops lavender
2 drops frankincense
Woods Blend: Cheer
This festive blend takes the oils of three classic conifer and combines them together with the sweet cheer of orange. While we may traditionally associate these combinations with the holidays, they really representative of winter's true bouquet—in-season, merry, and bright.
3 drops balsam, Douglass, or Fraser fir
3 drops cedarwood
2 drops pine
2 drops sweet orange
Woods Blend: Clean
For a green, clean, forest-forward blend, this one adds a minty twist to the more traditional tree scents. Perfect for the kitchen, bathroom, or any other room you'd like a blast of winter air freshening.
3 drops balsam fir
2 drops peppermint
2 drops wintergreen
2 drops eucalyptus
Photo by Jisca Lucia on Unsplash
0