Laminate floors are a blessing and a curse. Our kitchen has laminates that take a beating thanks to two animals and two work-from-homers who are always hanging out near the food. The good news is that they don't show wear and tear quite like our hardwood floors, even after all the scratches, scrapes and scuffs. But the bad news is that they're a beast to clean. Most of the floor cleaners I've tried leave a waxy film that's hard to get rid of, and the last thing you want is to clean your floors after cleaning your floors. That's where this homemade laminate floor cleaner.
It's cheap, easy to whip up and effective. Plus it's made with only 3 ingredients, so you never have to worry about running out.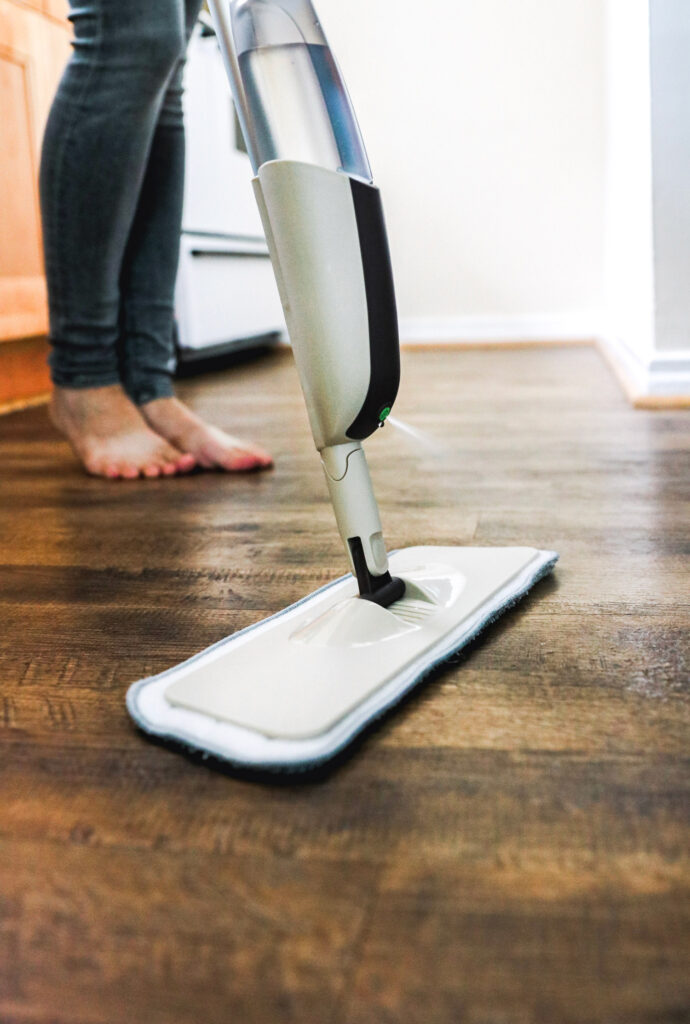 DIY Laminate Floor Cleaner
Laminate floors may look like other types of flooring, but you can't actually clean them like other floors. That's because laminates are made of a type resin with a clear protective coating on top. If you get them too wet you can end up with a streaky, waxy mess that's hard to get rid of. And if you drench them, letting lots of water puddle in the cracks, you can even cause them to bubble, separate at the seams, or fade in color.
That's why you need a cleaner that evaporates quickly and gives you a nice, streak-free shine.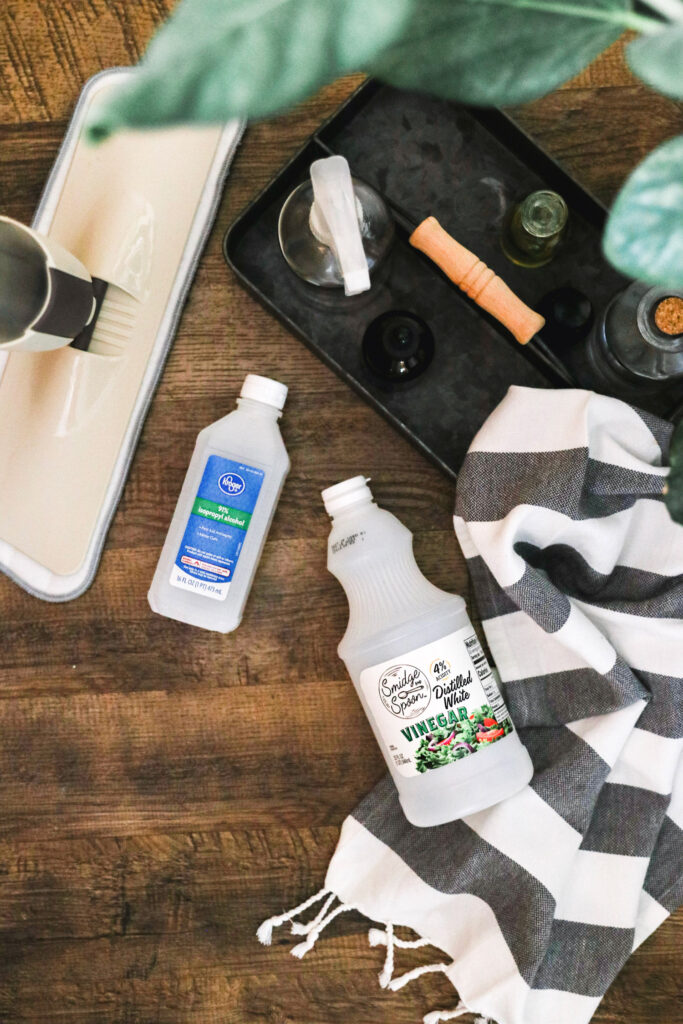 Vinegar and rubbing alcohol are king when it comes to homemade laminate floor wash. Vinegar helps disinfect and deodorize, and rubbing alcohol evaporates quickly without pooling or leaving streaks. While a water-based solution isn't ideal, a little bit of water extends the life of your cleaner and makes it gentle enough to use on your floors everyday. And a couple drops of orange essential oil gets rid of grease and helps mask the scent of vinegar and alcohol, which can be overpowering at first but should fade as the solution dries.
Before washing your floors, start by sweeping with a soft bristle broom to collect hair and dust. Then tackle dried spills and stains by blotting them with a microfiber towel. For tough spots like grease, wax or dried on food, place an ice pack on top of them for several minutes, then gently scrape them off.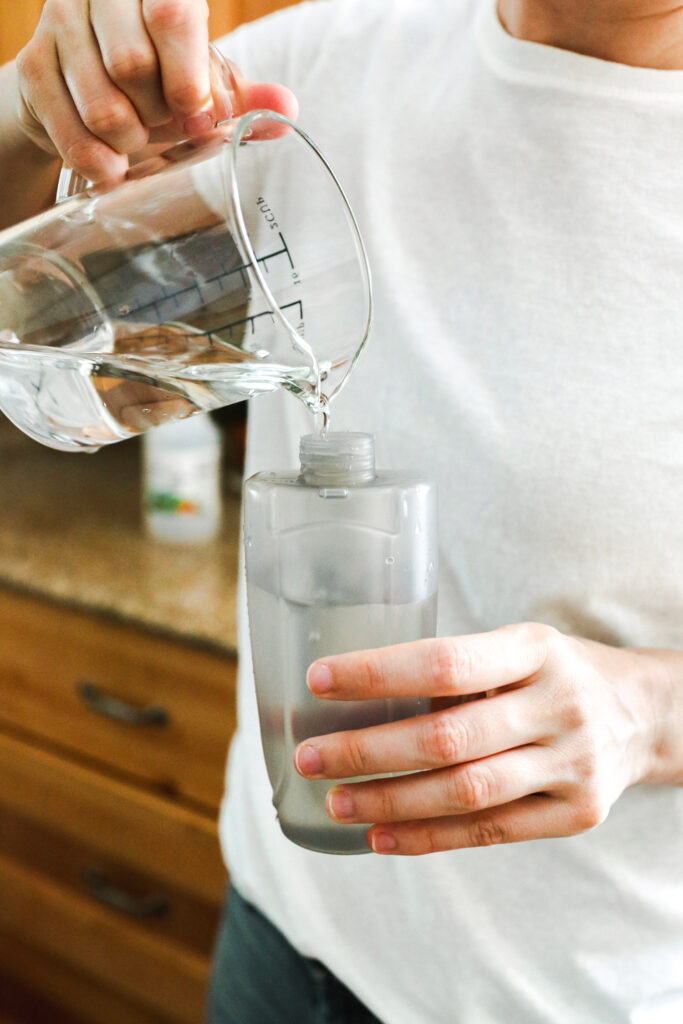 Next, wash your floors to get rid of lingering dirt and grime. Do yourself a favor and pick up one of those spray laminate floor mops that looks like a reusable Swiffer. A mop and bucket will work, but you need to wring out the mop until it's almost completely dry to prevent damaging your floors. Instead, a refillable spray mop spritzes a fine layer of cleaner without the mess of a bucket, and it can be used for all types of floors (a win-win). After mopping, go over floors with a dry microfiber cloth or a dry mop to ensure no water remains on the laminate.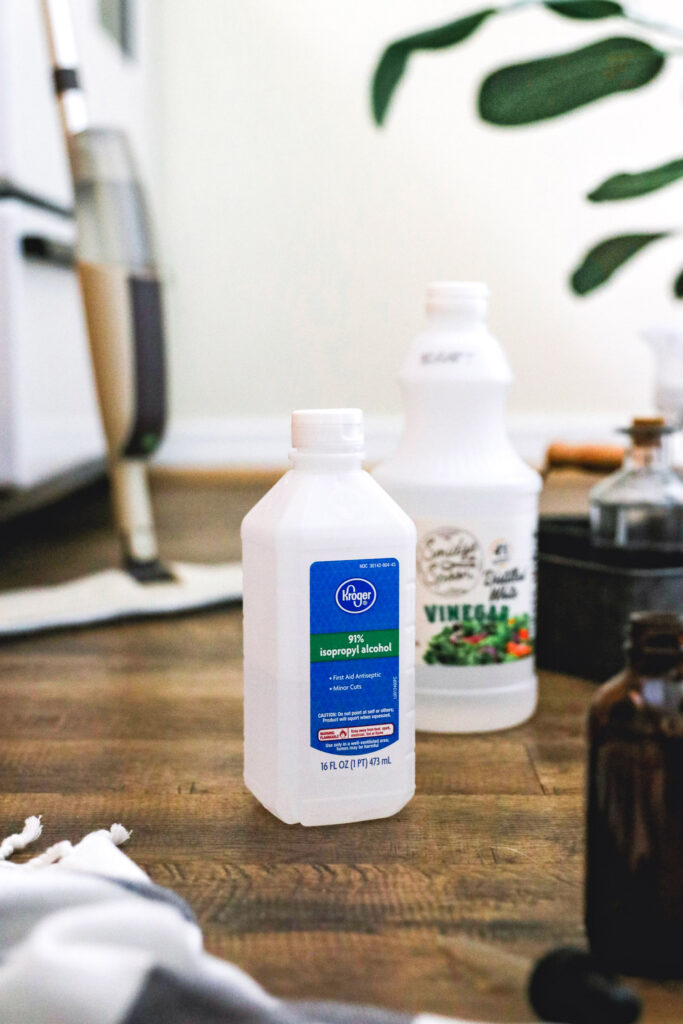 Every six months or so you can use a steam mop for a deeper clean. Just be sure to dry your floors immediately with a dry mop or microfiber cloth.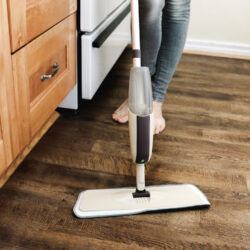 Laminate Floor Cleaner
Ingredients
1/2

cup

white vinegar

1/2

cup

rubbing alcohol

1/2

cup

filtered water

5

drops sweet orange essential oil

glass spray bottle or laminate floor mop
Instructions
Combine all ingredients in a bowl.

Transfer to a glass spray bottle or the solution reservoir in a laminate floor mop.

Lightly spray on floors and mop up, making sure no solution is left to pool in cracks. Use within one month.
348