For a long time I was hesitant to make a DIY hardwood floor cleaner. Mainly because there's plenty of controversy about using vinegar. However, I finally made the leap because 1) Bona is expensive and 2) I researched the finish on my floors.
The best way to clean hardwood floors is often based on the type of finish, rather than the type of wood. Not sure how your floors are finished? It's worth doing a little research with your contractor or manufacturer to see what cleaning methods and products are recommended.
For example, most hardwood floors are coated with polyurethane, which is unlikely to be damaged by acids like vinegar, if diluted. However, a broader range of floor finishes are being used now. Some factory finishes are extremely durable, but water-based finishes may be more vulnerable to acids and bases.
Why is vinegar controversial?
As we've talked about, vinegar is acidic. The green cleaning ingredient attacks dirt and leaves a streak-free shine, but if strong enough, that acid can harm the finish on hardwood floors. In other words, you should definitely not pour straight vinegar onto your floors! (Similarly, don't pool cleaning solution on floors period.)
Vinegar can be diluted to reduce its acidity levels, so I use just 1/2 cup with a gallon of water. I still recommended testing any homemade cleaner on an inconspicuous spot before using. If you don't like the results you can stick with a commercial product like Bona or this Babyganics concentrate.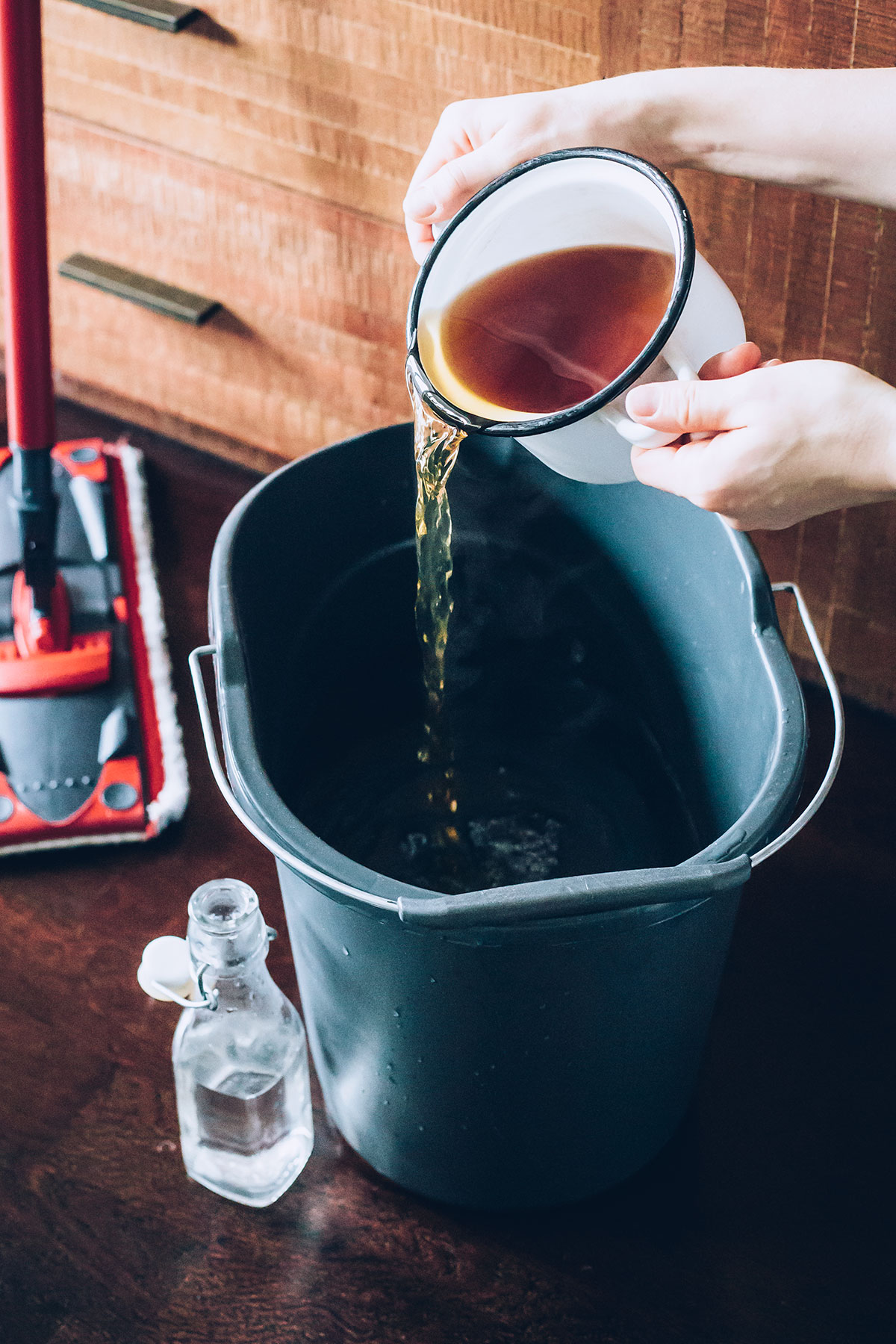 How to clean hardwood floors
Old School Bucket and Rag
I'm old school and typically clean with a rag, but that's also because my kids get food everywhere that requires a bit of elbow grease to pry loose.
Refillable Spray Mop
Spray mops are the bomb. My husband bought a Bona spray mop, and lo and behold, it's refillable. You can buy more of the Bona solution or replace it with a homemade version. Scale down the vinegar dilution to 1 tablespoon for every 16 ounces of water.
Microfiber Mop
If you have a microfiber floor cleaner, you can still 'wet mop.' Dip a wet mop pad in the cleaning solution, wring it out and put it back on the mop or spritz the floors with a spray bottle before wiping up.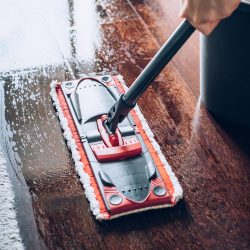 DIY Hardwood Floor Cleaner
Ingredients
1

cup

water

1

black tea bag

1

gallon

warm water

1

tablespoon

olive oil

1/2

cup

vinegar

For refillable mops

use 1 tablespoon vinegar for every 16 ounces of liquid.
Instructions
Bring 1 cup of water to boil and steep the black tea bag, allowing it to cool to room temperature.

Fill a bucket with 1 gallon of warm water.

Add the black tea, olive oil and vinegar.

Use with a mop to clean floors.

Dry mop after cleaning if floors are too slippery.

Don't use this on waxed or untreated hardwood. The best way to clean those floors is with a wet cloth.
Photos by Ana Stanciu
84