I don't clean my floors as often as I should, but after moving into an old house with lots of mismatched flooring it was time to find the ideal floor cleaner for all the different kinds of floors in my home. No more filthy floors, pet hair tumbleweeds or dirty foot prints! Here's a rundown on how to clean every type of floor with (mostly) natural ingredients.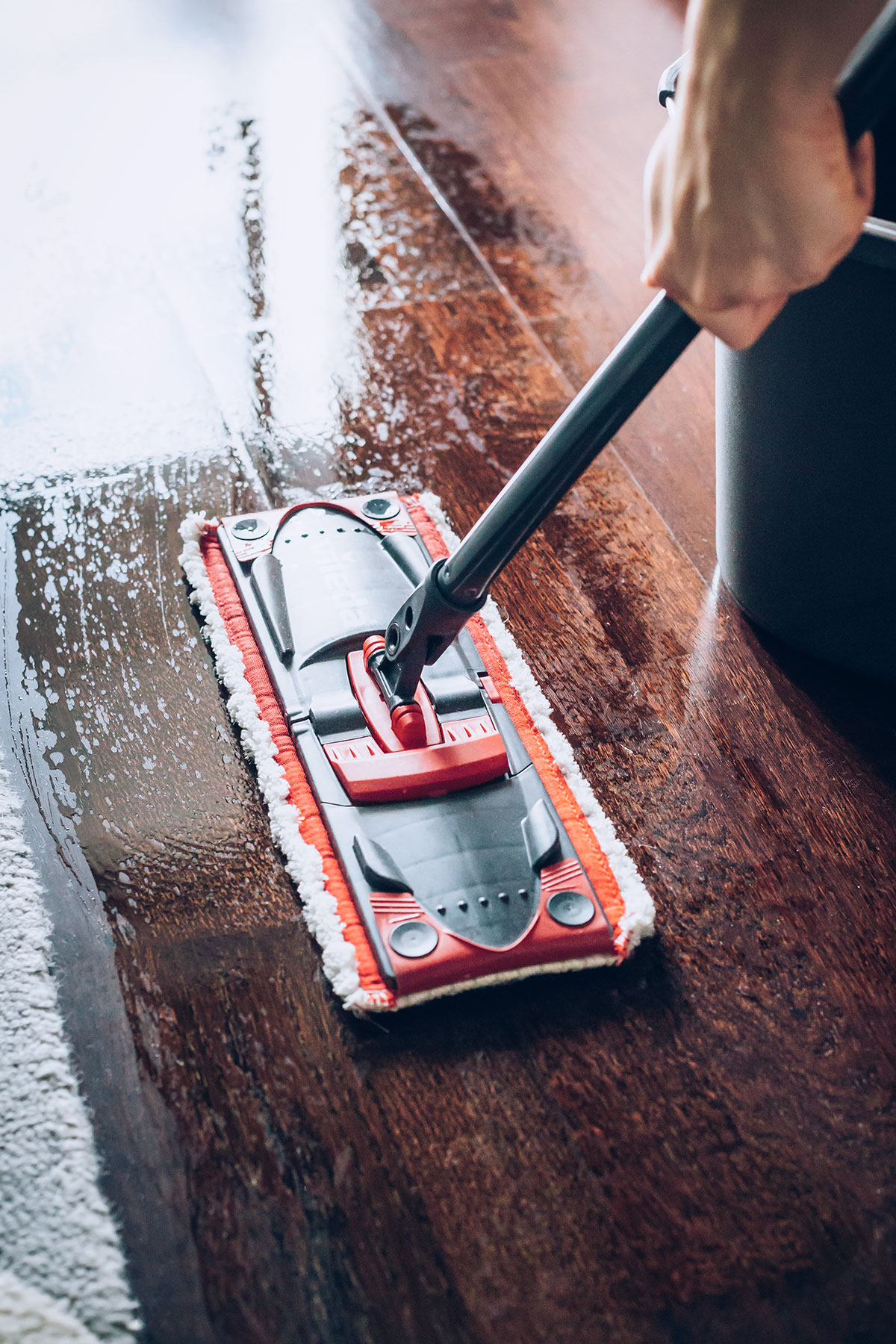 How to Clean Every Type of Floor
Fun fact: when it comes to cleaning floors, the type of finish matters.
A lot of homemade cleaners use vinegar for a streak-free shine. This isn't much of a problem for floors coated in polyurethane, since the acid in vinegar isn't likely to pose problems. But nowadays, more and more floors are being sealed with water-based finishes, which may be more vulnerable to acids and bases.
If you're not sure what your floors are made of or how they're finished, then it might be worth doing some research – either online or with the manufacturer – to find out what products are recommended. But no matter what your floor is finished with, there are few ways to make your floors shine without tough cleaners.
How to clean hardwood floors
Regularly cleaning hardwood floors can help protect the finish, which ensures they look better and last longer. While a lot of hardwood floor cleaner recipes recommend vinegar, some say that it's too acidic for hardwoods, and may weaken the finish. To be safe, stick to gentler ingredients, like Castile soap and essential oils to nourish wood floors and make them shine naturally.
1. Sweep or dust often. Keeping dirt and grit off hardwoods can help protect the finish and keep floors from getting dull or scratched, so they look good for the long haul.
2. Clean with a damp mop once a month. Once a month or so, use a damp mop to get rid of stuck-on grime, food, and dirt and pick up any dust bunnies.
3. Use a good floor cleaner once every 3-4 months. Unless you have small children, who spend most of their time on the floor, you really don't need to wash your hardwoods more than once every 3-4 months.
Choose a hardwood cleaner, like Murphy Oil Soap, or make a gentle cleaner by mixing a gallon of water with 1/2 teaspoon Castile soap. If you do decide to use vinegar on hardwood floors, water it down a lot to help lessen the acidity.
More hardwood floor cleaners:
How to safely clean hardwood floors
All-natural hardwood floor cleaner
DIY Swiffer pads
How to clean tile floors
Tile floors are easy to clean because they're indestructible, which means you don't need a specially formulated floor cleaner to shine 'em up.
1. Vacuum. Because grout holds onto dirt and dust like velcro, start by vacuuming your floors well. Make sure to get into the corners and go around the base of furniture, where dust tends to collect.
2. Mop well. Since I don't like crawling around on hands and knees on the bathroom floor, I use an old mop to clean my tile. But if you find it hard to get the nooks and crannies clean, then feel free to use a rag and a little elbow grease.
3. Refresh old grout. If you have white or light-colored grout, you can revive it with a little bit of lemon juice. Pour a few tablespoons of lemon juice in a small bowl, then use an old toothbrush to saturate the grout. Let it sit for 15 minutes before wiping it away with a damp cloth.
4. Dry the floor. To prevent water spots (or a safety hazard), go back over floors with a clean, dry cloth to mop up any standing water.
Homemade Tile Floor Cleaner
—1 gallon hot water
—1/2 cup white vinegar
—Squirt of dish soap
—15 drops lemon, grapefruit, tea tree or some other essential oil
Combine ingredients in a large bucket. Dip a mop into the bucket and wring it out well before applying the cleaner to floors. Let air dry.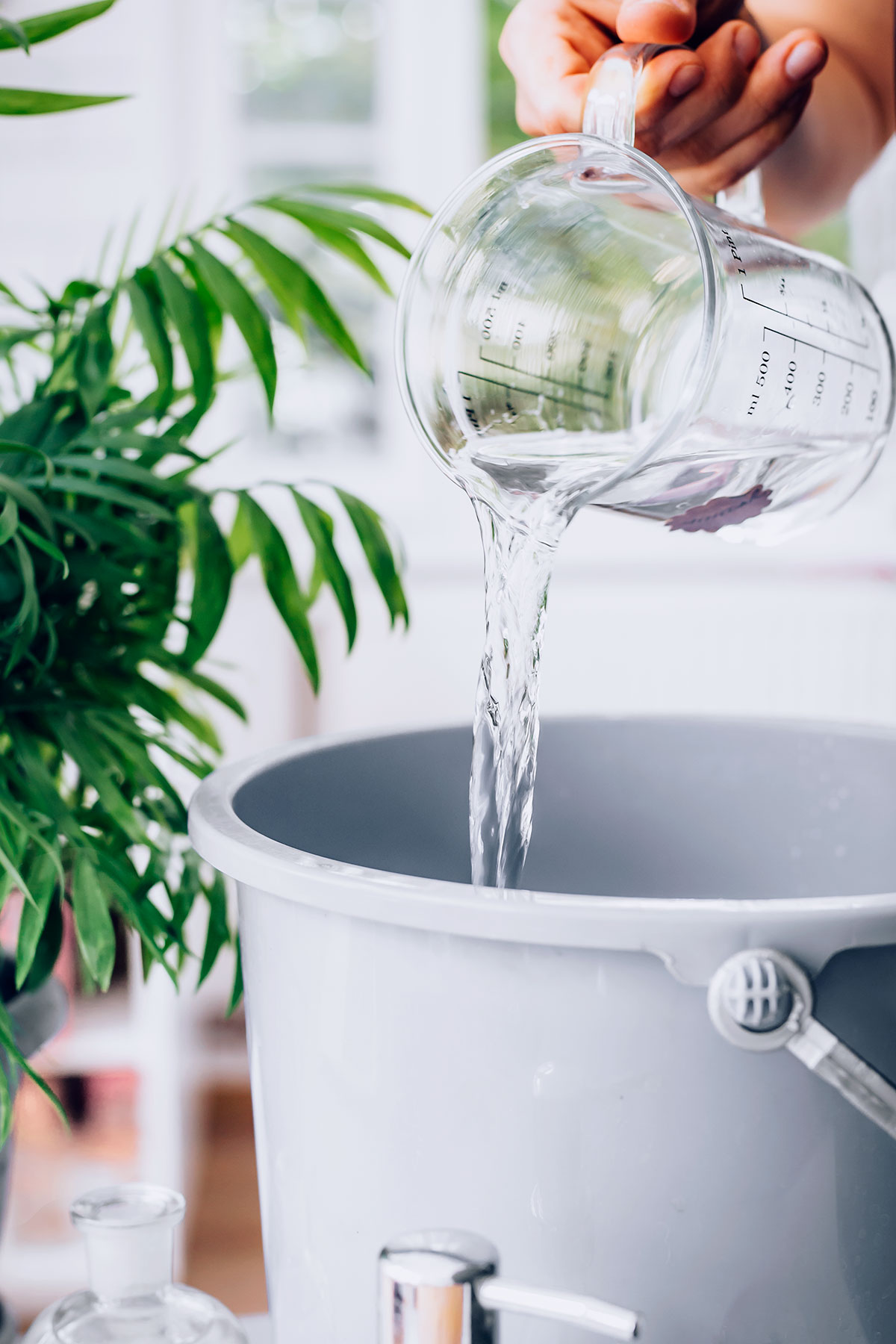 How to clean laminate floors
Laminate is a type of synthetic flooring that's made from layers of wood and printed plastic, then coated with a transparent protective topcoat. Because it's a hybrid between wood and vinyl flooring, it's sensitive to moisture and needs to be cleaned with care.
1. Mop up stains and spills immediately. Liquids can damage laminates, so it's best to soak up spills as soon as they happen, rather than letting them sit.
2. Be gentle. Avoid abrasive cleaners or cleaning tools, such as brushes or steel wool, which can etch or scratch your floors.
3. Once a month, damp mop floors. Use a damp – almost dry – microfiber mop that won't scratch floors or leave much moisture behind. If you do use a regular mop, make sure to wring it out until it's almost dry before swabbing floors.
4. To deep clean floors, use a floor cleaner made especially for laminate floors. Or make your own quick-drying floor cleaner with rubbing alcohol.
For a homemade laminate floor cleaner that dries quickly, try this DIY laminate floor cleaner.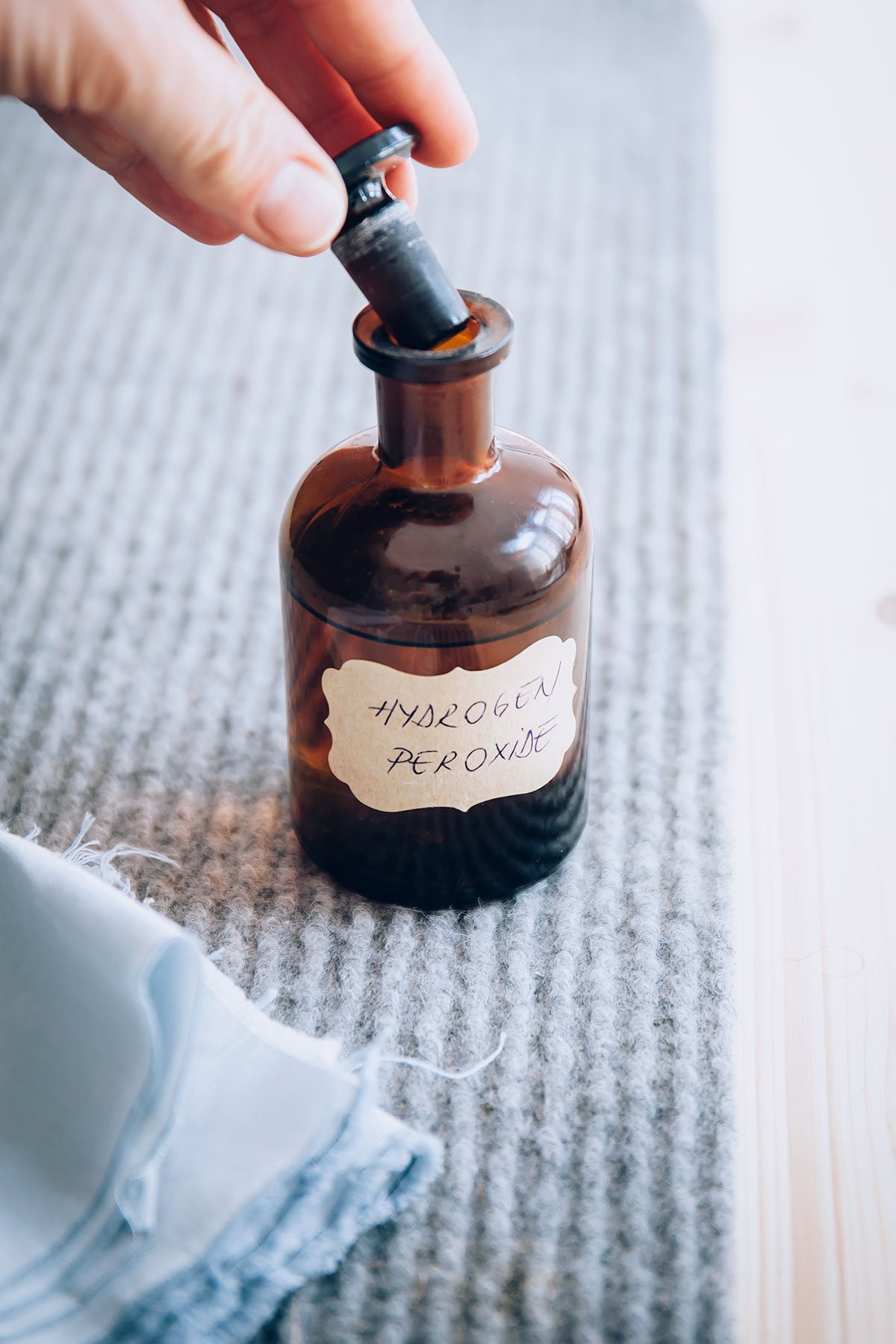 How to clean carpet floors
Most of the time carpet just needs a good vacuum, and it's worth investing in a quality one (this Shark Navigator is our fave!).
For spills and accidents, you don't need a rug cleaning machine to clean your carpet at home. But it is a labor-intensive process, so make sure you have plenty of time set aside for the project.
1. Clear the rug. I usually skimp on this step, but it's best to move as many items off the rug as you can before you get started. That way you can re-fluff furniture imprints and revive matted down rug fibers.
2. Pre-clean. Vacuum the rug, first in one direction, then again in the opposite direction, to get rid of ground-in dirt in the carpet. If you notice any stains, spot treat them with a spray-on spot remover and blot with a clean rag. Tip: Always test rug cleaning sprays to make sure your carpet is colorfast before spraying all over.
3. If you don't have a rug cleaning machine, mix 2-3 drops of carpet shampoo with warm water in a clean spray bottle. Lightly spray the entire rug, being careful not to saturate the fibers.
Let sit for 15 minutes before blotting the rug with dry towels to remove as much moisture as you can. Lightly spray the rug with plain water to rinse the fibers and remove as much shampoo as possible. Blot with dry towels a second time.
4. Open the windows and let the rug air dry.
More carpet cleaners:
Liquid carpet cleaner
All-natural rug stain remover
Rug freshening powder
How to clean natural stone floors
Cleaning stone floors is just like cleaning stone countertops. Make sure to have a gentle stone cleaner and plenty of soft towels handy to prevent water spotting, staining and pitting.
1. Use a dry dust mop to remove sand, dirt, and grit that can damage stone floors.
2. Fill a bucket with a gallon of warm water and a little bit of alkaline stone floor cleaner.
3. Wet a microfiber mop and ring out thoroughly. Starting at the outermost corner of the room, mop the floor as you work your way towards the exit.
4. Allow the floors to air dry.
If you'd prefer to make your own natural stone and granite cleaner, try this DIY granite cleaner with essential oils.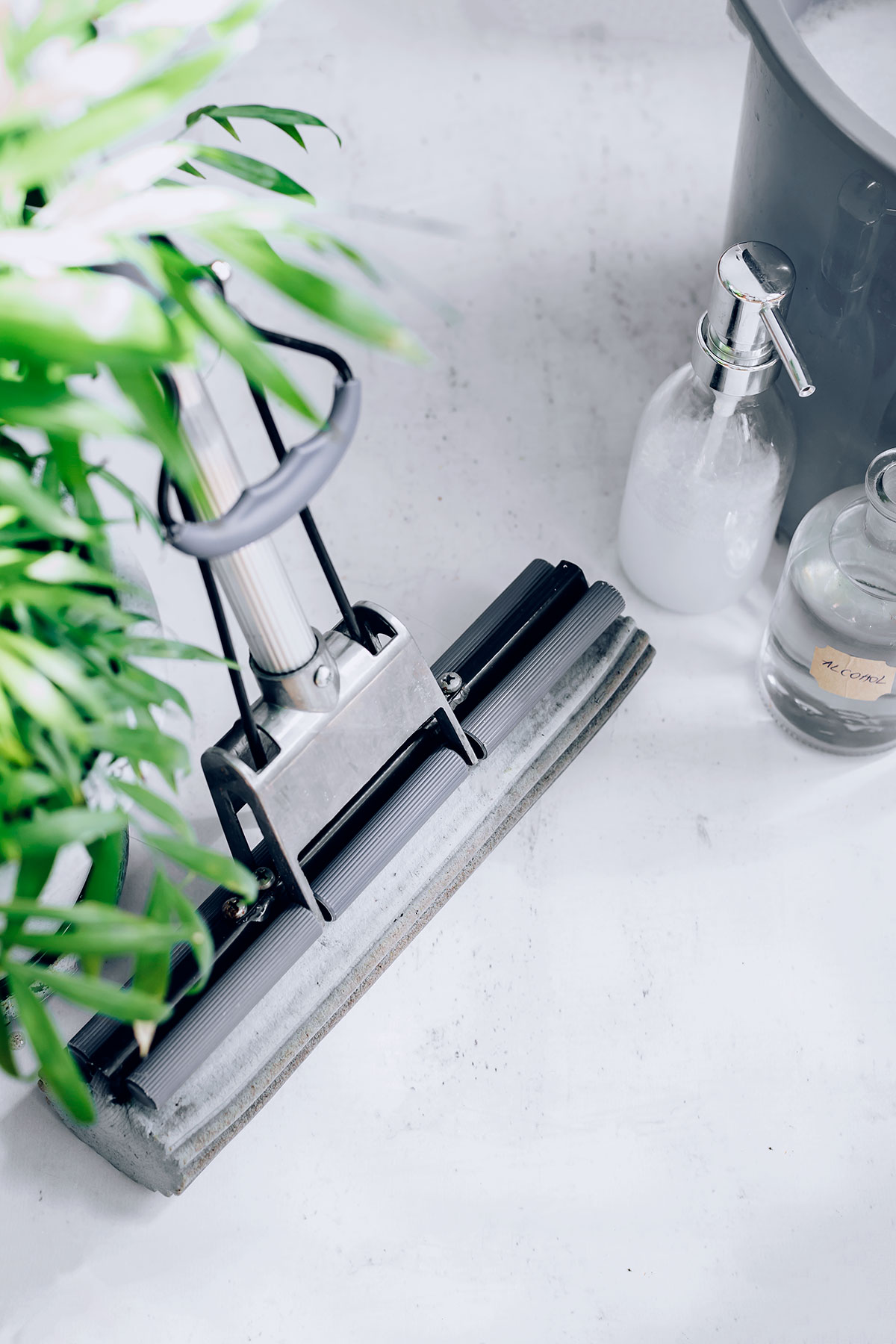 Other Flooring: Vinyl, Linoleum and Cork
Vinyl
Start by sweeping or vacuuming to get rid of dirt. Follow up with a gentle cleaning solution made from 1 gallon water and ½ cup white vinegar. Either mop the floor or clean it by hand using a soft dish towel. Since vinyl can scratch easily, avoid abrasive brushes and stick with soft dish cloths or microfiber towels instead.
Linoleum
After vacuuming the floor, clean the floors with a product made especially for linoleum. Rinse clean and let air dry. Every 3-6 months, apply a wax sealant to protect floors from wear and tear.
Cork
Clean your cork flooring once a month using a dry or slightly-damp mop. Never immerse the cork in water when cleaning, otherwise you may damage the material. To get rid of grimy stains, use a pH-balanced cork cleaning solution mixed with water.
0