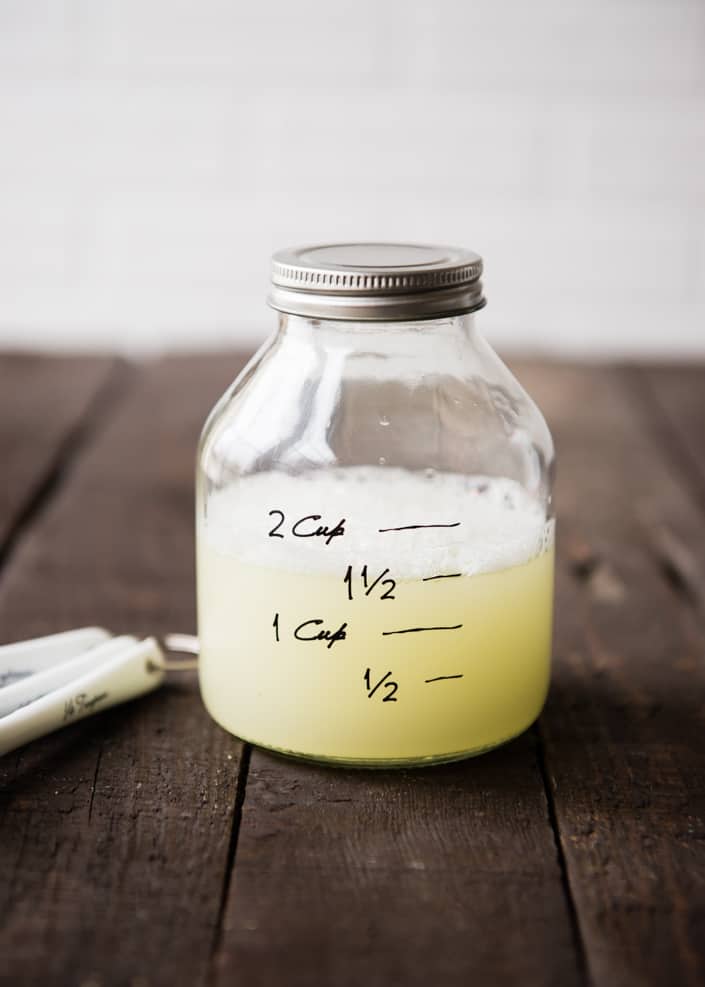 Are dirty floors your nemesis? A lot of cooking goes on in my kitchen every day. Add muddy paw and foot prints to the splashes, splatters, spills, and crumbs, and my floor definitely requires regular maintenance. That's why it's important to me to use cleaners that work well, are budget-friendly, and not full of chemicals. Enter this DIY Pine-Scented Floor Cleaner.
I've replaced many bottles of various cleaners in favor of natural ones. Since ditching my old floor cleaner in the kitchen, I've often used vinegar and warm water when mopping up messes, but let's be real: it kind of stinks. It was time to break out the essential oils and Sal Suds to come up with something that would work well and smell fantastic.
While you're free to choose any essential oils you have on hand, I went with pine. Balsam fir needle essential oil is one I use a lot when I make my own cleaning products; it kind of has an uplifting effect. To that, I added some rosemary and citrus essential oils, and tea tree oil for extra disinfecting power.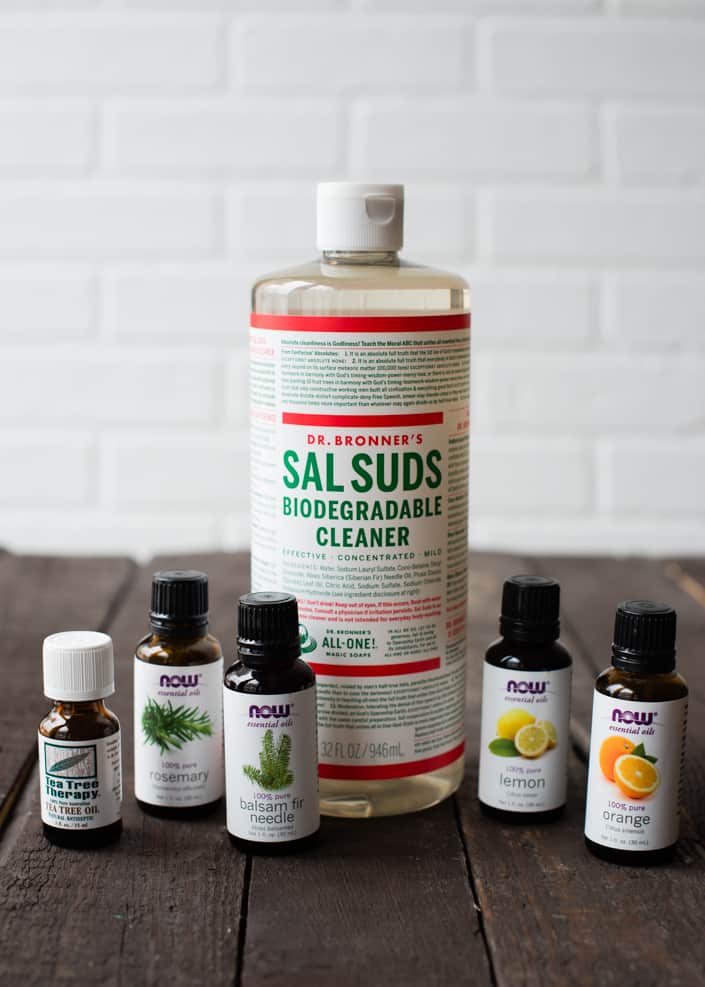 When working with Sal Suds, keep in mind that it's highly concentrated, so a little goes a loooong way. All you need is 1/2 teaspoon to 1 gallon of warm water. This pine-scented cleaner can be used on almost any floor. It smells amazing and cleans brilliantly!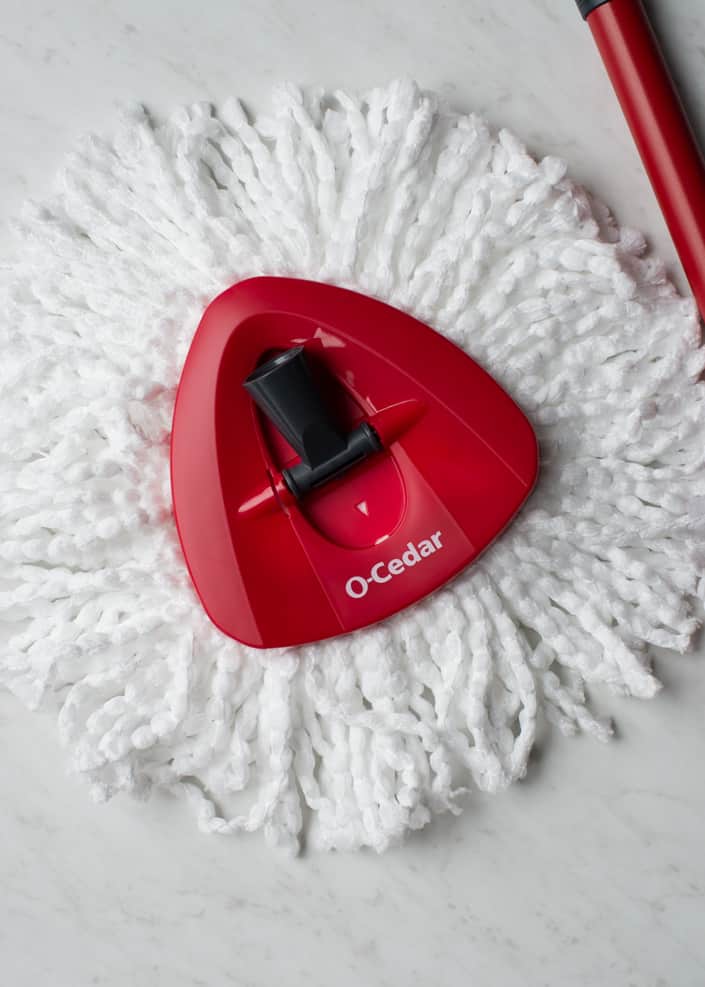 With the floor cleaning solution tackled, the next step is finding the right kind of mop. I've used (and tossed) many mops over the years. I grew up with a mom who regularly scrubbed the kitchen floor on her hands and knees at night when everyone was asleep. You'd be correct to assume that we could practically eat off of those floors. I don't know how she had the time or energy to do that. I need an easier solution and a great mop to get the job done.
Spoiler alert: I totally found my dream mop.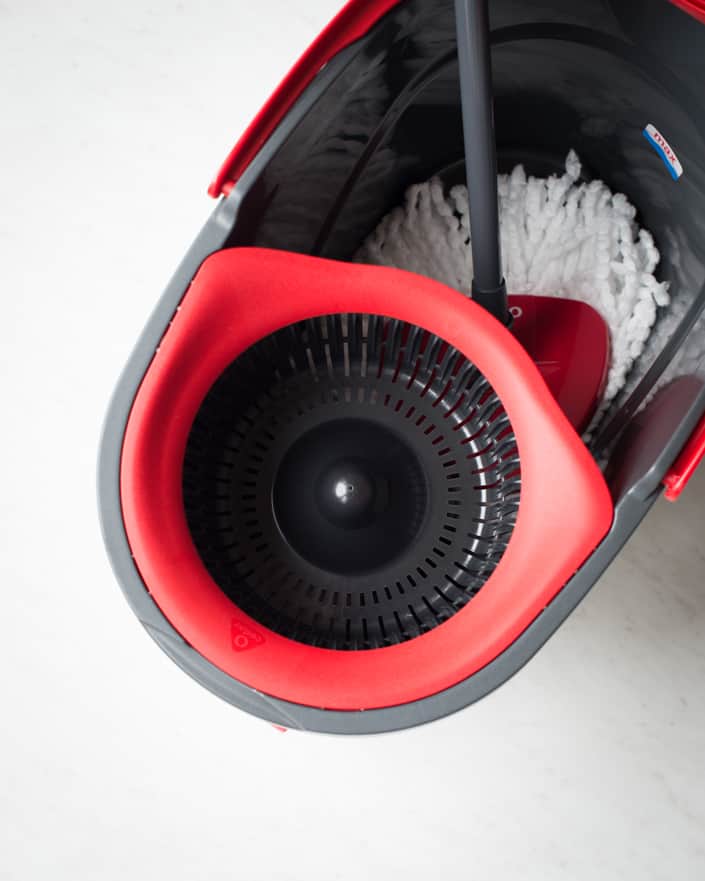 Not only does it have a neat-o dirt-grabbing microfiber mop head, it can be wrung just by stepping on the built-in pedal–no hands needed and no need to bend over either, making this mop easier on your back. How can you not love that, right?
The mop spins and the number of times the pedal is pressed determines how damp the mop gets–more wet for sticky messes and less wet for a quick-drying once-over to get your floors looking fab for when you've got company coming over. The soft mop head also fits easily into corners thanks to its triangular shape and can be used on any floor from tile to wood to laminate–and no matter what surface you use it on, this mop won't leave any streaks.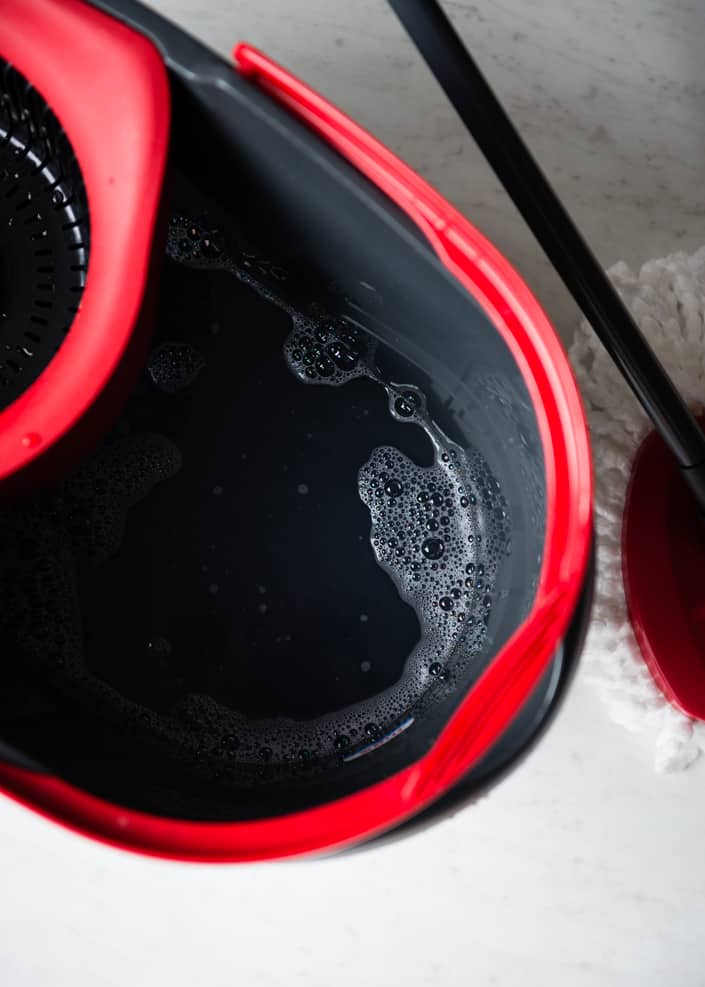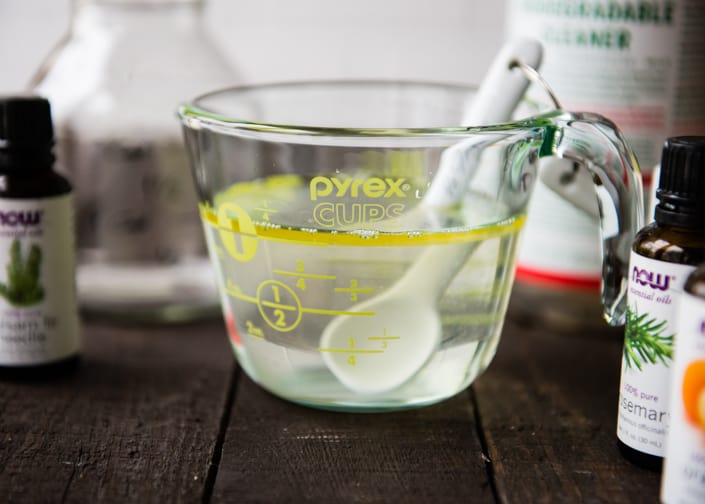 Back to the DIY floor cleaner: I've included instructions for making a single batch of it, as well as directions for making one big batch that will last you 6-12 months.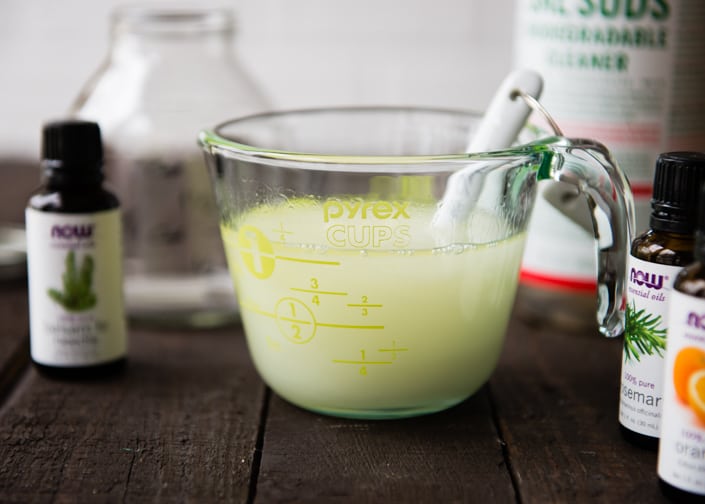 The mixture will become a little cloudy when the oils are added. It may even thicken quite a bit. Keep stirring and it will thin back out again.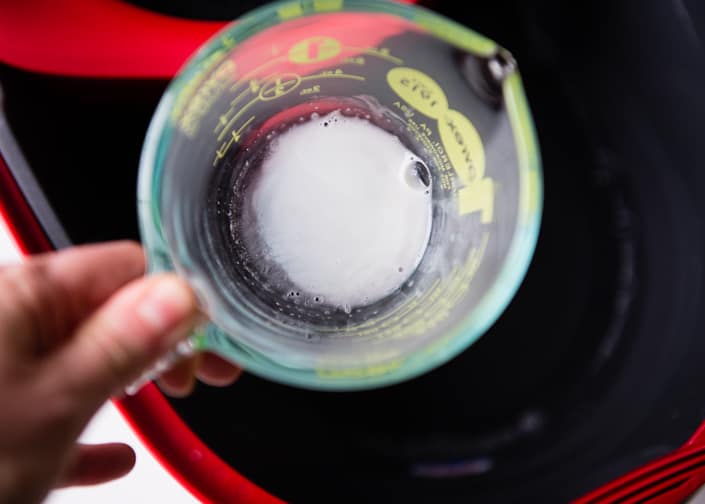 The recommendation is to add it to the warm water, not the other way around, or it can create an abundance of bubbles. (You've been warned!)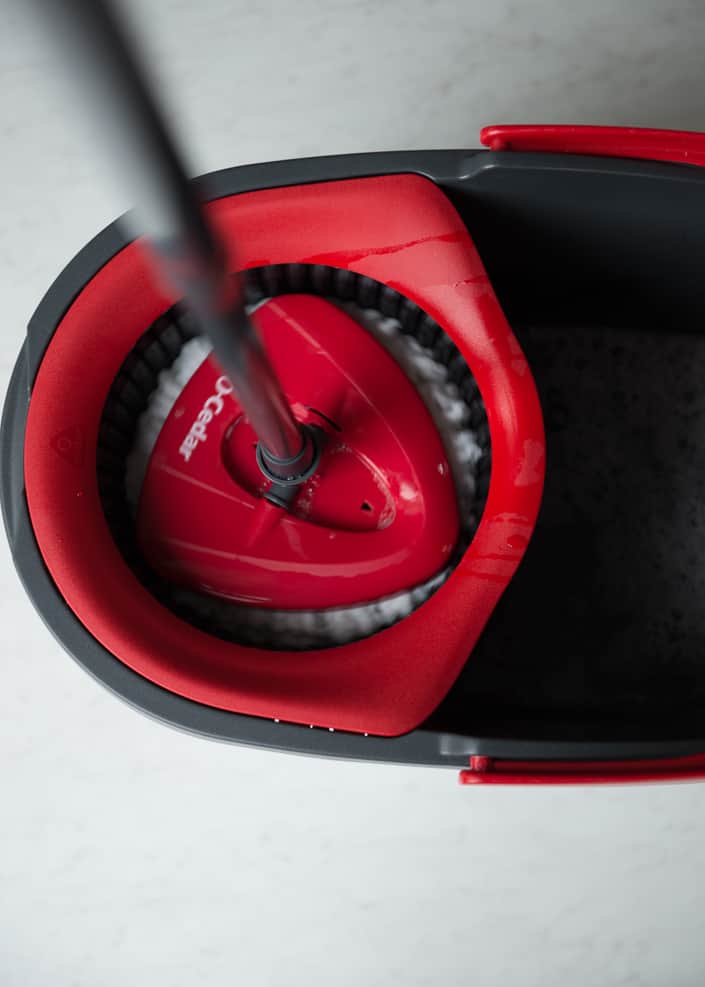 This dream team–mop and homemade pine cleaner–worked magic on my dirty kitchen floor. It's easy, effective, and leaves my kitchen smelling fresh and clean. Win-win!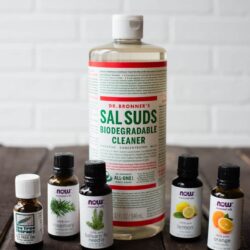 DIY Natural Pine Floor Cleaner
Homemade pine-scented natural cleaner for all floor types. Made with essential oils. Smells wonderful and cleans great!
Ingredients
1

gallon

very warm or hot water

1/2

teaspoon

Sal Suds

20

drops balsam fir essential oil

20

drops citrus essential oil lemon and/or orange

10

drops rosemary essential oil

10

drops tea tree oil optional
Instructions
Fill a 2-3 gallon bucket with very warm or hot water.

Combine Sal Suds and essential oils. Pour into the warm water and stir well. Use as needed.
Notes
If you've got a waxed wood floor, test a small area first to make sure the Sal Suds don't remove the finish.To make a large batch, use 1 cup Sal Suds, 1 1/2 teaspoons balsam fir essential oil, 1/2 teaspoon tea tree oil, 1/2 teaspoon each: lemon and orange essential oil, and 1/2 teaspoon rosemary essential oil. Store in an airtight container. Use a little more than 1/2 teaspoon of the Sal Suds solutions per 1 gallon warm water.
3