Aprons are one of my favorite things to DIY. Not only are they pretty and functional, but they make amazing gifts for practically any occasion (speaking of, it's never too early to get a jump on Mother's Day). But with all the measuring, cutting and sewing, even the easiest apron tutorials can be, shall we say, not fun. Even a seasoned apron maker like me can only make so many before I'm ready to call it quits and swear off sewing altogether. So when I stumbled onto a simple DIY apron technique using a dish towel I jumped all over it. For something that took 5 minutes to make and doesn't require a single stitch, I'm seriously amazed at how cute it turned out.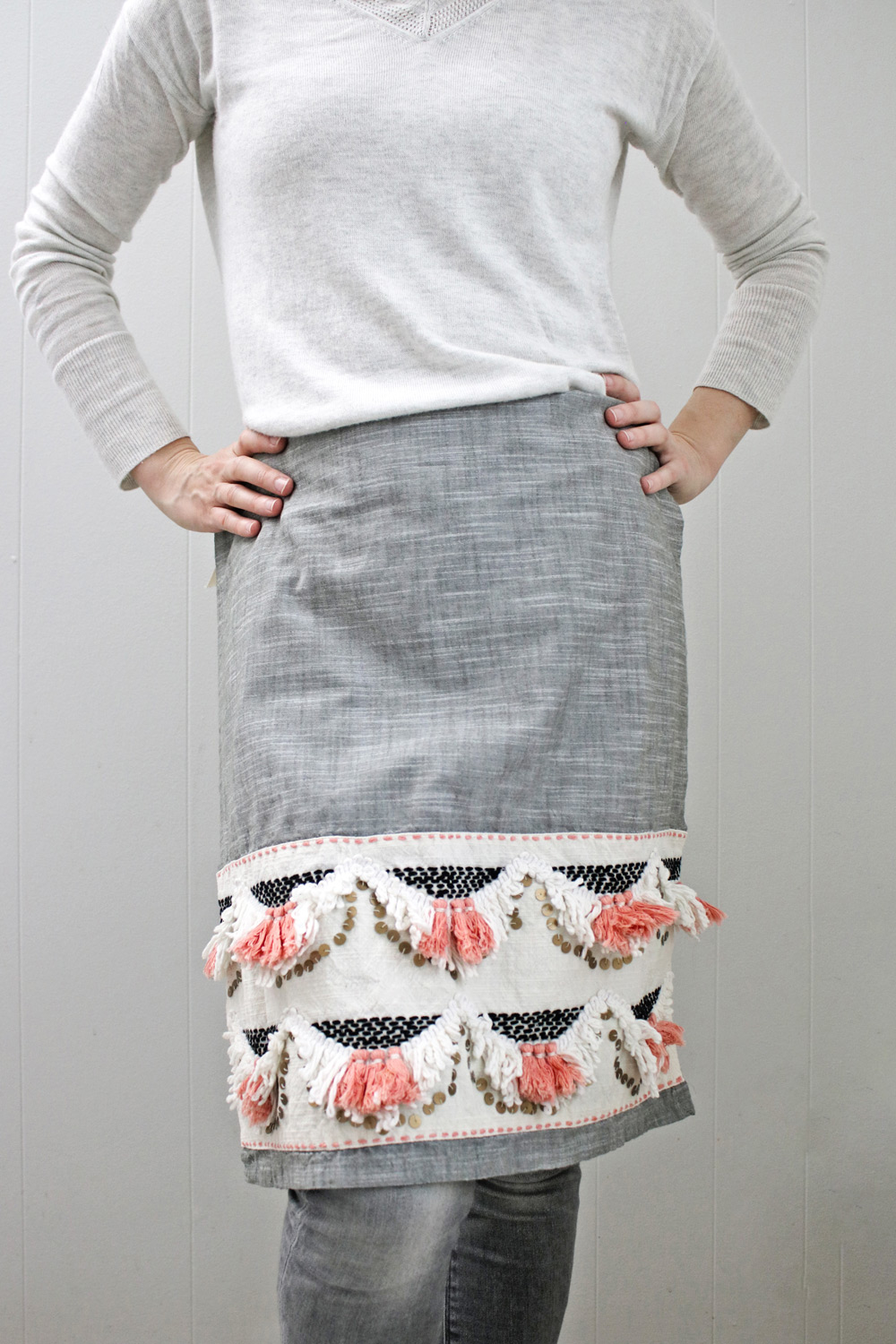 How to Make a Dish Towel DIY Apron
This apron tutorial is as easy as it gets. Since there's no sewing involved, it makes an awesome project for those who don't know how to sew or who want to make several aprons fast. It's also incredibly versatile. I like to use tea towels because they're pre-sewn for you in practically the perfect size, so all you have to do is attach the grommets and add the ties. But go ahead and get creative with old pillow cases, place mats, even large cotton or linen napkins if you want. As long as it's absorbent and the right size, the sky's the limit.
I do, however, recommend choosing a fabric that can hold up to lots of machine washing (another reason to use a dish towel!). I chose an old towel I purchased from Anthropologie a couple years ago. It didn't make the best dish towel because the tassels were always getting knotted in the dryer. But it does make the most gorgeous apron to add to my collection. Since I'm not much of a chef, I don't plan to wash it that often. And whenever I do, I'll just let it air dry to keep the tassels from matting.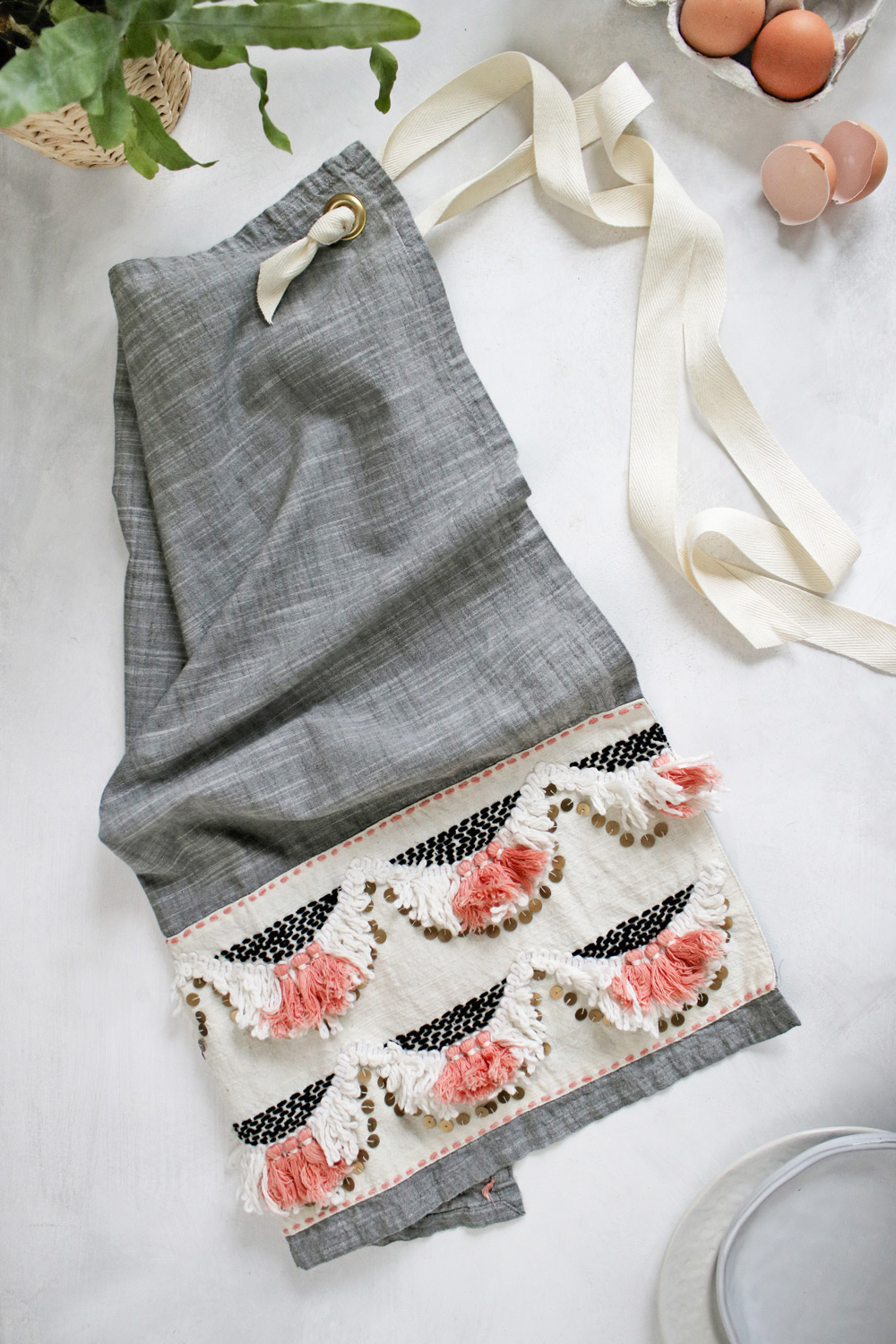 As an added bonus, the ties on this are completely removable so your apron can do double duty. Remove the ties altogether and your apron becomes a regular dish towel. Add them back whenever you're in need of an apron.
Marie Kondo would be so proud.
Supplies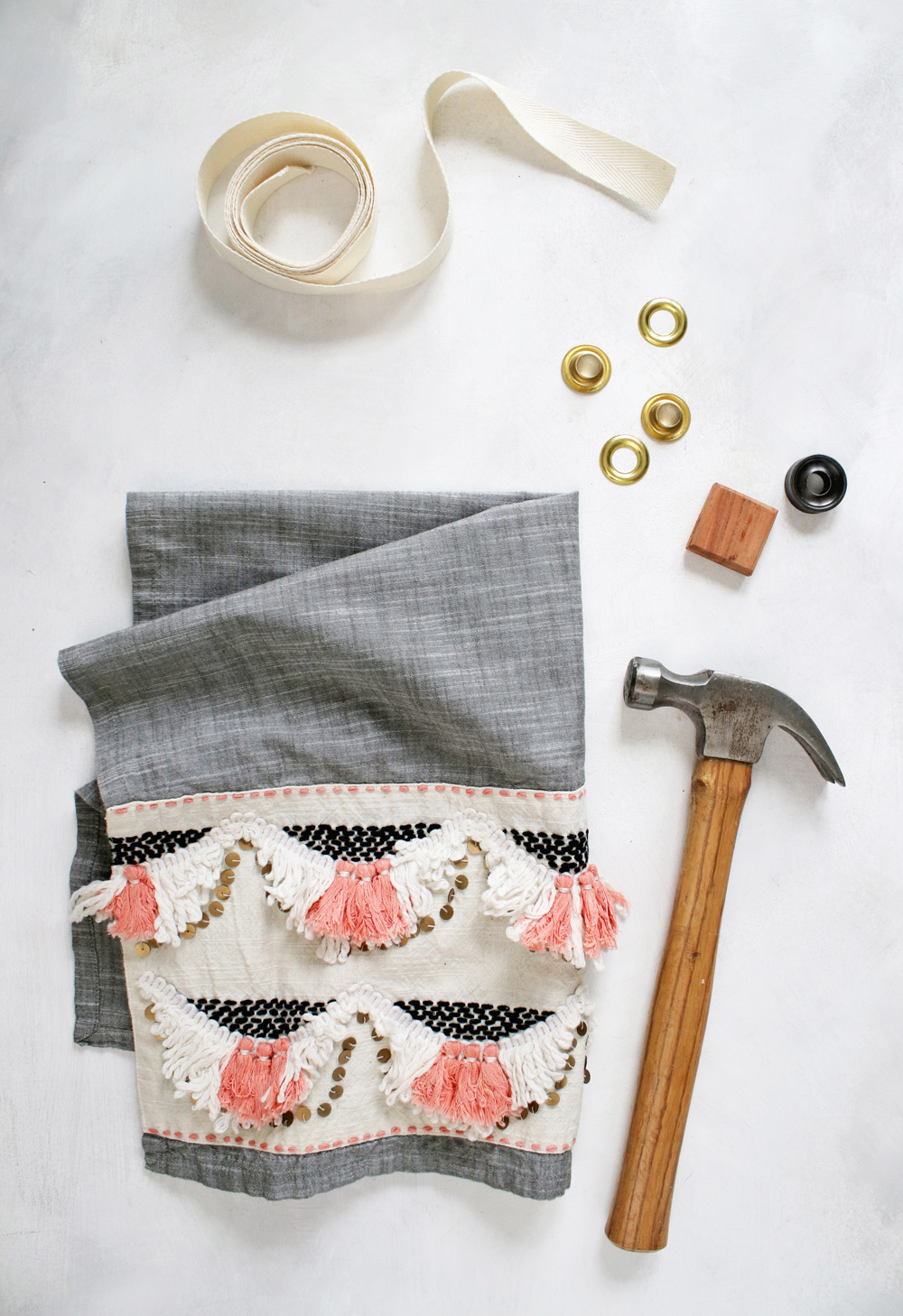 Instructions
1. Cut a small hole in the upper corners of your dish towel, and attach the grommets following the instructions on your kit.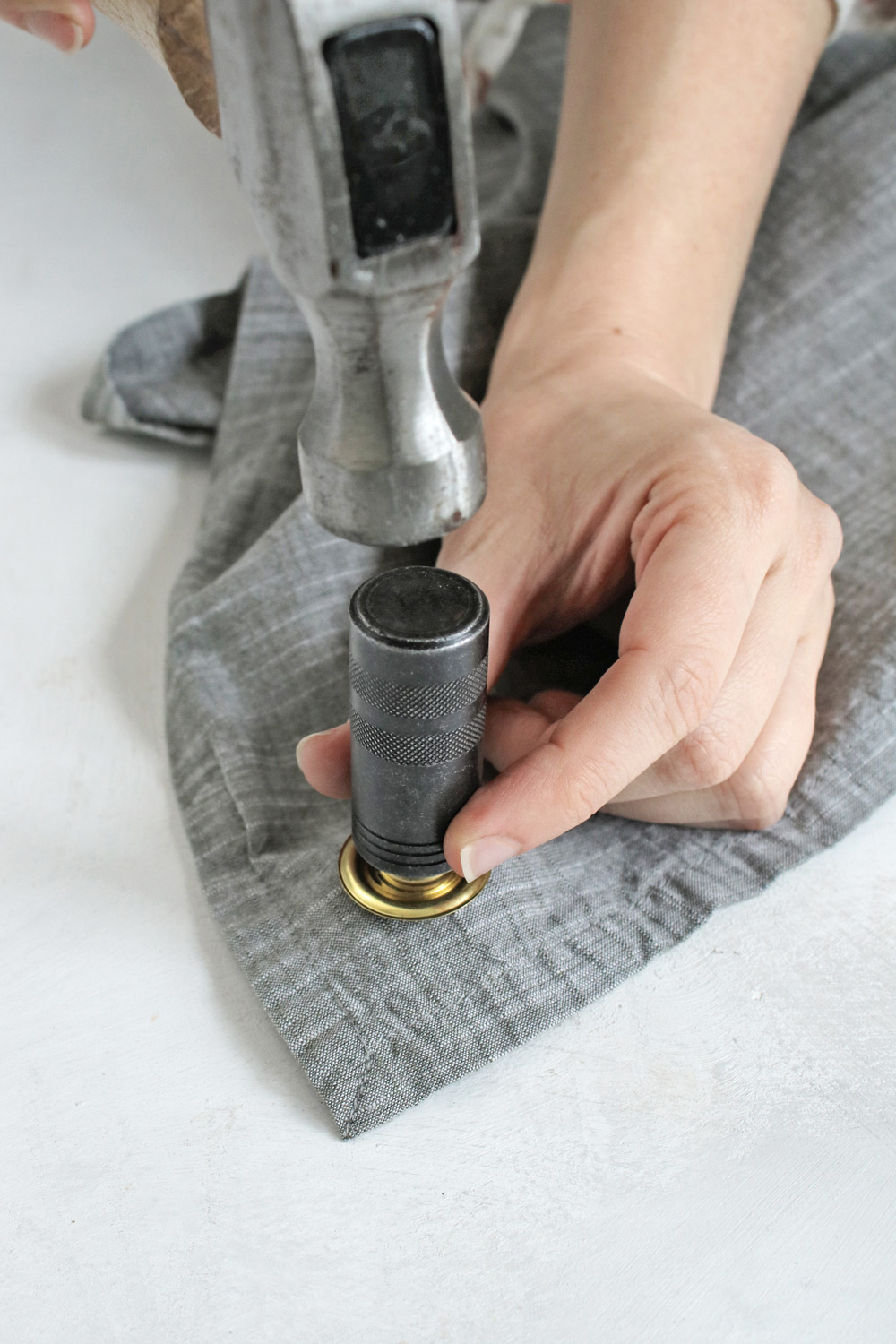 2. Cut the twill tape in half so you get two 1/2-yard pieces. Feed the ends through the grommets and tie knots large enough to hold them in place. Be sure to remove the ties before washing.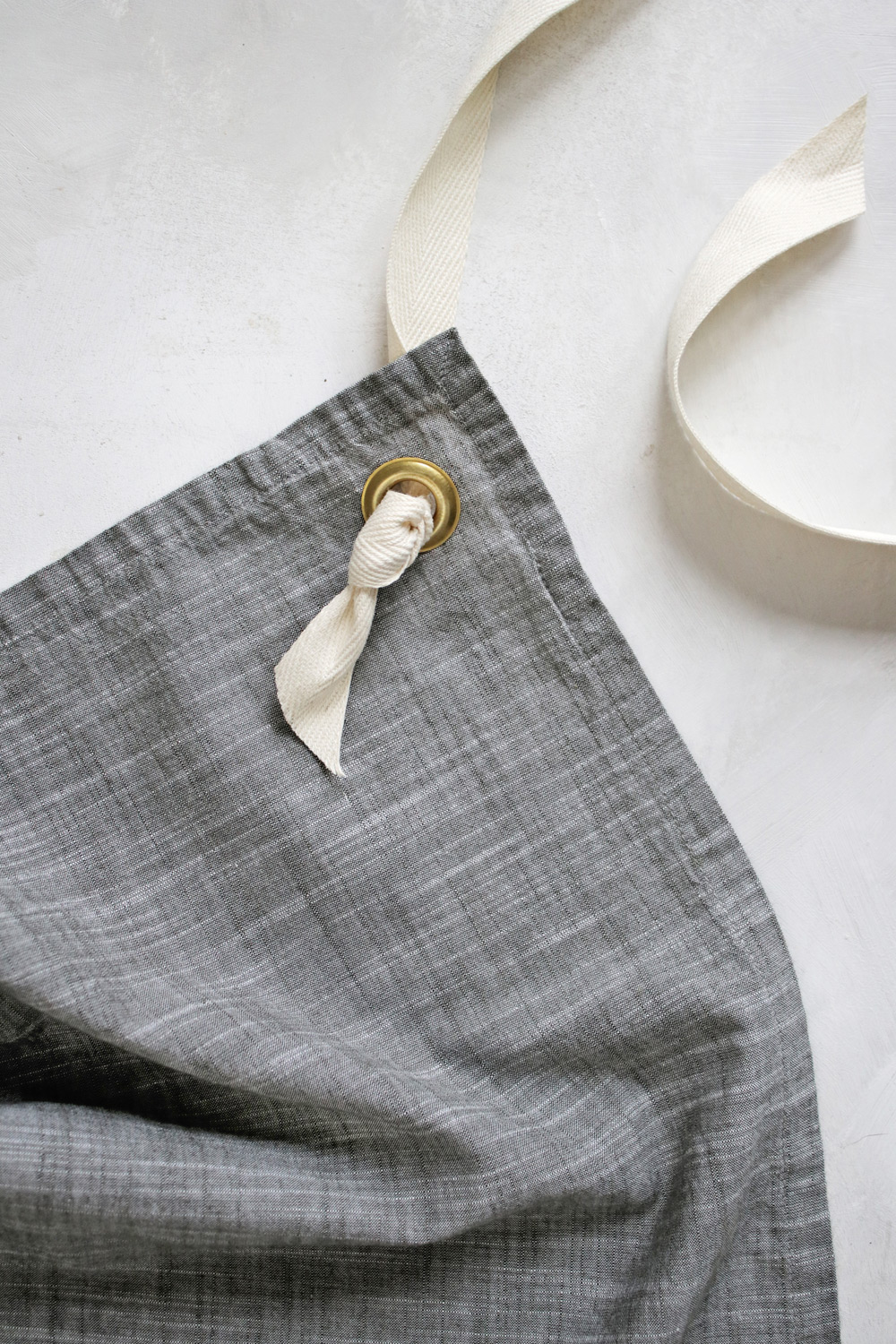 6