Next to glass food storage containers and beeswax "plastic" wrap, I consider reusable "unpaper" towels to be one of the most underrated kitchen upgrades. They're obviously reusable, which means you never run out or waste money on 'em, but they're also super simple to make using old t-shirts, bath towels, or baby blankets. Plus, they're so much better at cleaning up spills and wiping dirty surfaces than real paper towels.
Even if you don't have a ton of sewing skills, I'll show you how to whip up these unpaper towels from fabric scraps in a couple of minutes.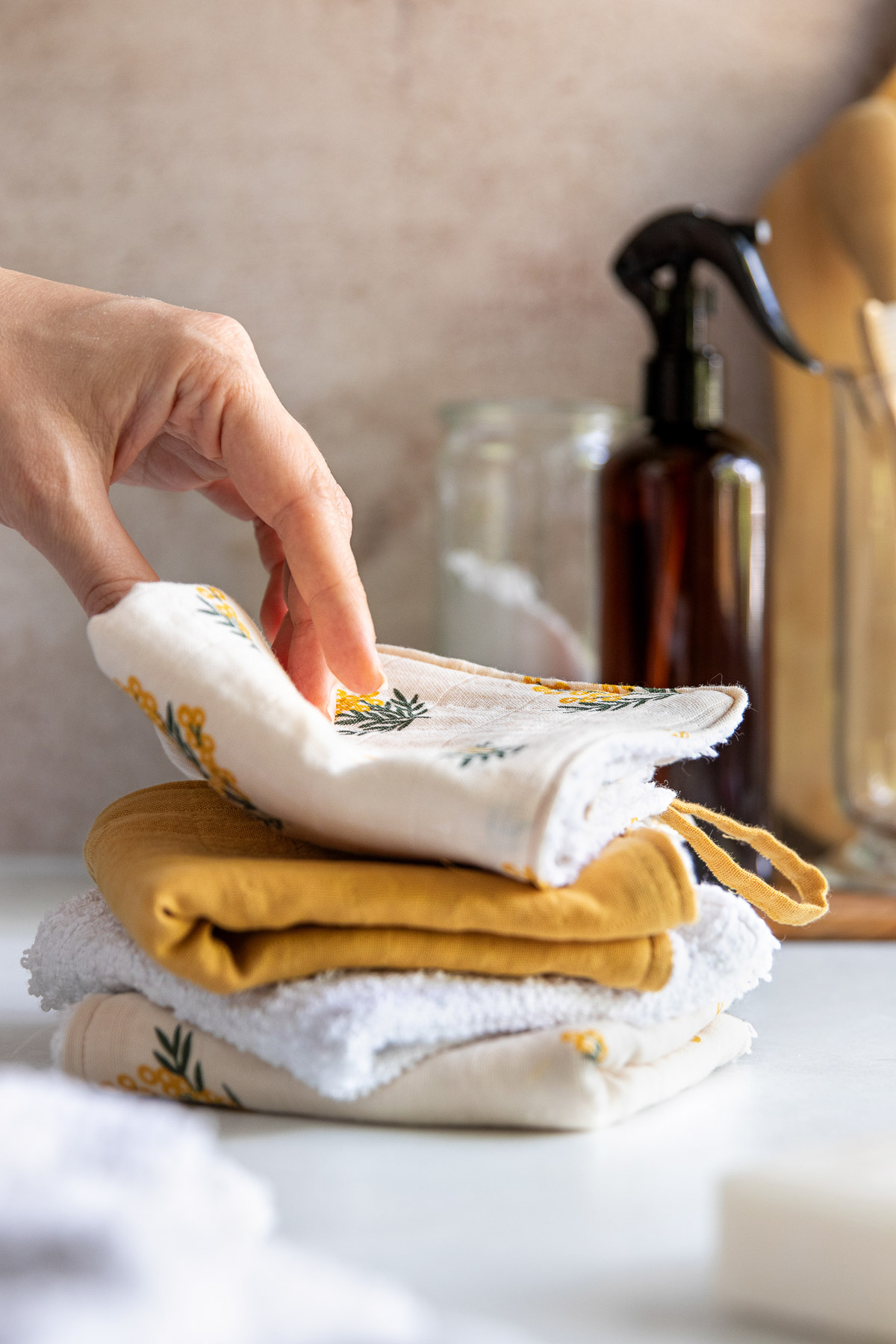 How to Make Unpaper Towels
If you don't know how to sew, you can make these with fusible fabric tape and an iron instead. You can also add snaps or buttons, which will allow you to connect the individual towels and store them on the kitchen counter, much like a roll of paper towels. I prefer to save counter space and store mine folded in a drawer, but I did add a fabric loop so you can hang them from a hook for quick access.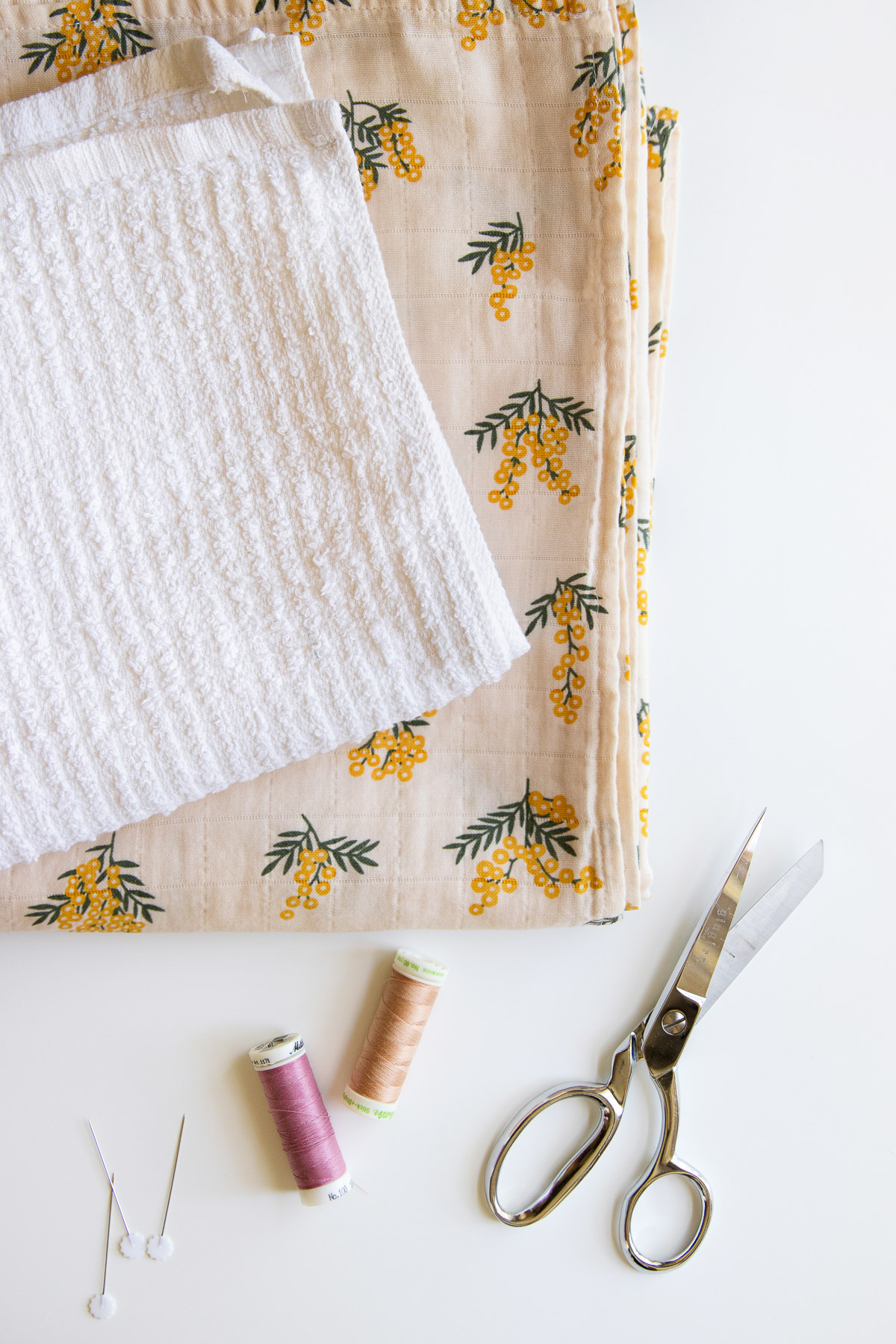 Supplies
Fabric scraps*
Coordinating thread
Pins
A sewing machine
Sewing scissors
Ruler
Fray check (optional)
*Highly absorbent cotton fabric works best. I used a combination of old bath towels and organic cotton baby blankets to make my towels double-sided. I like that there's an absorbent side and a lint-free side to choose from. But any untreated cotton, linen or hemp fabric will work well.
Step 1: Measure your fabric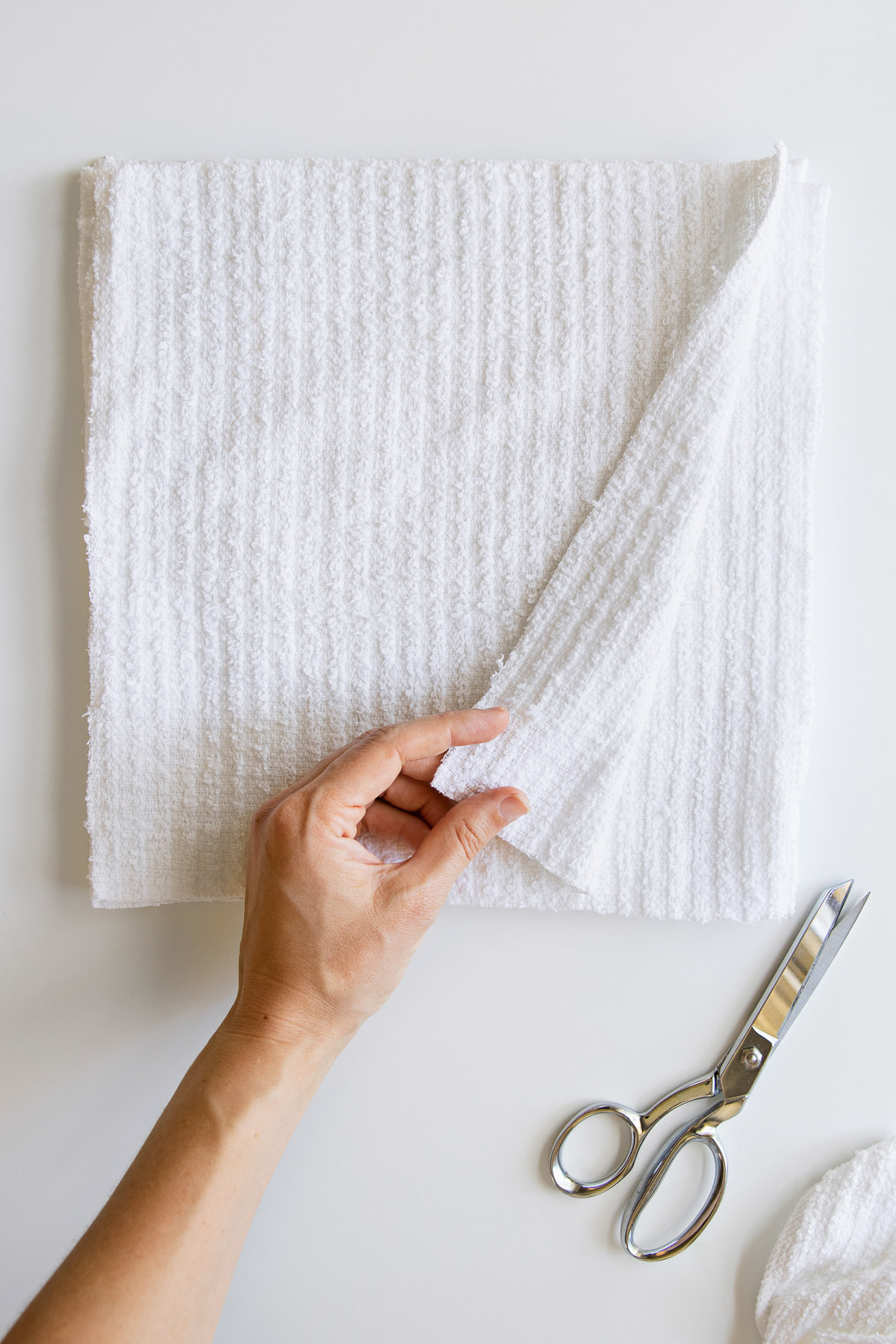 The ideal size for these towels is really a matter of preference. I wanted my towels to be 10" x 10" when sewn, so I made my fabric squares 11" x 11", which includes a generous 1/2" inseam.
Feel free to make them another size or shape, if you like. Or stick with 11" x 11" for the sake of simplicity. Just make sure your fabric pieces are the same size.
Step 2: Cut out the squares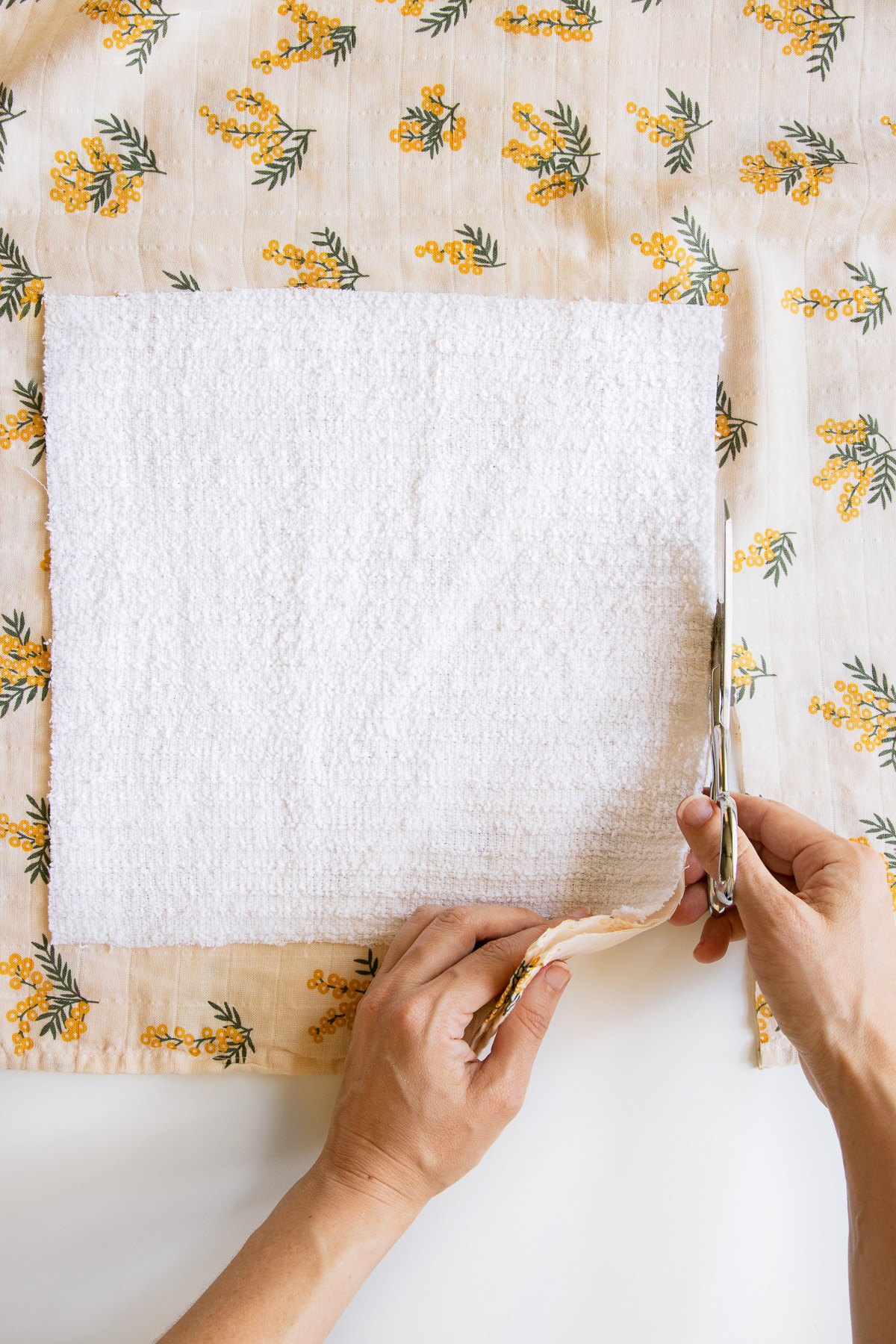 Since you probably want to make a few towels at once, I recommend cutting out one square, then using that as a template for cutting out the rest of your squares.
Fold the fabric so you have 2 or 3 layers, then lay the cut square on top of it. Using sharp scissors, carefully cut out the remaining fabric.
To make one towel, you'll need two pieces of fabric. Cut out as many squares as you need.
Step 3: Cut out your loops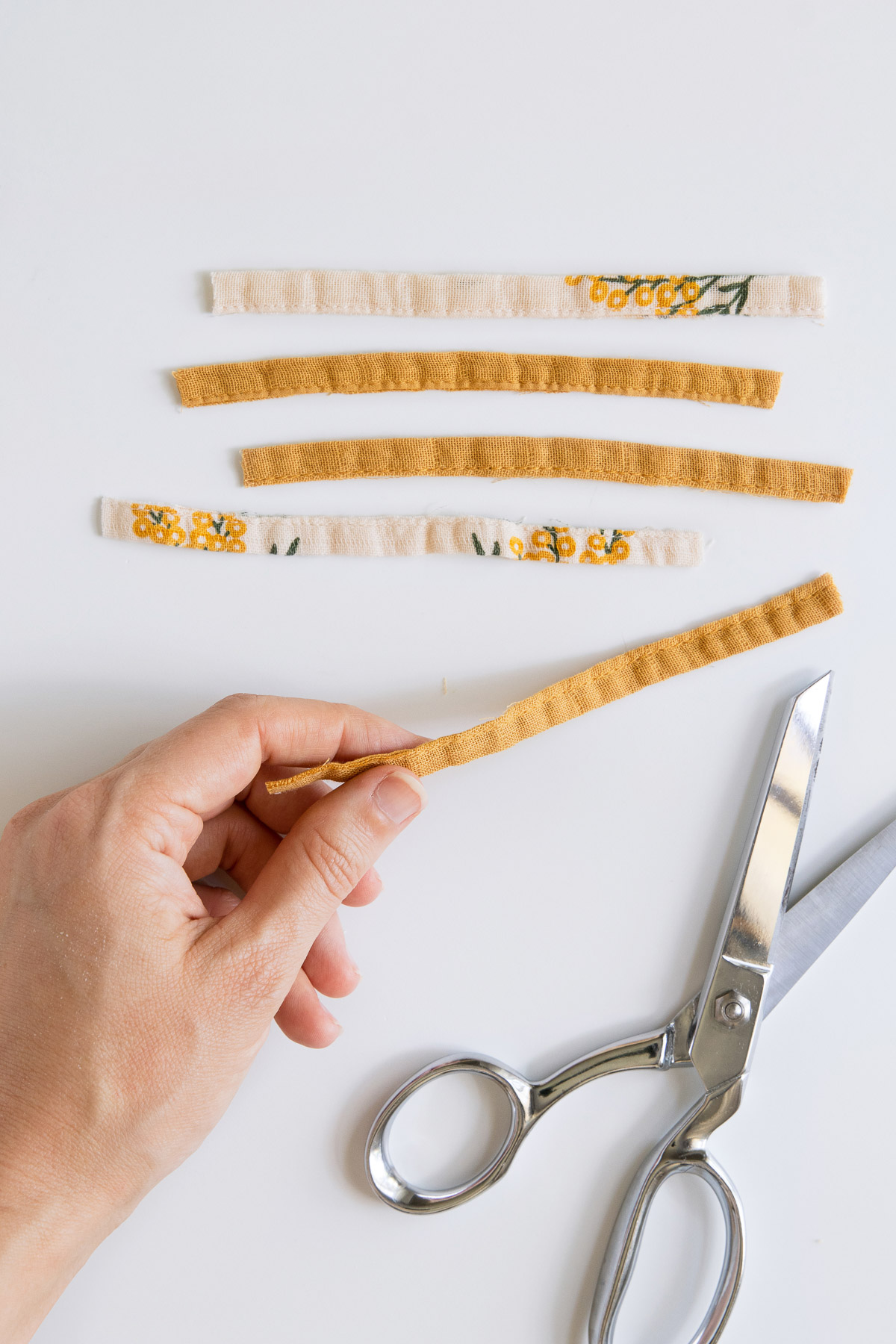 Since I used old blankets, my fabric already had hemmed edges, which I decided to use for the hanging loops. They're already folded and sewn, so you don't need to worry too much about the loop coming unraveled, although a little fraying is to be expected.
Cut the hem from the fabric scrap. Then cut the hem into 5" pieces. When folded, this will give you a 2" loop. Use fray check on the edges to keep fraying to a minimum.
You can also use ribbon, cotton cord, or twill tape trim to make your loops instead.
Step 4: Pin the fabric pieces together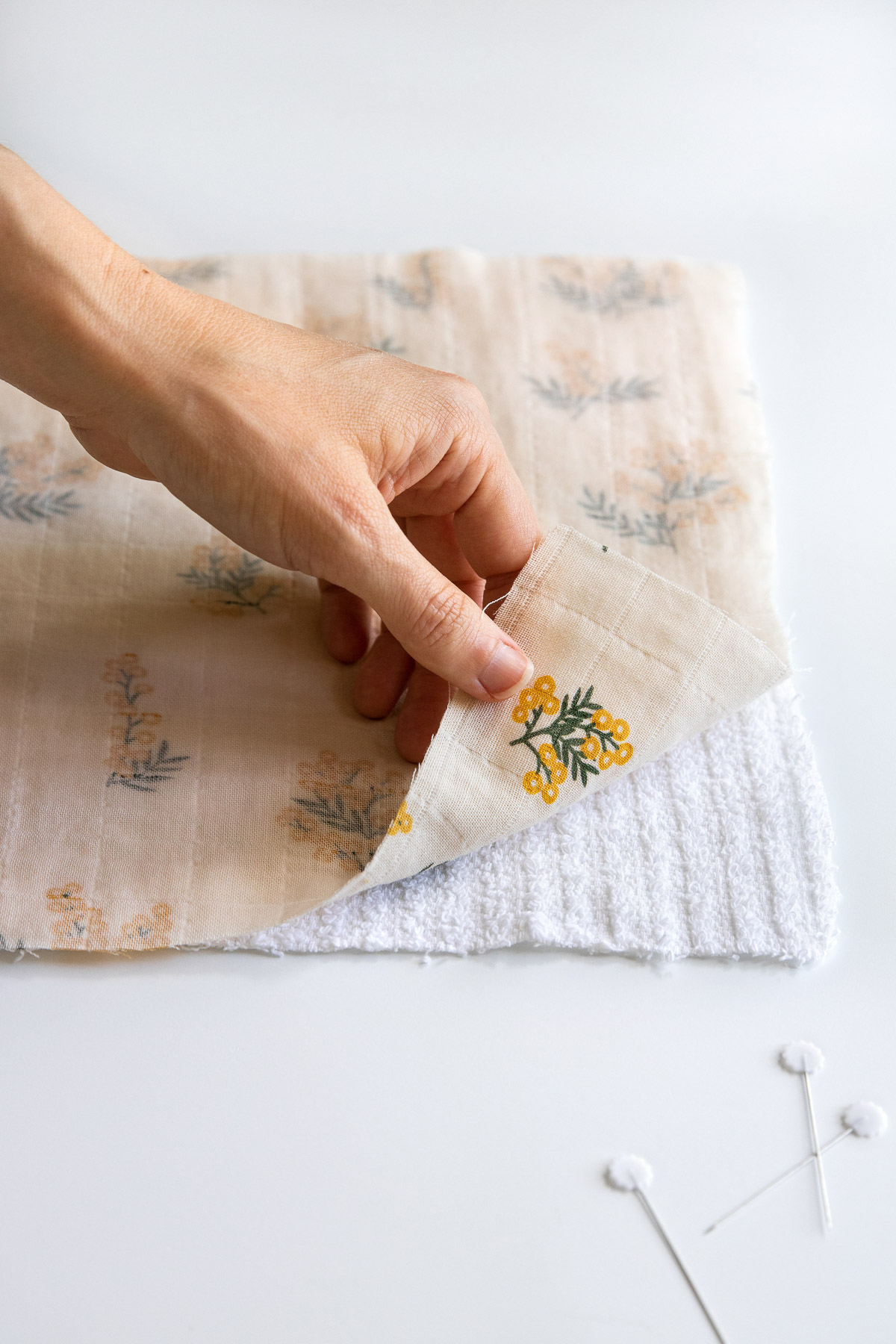 Place your fabric squares face to face and line up the edges.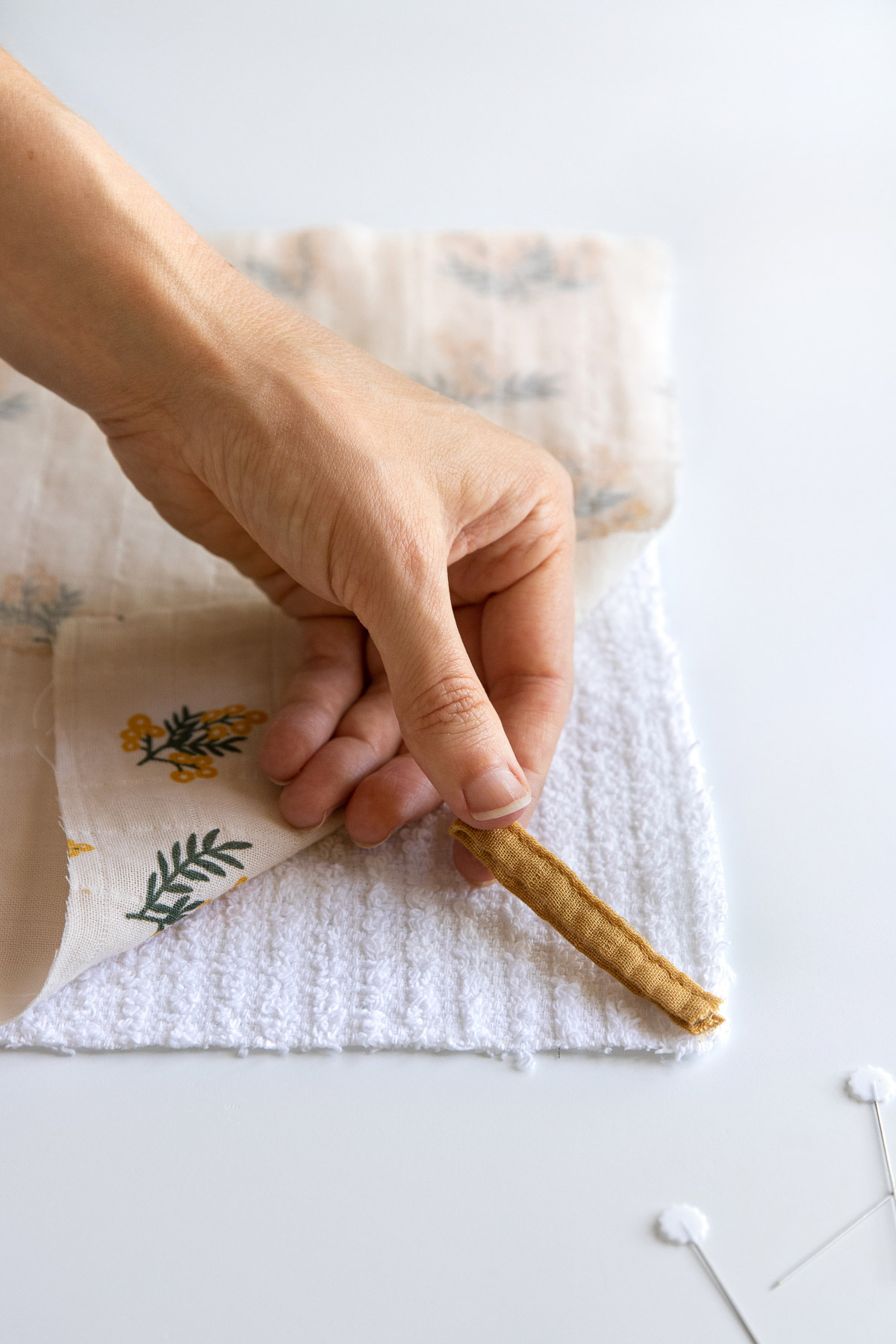 Take your loop strip and fold it in half. Pull back one of the corners of the fabric squares and place the loop in-between the two pieces of fabric, with the fold pointing toward the center and the cut ends touching the edges of your fabric squares.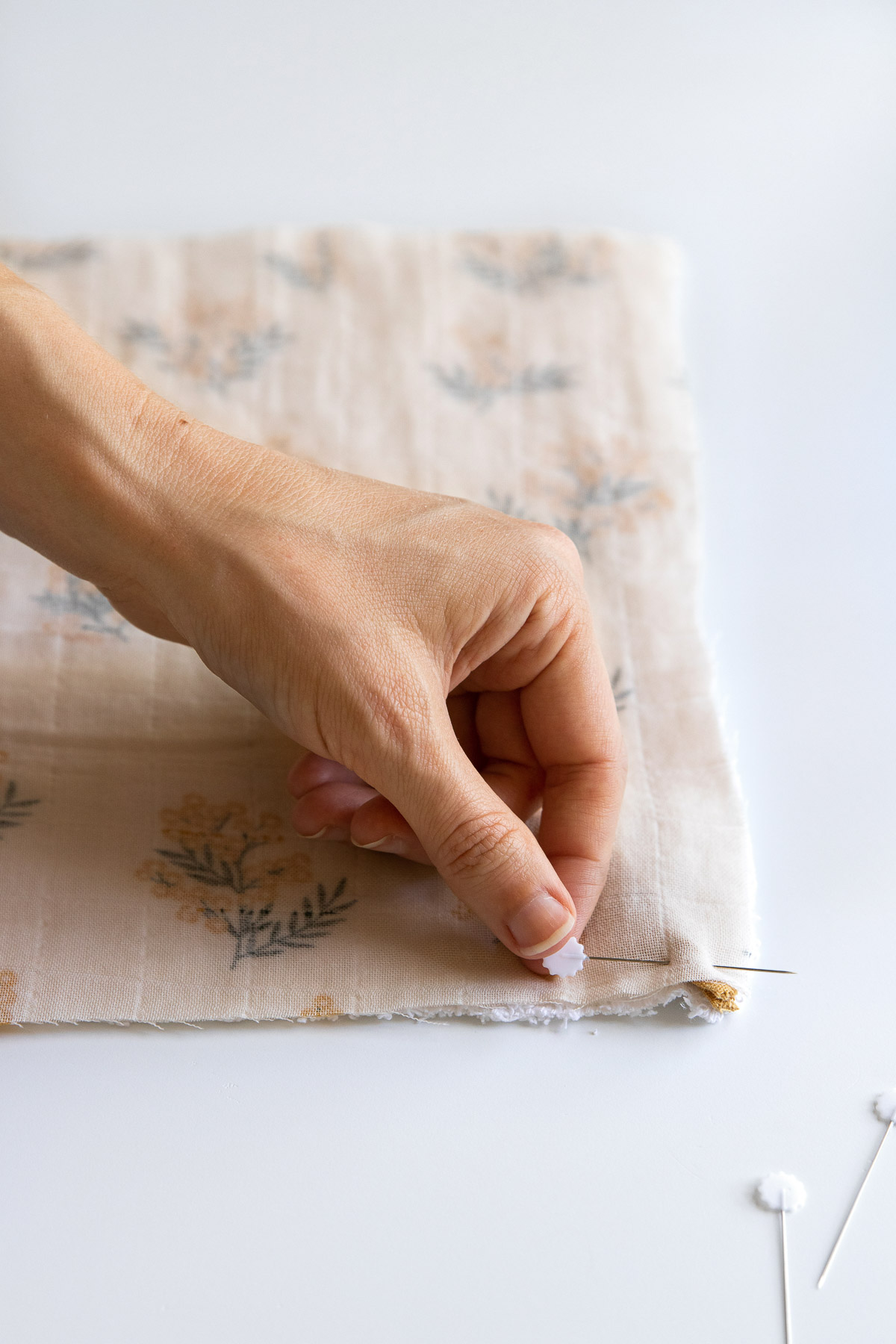 Pin it in place. Then continue pinning the two pieces of fabric together.
Step 5: Sew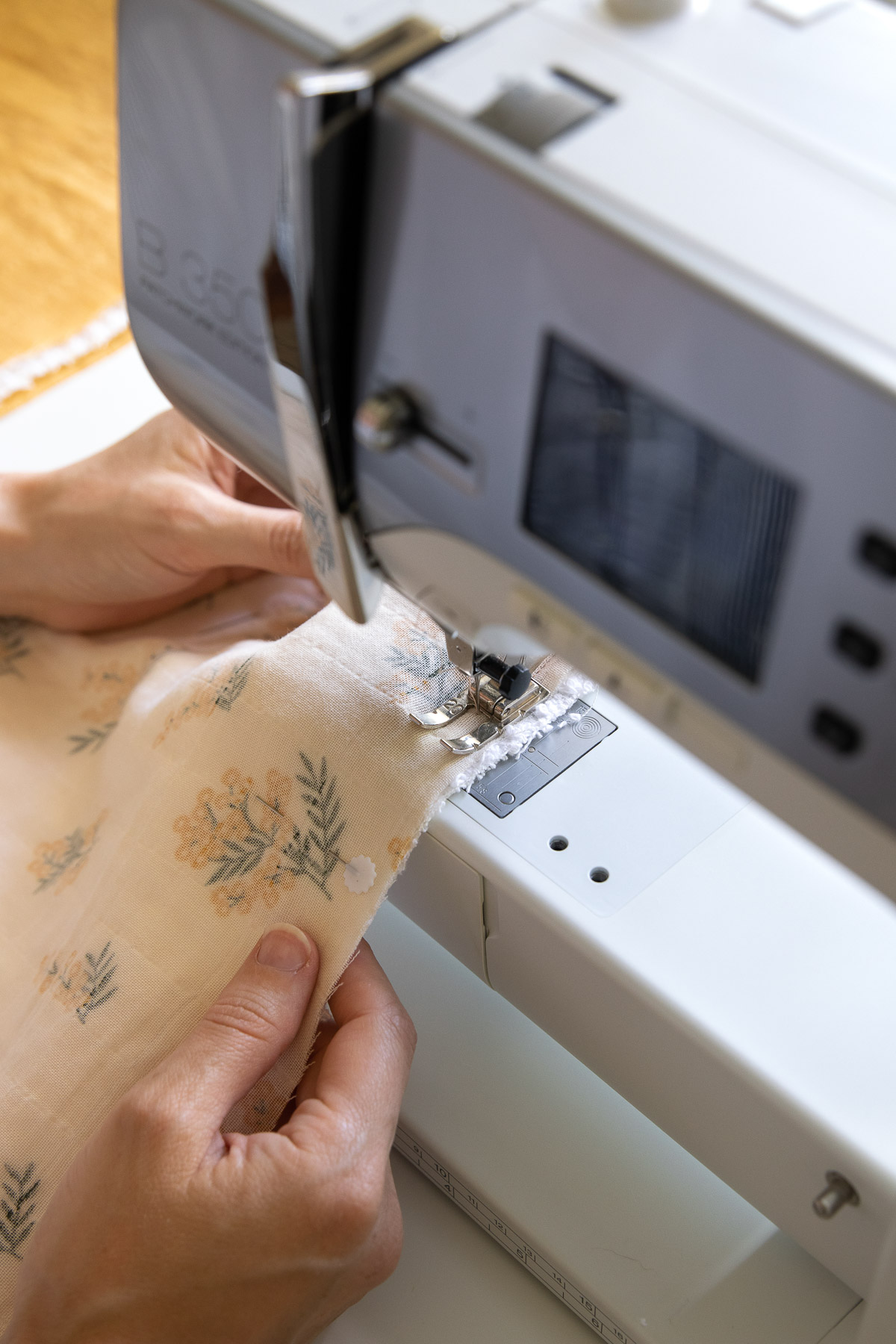 Using a straight stitch, sew all sides roughly 1/2" from the the edge (a larger seam allowance gives you tons of wiggle room in case the squares shift and the edges don't line up exactly). Be sure to leave a 2" gap to turn the towel inside out!
Step 6: Trim the corners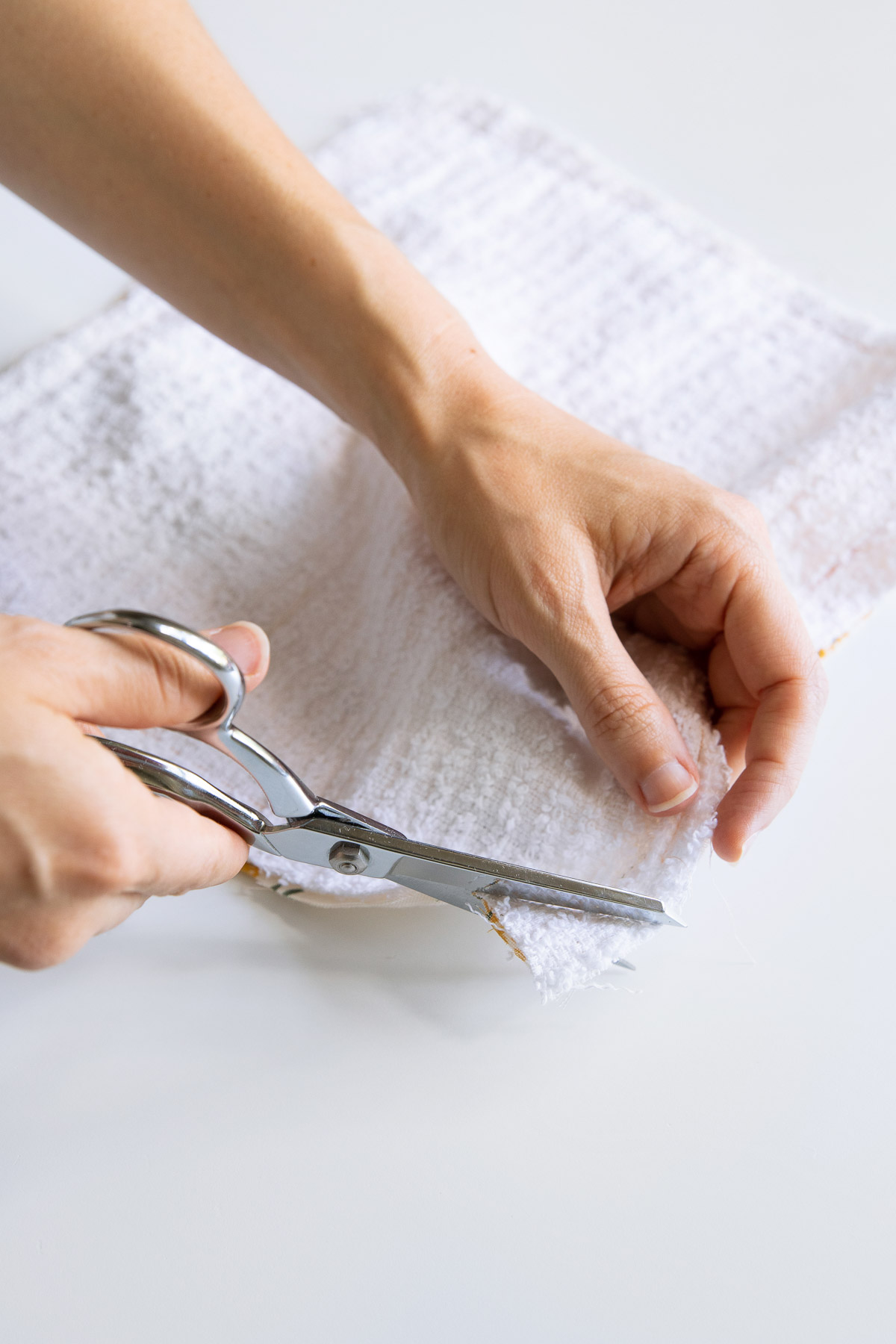 Before turning right side out, trim the corners so that they'll lie flat when finished.
Step 7: Flip inside out and finish with a top stitch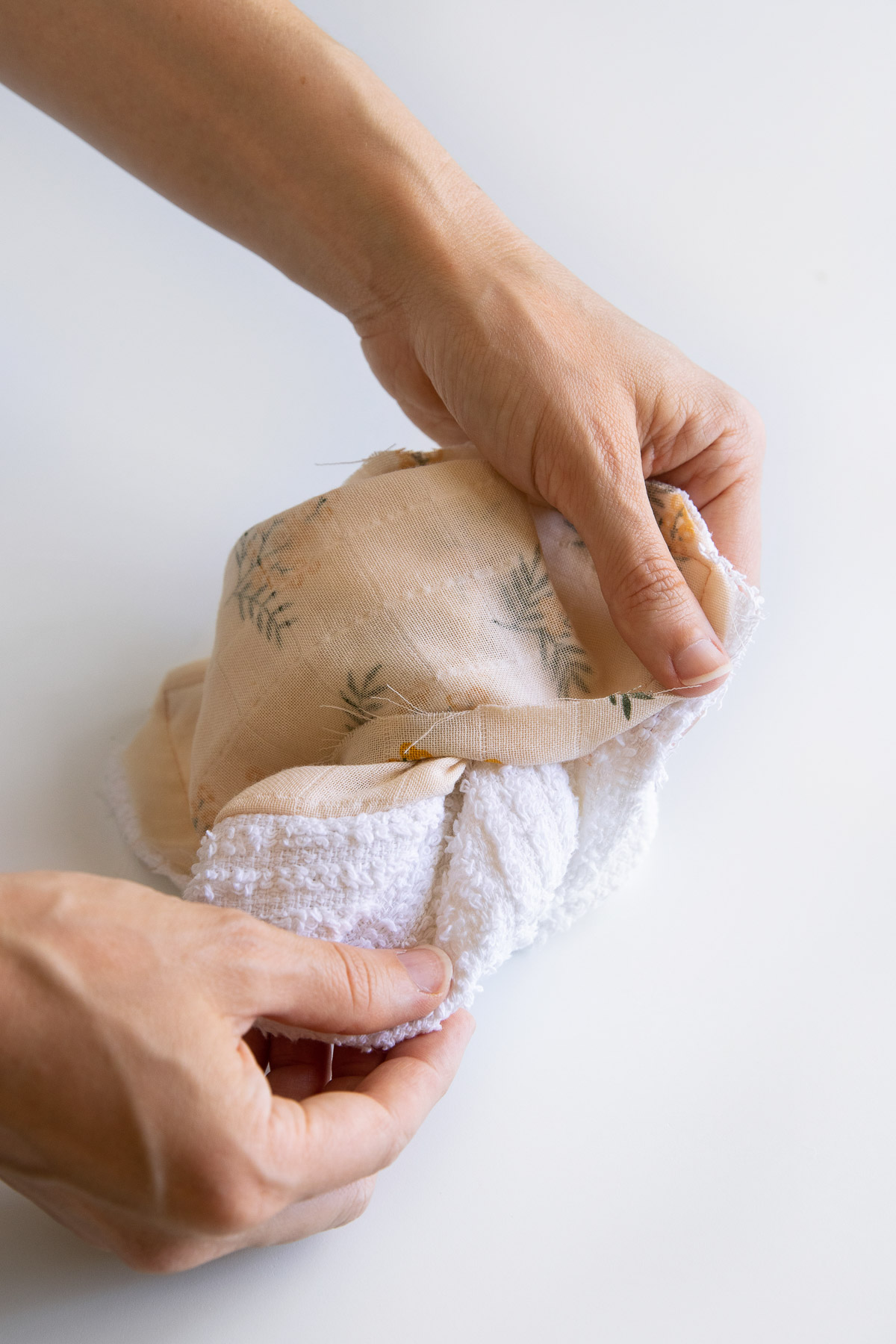 Flip the towel inside out and pin the hole closed.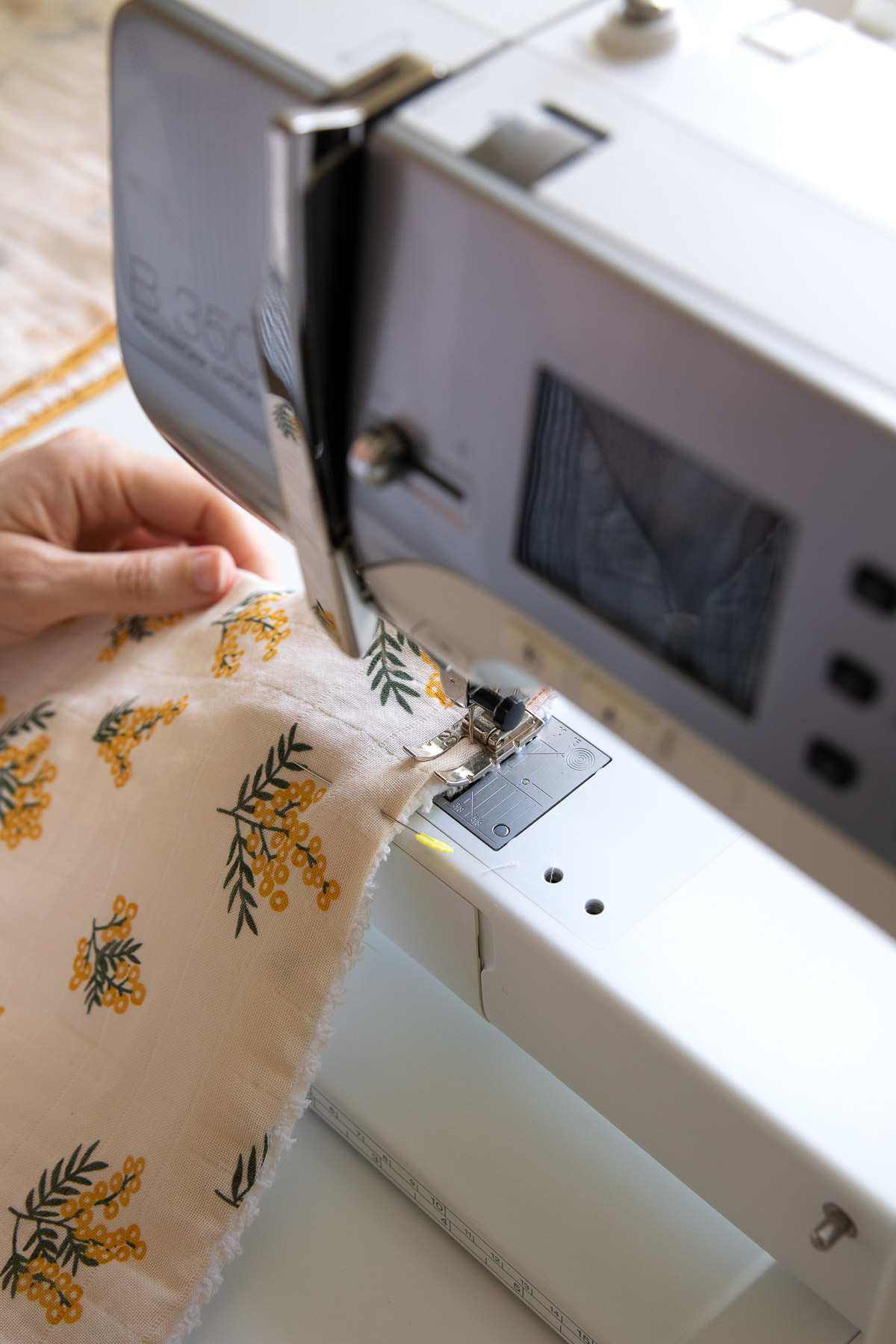 Go back and add a top stitch roughly 1/8" from the edge. Not only does this sew the hole shut but it ensures that your towels have a flat, clean edge.
FAQ
What can you use unpaper towels for?
While unpaper towels are a great way to lessen your dependence on paper towels and keep disposable towels out of the landfill, fabric towels aren't ideal for everything. Unpaper towels are best used for drying hands, doing the dishes, tackling spills, polishing mirrors and windows, and other cleaning tasks. I don't really use them for food or wiping up greasy messes.
Are unpaper towels sanitary?
If stored properly and washed regularly, yes! Don't let unpaper towels sit around wet, otherwise they'll mildew. And always wash and dry them on high heat to get rid of germs.
How long do unpaper towels last?
Depending on the fabric used, unpaper towels could last you for years. On average, I have found that fabric towels hold up to about 50-75 washings before needing to be replaced.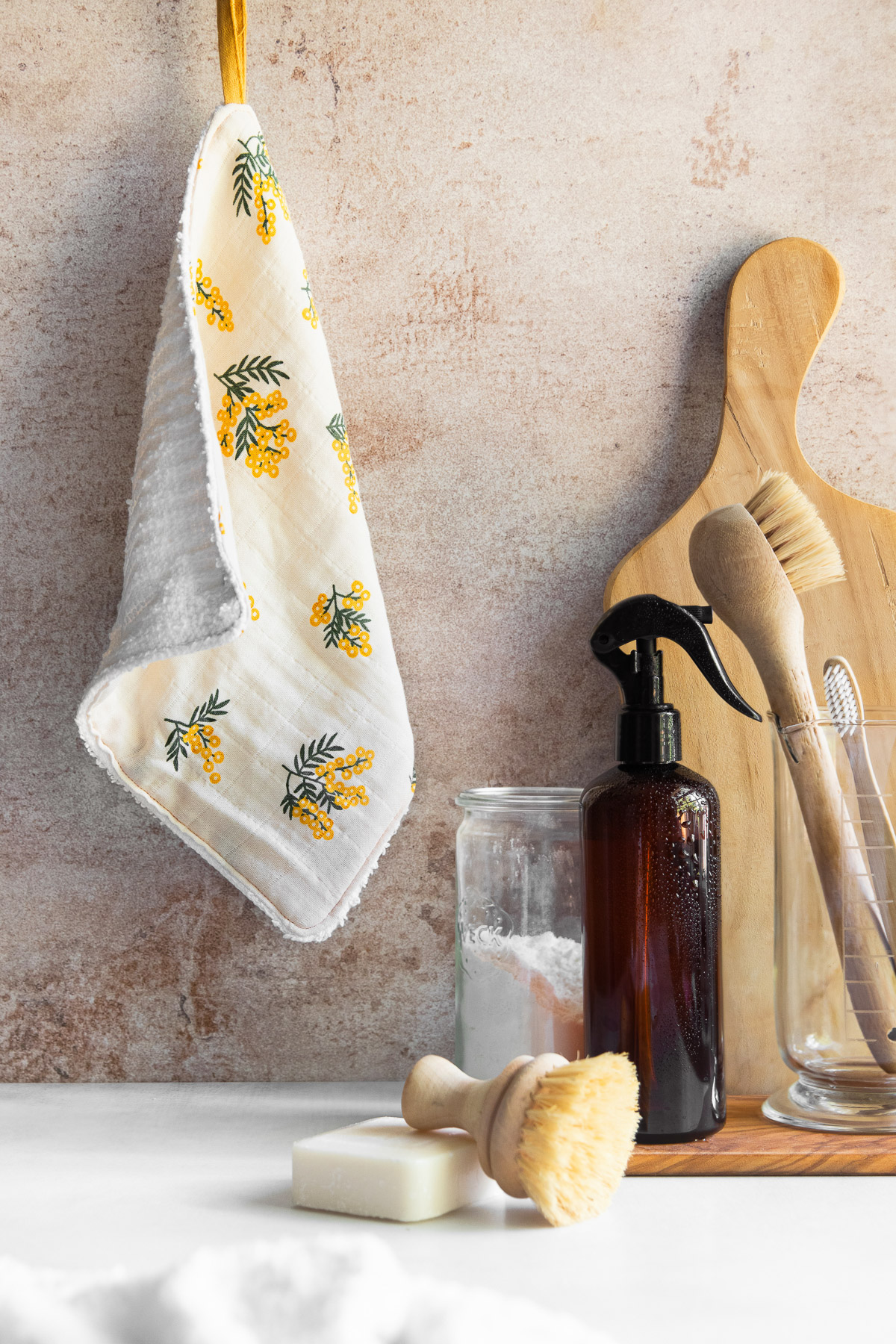 1