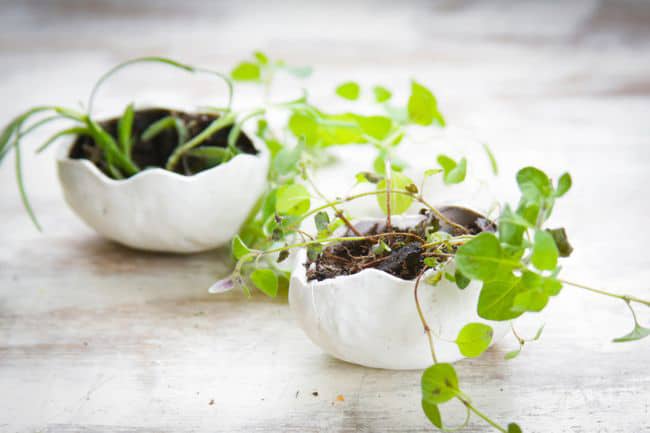 Have you started a garden yet this year? I made these clay egg planters to grow wheat grass in my kitchen windowsill. My green thumb only extends to herbs but I still want to grow something green. And nothing says spring to me like the bright green of wheat grass. But since my seeds were far from sprouting I transplanted some parsley and rosemary to give you an idea of how these look as little planters. I love them!
The clay eggs double as candy holders for Easter baskets. Or tiny place settings! I'm going to use them for my Easter brunch to hold colorful jelly beans. Here's how to make your own:
How to make clay eggs for Easter
To make your own clay eggs, you will need:
oven bake clay
plastic Easter eggs
knife and oven
Instructions:
1. Roll out a piece of clay to about a 1/4 inch thickness. You want it big enough to just about cover a plastic egg.
2. Fold the clay over a plastic egg and let it sit for 10-15 minutes to harden up a bit. If it's too soft, it's hard to shape.
3. Take a knife and carve the open edge of the egg. Bake – with the plastic egg still inside – according to package directions. Yep, I baked a plastic egg. And it was fine. No melting at all!
4. When the clay is cool, cut into the plastic egg and gently pull it out. You'll need to gently twist and turn until it loosens from the clay.
5. If you make any cracks in the clay when removing the egg, you can patch it over with a thin piece of clay and bake again.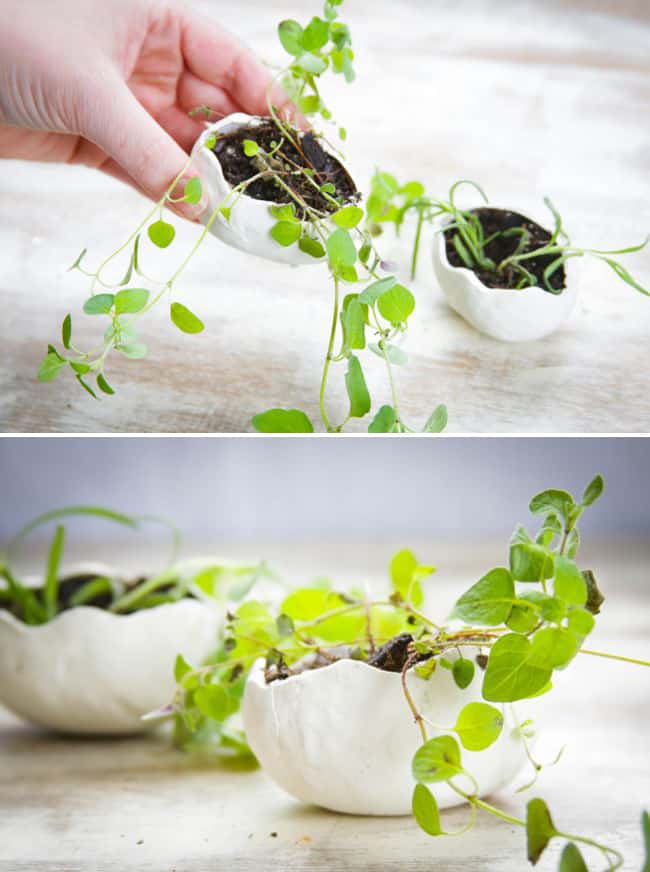 All crafts lately seem to come down to clay or embroidery thread – so if you have those you'll be a happy crafter! What would you plant in these little eggs? But then again I may keep them full of jelly beans all year round. You can't go wrong with colorful candies, right?