This has been one of those weeks when nothing went according to plan. Inevitably, everything seems to go wrong precisely when I have lofty aspirations. Posts to write, crafts to make, adventures to go on – all replaced with sick kiddos and takeout dinners. Is it a lesson in humility? Mainly it feels like a cruel joke! But it does make my one accomplishment this week – cleaning out my closet and jewelry – all the more satisfying.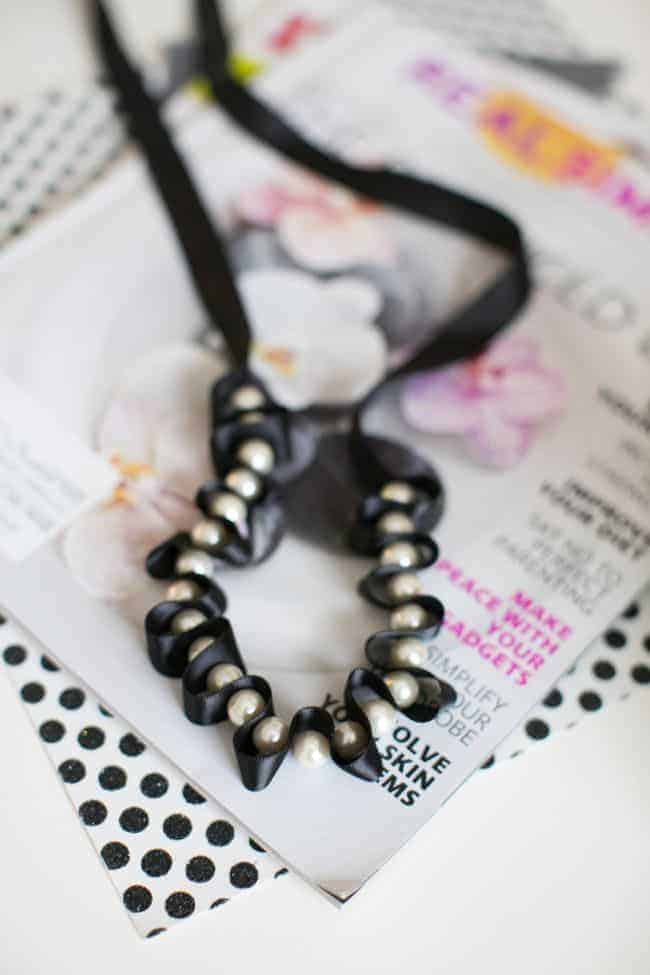 My closet detox was pretty ruthless. The goal was to get down to 10 essential clothing items, and I came pretty close. (A tiny spree at Anthropologie the week before didn't help.) Then the fun part – creating outfits with the remaining items. If you've never done this before (I hadn't) it's very helpful for visualizing new ways to put things together.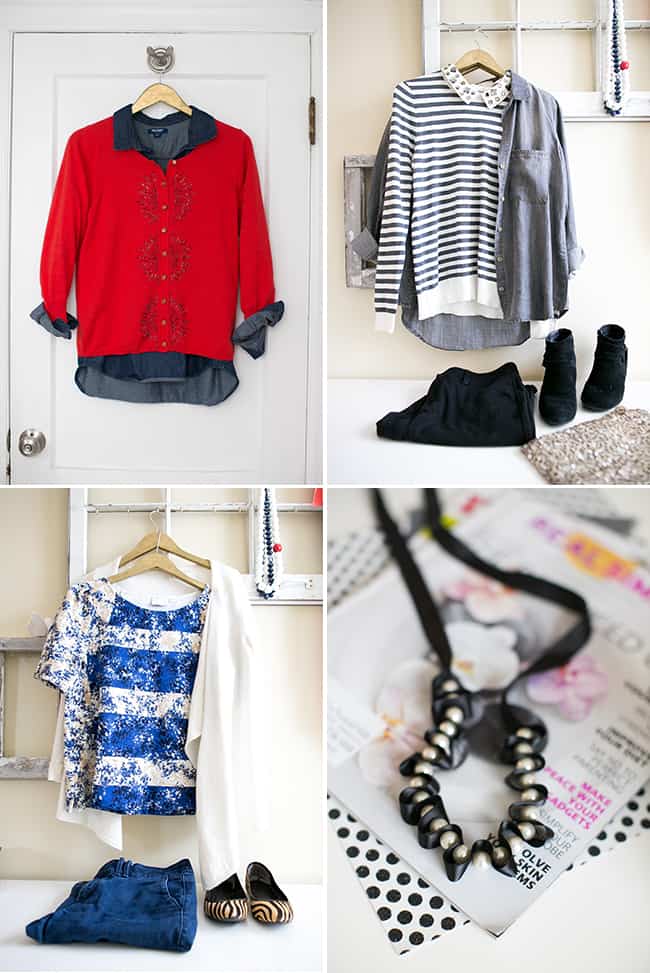 And if I couldn't remember the last time I had worn a jewelry piece, then it was out. Except for a couple that I hoped to "refashion," like this strand of fake pearls. After adding a bit of black ribbon, I was quite pleased with the results!
Supplies needed:
Center drilled pearls (try Wal-Mart for cheap versions)
Black ribbon
Black thread
Needle
Instructions
Step 1
Pull out a length of the ribbon but don't cut it yet. Thread the needle and measure to 12 inches on the ribbon. Poke the needle through the middle of the ribbon and make a small stitch to secure the thread. Make sure you have plenty of excess thread length though!
Step 2
Thread on a pearl and pinch a bit of ribbon with your finger. Push the needle through the ribbon and pull it tight with the pearl in the center. I tried knotting the thread after each pearl to keep things tight, but it didn't work like I had hoped. So just do your best to keep the ribbon tight. Things will inevitably move around some after you're done, and that's fine.
Step 3
Thread on another pearl and pinch the ribbon again, this time in the opposite direction. It was kind of impossible to be precise with the ribbon folds so don't stress it too much. I liked the bit of variance in size!
Step 4
Keep going with the pearls – I added 23. After the last one make a stitch on the ribbon to secure it and cut the thread.
Step 5
Then you can cut the black ribbon so that each side is an equal length. To wear the new necklace, just tie it in a bow behind your neck. Adjust the folds after you put the necklace on to get them to lie flat.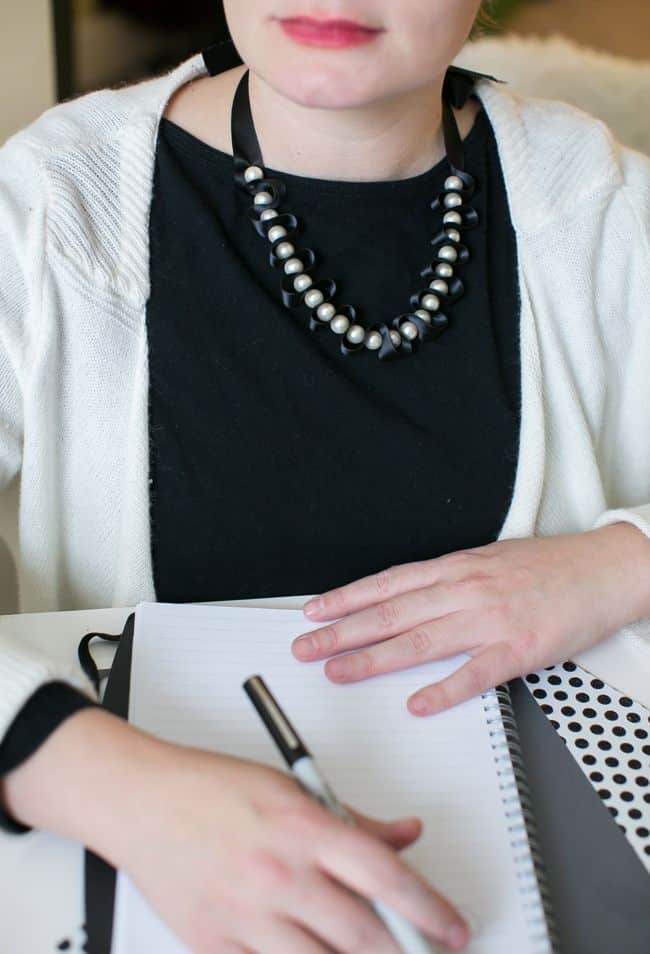 I probably shouldn't spoil a pretty photo, but posing for this picture was hilarious. I hurriedly added lipstick and had to kneel on the ground. Some folks suffer for fashion, and bloggers suffer for photos. 🙂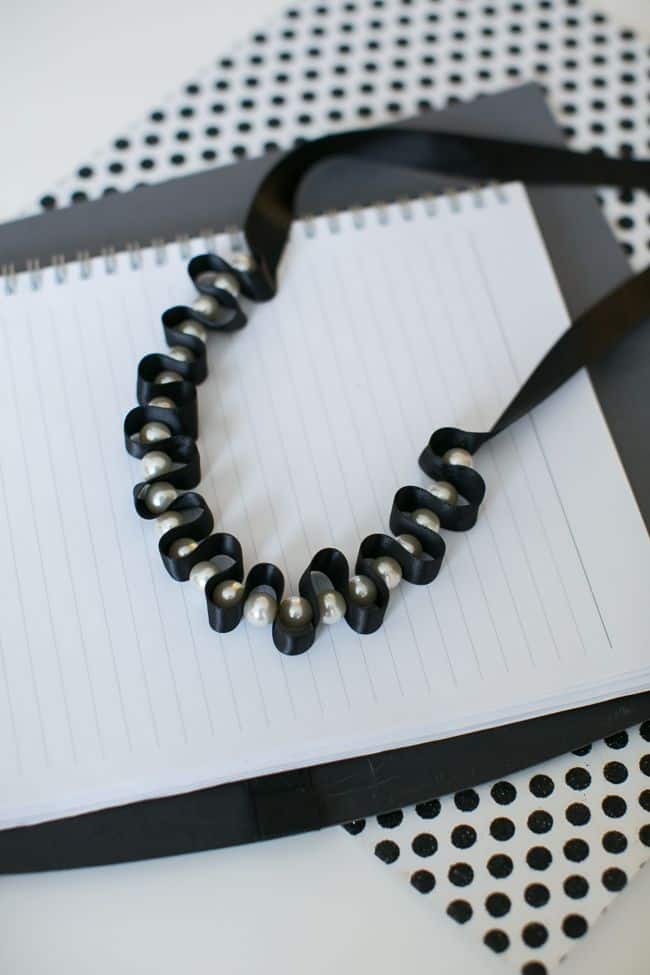 Have you purged your closet or refashioned any jewelry this year? When you only have 15 items to choose from each day, a new necklace does help!