Autumn is my favorite season—I don't know about you, but before that first rusted, fallen leaf has even had a chance to settle, I am ready to dig out my favorite sweaters, trade in sandals for ankle boots, and simmer soup for every meal.
One of the things I love most it is how evocative and comforting the scents of the season are—damp leaves and moss, wood smoke, wool, baking apples, and of course, all things pumpkin and spice.
If you are one of those people who finds yourself magnetically pulled towards comforting home scents at this time of year (you know the ones…"Apple Pie", "Cinnamon Bun"…), and are looking for a way to enhance the autumnal atmosphere in your home without the toxins that can often come from burning artificially-scented store-bought candles, look no further. We've put together a diverse roster of essential oil diffuser blends that encapsulate all things fabulously fall.
*Note: the recommended ratios in these blends are meant to be diluted into 1C (250mL) of water, so you can always prepare a batch in a small jar, decanting as needed according to the size of your diffuser.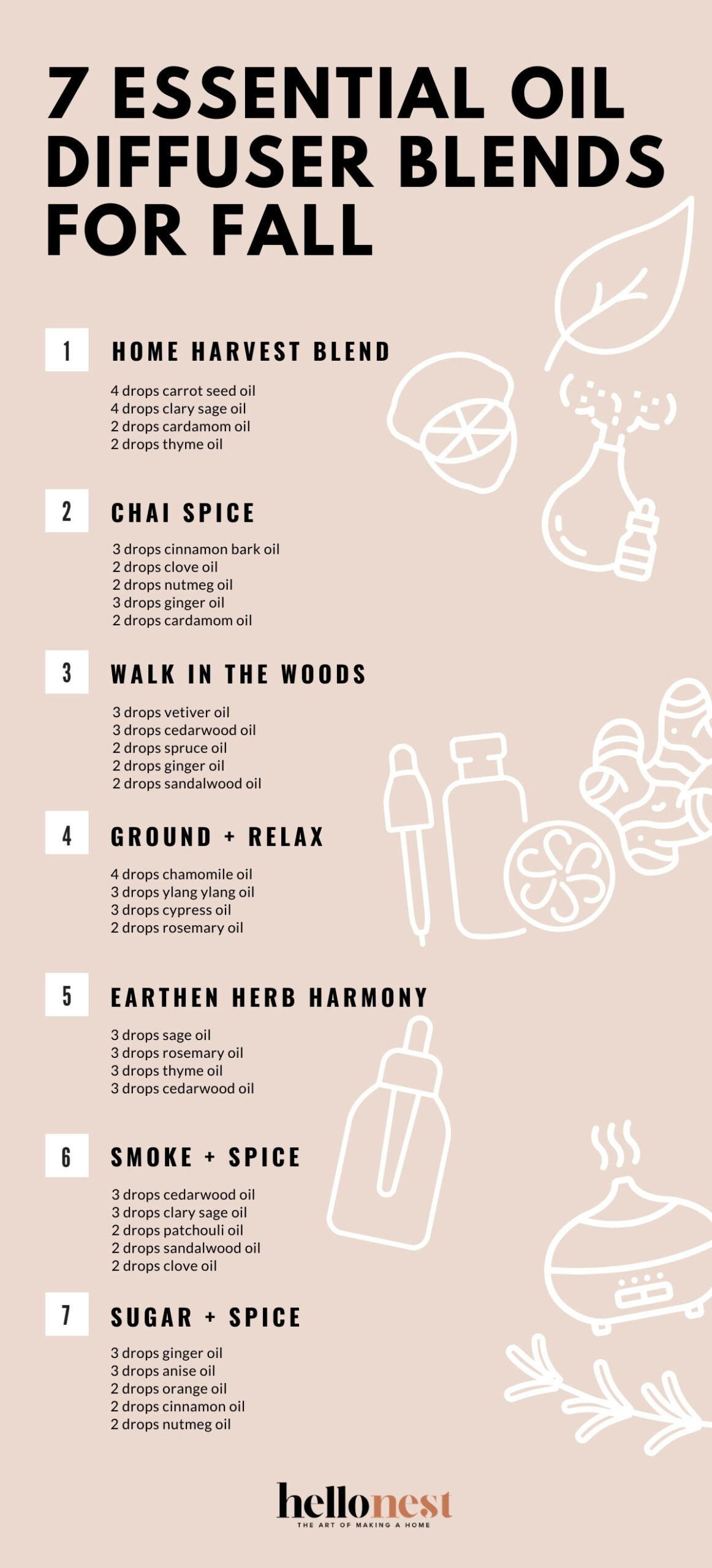 1. Home Harvest Blend
For a well-rounded autumnal scent perfect for any room, try this homey herbaceous blend:
2. Chai Spice
Nothing says warm and cozy (and delicious!) quite like this particular combination of spices:
3. Walk in the Woods
For a scent that elicits those walk-in-the-fall-forest feels, try this blend which is rounded out nicely by the subtle warmth of ginger:
4. Ground and Relax
Perfect for the bedroom, try this one before you sleep as a down-tempo blend to help you rest and relax:
5. Earthen Herb Harmony
The classic herbs of fall/winter cooking get grounded with woodsy cedar in this versatile blend:
6. Smoke and Spice
Sexy, smokey, and spicy, this blend balances patchouli–think festival hippie wrapped in a Pendleton blanket:
7. Sugar and Spice
A sweet smelling, gourmand blend evocative of freshly baked cookies:
As the nights draw longer and the days grow cooler, explore the versatility of these seasonal blends and see how easy it is to create those warm and cozy harvest home vibes, naturally!
5