Did you notice that it turned into pumpkin week on Hello Glow? I wish I could say that was on purpose! Unfortunately advanced planning is not my forte. Whenever I attempt to "get ahead" with the blog someone inevitably gets a stomach virus, the croup or some other unpleasant ailment. So lesson learned: Stop pushing so hard. Do the best you can. Because the reality is, I would happily take a week of everyone sleeping through the night over being blogger extraordinaire.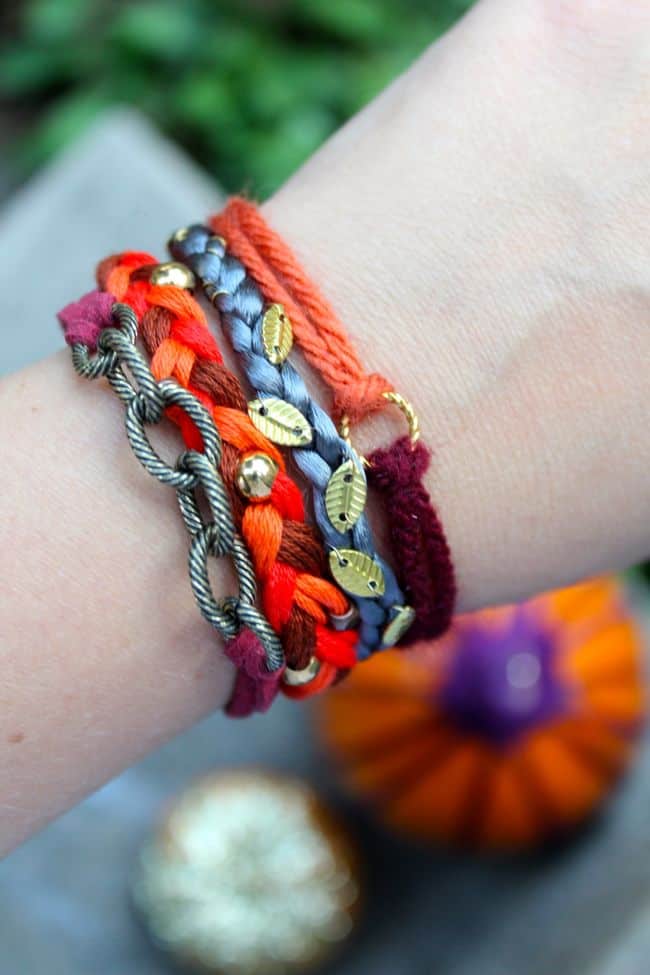 But I wasn't kidding when I said I loved October (only 18 days till my birthday!) so it's time to celebrate with a special fall colored bracelet stack. The goal with these fall bracelets is to use materials you have on hand. We used a little bit of everything – yarn, embroidery thread, suede cord and rat tail cord. The designs are simple so do a search through your ribbons and trims and find colors that complement each other.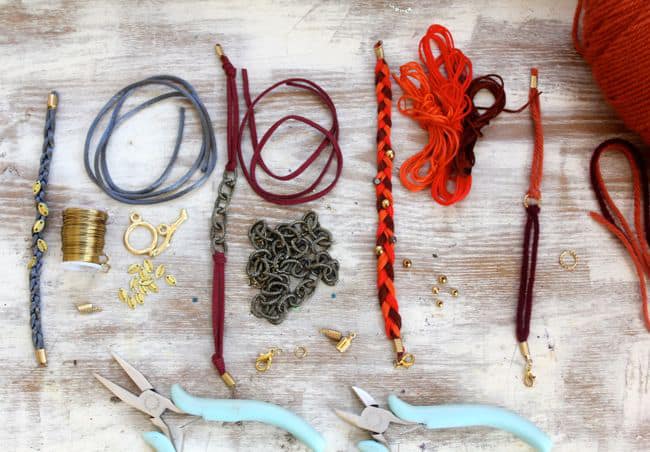 Supplies needed for all bracelets:
Gold clamps
Gold jump rings
Gold lobster clasps
Jewelry pliers
3-color braided bracelet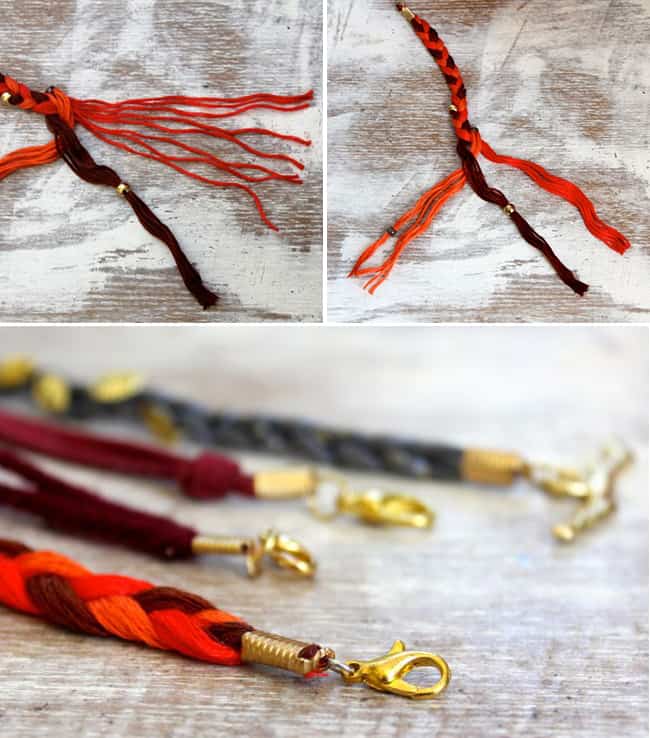 Supplies needed:
Embroidery thread in three colors
5 gold beads
Divide out the embroidery thread skeins so you have 8 individual strands for each color. Clamp the three pieces together at one end and tape the end down to the table. Start braiding, adding beads as you go. If your bead is not big enough to go onto all 8 strands, then just feed it onto 2 or 3 strands. Just add the beads so that they stay on on the outside out the braid.
When the braid is long enough to wrap around your wrist, cut the excess length and clamp the end. Add a jump ring and a lobster clasp.
Gold Leaf Bracelet
Supplies needed:
Grey rat tail cord
16 gauge gold wire
Tiny leaf charms (mine came from here)
Cut the rat tail cord into 3 long pieces. Clamp together at one end and tape down to the table. Pick one strand (doesn't matter which one) and wrap 2-3 inches with the gold wire. Then braid the 3 cords together. After the 2-3 inches, feed a the leaf charm onto the wire when that piece of cord will be on the outside of the braid.
Continue adding leaves, alternating sides of the braid. After adding 5 leaf charms then loosely wrap the wire around the rest of the piece of cord. Continue braiding until the length is long enough to go around your wrist. Trim excess and clamp the ends. Add jump ring and lobster clasp. Note: I used a fancy Martha Stewart closure but a regular lobster clasp also works.
Chain + Cord bracelet
Supplies needed:
Rust colored suede cord
Antique colored chain
Cut a 2-3 inch piece of chain. Then cut two 8-inch pieces of suede cord. Fold the cord in half and loop it through each end of the chain to make a knot. Make a knot at the end of each piece of cord and clamp the ends. Add jump ring and lobster clasp.
Yarn Circle Bracelet
Supplies needed:
Two colors of yarn
Large gold jump ring (mine is from here)
Cut a long piece of yarn from both colors. Fold in half and loop through the large jump ring to make a knot. Clamp both ends and add a jump ring and lobster clasp.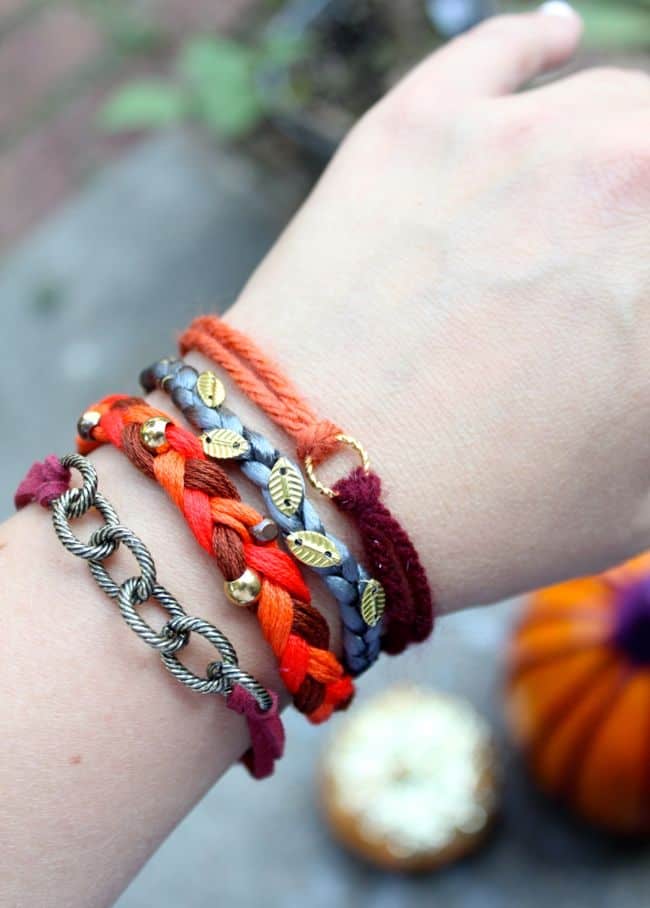 In no time flat you have a bracelet stack that's perfect for fall. Because really, if you're going to make one bracelet, you might as well make four, right?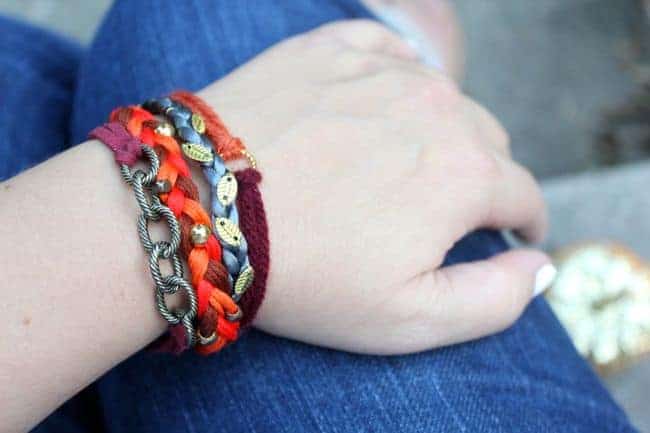 What will you be making this weekend?