Is there anything worse than a smelly fridge? (Spoiler alert: Nope. Nothing.) Once I put my weekly grocery haul in the fridge, I'm wary to open the door again, lest I'll be greeted by the smell of slimy greens and 3-day old chicken. Food goes bad so fast. But not only is a clean fridge an odorless fridge, it actually keeps food fresh longer so you don't have to clean it quite as often. Here's how to deep clean your refrigerator to help eliminate strange kitchen odors and make sure food lasts as long as possible.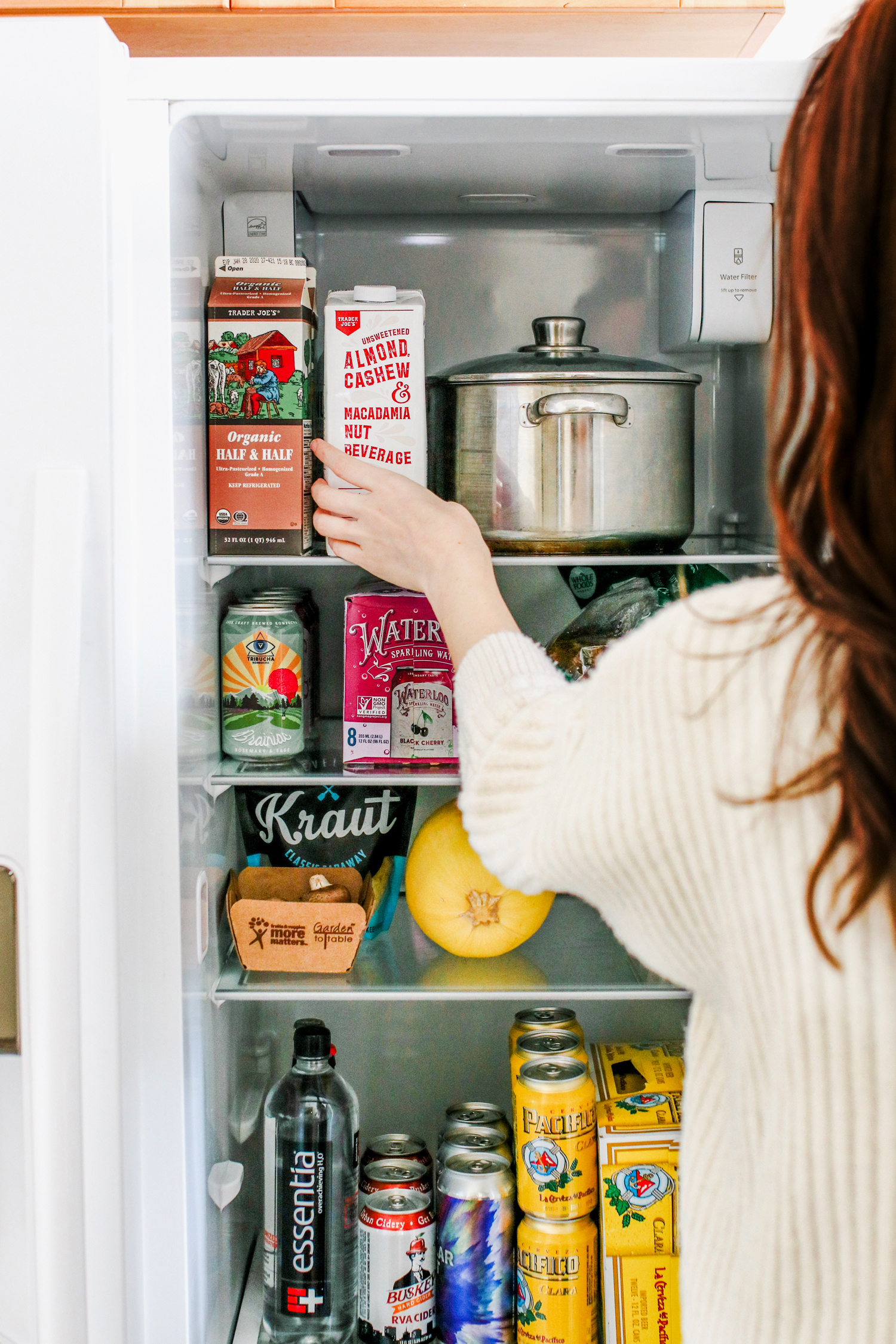 How To Deep Clean Your Refrigerator
1. Tackle the mess with a DIY disinfecting spray
Fridges can get gross fast. Sticky, greasy, slimy messes seem to come out of nowhere, and once they do, it's a lot harder to get rid of them than if you had just kept your fridge clean from the start. Assuming it's been a while since you last cleaned your fridge, the first step is to disinfect it using a chemical-free disinfectant spray.
DIY Disinfectant Spray
Instructions
Combine everything in a glass spray bottle. Screw the lid on tight and shake well to combine. Use within 1-2 weeks (refrigeration not required).
For tough sticky areas, you'll need to loosen the dried on residue first. Saturate a cloth with the cleaning solution and place it directly on the stain. Let it sit for 5-10 minutes, then wipe it away.
Hand-wash the drawers and any removable shelves in the kitchen sink with warm, soapy water. And mist with cleaning solution to take care of stubborn germs and grime. Dry well before putting back into the fridge.
If you're cleaning up spills from raw meat or poultry, wipe up the spill, then disinfect the surface with a dash of straight hydrogen peroxide, rubbing alcohol or full-strength white vinegar. Let stand for 5 minutes, then wipe dry.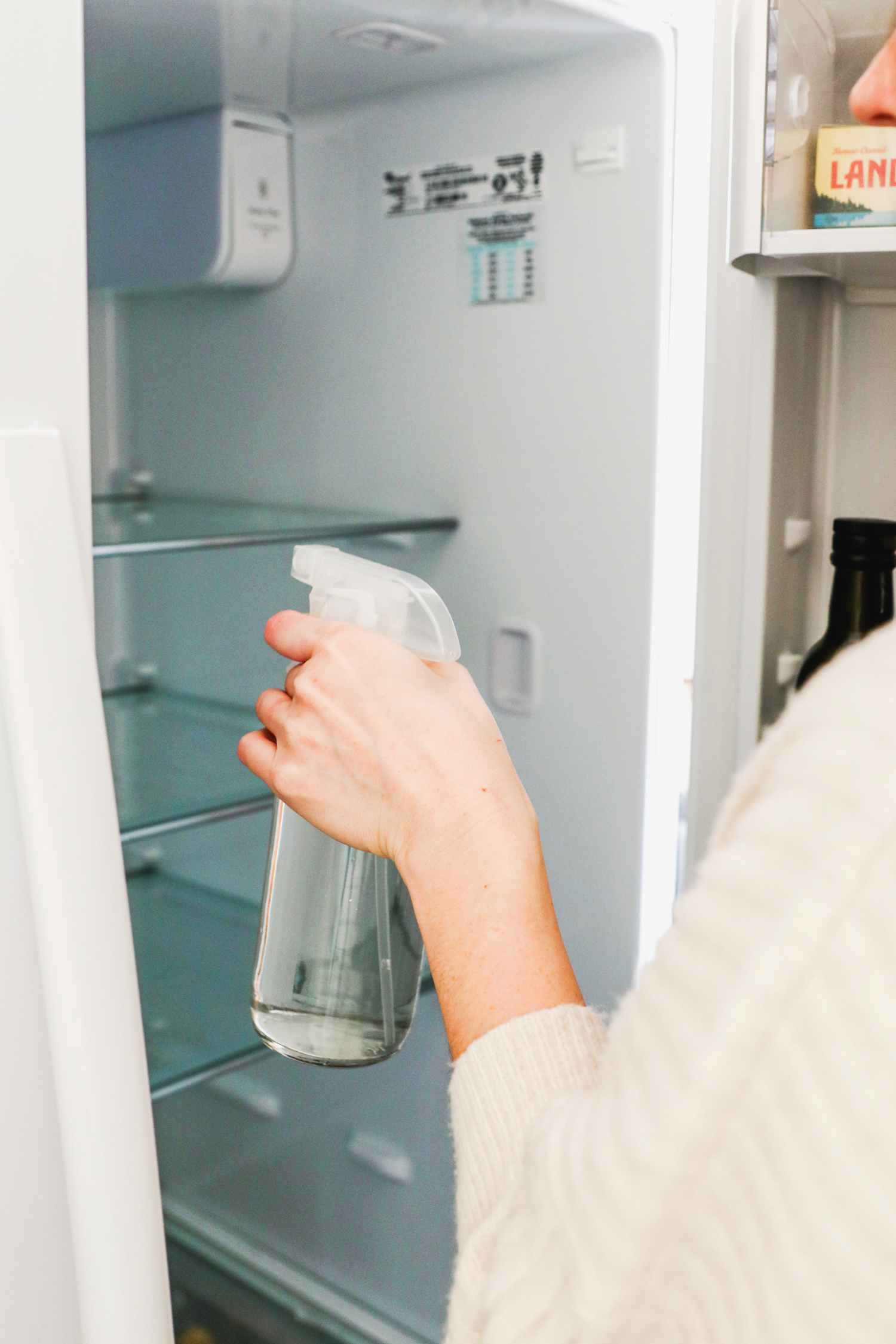 Always wash the outside of the fridge with the same cleaning solution you used for the inside. This will help keep illness at bay.
Lastly, clean the cover at the bottom of the refrigerator. And use cotton swabs and toothpicks to clean small areas that are difficult to wipe clean, like the seals around the door, or the handles.
2. Deodorize
Even after physically cleaning your refrigerator, there still might be some lingering odors you can't quite pinpoint. If that's the case, you'll need to deodorize it.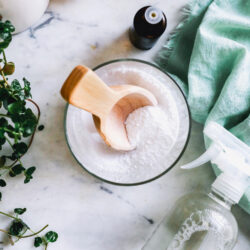 DIY Fridge Deodorizer
Instructions
Combine box of baking soda, sea salt and essential oil in jar. Stir well.

Place open jar in the back of fridge to absorb odors and make your fridge smell fresh and clean.

Change out baking soda mixture once every 1-2 months.
To give it a burst of freshness, periodically stir the baking soda to release the scent from the essential oils. Add more oil if the scent starts to dissipate.
Replace with fresh baking soda, sea salt and essential oils every 1-2 months.
3. Keep it clean
Last but not least, you'll want to prevent future spills and smelly outbreaks by keeping your fridge clean. Once a month, remove the food from the fridge one shelf at a time and wipe it down using a clean rag and all-purpose cleaner. Be sure to wipe down the walls and rinse the drawers as well. Toss out any expired food buried at the back and hiding on the doors and in the freezer.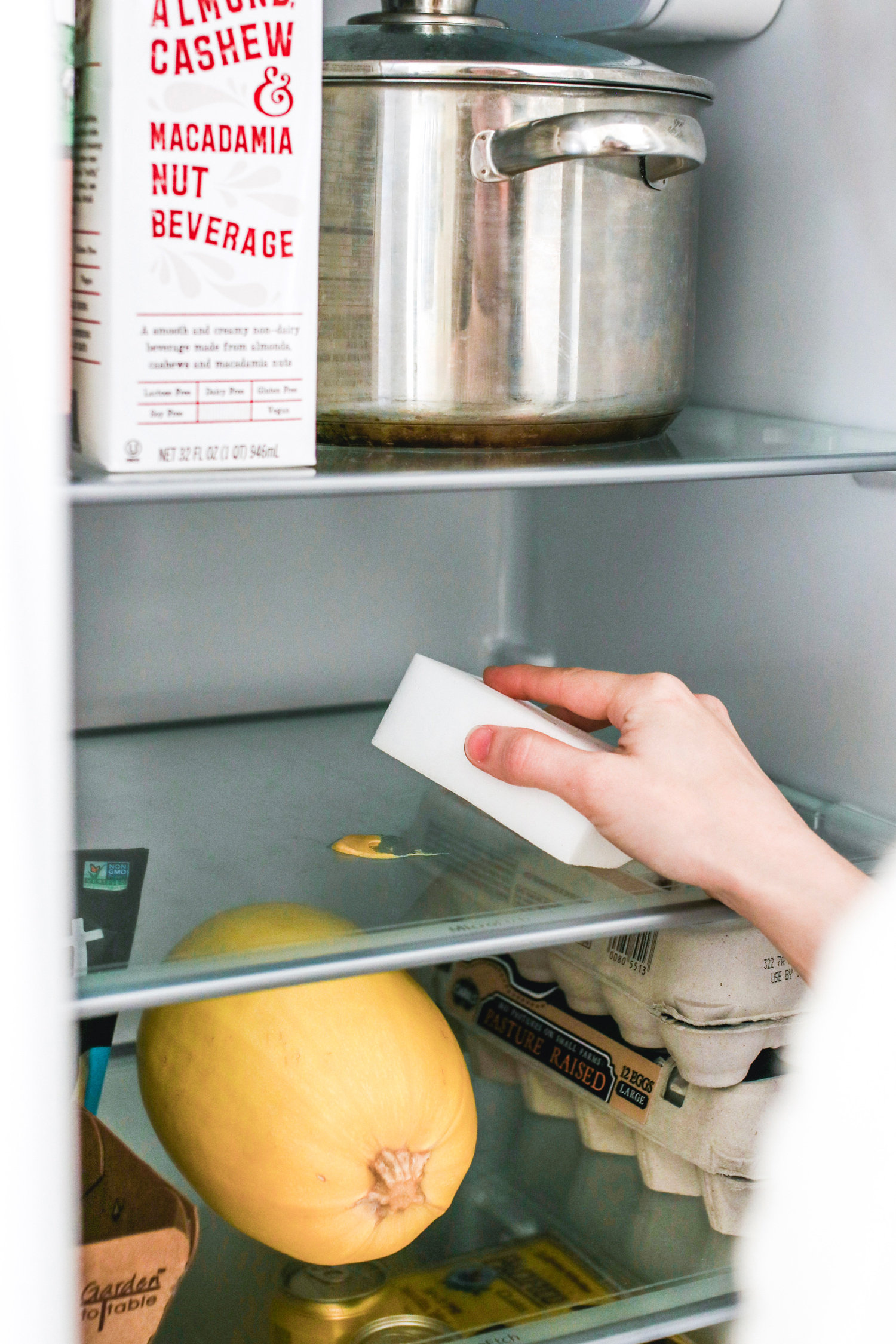 Give your deodorizer a boost by pouring fresh baking soda in the jar and adding more essential oil. Oh, and while you're at it, why not give your whole house a quick clean to keep small messes from growing out of control.
Repeat monthly.
139