So before we get to this delicious Keto Vegetarian Chili recipe, let's get this out of the way: even when I'm eating a ketogenic diet, I eat soy. I eat tofu, I eat tempeh, and in general, I eat anything as long as it fits into my macros. I know soy is controversial in the keto community–even in the vegetarian keto community–so I just want to acknowledge that first. If you don't eat tempeh, then this recipe isn't for you! Don't get angry at me for eating soy!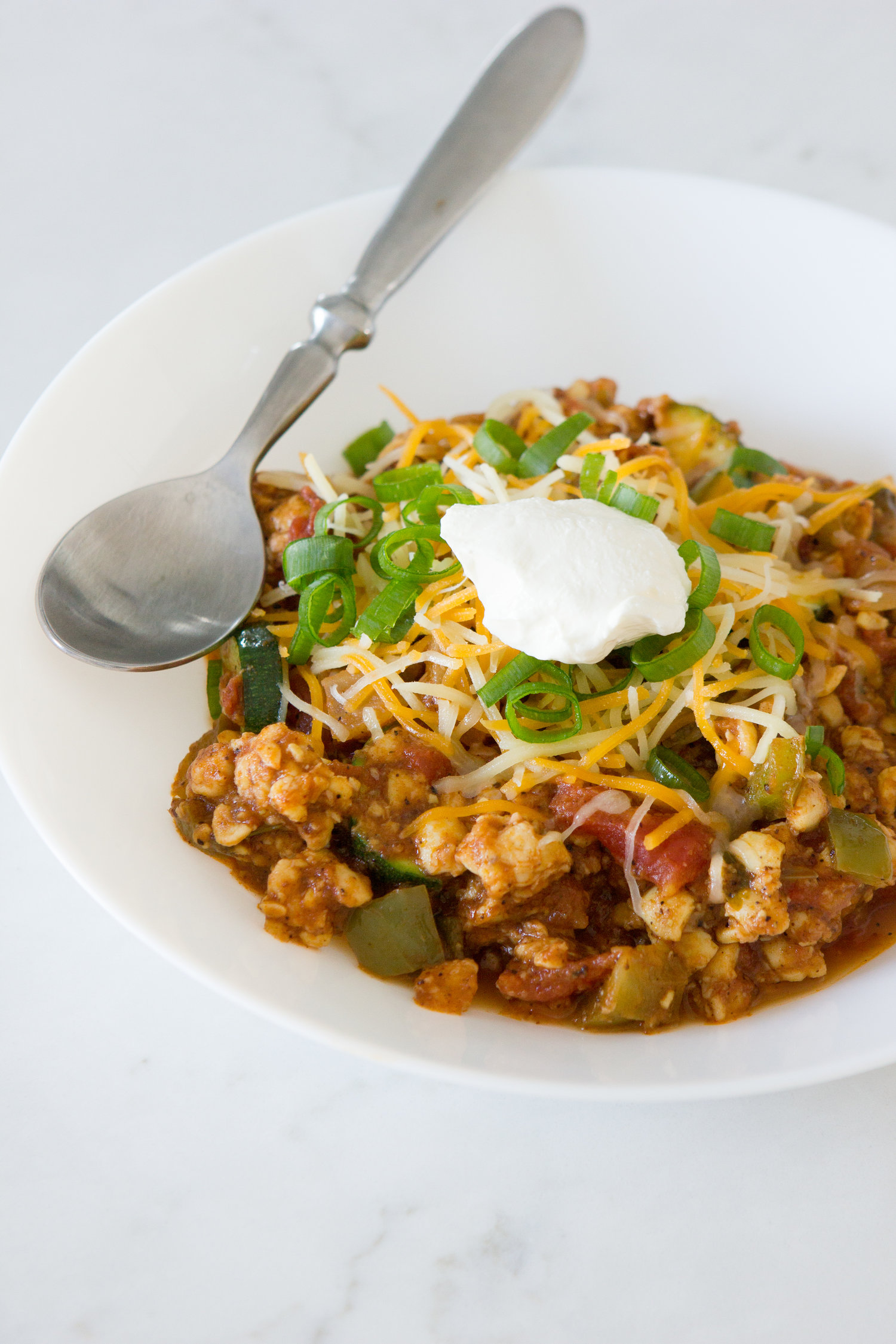 That said, if you do eat tempeh, you're in for a treat, because this is my very favorite keto vegetarian chili recipe. I make it so often that I've memorized it by heart; I divide it into individual portions for easy lunches, my carb-loving husband can't get enough of it, and it's probably my toddler's favorite meal. Tempeh is magic, y'all.
It's (very) loosely adapted from the 30-Minute Vegetarian Chili in Danny Seo's Naturally, Delicious, which, BTW, is a very good cookbook! The original version uses black beans and I discovered it when I was doing the low-ish carb Always Hungry eating plan. The recipe below is tweaked to make it keto-friendly by swapping out the beans for double the tempeh and adding some low carb vegetables–green bell peppers and zucchini, to be exact.
Some ketogenic recipes can feel a little too heavy–which is kind of the point, of course, but it's not always pleasant. This keto vegetarian chili is nice because it's filling and satisfying, without making you feel overly full afterwards. If you enjoy this recipe, you'll also want to try this tempeh taco filling–serve it in lettuce cups instead of shells or tortillas with a sprinkle of shredded cheese and a dollop of sour cream or homemade guacamole and it's keto-friendly too.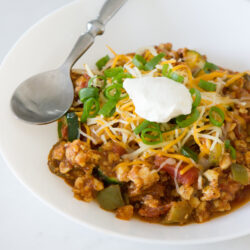 Keto Vegetarian Chili
The ultimate make-ahead meal, this Keto Vegetarian Chili is packed with veggies and meaty crumbled tempeh.
Ingredients
1/4

cup

avocado oil

1

small onion chopped

1

small green bell pepper chopped

2

cloves

garlic minced

Salt to taste

2 8-

ounce

packages tempeh

crumbled

1

tablespoon

chili powder

2

teaspoons

ground cumin

1

teaspoon

ground coriander

A pinch of cayenne optional--you may want to use it if your salsa is mild

1

cup

no sugar added tomato salsa

1

cup

water or homemade vegetable stock

1 15-

ounce

can diced fire-roasted tomatoes

1

small zucchini quartered lengthwise and sliced

Sour cream or Greek yogurt shredded cheese

and green onions, for serving
Instructions
Warm the avocado oil in a large saucepan over medium heat. Add the onion, green pepper, garlic, and salt; cook for about 5 minutes, or until vegetables are softened and the onion is just beginning to become translucent.

Stir in the crumbled tempeh. Continue to cook, stirring often, until tempeh is lightly browned, about 5 minutes more.

Add the chili powder, cumin, coriander and cayenne (if using) to the pan. Stir to coat the tempeh and veggies; when the mixture becomes fragrant (about 1 minute), fold in the salsa. Once everything is coated, add the water or stock, tomatoes, and zucchini.

Bring the chili to a simmer, then reduce heat to medium-low. Simmer for 10 minutes to bring the flavors together, then remove from heat. Season with additional salt and pepper if needed.

Serve with sour cream, yogurt, cheese, and/or onions.
Nutrition
Calories:
219
kcal
Protein:
11.77
g
Fat:
15.68
g
0