Did you know that when your gems lose their sparkle and your silver pieces start to tarnish, there's no need for getting it professionally cleaned or spending on a jewelry cleaner full of harsh chemicals? You can make your own DIY jewelry cleaner at home with simple ingredients you already have!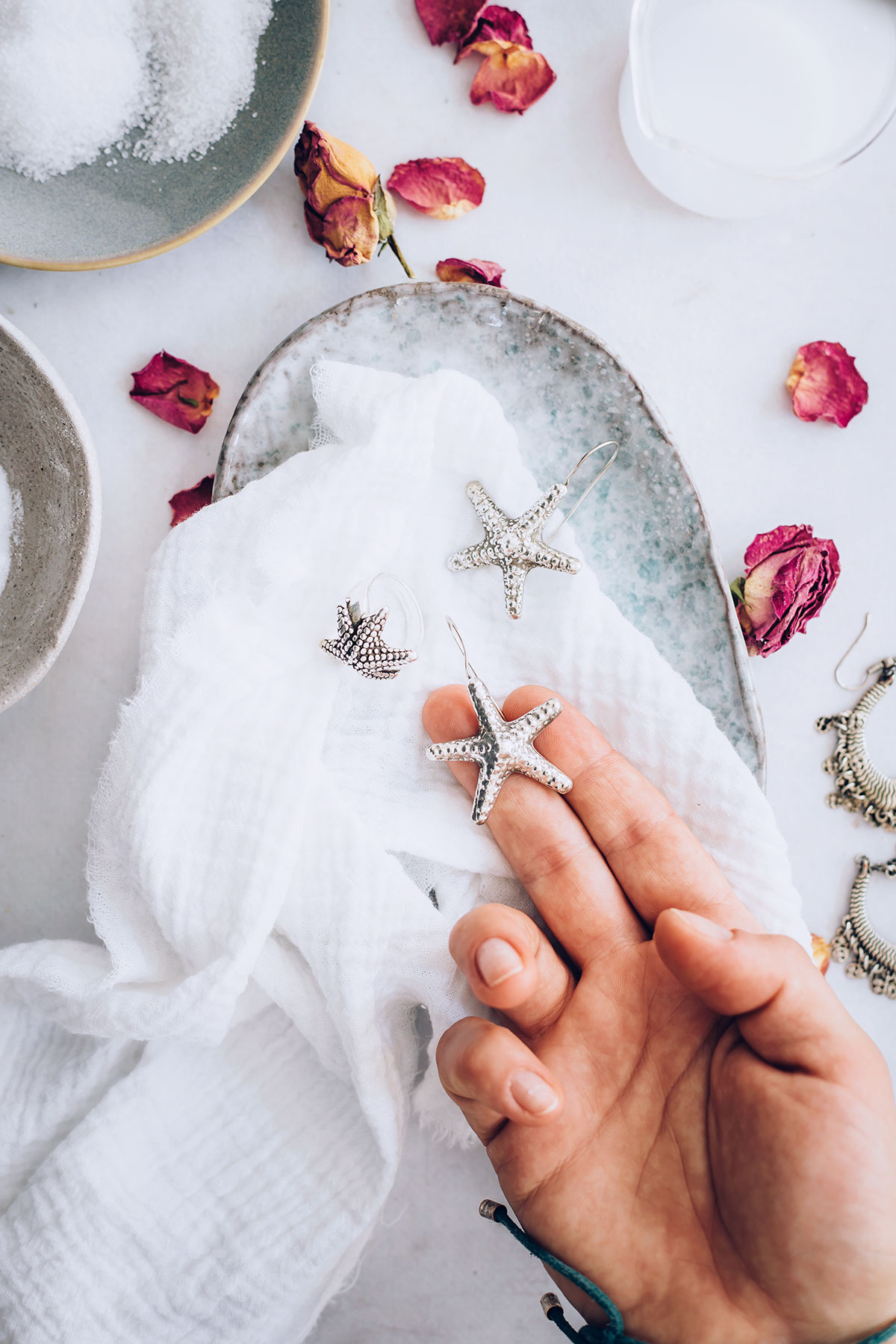 DIY Silver Jewelry Cleaner Recipe
I own a couple of pieces that really needed some TLC, so I put them to the test with this easy DIY jewelry cleaner—and I'm happy to report that I brought them back to life. This cleaner will leave your jewels clean and shiny in less than 15 minutes. Now all of a sudden it's like I have new pieces to wear!
This recipe works best on silver and gold jewelry without any dainty embellishments or stones. If you have questions on how to care for specific gemstones, check out this guide.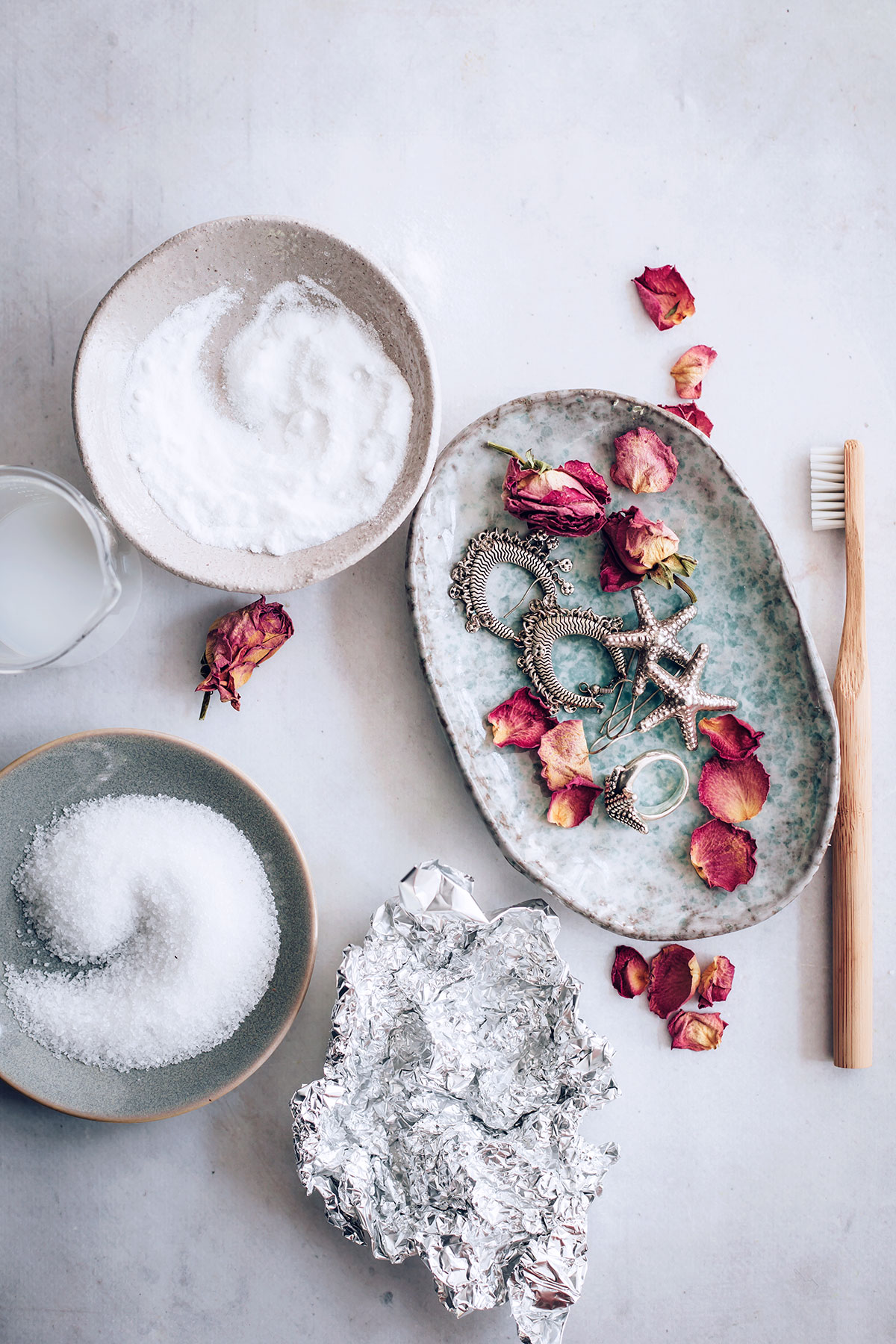 Supplies
—Small bowl
—Piece of aluminum foil
—1 tablespoon table salt
—1 tablespoon baking soda
—1 teaspoon dish soap (it's best to look for a gentle version with natural ingredients, but you can also make your own with this recipe)
—1 cup of hot water
1. Gather the pieces you wish to clean
2. Line your bowl with the piece of aluminum foil and add the salt, baking soda and dish detergent.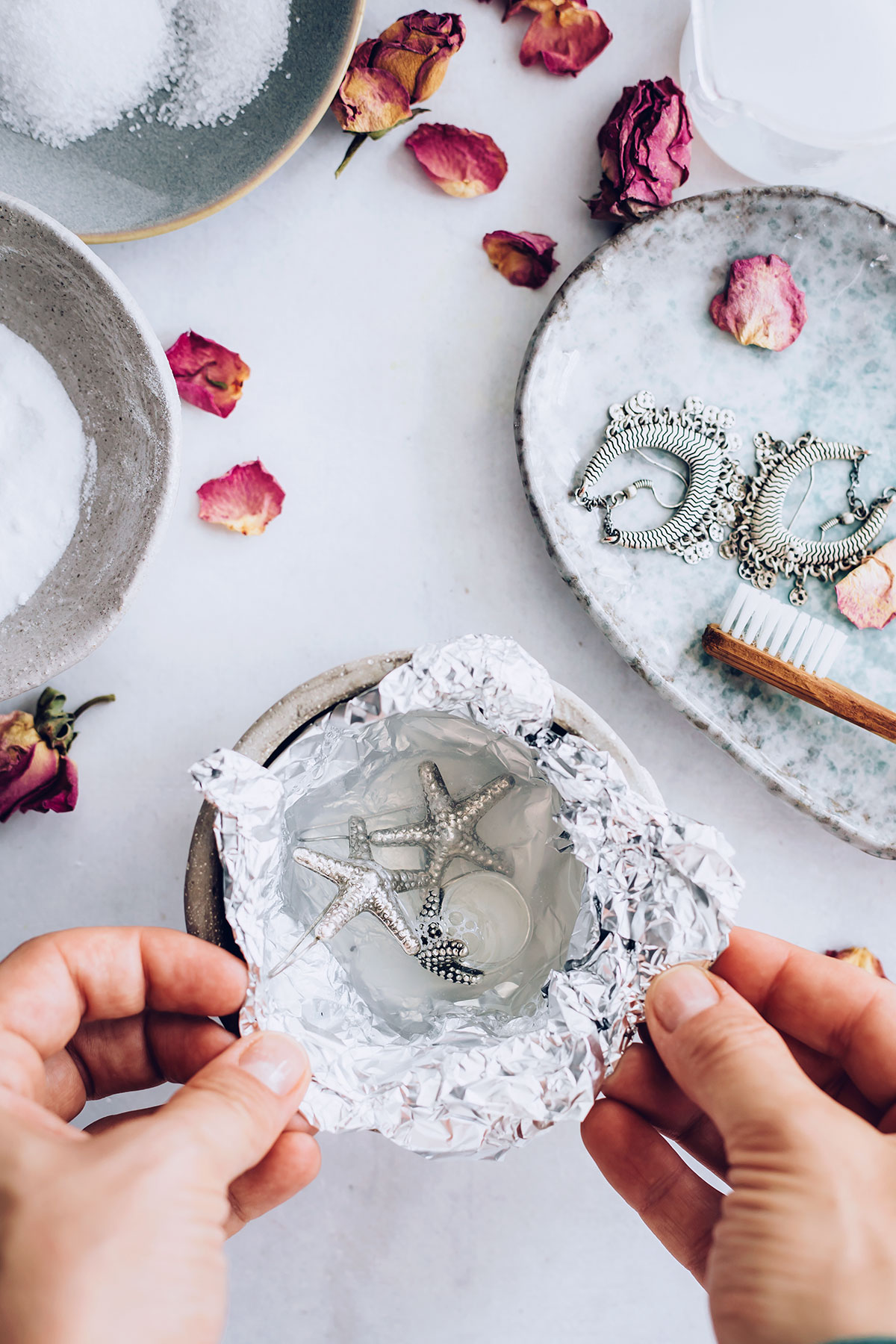 3. Pour in the hot water and drop in your jewelry pieces.
A word of caution: If you're unsure of how a piece will react to this DIY jewelry cleaner, you'll want to test your cleaning solution on a hidden portion of your jewelry before applying to the entire piece.
4. Let them soak in the jewelry cleaner for 10-20 minutes and then brush with a soft toothbrush.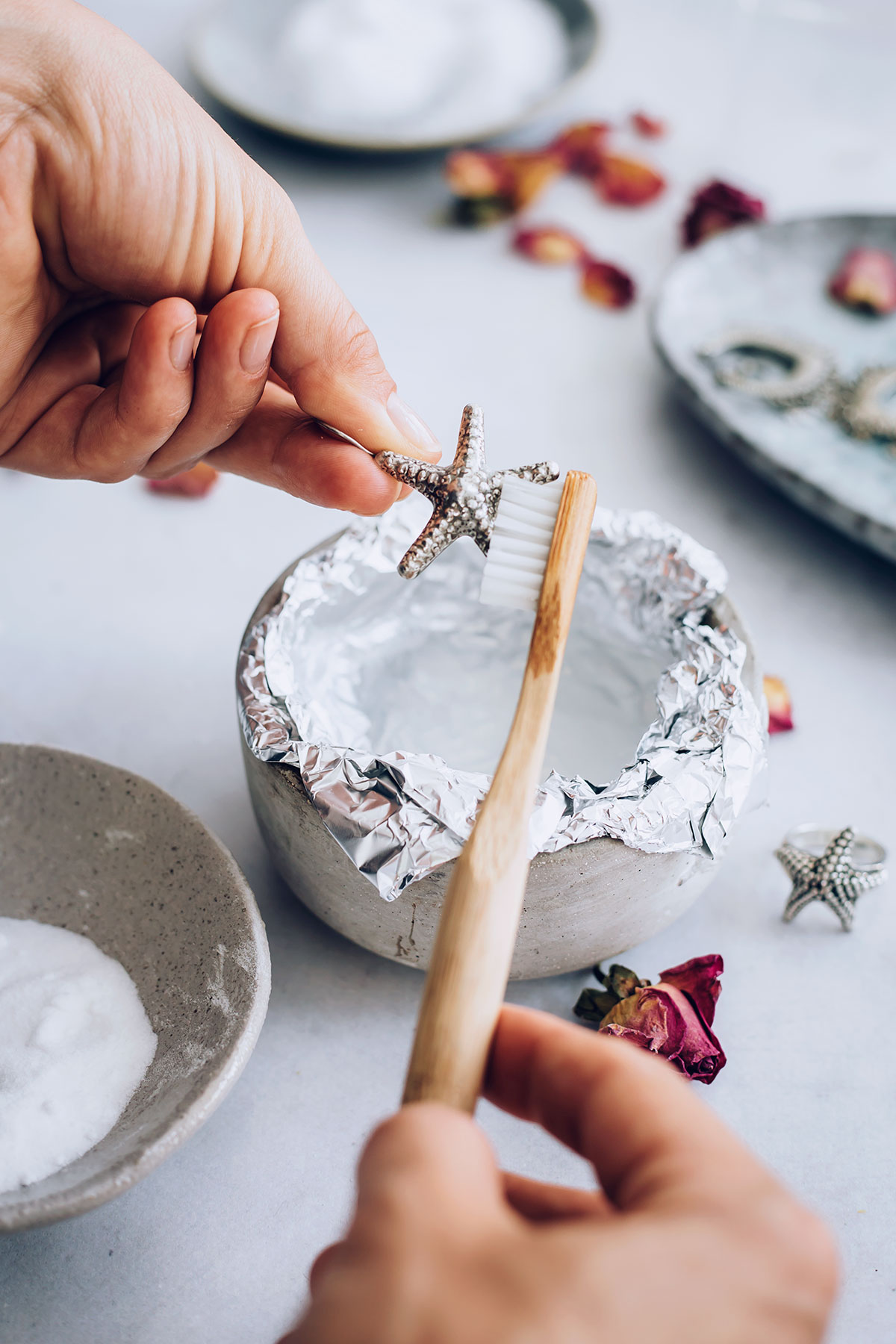 5. Rinse each piece with water and dry with a paper towel.
Now go rock your shiny pieces!
Cleaning gemstones & gold jewelry
Use a milder technique on your stones and gold pieces.
—Mild dish soap (to remove grease)
—Soft toothbrush
—Toothpick
—Water
Soak your pieces for a minute in a bowl of warm water with a few drops of mild detergent or cleaning solution. Then use a soft brush to gently scrub them.
Use a toothpick to pick out dirt or grime stuck in the settings.
Dunk the jewelry piece back into the solution then rinse with warm running water. Remove any excess liquid, then gently polish with a soft lint-free cloth or chamois.
Don't put pearls in water!
Pearls need frequent cleaning as they pick up a lot of oils from your skin when wearing them, but don't clean them by soaking in liquid. Instead, remove stains and oils by wiping with a damp, soft cloth. Dry completely—blowing out the drill holes as well to avoid any trapped moisture.
Jewelry Cleaning FAQ
Can I use this to clean my diamond rings?
I take my precious gems (engagement ring and a few inherited pieces) to my local jeweler for a professional cleaning.
But if you want to clean them yourself at home, the easiest way is to make a gentle cleaner with 8 ounces warm tap water and 1 teaspoon dish soap. Let your ring soak for 10 minutes, then brush away grime with a soft toothbrush. Lastly, rinse with warm warm and dry with a lint free towel. Just be very careful not to disturb the settings or scratch the stones.
Can you use hydrogen peroxide to clean jewelry?
Hydrogen peroxide is totally safe to use on metal jewelry, such as stainless steel or gold. But I wouldn't use it to clean precious stones or dainty jewels. For those, stick with a cleaner made mostly of water and dish soap.
How do I make my jewelry shine?
When you've finished scrubbing your jewelry, rinse off the cleaning solution, and shake or blow on it to remove excess liquid. Then gently polish the piece with a soft lint-free cloth or old t-shirt until it sparkles.
How can I clean my jewelry quickly without having to soak it?
To clean your jewelry quickly, try a little rubbing alcohol. Fill a small container with straight rubbing alcohol and dip your jewelry pieces in it. Then give them a quick scrub with a soft bristled brush and lay them on a towel to dry. As with all jewelry cleaner, though, be sure to test this on a small spot before applying to the entire piece.
How do I keep silver jewelry from tarnishing?
The oils from our skin can accumulate on the surface of silver jewelry and cause it to oxidize (tarnish). To keep your jewelry from tarnishing so quickly, rinse jewelry with warm water and buff with a soft cloth every time your wear it.
Can you use this diy jewelry cleaner on gold plated jewelry?
I wouldn't recommend it since it might weaken the gold plate. Instead, gently polish gold plated jewelry with a microfiber cleaning cloth (not a polishing cloth as that may strip the metal) to get rid of grime and boost shine. If it's extra dirty, you can clean it with warm, soapy water.
Photos by Ana Stanciu
203