April is here, which means spring is here. Getting a few sunny days in a row does wonders for my energy (and mood). Suddenly I feel ready to reorganize and declutter the whole house. Bring on the spring cleaning!
If you're not already in the cleaning mood, freshening up the air in your house with a citrus pot simmer can help. The Bust DIY Guide To Life has a great ritual for starting a cleaning session that I like to use. For some reason, it helps me lessen the dread of cleaning sinks and toilets. Here's what you do:
Put a pot of water on the stove, throw in some herbs or essential oils, and let it boil. Your house will smell like new, and you'll add some much needed moisture to the air after months of dry heat. Then open every window to let the breeze blow through and the fresh, crisp air circulate. Finally, turn up the tunes and get started.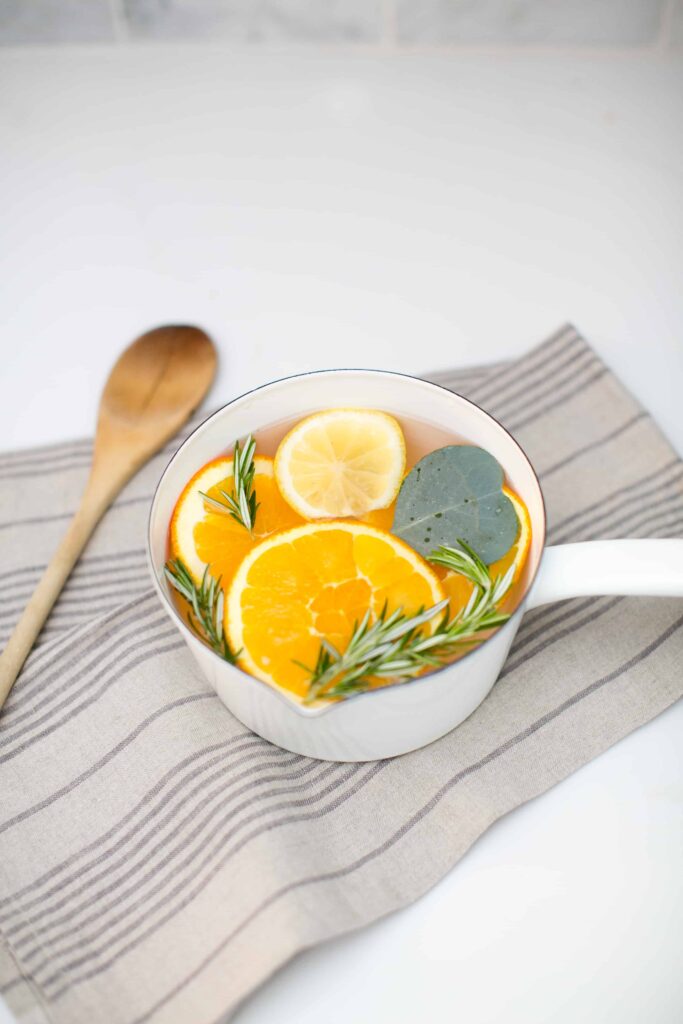 How to Make a Rosemary Citrus Pot Simmer
In anticipation of spring cleaning to come, we made pot simmer bags as take home favors in our rosemary workshop. It's like making potpourri, but with a lighter scent for spring. Replace winter spices like cinnamon and clove with fresh, clean scents like rosemary and citrus. Rosemary gives a mellow, herbal base note while lemon, lime and orange brighten it up. The light, energizing smell is just what you need to shed the winter blues and get ready for spring.
To make the favors last a bit longer, we used dried citrus slices. Have you ever dried oranges? It's super easy – and the process makes your house smell pretty awesome, too.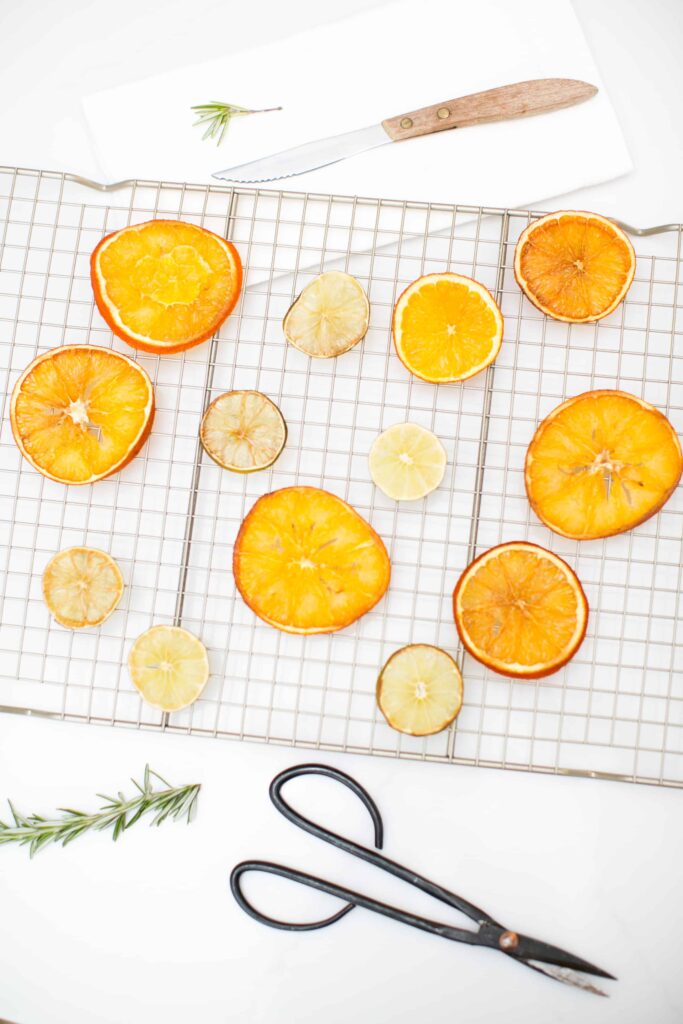 Preheat the oven to 200ºF or its lowest heat setting. Then cut the oranges, lemons or limes into 1/4-inch slices. Arrange them on a baking sheet and stick them in the oven. Martha says to dust them with sugar before baking, but I've never done that. Anyone have experience using sugar?
Check on them after roughly an hour and flip the slices. Keep baking and flipping them until the peels have dried and hardened. It takes 2-3 hours. The smaller lime and lemon slices will dry faster so take them out before the oranges are done so they don't burn.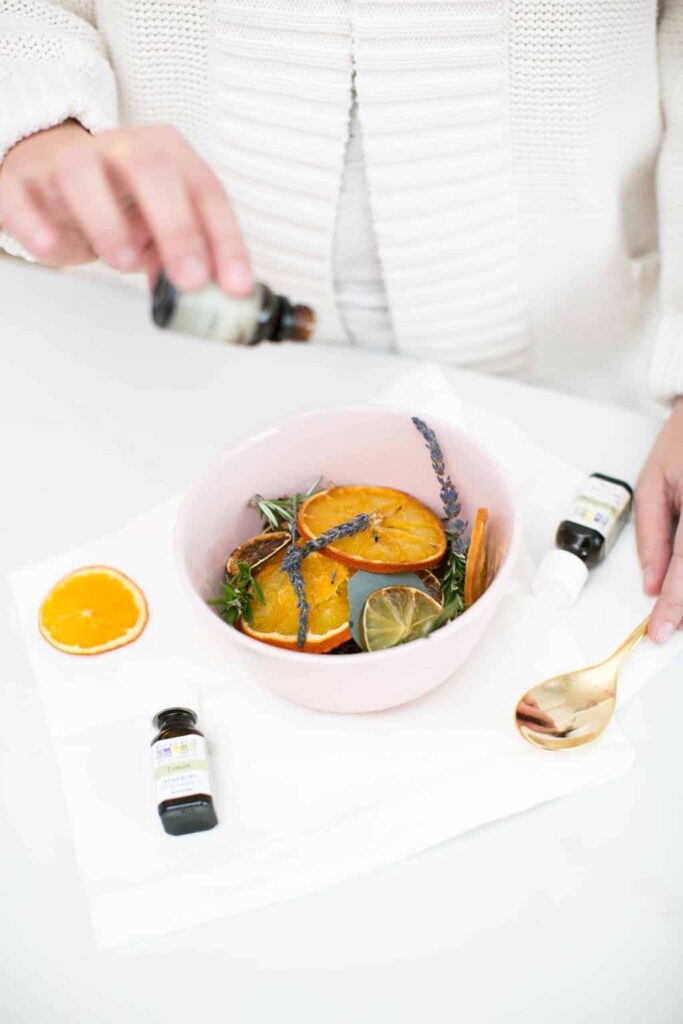 To make the rosemary citrus pot simmer mixture, combine a few citrus slices in a bowl with rosemary and any other herbs you want to add, like lavender or eucalyptus. Sprinkle with about 10-15 drops of essential oil and stir everything together. I like the combo of rosemary with either lime or grapefruit essential oils. For a super bright, clean scent, go with an all-citrus combo of lime, lemon and sweet orange essential oils.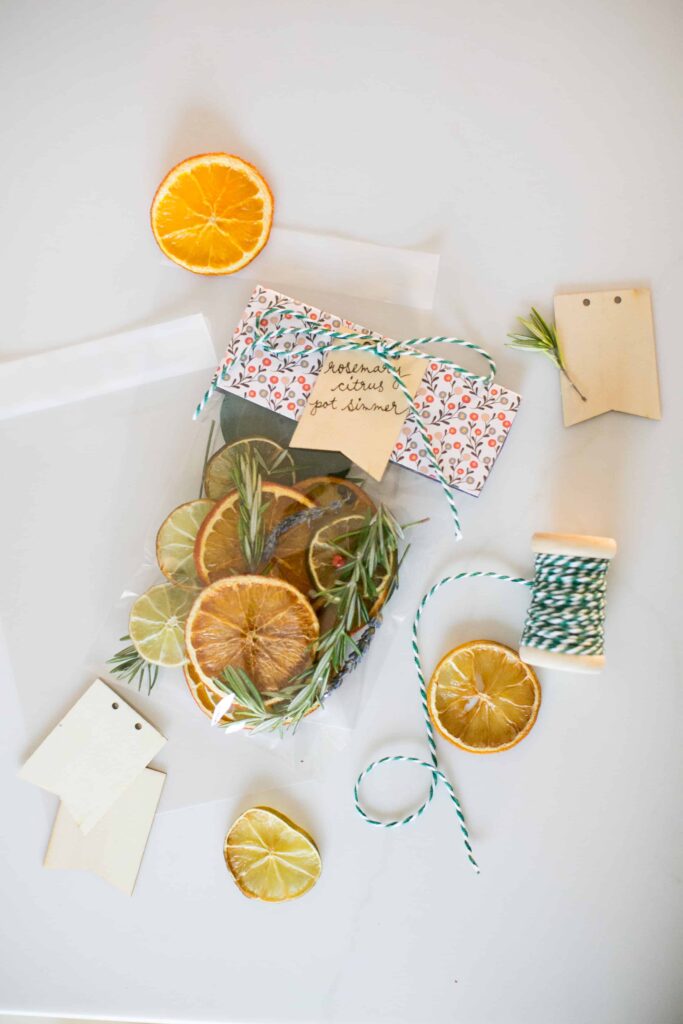 Then scoop the mixture into a cellophane bag (don't use your hands) and tie it up. To use, add the bag contents to a big saucepan of water and let the water start to boil. Then turn the heat down to low and let it simmer. Keep adding water as needed – you don't want all of the water to evaporate because you'll burn the bottom of your pan. As you add more water, you can refresh the essential oils to strengthen the scent.
P.S. Here's a great spring cleaning checklist with some our favorite homemade cleaning recipes.
5