Candles were actually one of the first natural items I made for my home. Fresh out of college, I would wander the aisles of Target and dream about buying things for my apartment. The candle aisle was always one of my favorites but since I was too poor to afford anything, I'd just smell them one by one and put them back on the shelf. The day I got my first paycheck, I went straight to the craft store and bought a bunch of supplies to make my own essential oil candles. And I've been doing it ever since.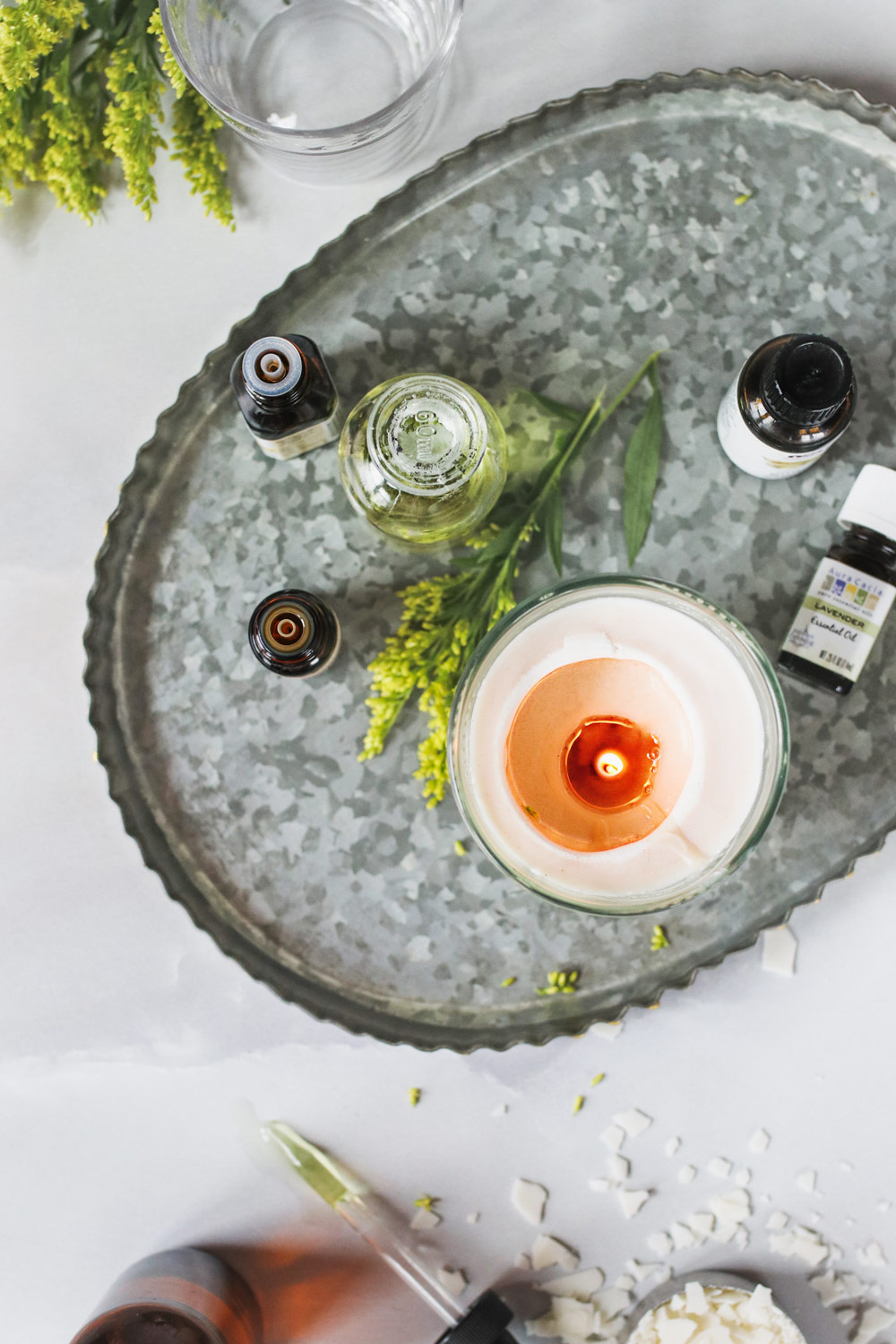 Truth be told, they weren't really all that natural (or pretty) at first. I was using paraffin wax and chemical scents because I couldn't afford the nicer ingredients (the thought of it still makes me cringe). But as I began learning about essential oil candles and their health benefits, I slowly started to swap out synthetic fragrances and toxic waxes for more natural ingredients like essential oils, soy wax and cotton wicks.
Switching over to natural ingredients can be a bit of learning curve, especially since they don't always look and smell like the store-bought candles you're used to. Figuring out the best kind of wax to use, how much oil to add, and when to add it can take a lot of trial and error. But with years of candle-making under my belt, I've made all the mistakes in the book and I finally know what works–and what doesn't–when it comes to making candles with essential oils.
Here's a complete guide to making candles with essential oils, so you don't make all the mistakes I did.
Guide to Making Essential Oil Candles
1. Choose the Right Wax
When it comes to natural candles, there are only a few options for wax. I'm a huge fan of beeswax because it burns slowly and releases a soft honey-like scent, but it's also expensive. Soy wax, on the other hand, is easy to find and inexpensive, but it burns quickly.
But waxes hold scents differently, and if you want to make candles that smell amazing and retain their scent, I would opt for pure soy wax. (And wax chips are super easy to work with.) Soy wax holds onto natural scents longer and releases them slowly while the candle burns, so your candles smell better, longer.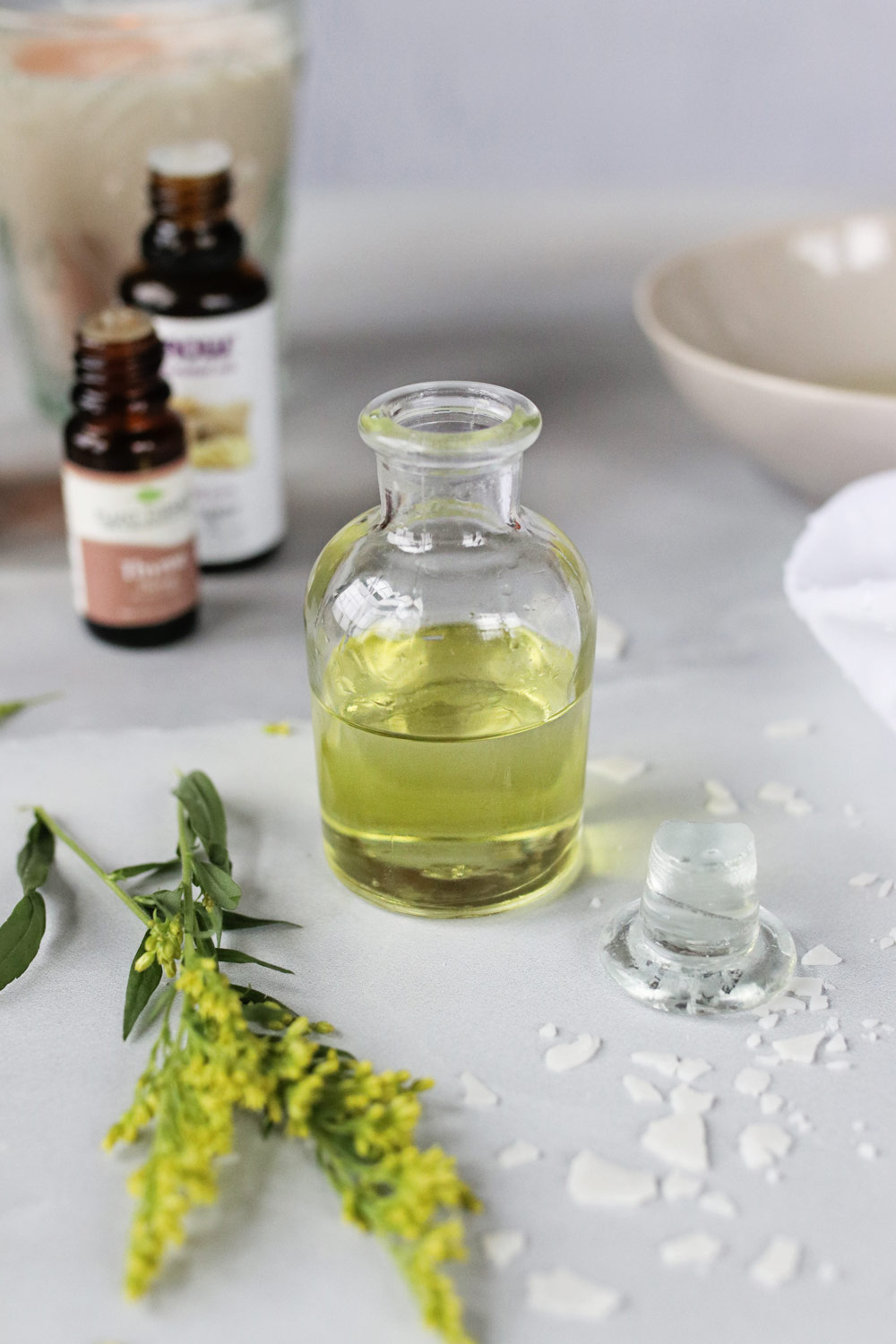 2. Pick Your Oils Wisely
There are seriously hundreds of oil combinations to choose from. When choosing oils, take into account personal preference as well as the potential health benefits of the oil. It also helps to choose inexpensive oils that smell strong right out of the bottle. That way you can reap the aromatherapy benefits without a major hit to the pocketbook.
My favorites are:
Lavender – Anti-inflammatory and relaxing
Lemon – Stimulating and uplifting
Sweet Orange – Refreshing
Eucalyptus – Improves respiratory conditions
Thyme – Relieves stress and anxiety
Peppermint – Stimulating and uplifting
Not only are they strong scents, but they mix and match nicely so you can combine them in a number of different ways. But since oils have medicinal properties, you should always do research beforehand and choose the oils that suit your needs. And if you have children or pets, always make sure they can be used safely without any adverse effects.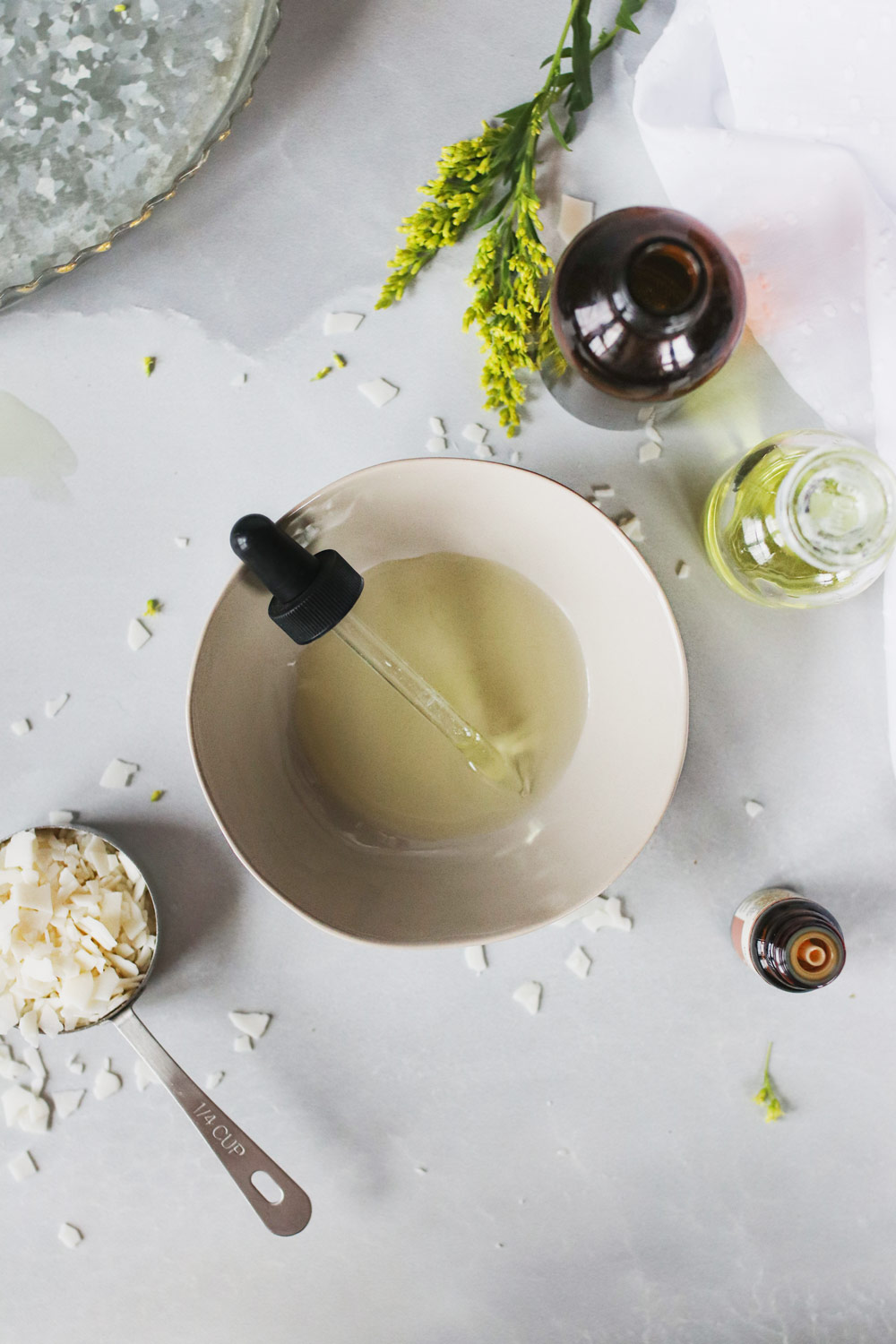 3. Use the Right Amount of Oil
Since oils don't smell as strongly as synthetic fragrance oils, you need to use a lot in order to obtain a noticeable scent. A good rule of thumb is:
200 drops oil for a 4-ounce candle
You can easily adjust this ratio for different container sizes. For instance, if your candle container is 8 ounces, then use 400 drops instead. This ratio will give you a roughly 6% dilution, which is said to be the optimal amount for getting a noticeable scent without any of the side effects.
If you would prefer not to count drop by drop, you can always add your oils in bulk to save time. While not exact, I measure my oils using a kitchen teaspoon.
100 drops essential oil = 1 teaspoon
If anything, this ratio might err on the side of too little oil. So if needed, adding an extra ½ teaspoon or so should ensure you have a 6% dilution.
4. Add Oils at the Right Time
To get the most scent out of your oils, you need to add them when the wax is the right temperature. If the wax is too hot, it can destroy the active compounds in your oils and dampen the scent. Too cool and the oils might not evenly disperse throughout the wax.
You want to add the oils when the wax is approximately 185 degrees Fahrenheit. Since soy wax can catch on fire easily, always melt soy wax flakes in a double boiler and measure the temperature every couple of minutes until melted. I use an old kitchen thermometer for this and then simply wipe it off when I'm done.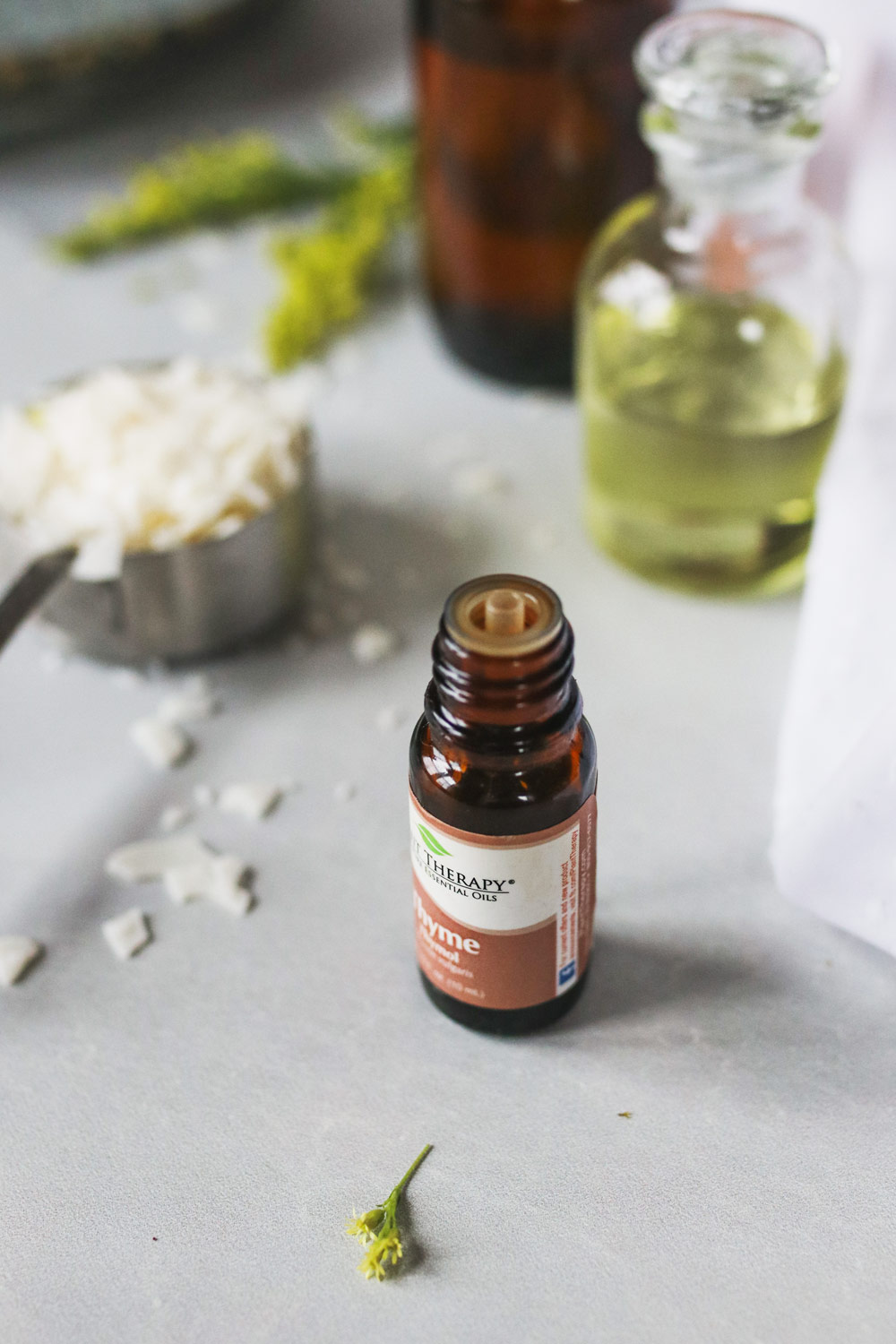 5. Maximize the Scent
Once poured, you'll want to let your candles cool (cure) completely before burning. And always cover candles tightly with a lid between uses so the scent doesn't fade.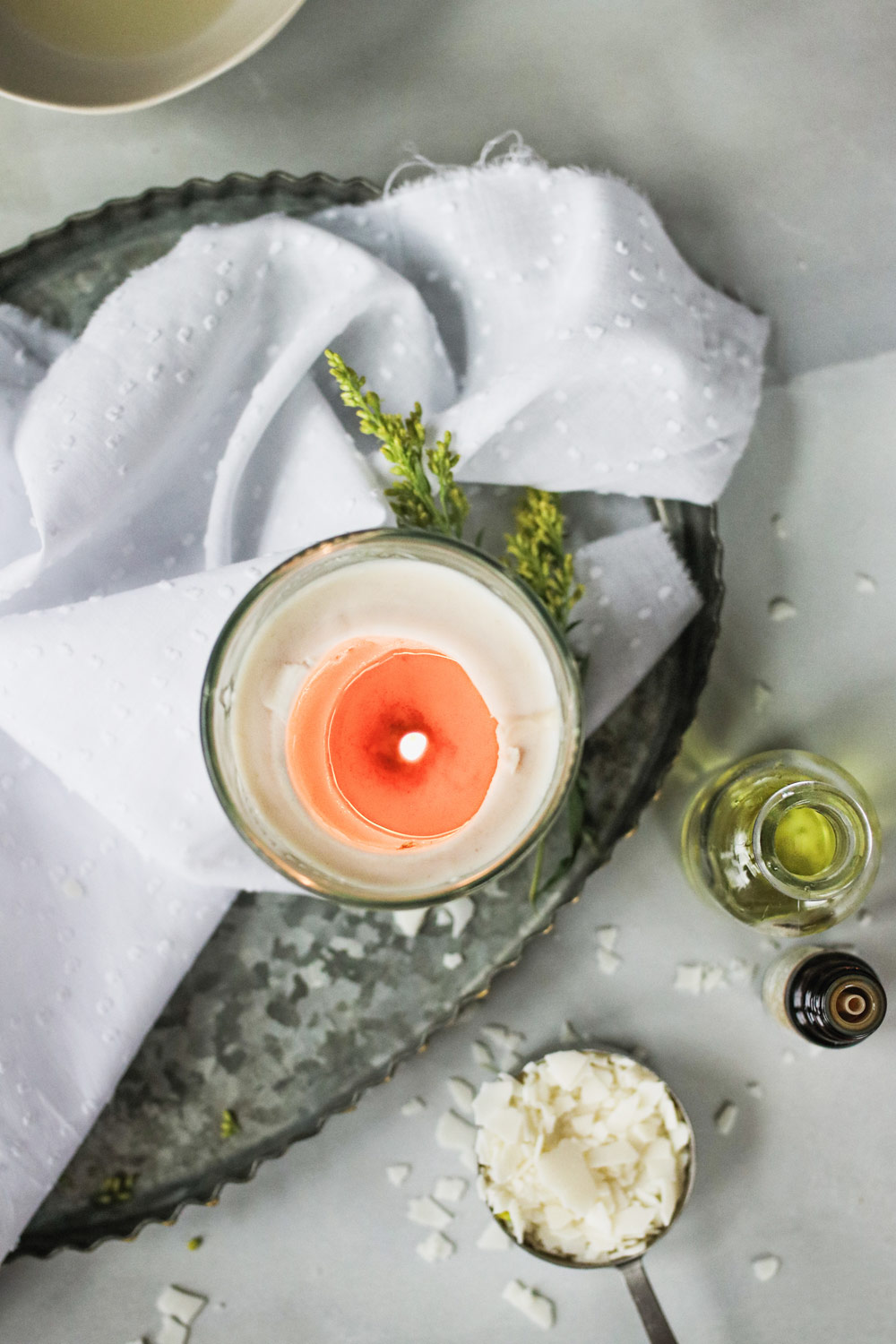 Print
Lemon Lavender Essential Oil Candles
Yield 1 4-ounce candle
Ingredients
One 4 ounce glass or tin
100% cotton wicks
2 cups pure soy wax flakes
Saucepan
Old glass jar or aluminum can for melting wax
Old kitchen thermometer
Tape or popsicle sticks to hold the wicks
100 drops lemon essential oil
100 drops lavender essential oil
Instructions
Place the soy wax flakes in an old glass jar or aluminum can.
Bring one inch of water to a gentle simmer in a saucepan and place the can with the soy wax in the center. Allow the water to simmer until the wax melts completely.
Remove the can and place your kitchen thermometer in the hot wax. Check the thermometer every few minutes until the wax cools to 185 degrees (it doesn't have to be exact, but a slightly lower temperature is better than higher).
Add your essential oils and stir to combine.
Place the wick in the center of the tin and use tape or popsicle sticks to keep it upright.
Lastly, pour the wax into the tin and allow it to cool for 24 hours before lighting.
225