There are few things more life changing than a good candle. Just light one and I'm immediately transformed into a home-maker, an amazing chef and a woman who has her act together. Plus, my house looks impeccably clean and perfectly decorated to boot (my husband might disagree—so let's leave him out of this). Jokes aside, with all this free time on my hands lately, I've been finding huge amounts of joy in making my own all-natural essential oil candles.
There's just something about the soft glow and subtle aromatherapy that comes with making your own candles.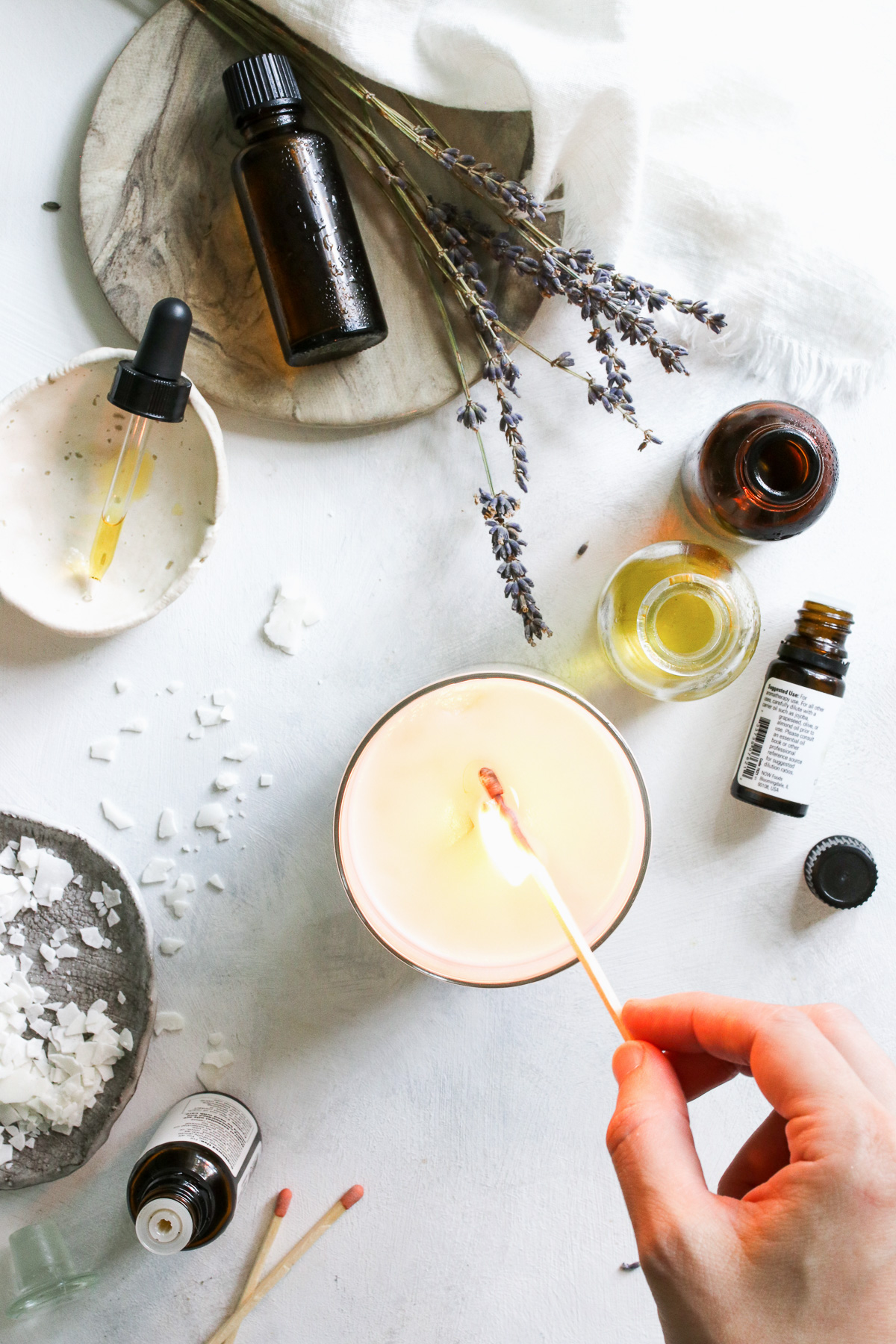 But if you've ever made candles, you'll know that they don't always turn out perfect right out of the gate. Because essential oil candles aren't loaded with fake scents, they might not be as fragrant as you're expecting. Or if they do have a fragrance, you might notice the scent start to fade over time. But that's a good thing.
Fake candles may smell good but they'll do a number on your lungs and heart [source]. And if they use paraffin wax and metal wicks, they can crank out toxic substances, such as heavy metals and petroleum by-products, which have been shown to cause things like cancer and organ damage.
Trust me, it's not worth the ick factor. Luckily, there are a few ways to boost the scent and get more aromatherapy out of your candles. Read on to learn how to choose the right wax, measure your oils, and make inexpensive, fragrant candles that beat the heck out of the store bought variety.
How to Make Essential Oil Candles
Like with most things, the quality of your candles depends heavily on the quality of your ingredients. Especially in the world of essential oils, fragrance varies by brand and purity. So, if you haven't had much luck making candles that actually smell like anything, your ingredients might be to blame.
Before you start making your candles, take a look at the quality of your ingredients and see if you can't improve right out of the gate.
1. Choose a slow-burning wax
While you might not think about it, waxes hold their scent differently. Some, such as beeswax, burn slowly and release a soft scent of their own. Others, like paraffin wax, are inexpensive and unscented, but they burn quickly.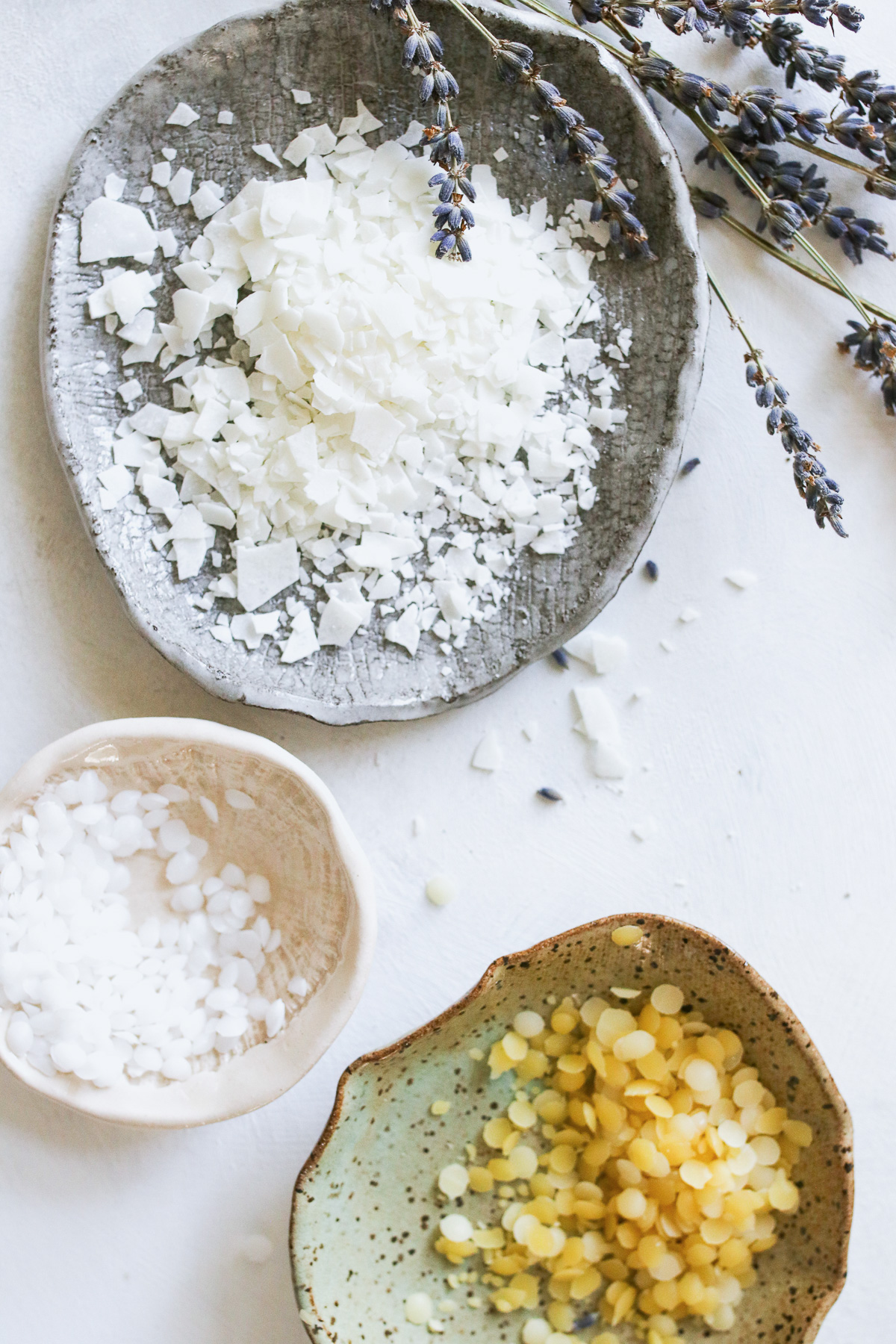 Since essential oils are naturally less fragrant than chemical scents, you need to choose a wax that retains scents longer and releases them slowly into their air.
That's why I recommend using soy wax.
Soy wax burns slower than paraffin wax, so your candle lasts longer. And it burns cleaner, resulting in less soot and smoke in the air. Not only that, but soy wax holds onto natural scents longer and releases them slowly while the candle burns, so your candles smell better, longer.
2. Choose a hot-burning wick
Soy wax is great at holding onto scent and releasing it over time. But it doesn't get very hot, meaning it doesn't release a ton of scent as the candle burns. For that you'll need a hot-burning wick.
Hemp wicks burn hotter than cotton ones so they release more oil into the air as the candle burns. Make sure to choose all-natural wicks, like these, that don't have a metal center or a paraffin coating.
But if you're trying to save money and you already have some wicks on hand, just use whatever you have (that's what I did). You can always add more oil to your candles to boost the scent, if needed.
3. Pick strong essential oils
Personal preference is important when making candles. But so is the potency of your oils.
Mellower oils, such as ylang ylang and sandalwood, are great for aromatherapy, but you might find their scent lacking when it comes to candles. Instead, choose oils that have a strong, noticeable scent that won't dissipate as much over time.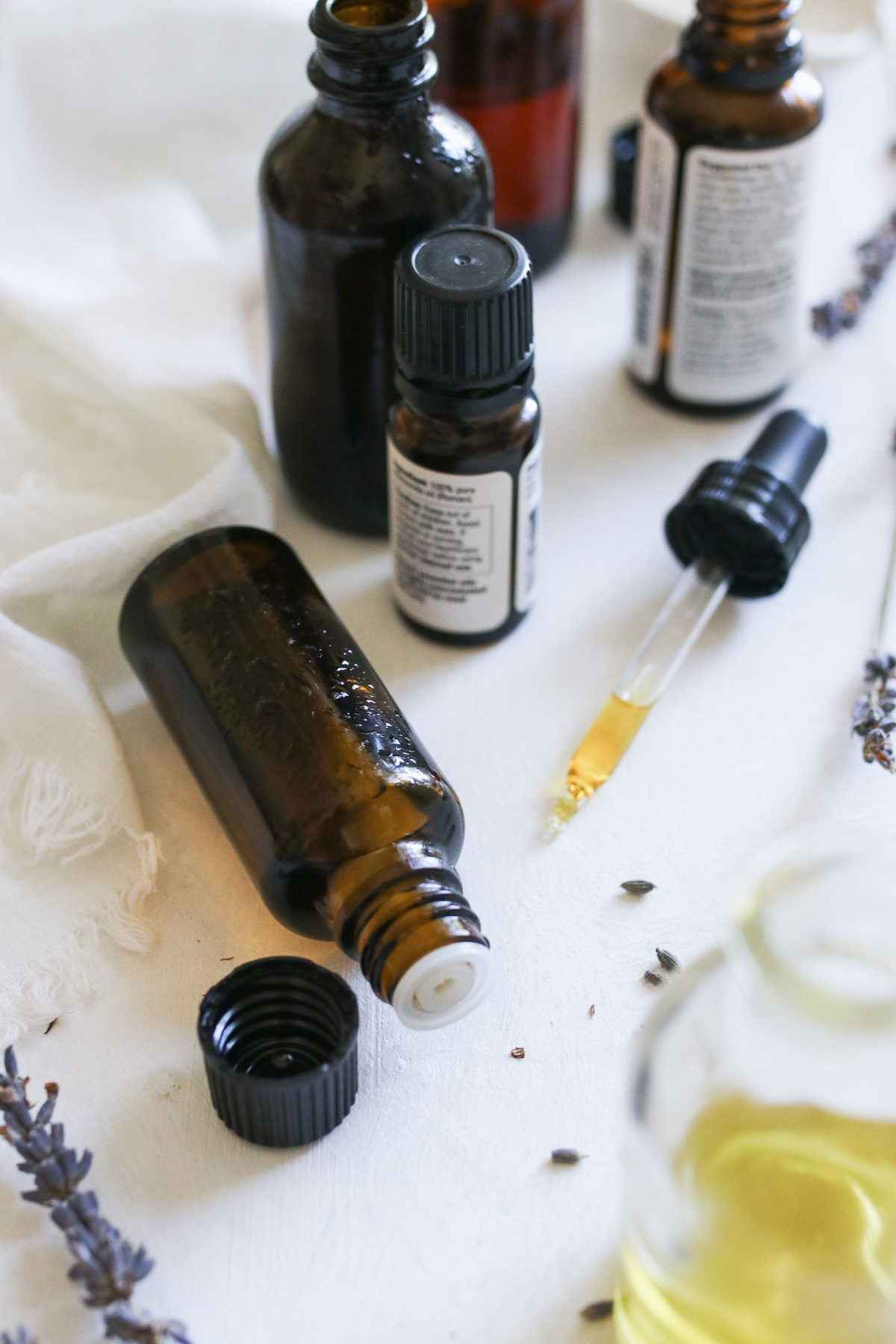 My favorites are:
Sweet Orange
Eucalyptus
Rosemary
Cinnamon
Pine
They're not the soft, floral scents most of us think of when it comes to candles, but you're guaranteed to get a whiff whenever you light it.
Feel free to mix and match your oils, especially if using a softer fragrance, to make sure your candle still has some scent. And if you have kids or pets, always do research beforehand to make sure your oils are safe to use.
4. Use more oil than you think
One of the biggest problems I see when making essential oil candles is not using enough oil to get a noticeable scent. I get it—oils are expensive! But since they don't smell as strongly as synthetic fragrances, you need to compensate by using more of them. As a starting place, I recommend:
2 teaspoons oil for every 4-ounces melted wax
This ratio will give you a roughly 6% dilution, which is said to be the optimal amount for scented candles—but you can add more if you want. More oil will give you a stronger scent.
Feel free to adjust this ratio for different container sizes (ie. 4 teaspoons for an 8-ounce candle, etc.) and mix-and-match oils to layer fragrances.
5. Add oils at the right time
If the wax is too hot, it can destroy the active compounds in your oils and dampen the scent. Too cool and the oils might not evenly disperse throughout the wax.
The ideal temperature for adding your essential oils is 185 degrees F.
Place your wax in a double boiler and slowly melt it over low heat. Remove the wax and let it sit on the counter until it's approximately 185 degrees (you can either use a candy thermometer or an infrared thermometer for this).
Once the wax reaches the ideal temperature, add your oils and pour the wax into your container (you can also add your oils after pouring the wax into the container—it's up to you). Let your essential oil candles cool completely before lighting.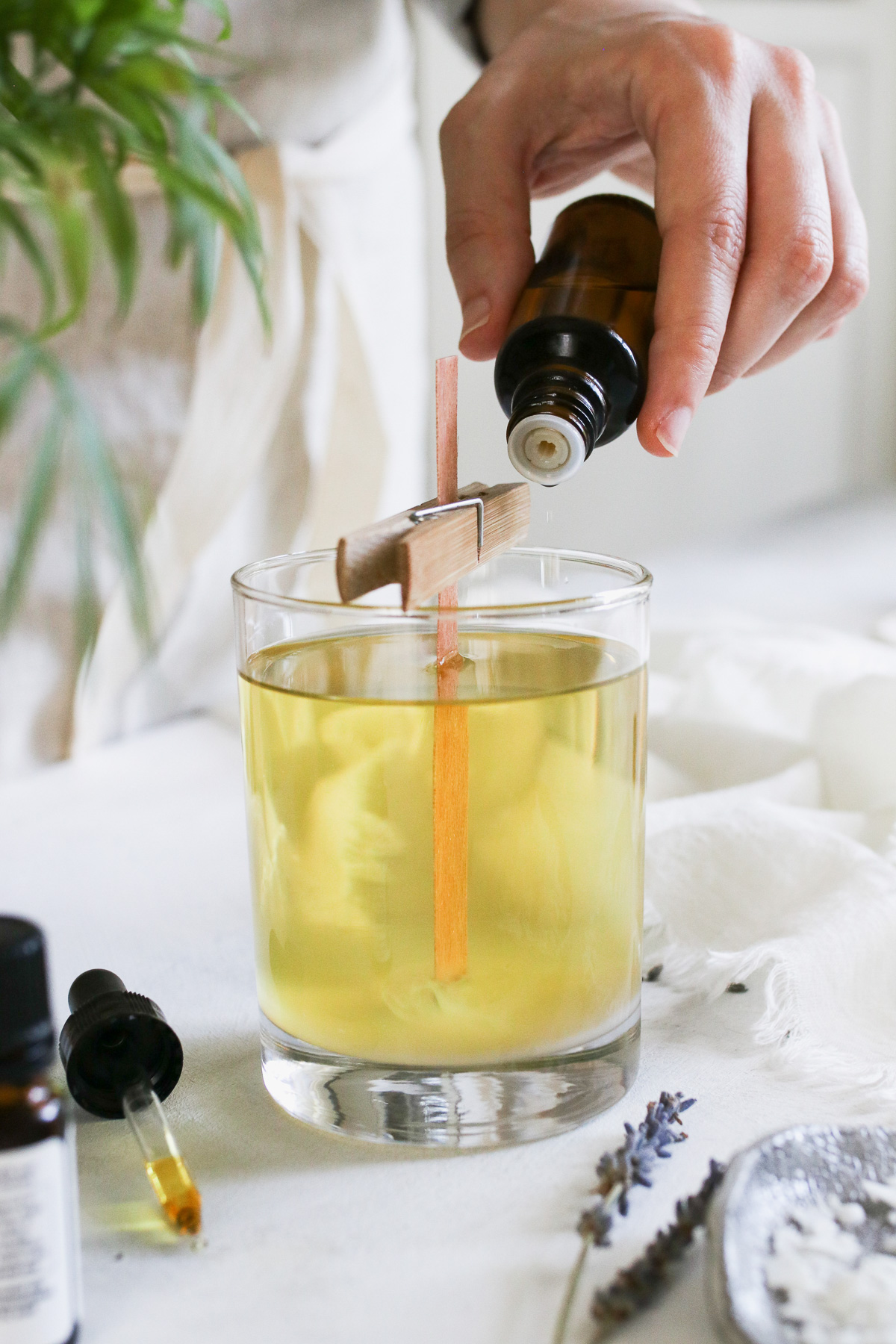 6. Keep the scent from fading
When your candle has fully cured, I recommend covering it tightly with a lid between uses so the scent doesn't fade.
If you ever need to refresh the scent, simply melt the candle down and add more oil. To do so, simply place the candle in the freezer until the wax pops out. Then put the whole chunk of wax (wick and all) in a double boiler and gently melt it down. Remove the wick, add more oil and pour back into it's container.
Not a fan of candles?
Try making these flame-free essential oil wax sachets instead.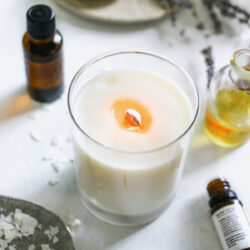 How to Make Essential Oil Candles
Everything you need to know to start making your own DIY essential oil candles at home.
Ingredients
One 4-ounce metal or glass container

Candle wicks

hemp will throw off more scent, but cotton or wood will work, too

2

cups

pure soy wax flakes

add more as needed to fill your container

Saucepan

Old aluminum can for melting wax

2

teaspoons

essential oil of your choice

Clothespin or chopsticks to hold the wicks
Instructions
Place the soy wax flakes in an old aluminum can (if it doesn't all fit, add as much as you can and add more as the wax melts)

Fill a saucepan halfway with water and place the can of soy wax in the center. Allow the water to simmer until the wax melts completely.

Remove the can and place your kitchen thermometer in the hot wax. Check the temperature every few minutes until the wax cools to 185 degrees (it doesn't have to be exact, but a slightly lower temperature is better than higher).

Add your essential oils and stir to combine.

Place the wick in the center of container and use a clothespin or chopsticks to keep it upright.

Pour the wax into the container and allow it to cool for several hours, or overnight, before lighting.
Notes
Any essential oils will work for this, but my favorites are:
If making larger candles, you'll need 2 teaspoons oil for every 4-ounces melted wax. Scale this ratio accordingly to fill your candle container.
Too keep the scent from fading over time, always keep your candle covered when not in use.
547