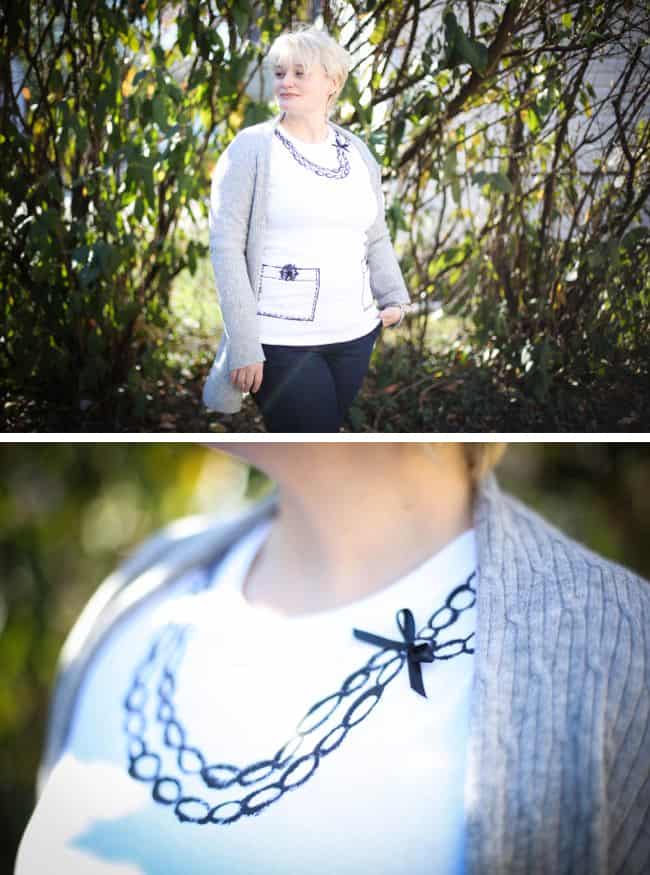 I'm back with another Plain Tee! You've made the sequin heart shirt, right? Good. Today we're talking trompe l'oeil. I, of course, had to Google it to figure out how to spell it. According to Wikipedia trompe l'oeil is "an art technique involving realistic imagery in order to create the optical illusion that the depicted objects exist in three dimensions."
Exactly. So now I can wear a necklace without really wearing one. Which is good since I never remember accessories anyway.
And I'm not gonna lie – I straight up stole this idea from J.Crew kids. Why should my five-year-old have all the fun? Crewcuts is always good for dressing inspiration for Caroline (cough, me).
Trompe l'oeil necklace DIY T-Shirt
What you'll need:
Plain Tee
Fabric paint
Fine tip paint brush
A tiny piece of ribbon
2 buttons
Needle and thread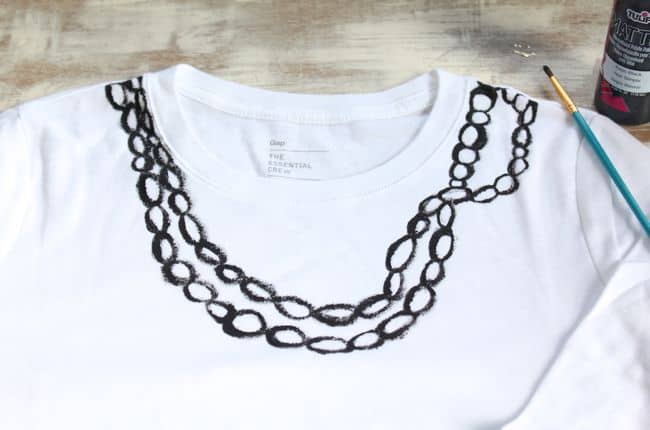 I recommend roughly sketching out your necklace before starting the with paint. Get a rough outline of how long you want the necklace, where the strands should cross, etc. Mine was freehanded and probably could have used a bit more room between the necklace strands.
Once you have an outline, put cardboard between the shirt layers and go for it! You can't really mess this up. Any imperfections just look like part of the design.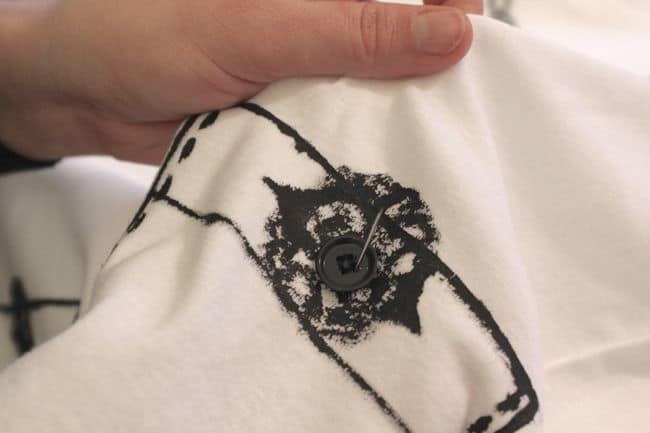 After you paint on the necklace and pockets give the shirt plenty of time to dry. Sew on the pocket buttons, and you'll fool your hubby with your cool faux pockets.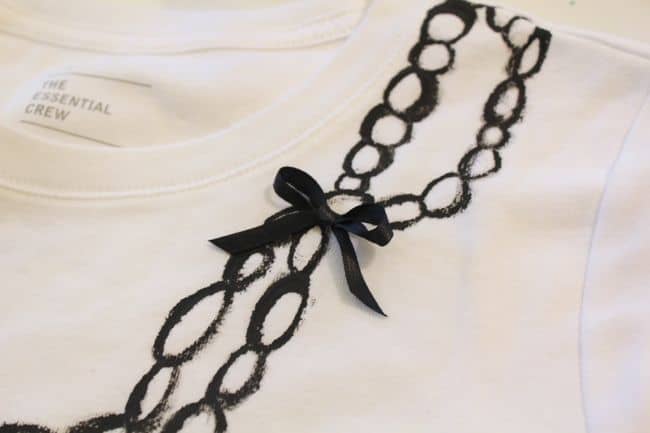 Add a tiny bow to the necklace where the strands cross each other. You can glue it on but it's probably easier to sew it. The bow nicely covers the cross point and gives it a nice 3 dimensional look. And you're done!
How does it hold up in the wash you ask? I turned the shirt inside out, washed on cold, and had no problems. In fact, I wore this shirt yesterday for a little crafternoon with the girls. We mixed up a drink that we dubbed the Crafternoon Delight (aka a margarita) and went to town on some totes. Good times.