To quote the sublime words of Ralph Waldo Emerson, summer is a time to "live in the sunshine, swim in the sea, drink the wild air's salubrity." One of the most evocative ways that summer speaks to our spirit is through the iconic scents of the season: think robust, floral humidity; freshly cut grass and tomato plants; watermelon, citrus, and ripe peaches; and the unmistakable freshness of laundry dried on the line.
Designed to work in tandem with wide open windows and the wafting of warm breezes, here are some sweet essential oil diffuser blends to welcome even more of that wild and verdant energy of summer into your home:
15 Summer Essential Oil Blends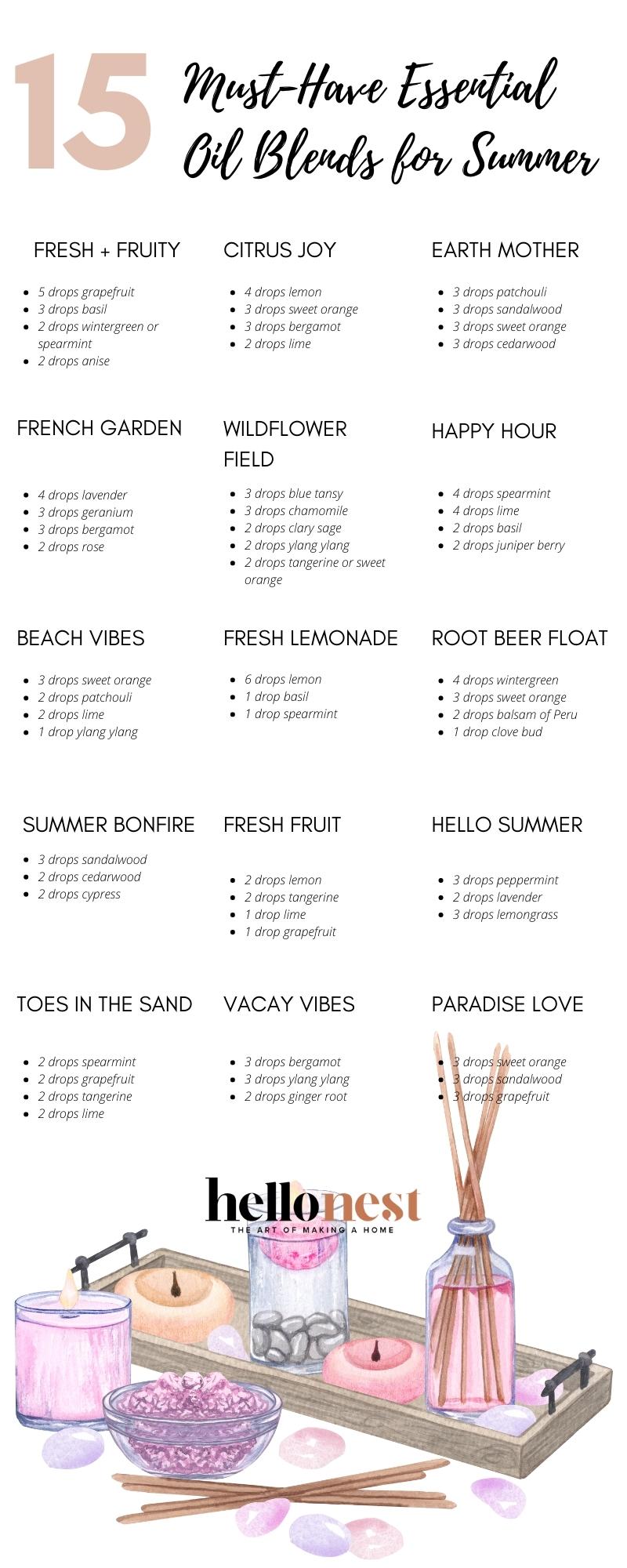 1. Fresh and Fruity
A balanced blend that hits notes that are both uplifting and delicious, this one is perfect for any room that could use a crisp and cheery pick-me-up such as bathrooms and entranceways:
2. Citrus Joy
Like walking through a citrus grove at high sun, this is a great blend for any room, and works particularly well in kitchens as it won't compete with the scents of whatever you've got cooking:
3. Earth Mother
For a grounded, warm, and woodsy summer blend sultry enough for the bedroom, try:
4. French Garden
Inspired by Monet's paintings of Giverny, this delicate blend brings the lavender luxe of French gardens into your home, and works well in wide open living areas:
5. Wildflower Field
Less formally floral than the French Garden, this blooming blend is herbaceous and subtle, like wildflower fields, and could be used anywhere throughout your space:
6. Happy Hour
Just as the name suggests, this blend is inspired by the ingredients you'd find on a summer cocktail menu. Get this blend going in your kitchen, or even out on the porch or in the yard:
7. Beach Vibes
Put your diffuser near an open window and let the breeze deliver the relaxing scent.
8. Fresh Lemonade
The unofficial drink of summer is perfect for ushering the sweet vibe of summer into your home.
9. Root Beer Float
A little sweet and a little earthy, this combo is the perfect blend of sweet and spicy.
10. Summer Bonfire
Bring the woodsy scent of a summer fire pit indoors with this combination of soothing sandalwood and cooling cedarwood.
11. Fresh Fruit
Another way to combine all of your favorite citrus flavors for an energizing, uplifting blend.
12. Hello Summer
Say hello to summer with this blend's light and bright aroma—it will bring the warm, summer sun into your day!
13. Toes in the Sand
If you can't get to the beach, this blend will at least make you feel like you're there. A perfect afternoon pick-me-up to restore your energy.
14. Vacay Vibes
A relaxing, grounding diffuser blend to synch the energy of your space with the season.
15. Paradise Love
The perfect combination of sweet and sultry for a warm summer day.
Ice cold mojitos, salty caprese salad, and bossa nova tunes are optional, but highly recommended!
5