The kitchen is one of the most heavily used spaces of the home, so it's important to keep it feeling clean, fresh, and welcoming. Essential oils are a great way to achieve this—not only do they smell great, they also help to cleanse, degrease, and disinfect, which is so important in any areas where we are prepping or cooking food.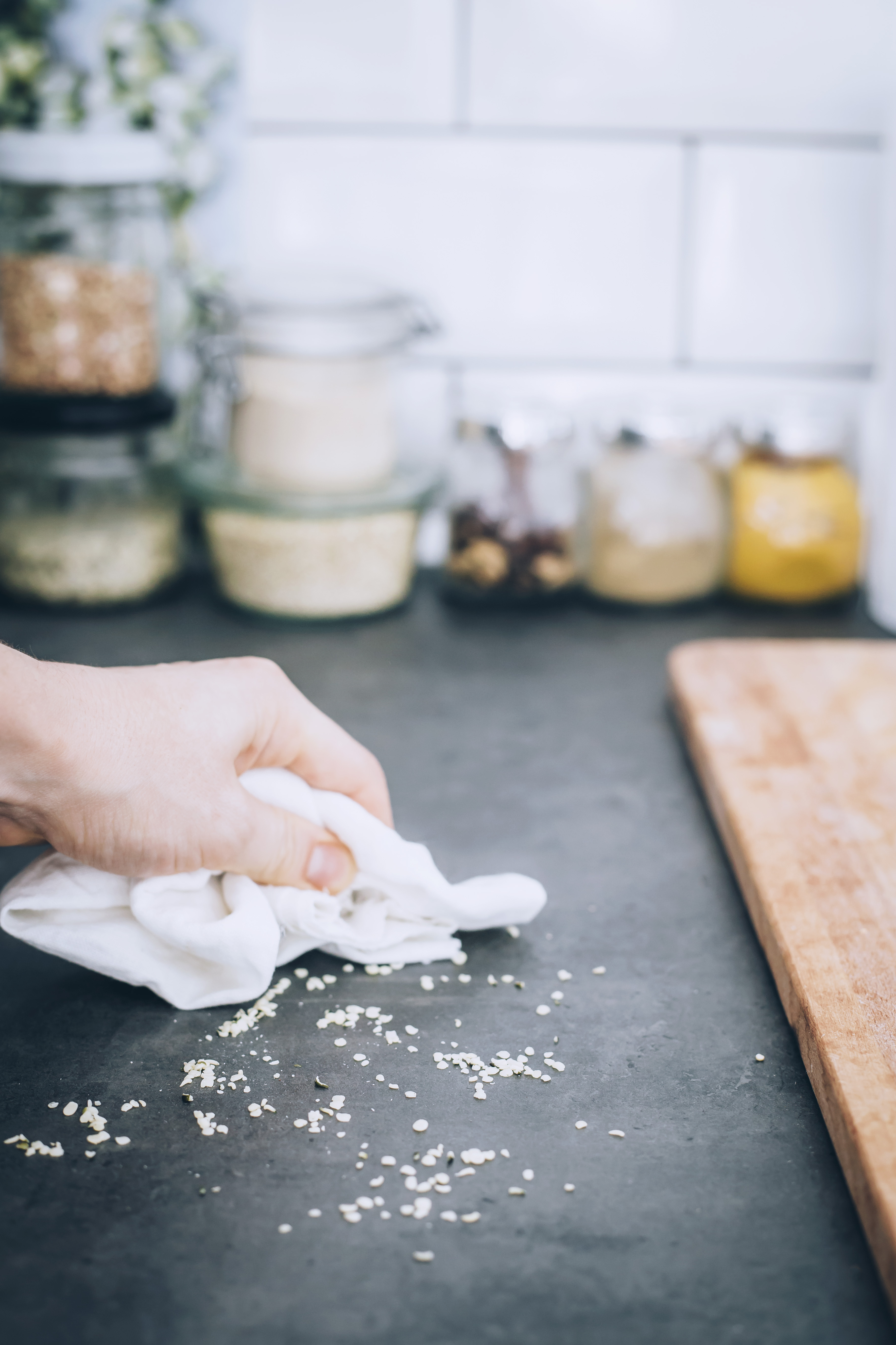 We recommend these fresh essential oils for the kitchen to get you started—they are great choices for cleaning, and work well with any aromas of baking or cooking that may be naturally scenting the kitchen:
Once you've gathered up the oils you'll need, here are some great ways to put them to use:
1. Counter cleaner
Keeping the largest surfaces in your kitchen clean and smelling fresh is key, and grapefruit oil offers a light, bright citrus note while doing a great job cutting through grime. Here's our favourite recipe for making your own natural cleaner. You can also use a mix of essential oils, alcohol and vinegar to soak old t-shirt wipes and clean any surface you might need.
2. Fridge deodorizer
We all know how messy and smelly a fridge can become without the regular deep cleans. Essential oils can help to cut through the sticky remains of food spills in the form of a cleaning solution, but they can also be used in deodorizers to keep your fridge smelling great year round. Whip up a batch of our fridge deodorant, store it in a mason jar and cover with a mesh cloth secured by the screw-top lid ring, and tuck it away in the back corner. Replace as needed.
3. Floor cleaner
Add some essential oils to a natural floor cleaner for another freshness boost. If you aren't a huge fan of pine scent, tea tree oil or peppermint would also be effective antibacterial choices. Mix in a few drops of your favorite citrus to give it a twist.
4. Air

freshener

Using a diffuser in your kitchen is one of the easiest ways to get the room smelling great fast, but whipping up some all-natural air freshener is another fast fresh air solution. Spritz around the room after cooking to help neutralize any stubborn odors.

A pot simmer is a great way to get rid of fishy smells. Fill a saucepan with water and 4 drops lime, 2 drops clove, and 2 drops lemongrass and let it simmer.
5. Washing dishes
Whether you wash your dishes by hand or use a dishwasher, our recipes for natural liquid dish soaps with essential oils have you covered. If you're stuck with greasy, grimy pots at the end of a meal, soak them in shallow water with 15-20 drops of lemon oil to cut through the grime, and then wash as usual!
6. Garbage

deodorizer

Fight the foul smells that can linger around the trash by adding a mixture of 20-30 drops of your favorite citrus oil to 1/2 cup of baking soda and sprinkle it at the bottom of each new bag, or into the garbage as it's being used if there is any further odor control needed. Another option is to add 10-20 drops of any citrus oil to a small piece of cloth and lay it at the bottom of the bin before you tie in a new bag.

If your neighborhood has a problem with pests getting in to the roadside garbage bins once the bags have been put outside, adding peppermint oil to your garbage or at the bottom of this bin will help to keep them at bay!
7. Refresh the drawers
Small, closed spaces such as kitchen drawers and cupboards can often smell stale, especially those we don't use often. Add 10 drops of your favorite oil to a small cotton square, and tuck at the back of the drawer, replacing as needed.
8. Steam clean your microwave
If you use a microwave oven and are dealing with hard-to clean food stains, place 2 cups of water into a microwave safe bowl, and add 5-10 drops of lemon oil. Microwave on high for 3-5 minutes until the oven is filled with steam. Let sit for a minute, then remove the bowl and wipe down with a damp cloth or sponge.
Do you any other innovative ways you love to use your essential oils for the kitchen? We'd love to hear from you!
21