When we think about sprucing our homes up with plants, it's such a shame that we often forget about our bedrooms. There is something so lush about having a splash of greenery around when you wake up each morning, and so relaxing when you're winding down at night. And while they bring in an element of natural beauty, setting up your plants in the bedroom can also help to clean the air and increase oxygen, both of which are definite perks when you think of how many hours we spend in bed each night.
Best Plants for the Bedroom
Feeling like it's time to give your bedroom a green glow-up? We've put together a list of some of our favorite choices for bedrooms—these are plants that can manage in lower light situations, look fabulous, and help you to breathe easy.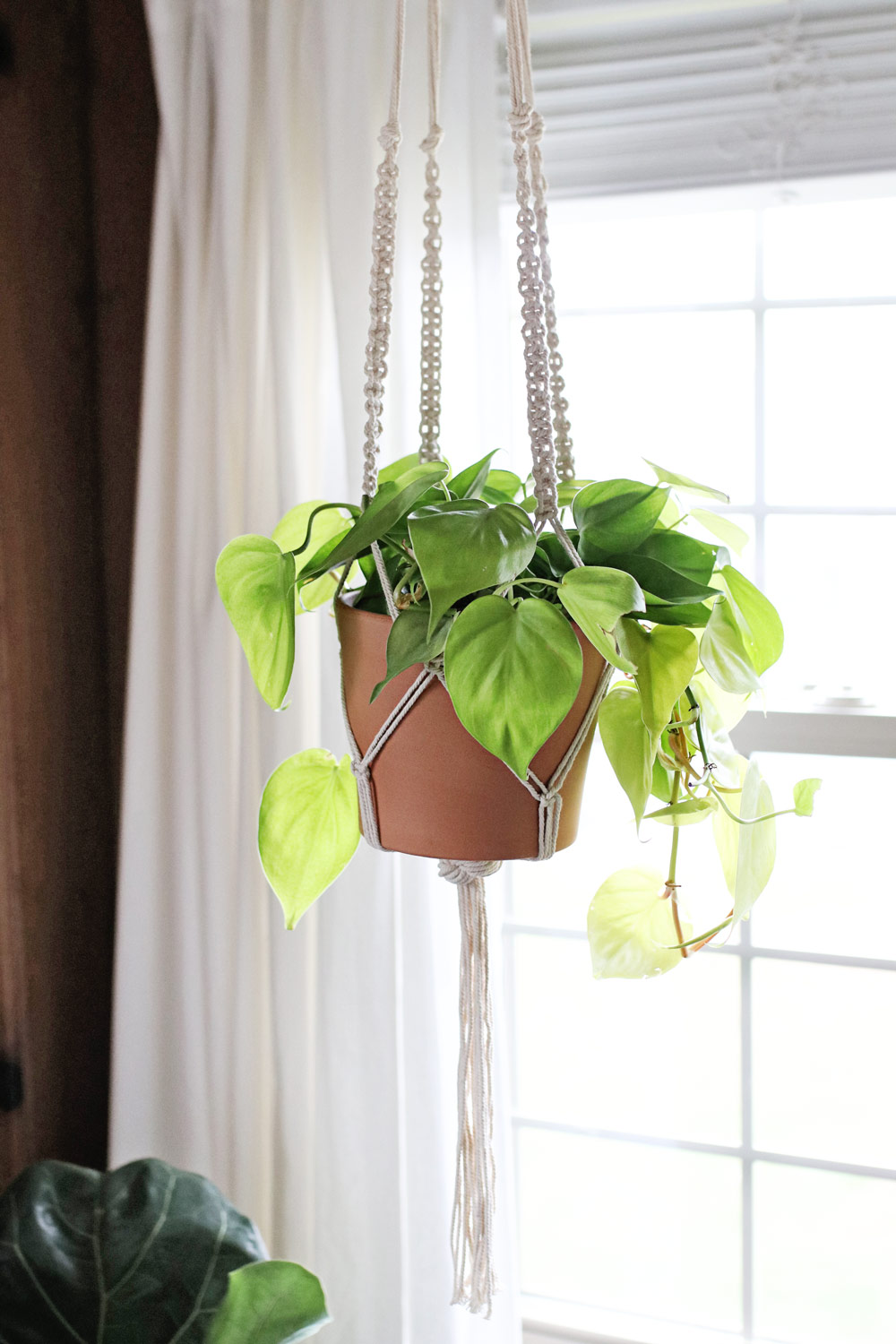 1. Pothos
The pothos is the first plant I've added to my own bedroom, and I love the way it brings an otherwise dull corner to life. I have indirect sun from east and west-facing windows, and despite it being winter, I can't believe how quickly it's grown.
This is a perfect plant to set on a shelf or small plant stand, or even on the floor, but note that it is toxic to plant-munching pets. Water only once the soil has dried down a few inches, and if the bright waxy leaves are yellowing or dropping prematurely, water less often.
Another way to keep a pothos plant into your bedroom is to take a cutting and to place the root end down in an ornamental glass container of water where it will also grow well (source). Pothos is one of the key plants that NASA research has shown to effectively filter the air of toxins.
2. Snake Plant
A true bedroom favorite (okay, we do love it for any room!) is the snake plant. It's another awesome air filtering choice, it helps to reduce allergens, and releases much of its oxygen at night (source).
For anyone who likes their plants on the tidier side, the snake plant has a statuesque leafy structure and grows vertically. This is also your best plant for ease of care; whether you travel a lot, have really low natural light, or forget about watering a bit too much, the snake plant forgives you and lives on.
Water only once the soil has completely dried out, and keep out of intense, direct sunlight. Note that it is also toxic to pets.
3. Orchids
If understated elegance is your vibe, orchids might be your perfect match. They look stunning set on a shelf in modern spaces as stand-alone pieces of living art, or as a pair flanking the bed on matching side tables.
Orchids can admittedly be a bit finicky in terms of their light and water needs, so definitely read the label that comes with the plant to see what you're getting in to. (This source insists that they aren't difficult, they are just different!) An added bonus is the light floral fragrance they will bring in to the space.
4. Bamboo Palm
Looking to create a wild, lush, tropical feel in your bedroom? The bamboo palm is a winner. Not only is it easy to take care of and won't mind lower light (it's used to being an underbrush plant in the jungle), it makes an ideal floor plant with its size and visual impact. Water when the soil has dried down between a third to a half-way down. It's safe for pets, and also on the air filtration list (source)!
6. Peace Lily
While not technically a lily, this plant offers all the visual oomph of one without the accompanying heady scent. It is voluminous, easy to take care of, and also does well in limited light situations.
The peace lily is also on top of air quality control—it filter toxins from the air, removes spores thus reducing allergens, and also releases oxygen at night, refreshing the air as you sleep. It's mildly toxic to pets, so keep it away from any grazing friends! (Source.)
7. Spider Plant
If you'd like to add a hanging plant in your bedroom, the spindly spider plant would work very well. It's also a great addition to a shelf where it can dangle its tendrils freely.
This is a safe plant to have around pets, and it offers similar air purifying benefits to the earlier suggestions. It enjoys indirect sunlight, and only needs water once the soil has had a chance to dry down a few inches (source).
8. Eucalyptus
Why not add in one more suggestion in the event that you have an ensuite off of your bedroom. Eucalyptus, either in a pot or as cut stems, is a dream addition to any bathroom.
The scent gives off natural spa and sauna feels, and cuttings can be taken into the shower and rubbed in the steam for an invigorating pick-me-up, or dropped into a running bath. If you're considering the potted plant, keep in mind that it will need a good dose of sunlight (source).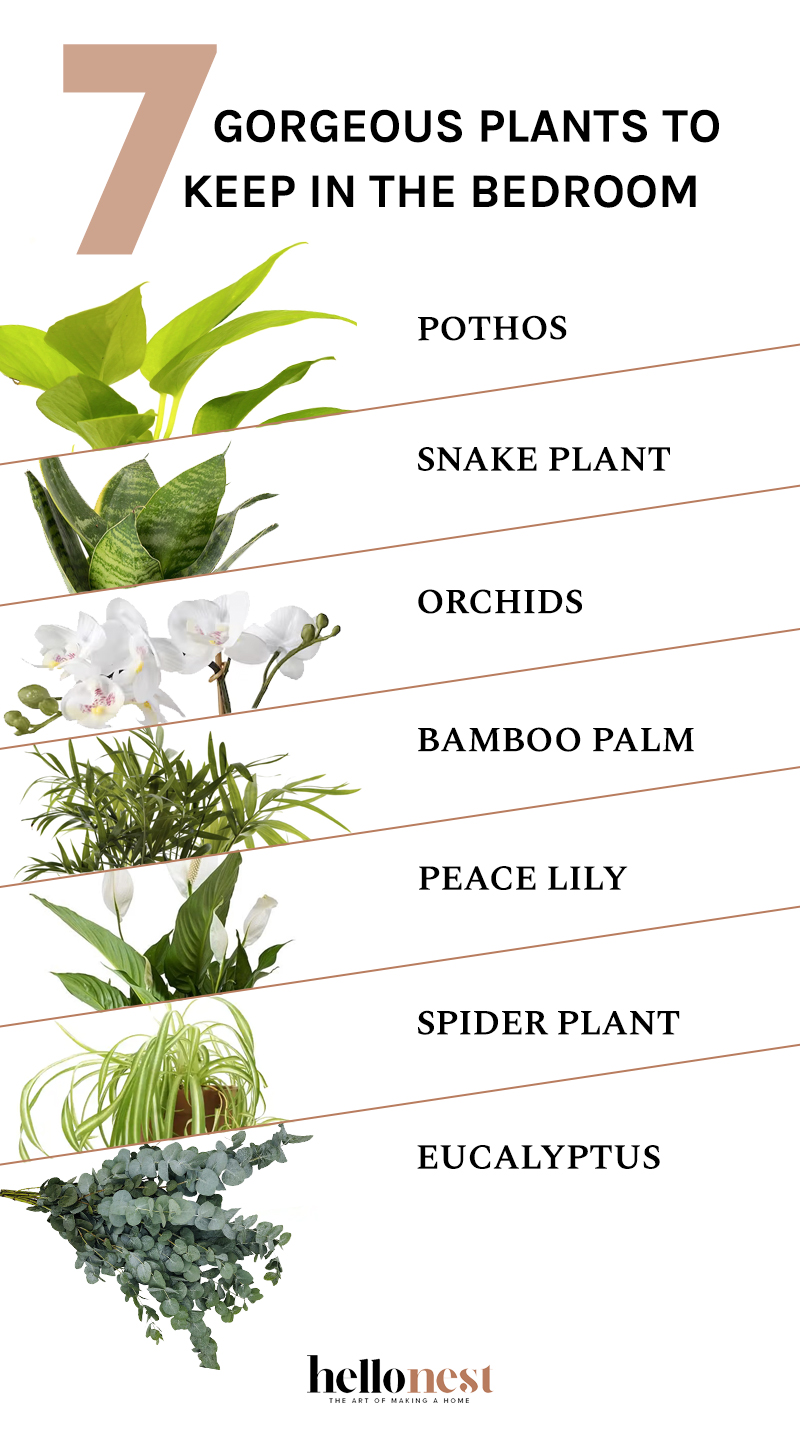 Why keep all your plants confined to your main living space when we spend so many hours in our bedrooms as well? Go on, open the blinds and bring them in—hang them, set them on tables and shelves, add a few tall ones in the corner. Toss down a floor pillow or an inviting rug, set out a few of your favorite books, and you've just whipped yourself up a dreamy, verdant sanctuary, a perfect retreat for the end of a long day.
1