As odd as it might sound, I've always dreamed of having a compost pile in my backyard. The same part of me that loves fermenting my own food also loves the idea of turning trash into veritable (or vegetable–ha!) treasure. But thanks to a tiny backyard and a curious dog, I have had to keep my compost dreams in my back pocket.
Luckily there are still ways to cut down on food waste that don't require you to ferment trash. One of my favorites is to grow vegetables from kitchen scraps. Things you eat everyday like onions, garlic, even potatoes can be grown again and again from scraps you might otherwise toss. This means that with little more than potting soil and some TLC you can have your own indoor food garden–green thumb, fancy seeds and garden plot not required!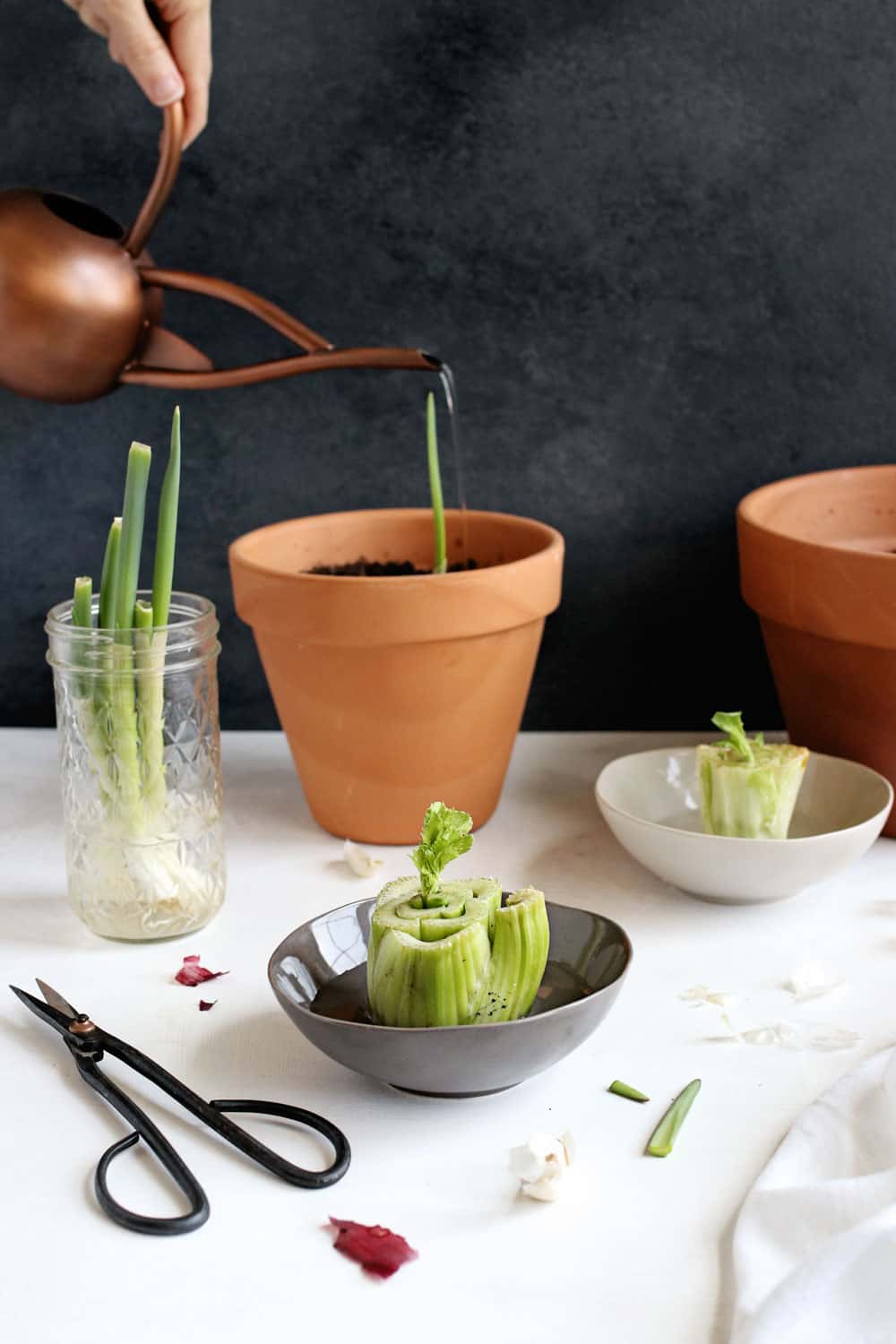 Here are 5 of my favorite kitchen staples you can grow from scraps.
How to Grow Vegetables from Kitchen Scraps
Obviously, we're all familiar with the normal ways to grow plants–from seeds. But it turns out that there are tons of plants that will produce entirely new plants from scraps as well. Plants that will produce more food, saving you time and money in the long run. While the list of foods you can re-grow is endless, these are some that most of us eat of everyday. Next time you cook, simply save the root portion of each of the following foods and watch it turn into a whole new plant.
Romaine Lettuce
Next time you fix a salad, chop off the leaves about 2 inches from the bottom. Put the stem in a small bowl along with ½ inch of water. Place it on a sunny windowsill, being sure to change the water every 2 to 3 days. After about 4 weeks, you should have enough new growth to make a small salad. Or plant it in a pot of soil and it should continue growing indefinitely.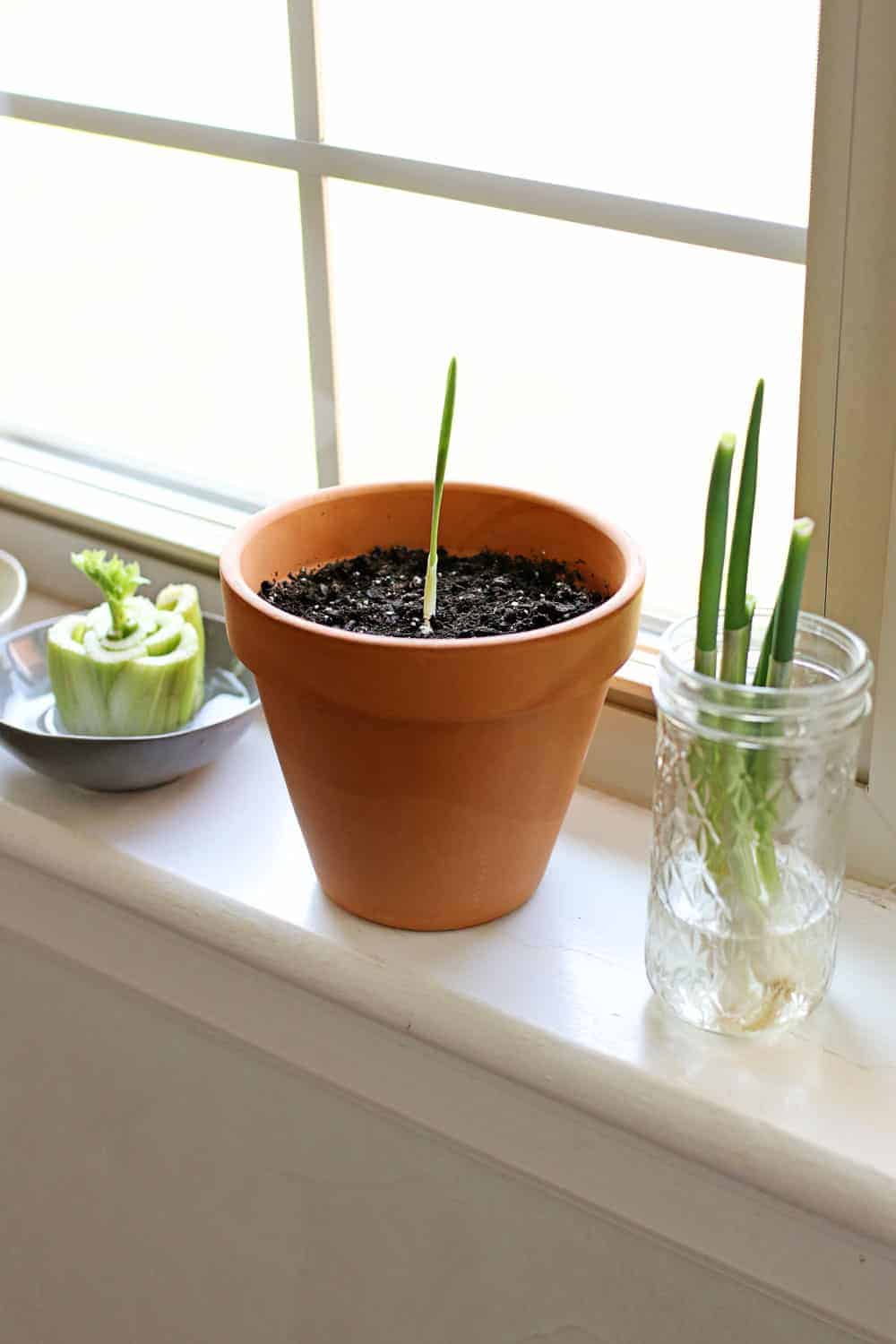 Garlic
You know those little cloves on the inside of a head of garlic? Those are perfect for saving, planting and harvesting later. Simply pull off a single clove, remove the skin and plant it with the roots facing down. Since garlic loves direct sunlight and warm weather, keep it outside during summer months or inside on a warm windowsill in the winter. Once you see new shoots, trim them back and allow the garlic to continue growing in order to produce a whole bulb.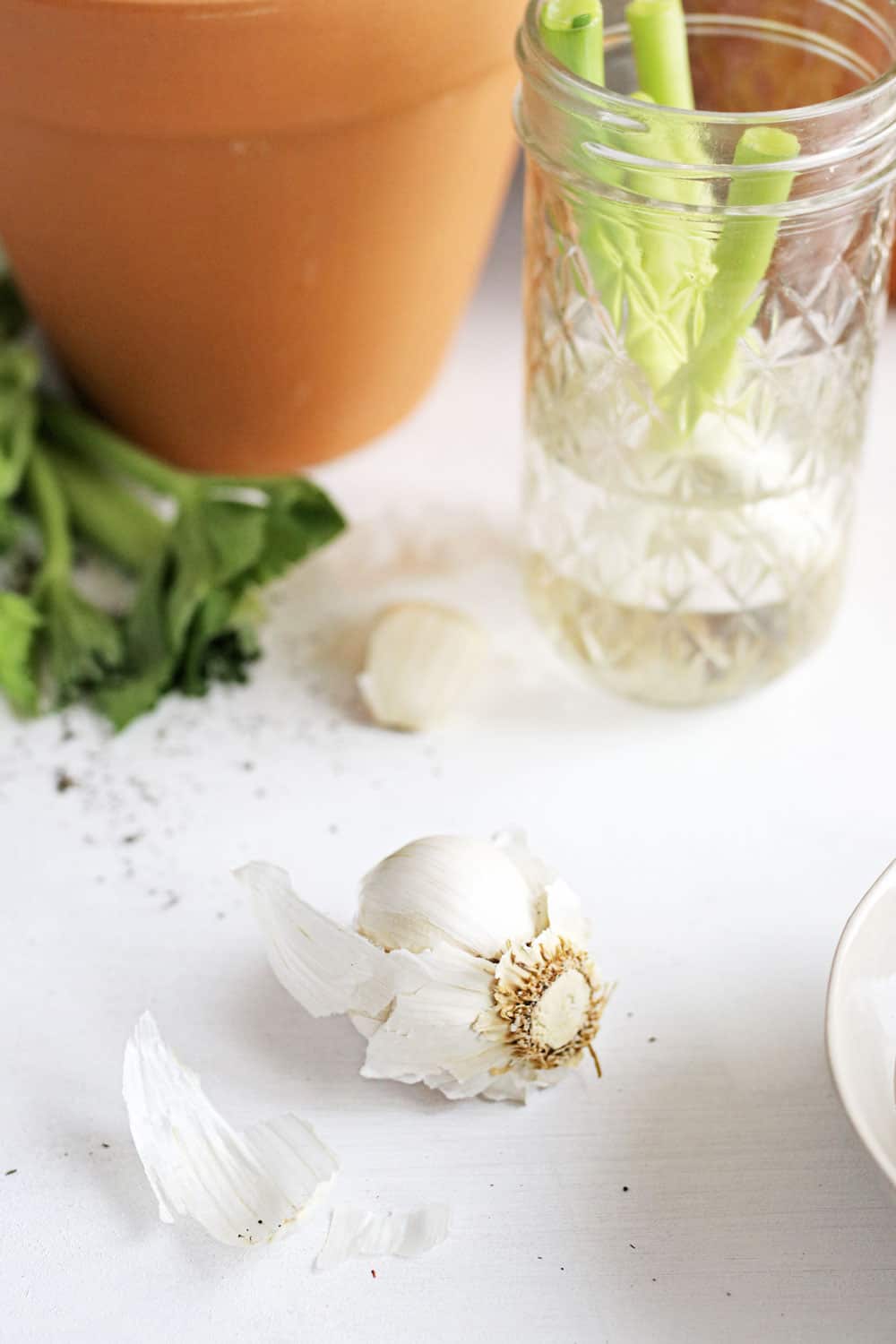 Green Onions
Green onions are by far the easiest kitchen scraps to grow. Simply place the white roots in a small jar of water and they will start to regrow within a couple of days. To eat, trim the green growth from the top and freshen the water as needed. They should grow like that indefinitely, as long as you replace the water regularly.
Celery
Regrowing celery is just like regrowing lettuce. When cutting your celery, save a two-inch portion of stem and place it in small bowl of water. Place the bowl in a sunny window and watch as the celery regrows. You can eat the baby celery as is. Or for long term growth, move the stalk to a medium-sized pot with soil just covering the roots. When fully regrown, harvest the stalks and repeat the process.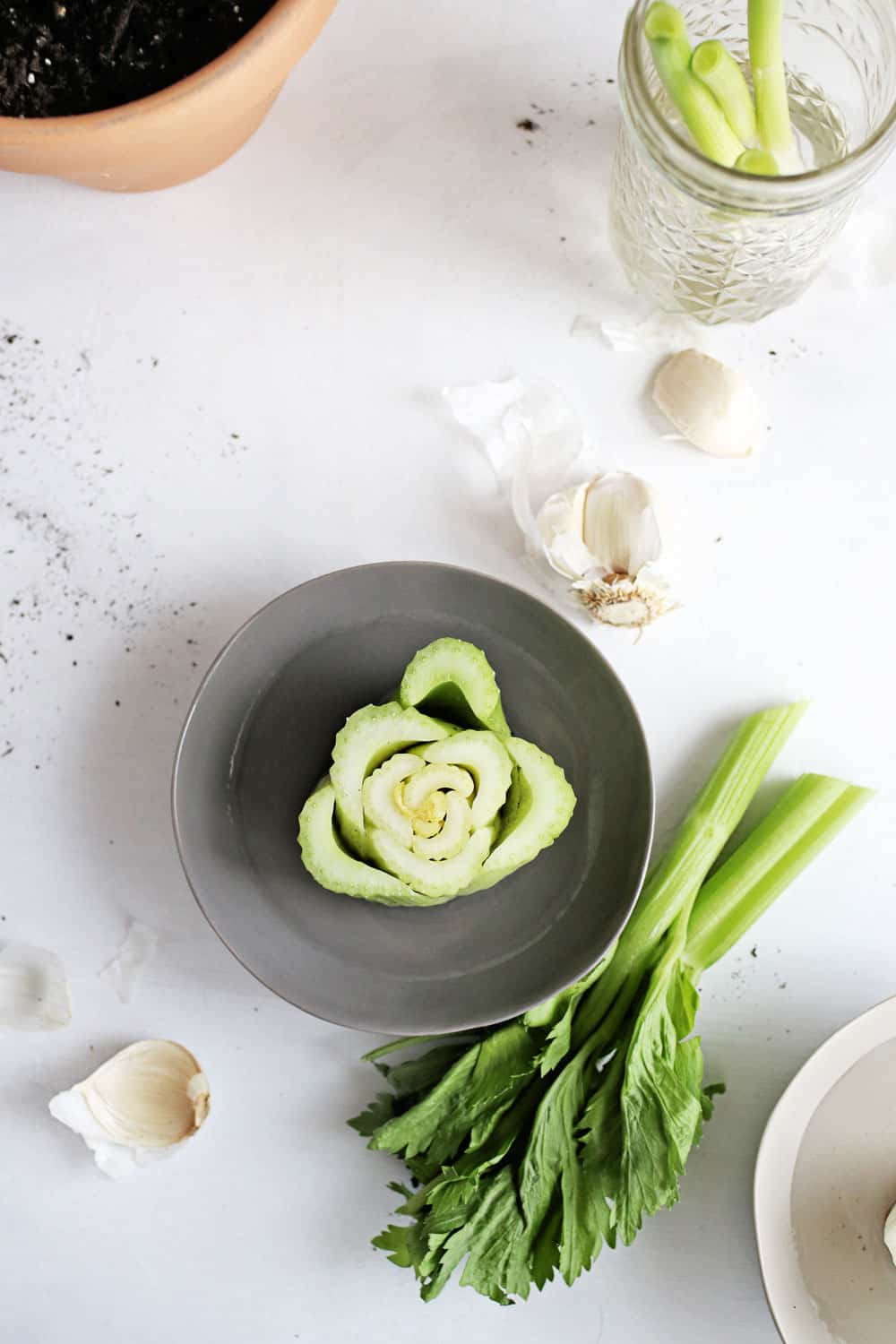 Potatoes
Pick a potato that has a lot of well-formed eyes. Cut it in half, making sure the half you'll be planting has at least 2 or 3 eyes on it. Let the potato dry overnight, then plant the half in 8-inches of potting soil and stick it in a sunny spot. As the potato plant starts to grow, you might need to add more soil to keep it submerged. It should take about 4 – 6 months to grow a new potato.
16