Whether you work or study at an office, from a makeshift space you've carved out of a nook at home, or just prefer to perch at the kitchen table when it's time to put your head down and get things done, we've all experienced what it is to struggle to keep the mind focused and on task. In an effort to help you optimize your flow, we've put together some of our favorite natural ways to help you transform your work space into a den of productivity and focus.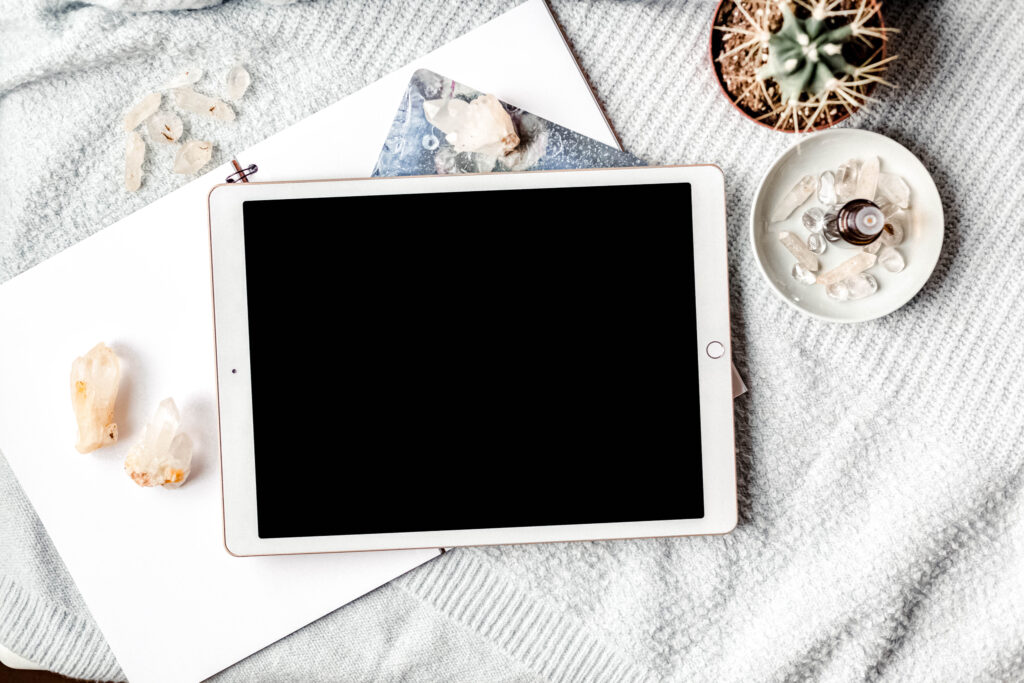 5 Natural Ways To Boost Productivity + Focus
There are a few basic musts when we want to become more aligned and connected with our work. During these last few years when so many of us have transitioned from working and learning out in the world to trying to get it done from home, it's been a wake up call on just how easily the distractions around us can lean into our productivity.
Proper lighting is essential in avoiding fatigue and eye strain, as are blue light blockers, and silencing notifications or even tucking away the phone until scheduled breaks can help us to remain locked in and on task. Fresh air, periodic stretching, hydration, and healthy snacks also support a productive day.
And while it may sound a bit woo-woo, shifting the overall energetic vibration of your space—either through music, crystals, aromatherapy, art, or plants—can really make a difference in learning, concentration, alertness, and memory.

1. Diffuse These Focusing Essential Oils

Aromatherapy is a fabulous way to create meaningful shifts in your mind and mood. You may already be aware of the ways in which certain essential oils can facilitate relaxation and reduce stress, but did you know that some have been shown to positively affect our ability to process and retain information?
If you would like to reap the mind-stoking benefits of these blends via diffuser, dilute the following in 200ml of water. If you prefer to apply your essential oils topically, these same recipes can be combined with 10ml of the carrier oil of your choice in a rollerball for pulse-point application throughout your work day or study session.
1. Rosemary learning and memory blend
Studies have shown that rosemary is one of the best oils to turn to if you're engaging with new material, need to bend your mind around fresh concepts, or have to retain a lot of dense information (source). Perfect for students or anyone who could use some brain support!
—4 drops rosemary
—2 drops juniper berry
—2 drops clary sage
2. Peppermint attention and focus blend
This blend combines minty notes which have been shown to help you stay awake, alert, and on task (source). When you feel yourself fading or find your mind wandering, this peppy punch will pull you right back to the work that needs to get done.
—3 drops peppermint
—2 drops spearmint
—2 drops wintergreen
—2 drops fennel
3. Lemon uplifting mood blend
If your work has you feeling tired, bummed out, overwhelmed, or under-confident, try a mood-enhancing blend of upbeat citrus notes that are known to boost positivity.
—3 drops lemon
—2 drops ginger
—2 drops lemongrass
—2 drops grapefruit
4. Lavender relax and focus blend
Sometimes our lack of focus comes from anxiety and a mind running in overdrive. When some balancing chill and grounding is called for, lavender is the golden ticket.
—4 drops lavender
—2 drops geranium
—2 drops neroli
5. Sage mood and cognition blend
Sage oil is known to enhance thinking and understanding, as well as to help regulate mood (source). If we're talking about the demands of work and school, what more could we ask for?
—4 drops sage
—2 drops rosemary
—2 drops thyme
—2 drops clary sage
4. Keep These Crystals At Your Desk

We are big fans of crystals around here, and love to use them to encourage or enhance different mental, spiritual, and emotional states. Working with the earth's own vibrational energy can compliment your own need to stay on task, be more positive, or approach your work with confidence. Here are some of our favorite crystals for setting on your desk or carrying in your pocket when you have to write tough tests or give nerve-wracking presentations.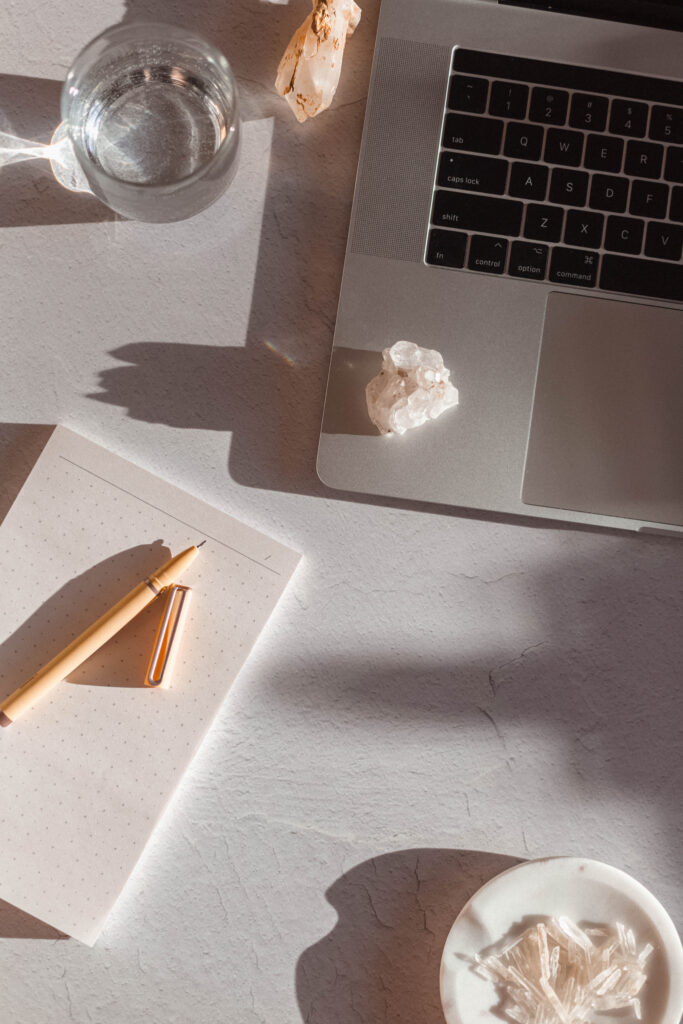 Hematite
This dark, dense crystal is great for grounding, and aids focus and mental clarity which is definitely helpful energy for anyone who feels scattered or chronically wanders off-task (source).
Clear quartz
This master crystal works in vibration with the energy of the upper chakras, including wisdom, learning, perspective, insight, and balance (source.)
Blue sapphire
This beauty is useful in encouraging focus, concentration, self-discipline, and expanding the mind (source). For those who have to rely on a lot of communication in their work or studies, the blue of this crystal aligns with the throat and third eye chakras, giving you a bit of a leg up in that department too!
Pyrite
One of the best crystals for motivation, determination, and willpower, pyrite is an every office must-have (source).
Citrine
This cheerful, sunny crystal is helpful to have around when working on manifesting, goal-setting, or staying driven and optimistic (source).
2. Add These Plants for a Productive Home Office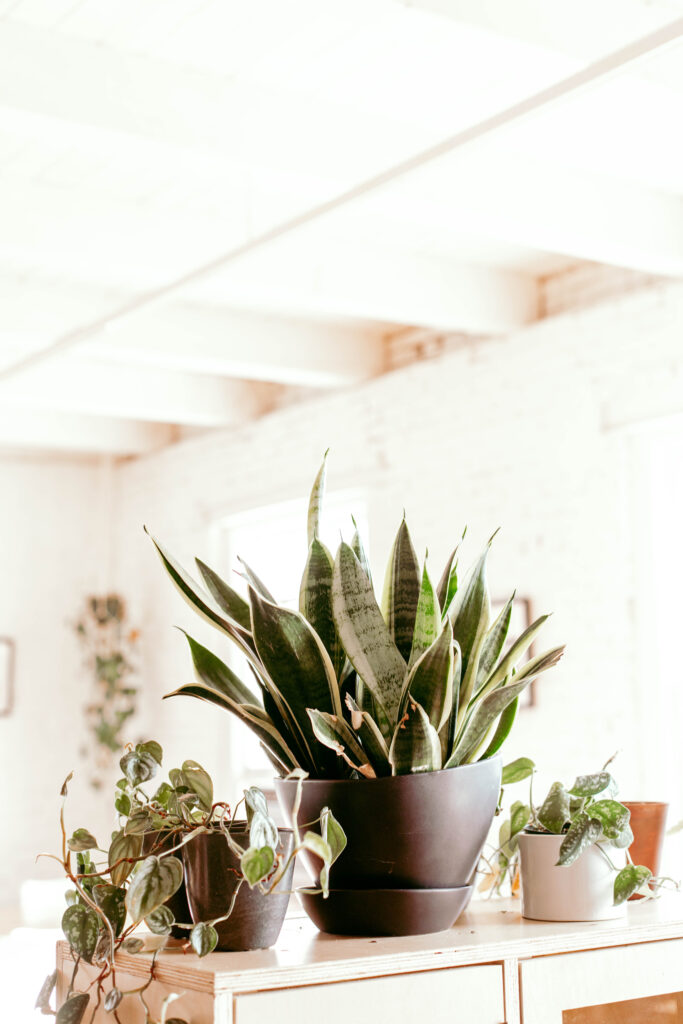 Placing plants around your work or study space not only livens up the place, but also helps to keep the air clean and free from impurities. NASA conducted a study to see if plants might help to minimize indoor air pollution (to offer a solution to "sick building syndrome," and to naturally optimize air conditions in sealed environments such as the International Space Station), and found that many different types of plants effectively removed toxins and pollution from the air.
Bonus: many of the houseplants they mention are also incredibly low-maintenance and easy to care for.
Clean, fresh air not only encourages deeper breathing which is known to have impactful changes on our mood and mental processing, but it also helps our brains and our ability to do good work as air pollution is associated with mental decline (source).
According to NASA's study, these are some of the best air purifying plants to have around:
—English ivy
—peace lily
—philodendron
—gerbera daisy
—dracaena (such as the dragon plant)
4. Decorate With These Colors

Not only does color impact mood, but changing the dominant color in your space can also have an effect on your ability to concentrate. If painting the walls is out of the question, consider changing window treatments, adding pieces of art, or tossing a throw over a nearby chair.
Green is said to be the best color for concentration (and yes, plants count!)
Orange is a "yang," energetic color that can help with motivation
Blue is considered the best color to have around when there's more intense intellectual work, learning, or productivity required as it's balancing and calming (source).
5. Play These Tunes

While we're talking about vibrations, why not incorporate some sounds known to enhance cognitive abilities? According to Entrepreneur magazine, there are six types of music that have been shown to help increase productivity.
Note that all of them are instrumental or without lyrics, as words can distract while you're trying to focus. These are classical music, nature sounds, epic cinematic scores, video game music, and music at a tempo of 50-80 beats per minute have all been shown to positively impact learning, memory, processing, or mood.
Whether you are hoping to keep your nose to the proverbial grindstone at the office, or just need to find ways to enhance your work space so that you are better able to concentrate or get things done, give these methods a try.
1