Whenever I look at a kitchen full of stainless steel appliances I can't help but think to myself, "you are sooo good looking." (Any other Seinfeld fans around here? Oh, just me?) There's something about stainless steel that instantly makes a kitchen look upscale, modern and attractive—even if it is a bugger to clean. Old me would go months without cleaning her stainless steel because streaks and water marks are just as annoying, if not more so, than fingerprints. But new me is all about this DIY stainless steel cleaner. It's made with 2 ingredients (3 if you're feeling ambitious) and it leaves your appliances as sparkly as the day you bought them.
The Best DIY Stainless Steel Cleaner
Like most cleaning products you buy at the store, stainless steel cleaner is filled with toxic ingredients that linger in the air and on your appliances. And the stuff isn't exactly cheap, either. Because store-bought cleaner is a lose-lose, I prefer to make my own 2-ingredient stainless steel cleaner whenever I can.
Stainless steel is a pretty finicky material that can look dirty at the drop of a hat. When it comes to cleaning it, the secret is choosing ingredients that dry quickly so you're not left with even more streaks and smudges after all is said and done.
I opt for a mixture of rubbing alcohol and water to clean my appliances, tackle germs and get rid of lingering fingerprints. Rubbing alcohol is antibacterial so it gets rid of nasties that may be hanging out on handles and surfaces. It also dries quickly without leaving so much as a streak in it's wake.  And adding a bit of water helps tone down the alcohol so it won't damage your stainless steel or leave an overpowering smell as it dries.
Simply combine them in a glass spray bottle, along with 2-3 drops lemon essential oil if you'd prefer a fresh scent, and spritz lightly on your appliances. Then wipe off with a clean microfiber cloth to get rid of dust and grime. Stash the mixture under your kitchen sink for 2 weeks and use it to clean your appliances regularly.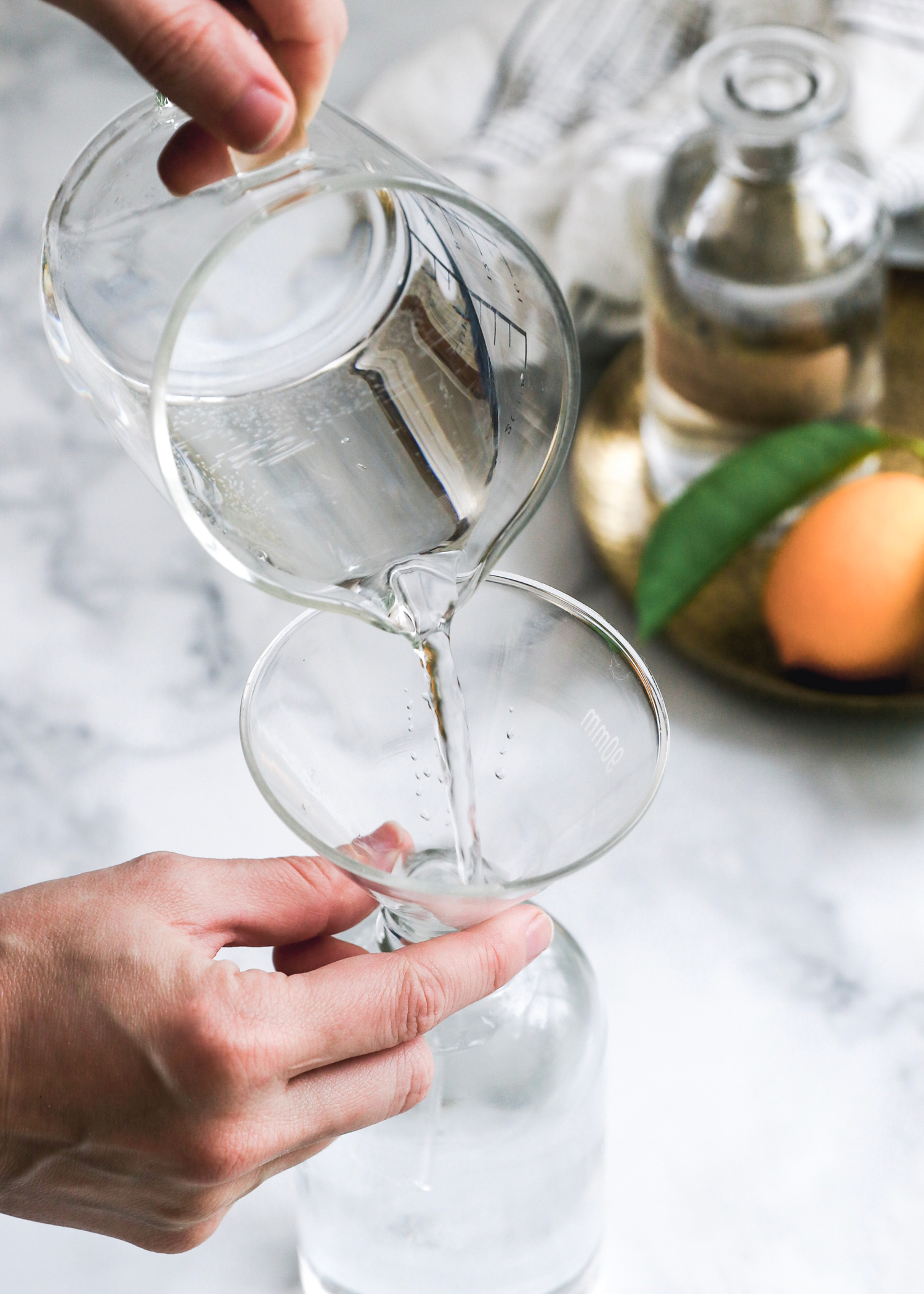 Just be forewarned, cleaning your stainless steel isn't always enough to give it that fresh-from-the-factory sheen that makes it so pretty. For that, I use a bit of olive oil and a clean dish rag to add a bit of shine and remove any stubborn smudges. Simply pour a teaspoon of olive oil onto a soft cloth and massage it into the stainless steel, focusing on handles and high-traffic areas. Be sure to apply the oil with the grain while buffing to keep streaks to a minimum. Let it dry, then apply another coat if needed.
Not only will the oil make your appliances look shiny and new, it will help prevent smudges and prints from appearing in the first place so your appliances stay cleaner, longer.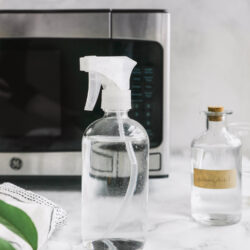 Stainless Steel Cleaner
Ingredients
1/2

cup

rubbing alcohol

1/2

cup

water

2-3

drops lemon essential oil

optional

Olive oil

optional

Microfiber cloth
Instructions
Combine the alcohol, water and essential oil in a glass spray bottle and shake well to combine.

Spray your cleaning solution directly onto your stainless steel appliances.

If you look closely you'll see that your stainless steel appliances have a distinct grain direction - either vertically or horizontally. Take a microfiber cloth and wipe your appliances, being sure to go in the direction of the grain.

If you still have some lingering marks, wait until your appliance is good and dry, then put a little olive oil onto a dry cloth and rub it in (again, with the grain). This will help take care of those stubborn finger prints and grease marks and leave your appliances looking nice and shiny.
142