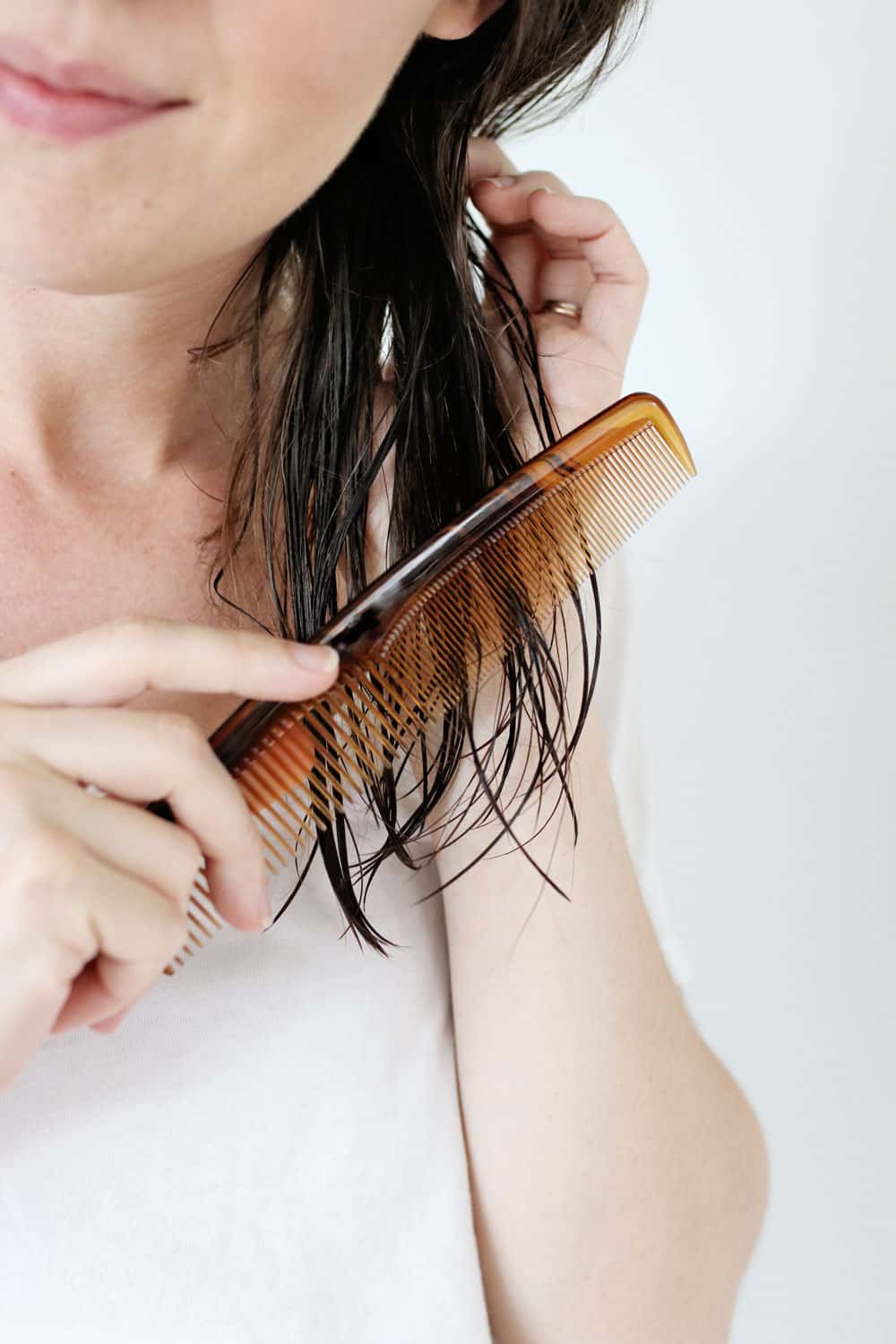 I've always had super short hair, but a couple of weeks ago I got extensions. I was my way of cheating the growing out process, to see if I even liked having long(er) hair before surviving never-ending bad hair days while it grows. And, voila!, I suddenly have shoulder length hair. I'm still figuring out what to do with all this hair, but now I actually brush it. I have done that in years. Decades, even!
Now that I'm brushing again, it's easy to see that hairbrushes and combs collect lots of hair, oil, and styling products. And do you want all of that greasy, dirty gunk going right back on your hair, making it look dirty and flat? That's what's happening if you don't clean your hairbrushes regularly. Ew.
It's time to go a step beyond just removing the trapped hair. Here's how to give your hairbrushes the cleaning they deserve, the natural way.
How to clean a hairbrush
First step, use a pair of scissors, a thin comb, or even a bamboo skewer to get as much hair as possible from the brush or comb.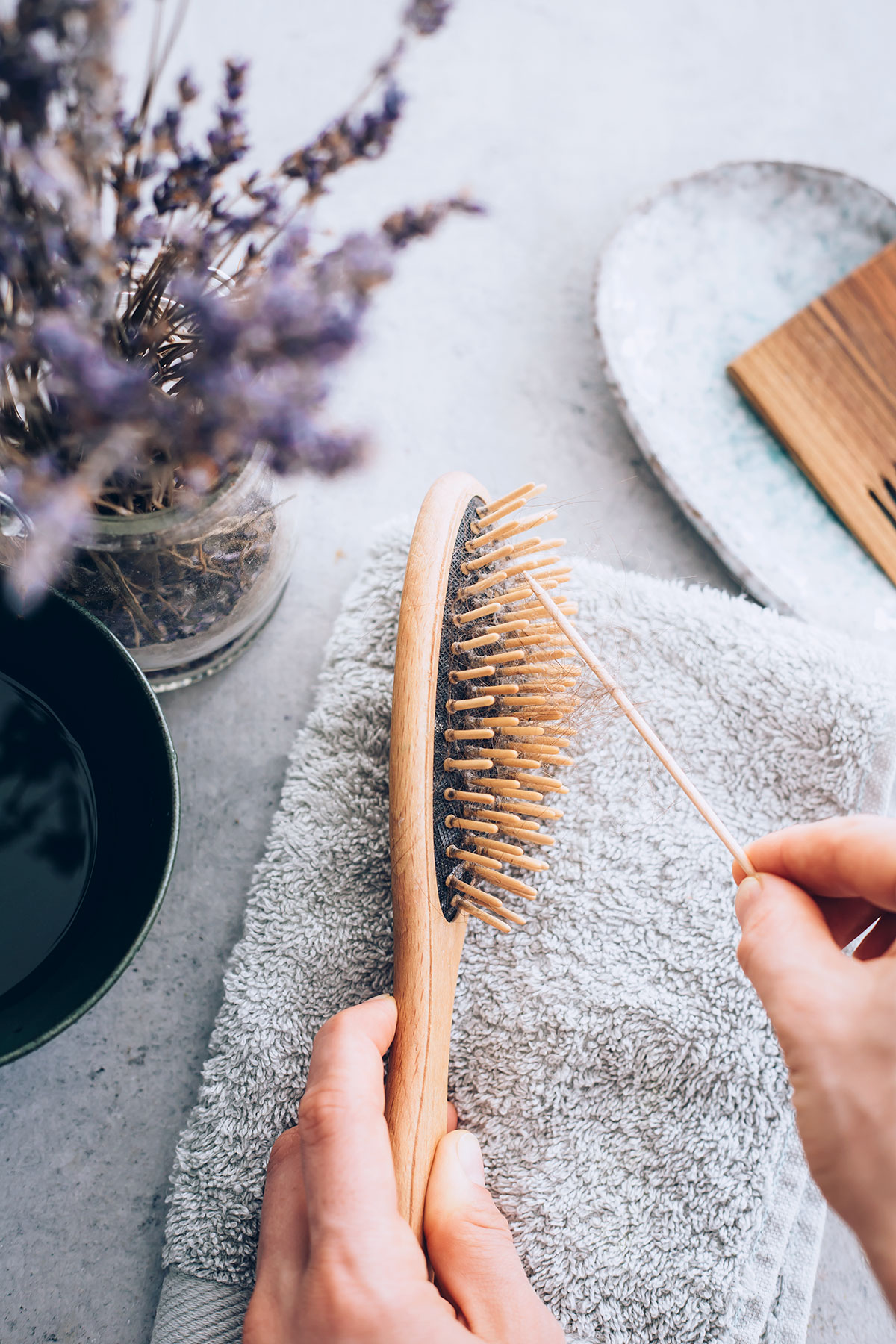 Then, wet the brush bristles and apply a small amount of Castile soap or a natural shampoo. Use your fingers or a toothbrush to work the soap/shampoo into the bristles. You might need to do a bit of scrubbing with the toothbrush to loosen stuck on hair and hair spray residue, especially at the base of the bristles.
Now, soaking plastic and metal brushes is often recommended. Bad idea. It can damage wooden handles and natural bristle brushes, and if you have a cushioned brush, it will soak up a ton of water that's impossible to get out. I would only soak 100% plastic brushes and combs.
After a good (but gentle) scrubbing, rinse out the soap/shampoo with water. You can also dip the brush into a small bowl filled with white vinegar and a few drops of rosemary essential oil. Try to submerge just the bristles and not the whole brush. White vinegar will remove any remaining gunk and help disinfect the brush. Rosemary is one of the best essential oils for hair because it helps stimulate hair growth. Plus, it helps with the vinegar smell.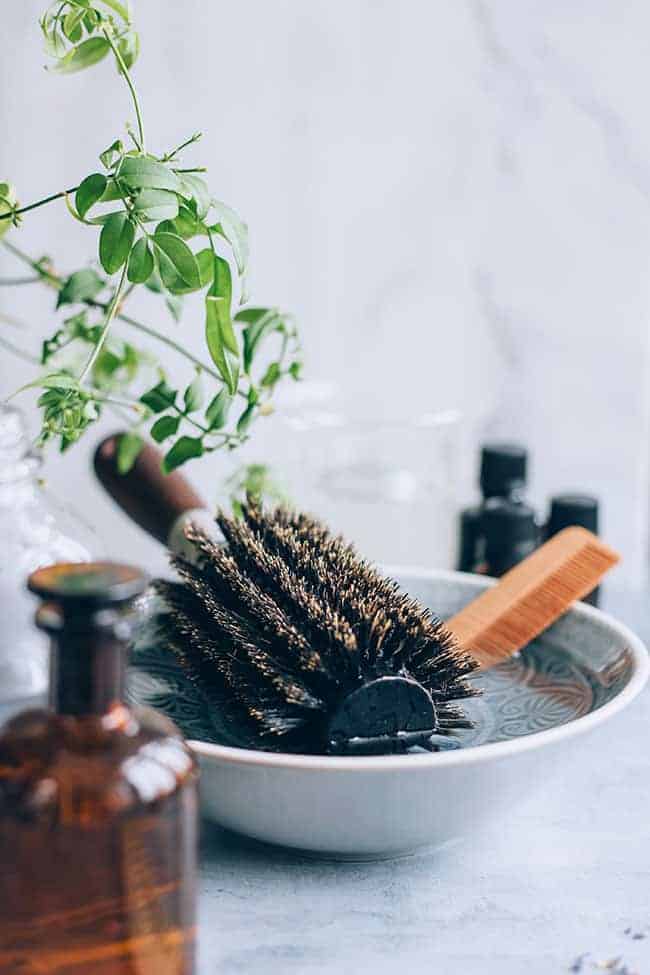 While you're cleaning brushes, give a scrub to all of your hair accessories, like barrettes and clips and let them air dry.
How to clean a curling iron
Hair spray and other hair products can build-up on curling and flat irons and all of that heat simply bakes it onto the surface. You can't just dunk these appliances in water, and scraping off the gunk can damage surfaces.
First, don't try to do this immediately after using the iron to curl your hair. Hello, burned fingers! Unplug it and let it cool down completely.
Pour rubbing alcohol onto a cotton ball or small rag and rub it over the iron handle and barrel. Keep rubbing, using a new cotton ball if needed, until you have the sticky residue off. Then wipe the curling iron with a wet rag to remove any alcohol remnants and then dry it with a soft towel.
Want to keep cleaning? Toss out your old makeup and tackle your makeup brushes!
29