You've probably heard all about essential oil candles, but now we're going to do you one better. Infused candles are a great way to get an all-natural scent without the pricey oils. Simply take dried herbs, spices and botanicals and simmer them in a bit of oil to extract the scent — et voila!
A lightly fragranced oil perfect for candles (or homemade cleaning recipes, beauty, what have you). With fall just around the corner, we used pumpkin, black tea and the sultry scent of clove, cardamom and cinnamon to turn Fall's signature scent into a homemade candle.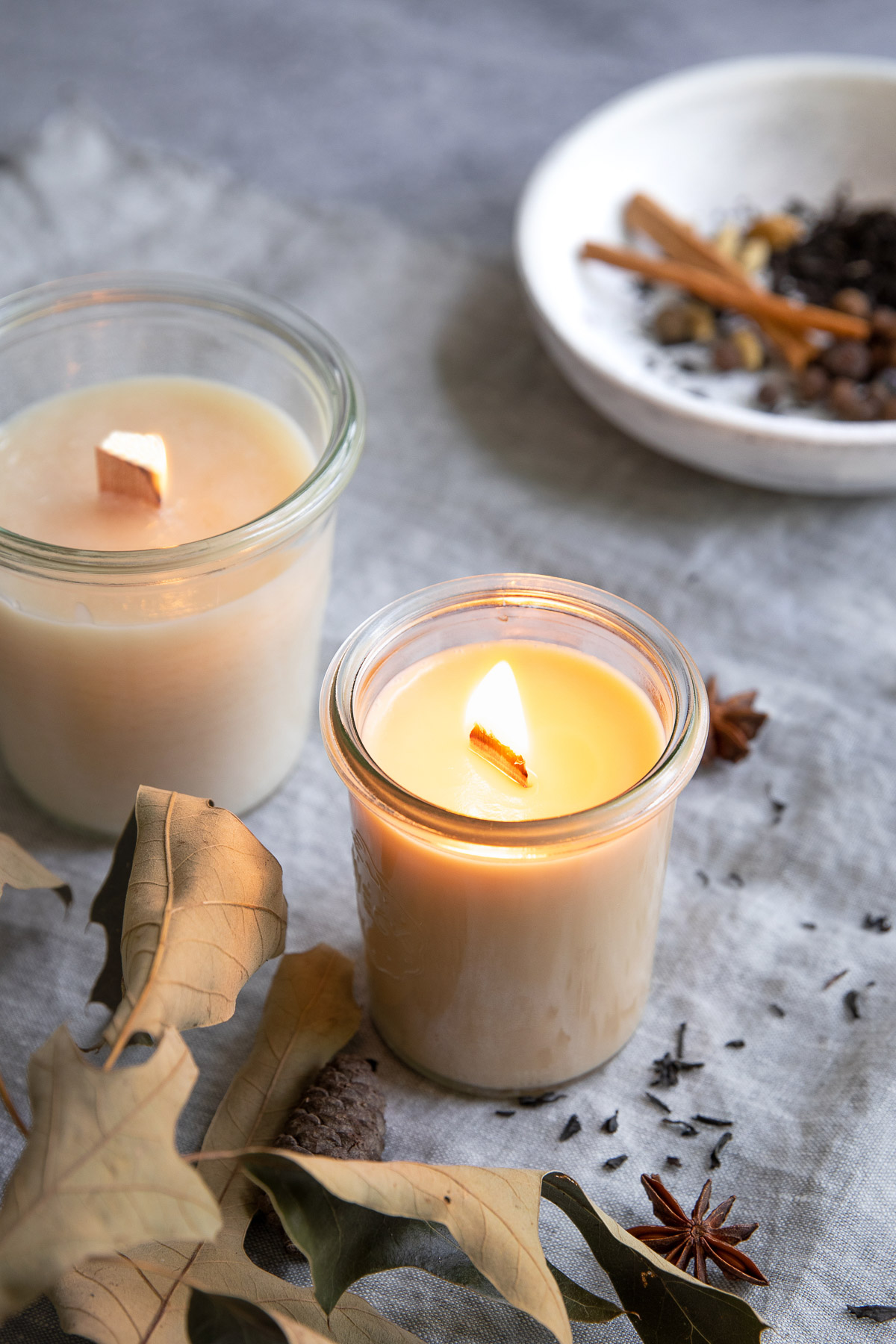 How to Make Infused Candles
While we gave these candles an inviting chai scent, you can really make them with anything: chamomile, lavender, thyme, you name it. Give them as gifts or scatter them around to add a touch of fall decor to your home.
If you find that they don't throw off enough scent (homemade candles are notorious for not being super fragrant), go ahead and add essential oils or additional fragrance oils for a little extra oomph.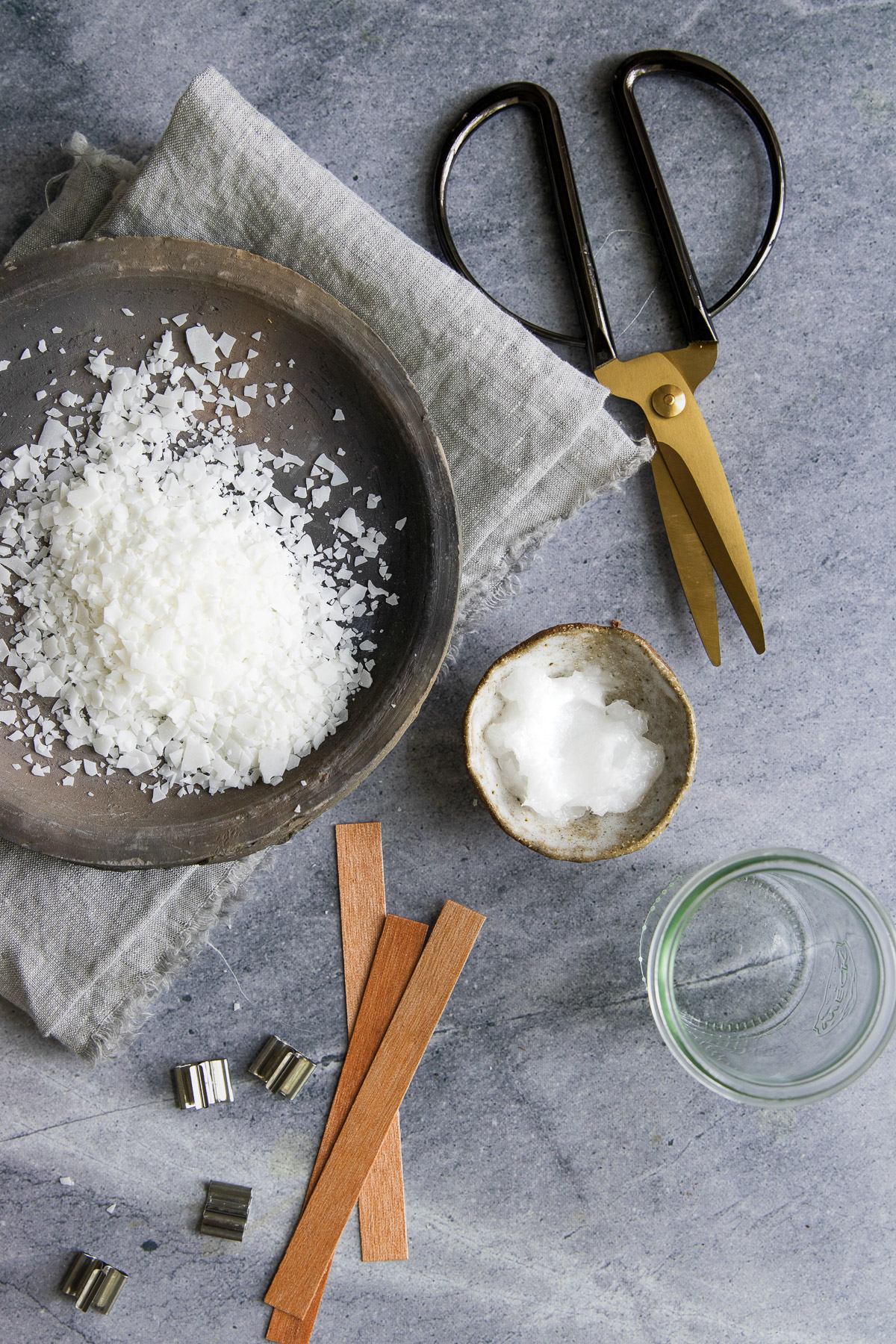 Coconut Chai Candle Supplies
Makes 1 candle
— 1/2 pound soy wax
— 1 tablespoon refined coconut oil
— 1 teaspoon loose leaf black tea
— 2 cinnamon sticks
— Pinch each: cardamom, clove, allspice and black pepper
— Optional: Pumpkin fragrance oil (or an essential oil of your choosing)
— Wooden candle wicks with tabs (or cotton candle wicks)
— 8-ounce glass jar
— Heat-proof glass container and a saucepan (or a double boiler)
Note: Adding too much coconut oil with alter the consistency of the cooled soy wax. While it won't affect how your candle burns, you may not like how it looks.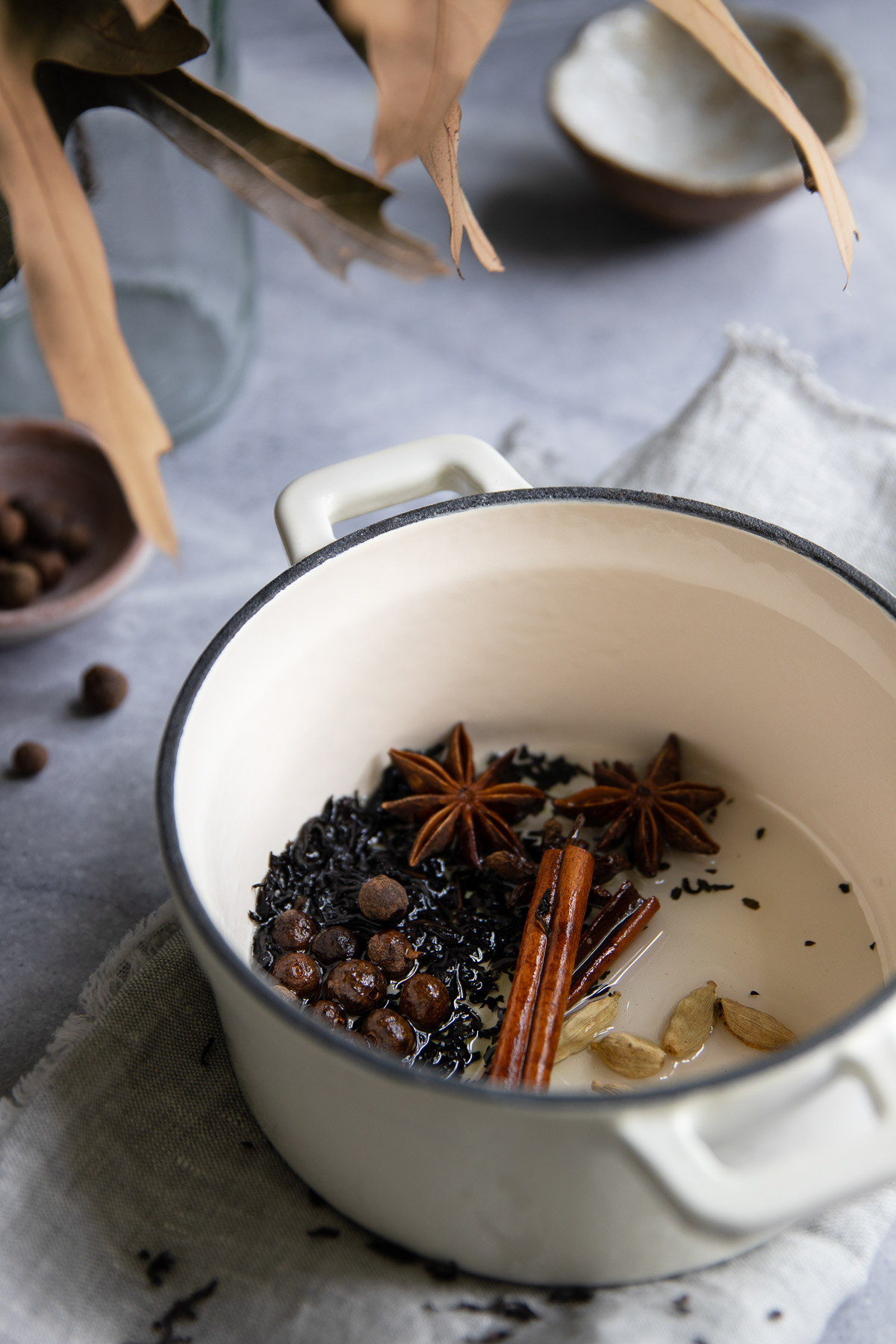 Step 1 | Infuse oil
Start by infusing the oil. Combine coconut oil, black tea, cinnamon sticks and spices in a small saucepan and heat on low for 10 minutes.
Remove from heat and continue to steep for another 15 minutes. Feel free to add a few drops of essential oil to boost the scent, if desired.
Strain the infused oil and set aside to cool.
Step 2 | Melt wax
To melt the wax, place a heat-proof container inside a small saucepan. Fill the saucepan with 1-2 inches of water.
Then place the soy wax inside the heat-proof container and place over medium heat. As the wax melts, keep adding more wax to the pot until eventually you've melted the entire half-pound of wax. Stir often.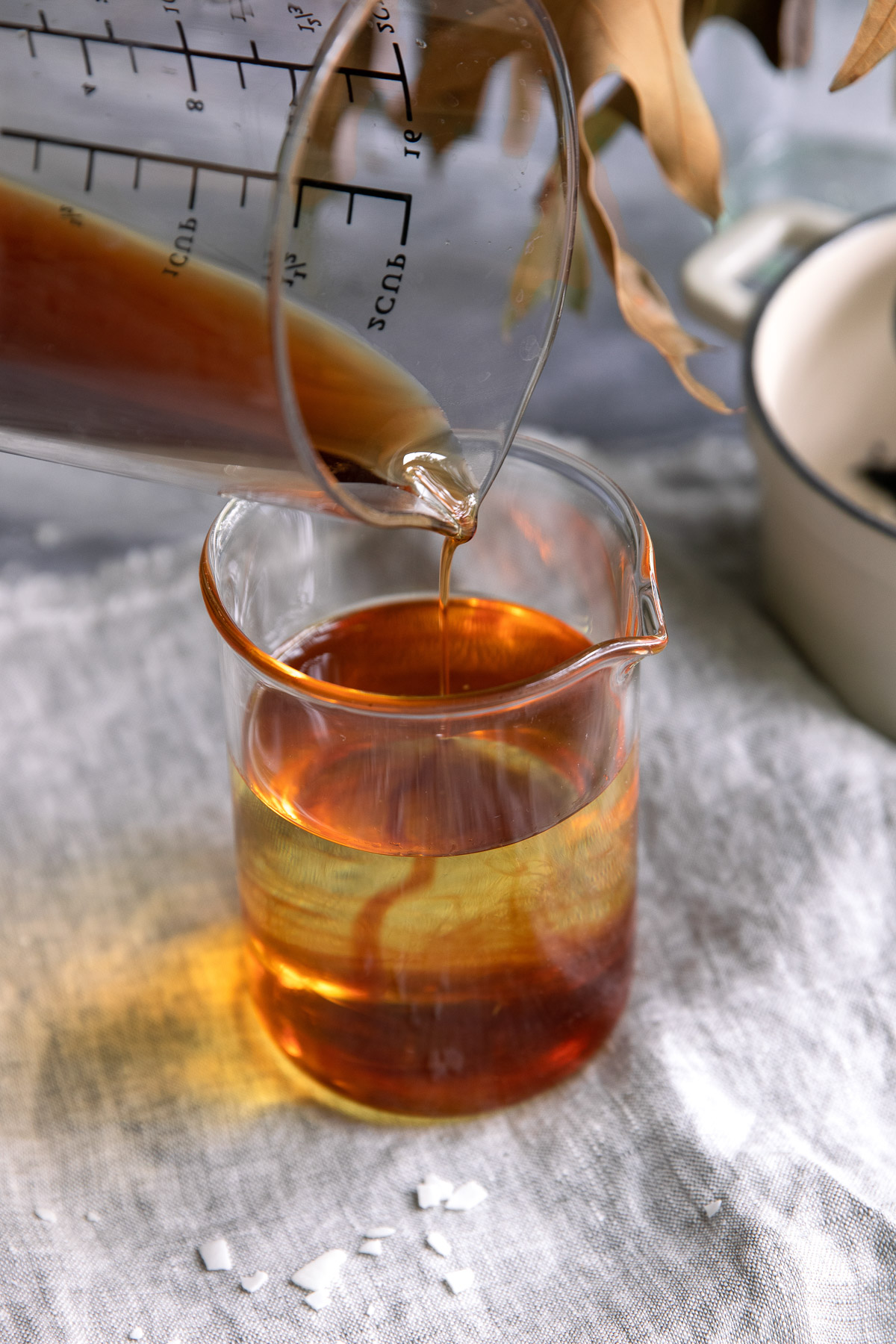 Step 3 | Combine wax and oils
Remove the wax from heat and add the infused oil and pumpkin fragrance oil. Stir with a popsicle stick to combine.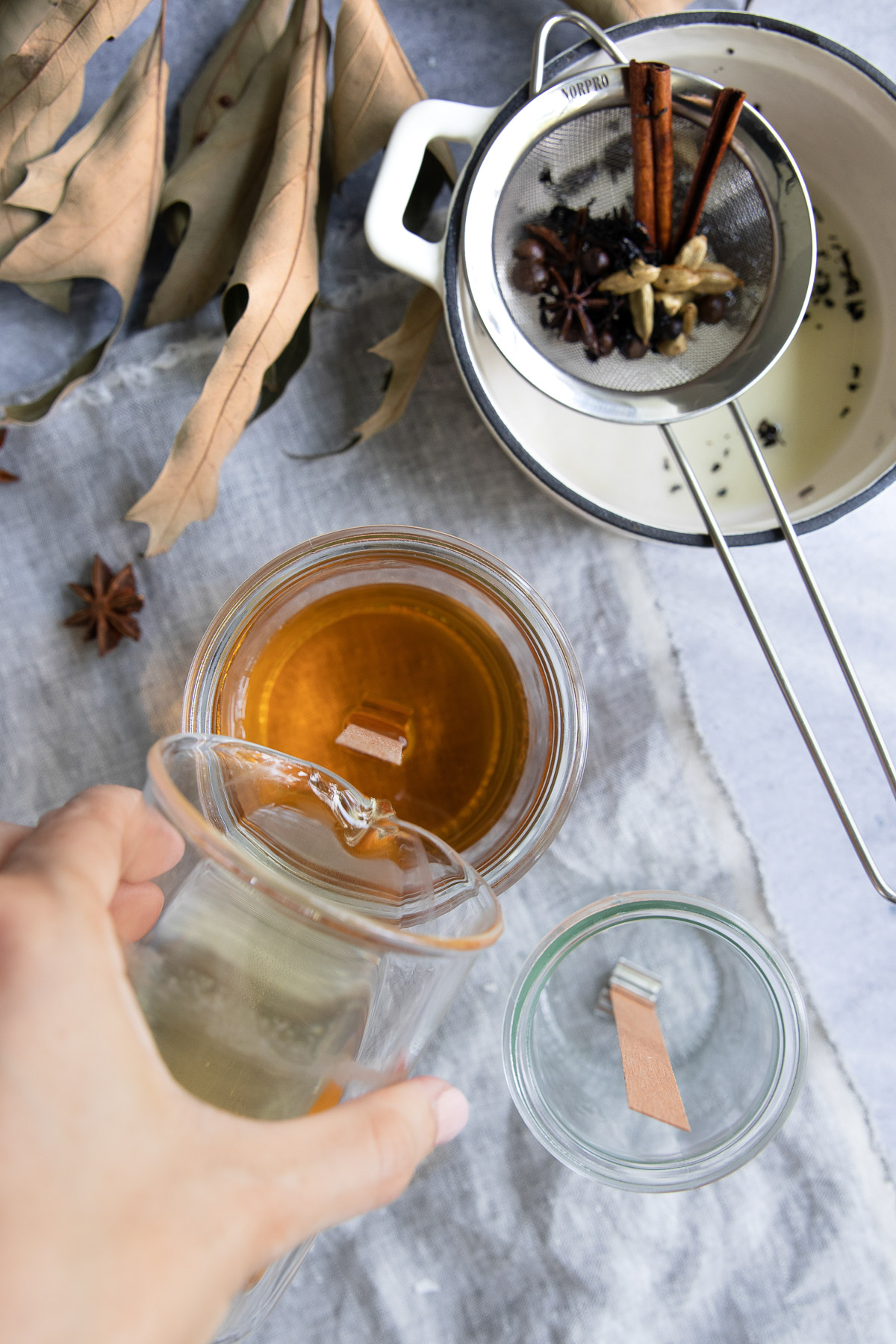 Step 4 | Pour into candle

Place the wooden wick inside the 8-ounce jar, then slowly pour the wax into the jar (make sure the jar is warm, otherwise it could shatter when pouring the hot wax). Let cool for 1-2 hours before trimming the wick and lighting your candle.
Infused Oil Candle FAQ
Can I use another wax besides soy wax?
Absolutely. While I'm a fan of inexpensive, eco-friendly soy wax, you can use practically any other kind of wax instead. Beeswax is a great option because adding coconut oil helps lower the melting of the wax, so it burns more easily and doesn't tunnel. You can also try candelilla wax or a coconut wax blend, if you like.
Do I have to use coconut oil?
Not at all. Go ahead and try any unscented oil, such as almond, safflower, sunflower, or canola oil. If all you have scented oil on hand, like olive oil, then you might want to use extra spices or even essential oils to help mask the fragrance.
How do I choose a natural fragrance oil?
Because they're made in a lab, fragrance oils will never be as green as essential oils. But you can still find oils that don't contain phthalates or a ton of other icky chemicals. I usually buy my fragrance oils from Nature's Flavors, but a Google search can help you find other good brands.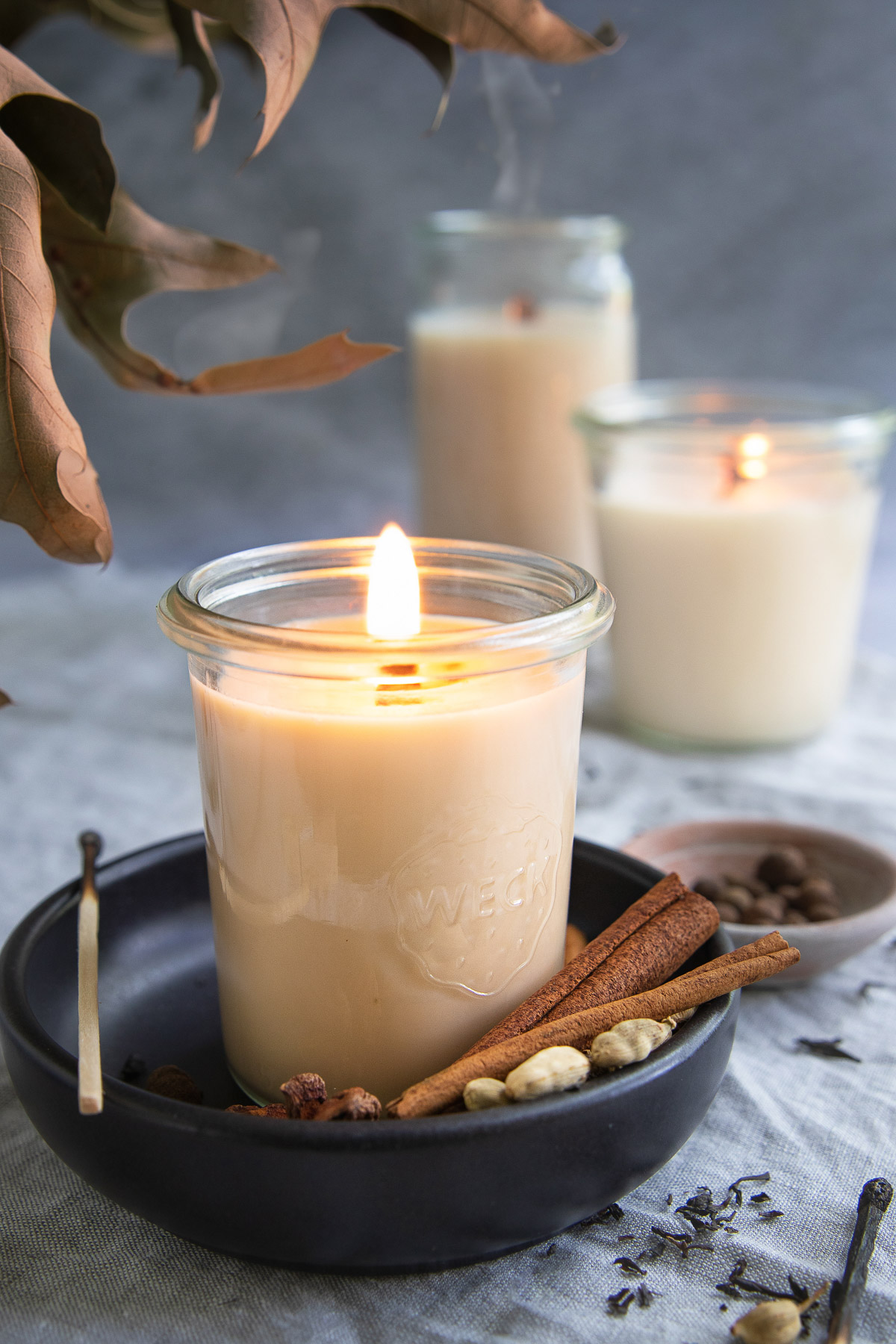 1