According to this article published in the New York Times, incense is really having its moment. While burning incense has been a practice in many cultures for thousands of years, it is more recently enjoying a popularity that reaches far beyond the realms of altars, temples, yoga studios and head shops, and becoming a more common choice in self-care protocols and home-based spiritual practices.
Even luxury brands such as Gucci have taken to creating their own line of incense. Whether you burn it to clear the air, set the tone, or uplift your space, incense has a unique way of transforming spaces.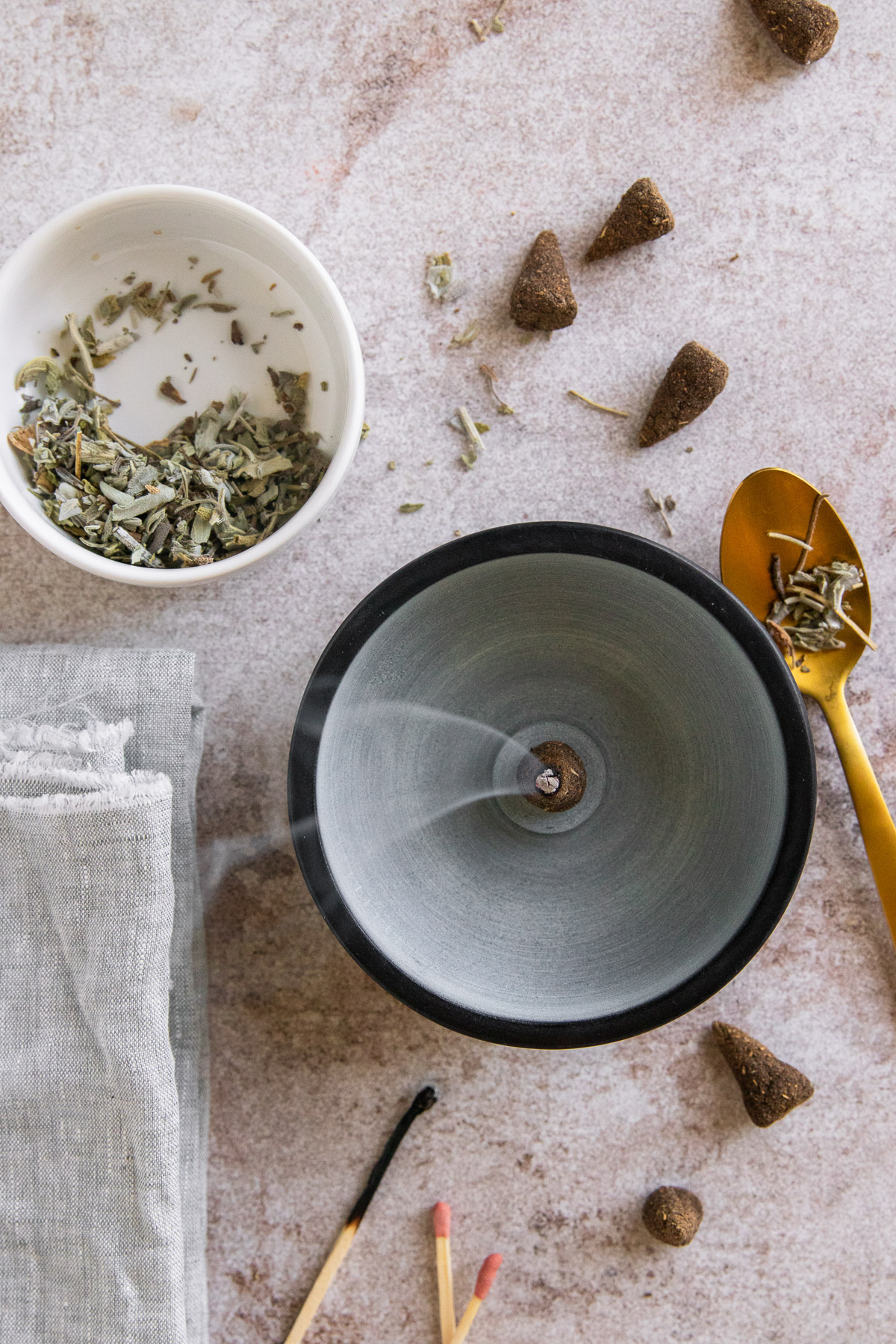 Types of
ince
nse
The most commonly available type of incense is the thin dipped stick that's lit and then blown out, and left to burn into a trail of ash. Most varieties of stick incense have a thin core of wood, which needs to be placed on an angle over a holder for it to burn evenly, while the core-less pure incense should be set in a holder to burn upright.
Coils, paper, and cones are also lit directly. Indirectly lit incense includes powdered, crystallized, or pressed varieties. This style requires that you light a small piece of charcoal (set upon a heat-proof holder), and then place the small bits of incense directly upon the charcoal where the heat then causes it to smoulder and smoke.
Most readily available stick incense comes from India, and produces a thick, heady smoke. If you're looking for a lighter scent or a low/no smoke variety, try Japanese incense which is often pressed into short sticks.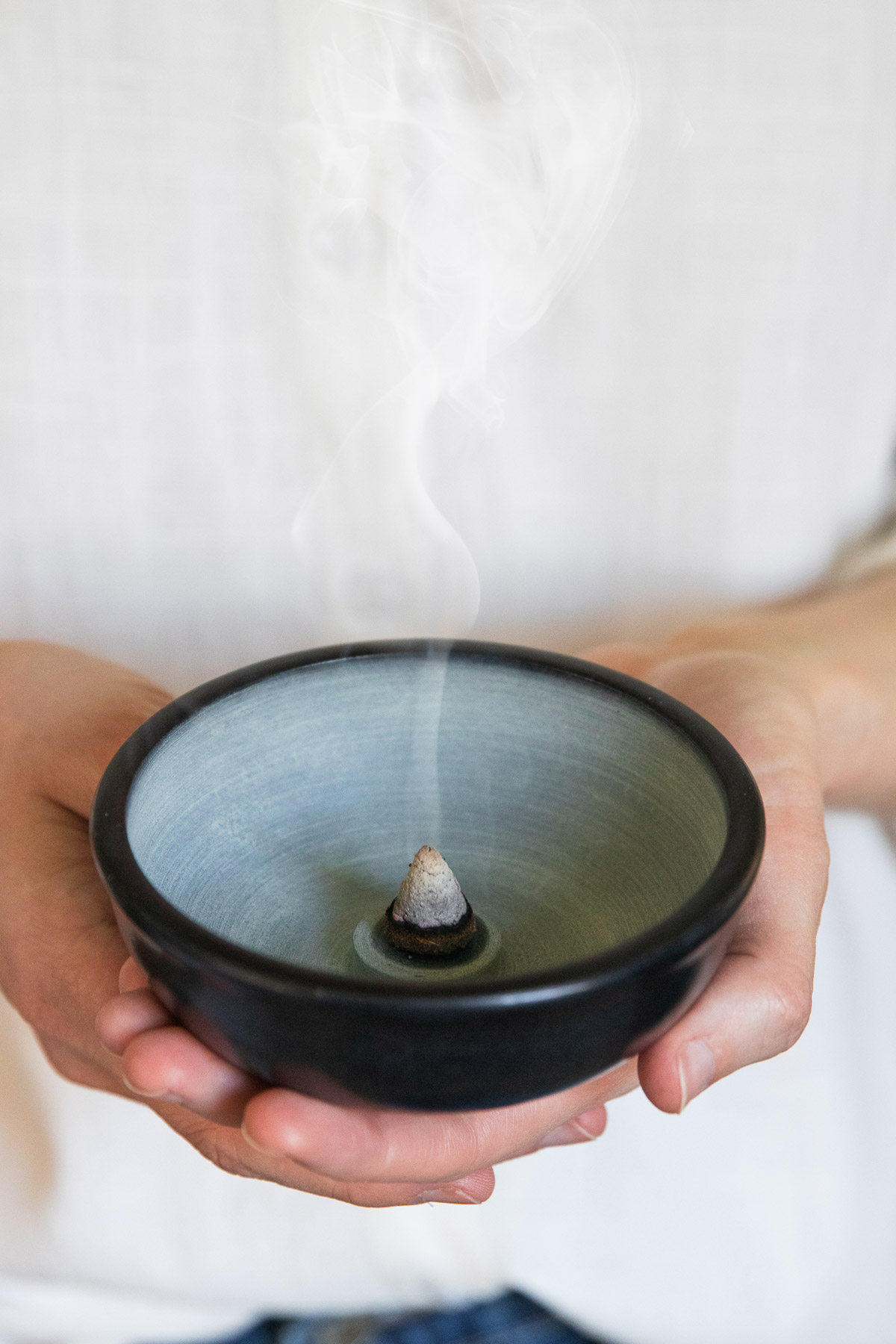 What you need to know about incense

Keep in mind that since using incense involves burning an aromatic material and creating a scented smoke, its use may be inadvisable for those with lung conditions such as allergies, asthma, or bronchitis—if this applies to you, it's best to check with a doctor. The Times article also smartly suggests looking into the type of incense you're burning to be sure that it's all-natural and won't add any toxic, volatile chemicals into the air you're breathing (for example, many types of paper incense use potassium nitrate, which can cause headaches.)
If you have any pets, keep in mind that their sense of smell is much more acute, and a heavily-scented smoke could be overwhelming to them. You might also want to look into whether the type of incense you're looking to purchase is fair trade and ecologically sustainable, or follow our step by step guide on how to make your own!
Whenever you are burning incense, be sure that you have it set on a stable surface, and resting on a heat-resistant dish or an incense holder. I poke my incense sticks into a a small ceramic bowl filled with sand for safe burning. Never light an incense stick in the soil of a houseplant—I ended up with smoking soil!
It is also advisable to burn your incense in spacious rooms, and to have a window open to allow fresh air to circulate.
5 ways to use incense
1. Aromatherapy/Deodorizing
Many of us are already using essential oils and diffusers as a way to transform the energetic feel of our homes, choosing bright, citrusy scents to uplift, and calming or grounding scents to relax, and incense can be used much in the same way.
I like light, floral, smokeless incense in the bedroom, and a stronger, smokier variety such as cedar in the kitchen with the window cracked open after a particularly heavy cooking session (I'm looking at you, fried fish!)
2. Energy clearing and cleansing
Smoke is a great way to clear out negative, stagnant, or heavy energies from our spaces. Since palo santo or sage smudging is a sacred Native American ritual, for those looking for an alternative out of respect for the cultural integrity of those practices, incense can fit the bill.
Choose a scent that you enjoy, and set the intention of clearing the energy of your space as you light it and blow out the flame. Allow the smoke to fill the room while you visualize the energy shifting and transforming. After the smoke has reached all of the corners of the room, you can put out your incense, and open a window, allowing the negative energy to dissipate.
Incense smoke can also be a great tool for cleansing your crystals. If you're sensing it's time to give your stones a vibrational release and recharge, gently fan the smoke from the incense over them creating a smoke bath as you set the intention to clear them from any accumulated energies.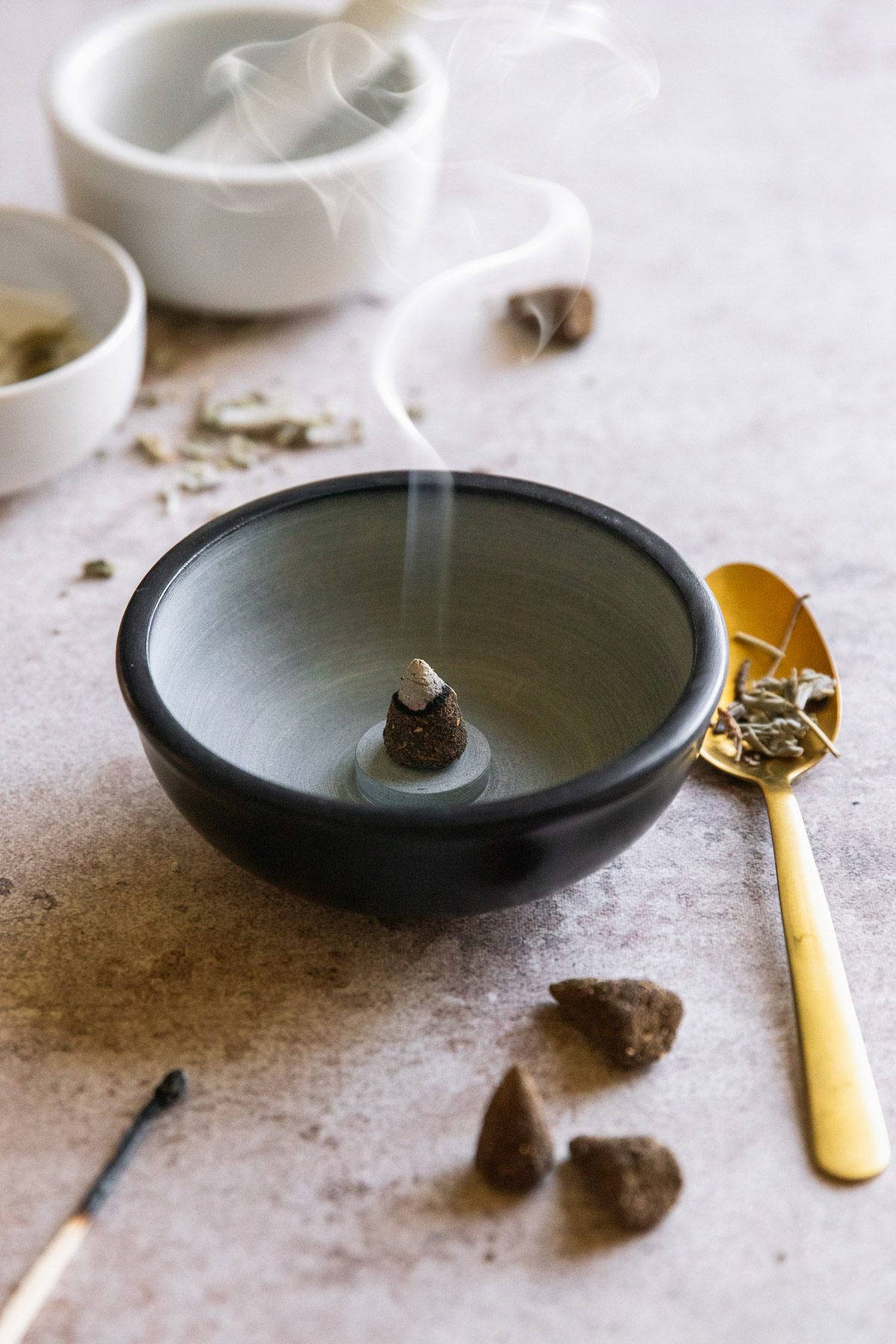 3. Meditation
Lighting candles and incense before meditation is a way to consciously set the stage for a pause. If you're in a smaller room, choose a lighter incense, or have a well-ventilated space—a calm, steady breath is key in preparing the body and mind to settle.
If you know how long it takes for your incense to burn, for example if a stick tends to last you about 30 minutes, you might also use that as an indirect way to time your meditation session.
4. Ritual/worship
For thousands of years, incense has been used as a sacred element in rites, rituals, and places of worship. If you have a particular ritual or tradition that you celebrate, consider incorporating incense as a way to demarcate the shift from the secular, everyday to the sacred.
You might choose to light incense on a small altar in honor of your ancestors, before a moon bath or other moon-related ritual, or to create a more spiritually-attuned space for a tarot reading, crystal therapy, or reiki session. Lighting incense in the bedroom can also help create a special sense of occasion around connection and intimacy.
5. Outdoors
Some people may be prone to headaches or shortness of breath, or find incense to be overpowering when used in the home, but it can be an entirely different experience when using it outdoors. There's an incense holder on my front and back porch ready to go, and in the nicer weather, I light a stick each time I'm out relaxing or practicing yoga or meditation al fresco.
There's something so pleasurable about catching whiffs of scented fresh air rather than feeling smothered by it. Incense also helps to block out other less pleasant city smells, especially in the summer. If you like the headier varieties, lighting a few sticks around your porch or patio can be a great way to keep the pesky bugs at bay, as they tend to be turned off by the smoke.
Incense scents
There are so many different varieties to choose from—whether you're looking to fill your house with designer fragrance, or hoping to emulate a more natural, campfire scent. And if you're making your own, know that you can really create a special energy or feeling in your space simply by choosing the right notes.
Relaxing: try lavender or ylang ylang anywhere you're looking to unwind.
Meditation: for seated meditation, stick with the traditional grounding scents such as sandalwood, nag champa, frankincense, or aloeswood.
Grounding: patchouli, cedar wood, juniper, and pine are all earthy, resinous scents that offer the most natural woodsy vibes.
Energizing: to uplift and brighten up the scent of a space, try burning cinnamon, ginger, lemongrass or bergamot.
Sensual: for bedroom bliss, think rose, jasmine, amber, or musk.
Energy cleanse: if cleansing smoke is what you're after, try myrrh, juniper, nag champa, or sweetgrass.
If you aren't yet incorporating incense into your daily life, this really is a great time to dive in and give it a go. In addition to the tried and true varieties, there are now so many high-quality modern options that are eco-conscious, zero waste, natural, and smokeless, not to mention highly inventive with their scent profiles. And don't forget, making your own is a great way to create the exact scent you're looking for, while also ensuring that ingredients are all safe and natural!
0