Back in my high school days I used to burn a ton of incense. While I wish I could say that I was cool or witchy, I really just wanted my parents to leave me alone. And what better way to let your parents know you're a brooding loner than to set a bunch of herbs on fire and promptly slam the door?
Nowadays, I mostly use incense to cleanse my space or set the mood for meditation or yoga. While it's easy to find incense at most home stores, I usually prefer to make my own because it lets me harness the power of herbs or match their energetic properties to my intention.
And it's easy to do, too!
Here's how to make DIY incense with just 3 ingredients.
Why Use Incense?
Before it was picked up by brooding teenagers and yoga instructors, incense was used for thousands of years in rituals, religious ceremonies, and cleansing practices are the world. Whether you're looking to make it part of a spiritual practice or not, here are some ways to add incense to your daily routine:
-Clear your space after a bad day
-Help your mind unwind and body relax
-Get rid of stale odors
-Signify a fresh start
-Deepen concentration while working
-Mark the beginning and end of a spiritual practice
-As aromatherapy
-Set the mood in the bedroom
-Stimulate creativity
-Help you unwind before bed
How to Make Your Own Incense
Step 1 | Gather Your Herbs
There are many kinds of herbs that can be used for incense, but typically you'll find it made from things like:
Common incense herbs: Sage, Sweetgrass, Basil, Rosemary, Marjoram, Hyssop, Frankincense, Lavender, Rose, Juniper, Myrrh
You can use either store-bought herbs or herbs you've grown and dried yourself, whichever is easiest to get your hands on. Personally, I like to buy organic, dried herbs online or from the tea section at my local health food store. But if you're using freshly grown herbs, make sure to dry them thoroughly before making incense, otherwise they may not burn properly.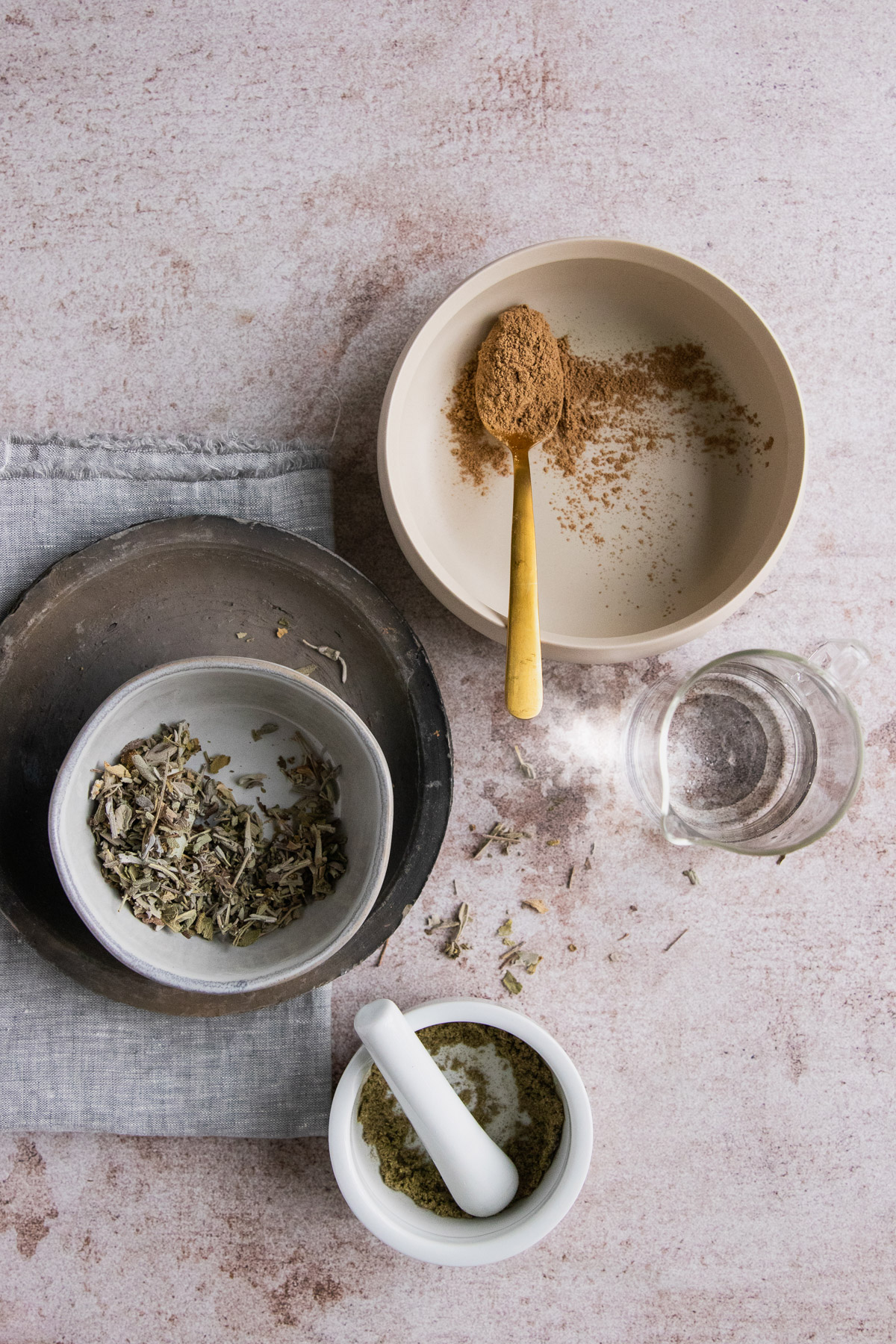 Step 2 | Crush Herbs into a Powder
Using a mortar and pestle (or a clean coffee grinder, if you have one), crush your dried herbs into a fine powder. Not all herbs are easily crushed and many will leave behind rough bits — that's okay. Just know that the finer the powder, the better your incense will hold together and the cleaner it will burn.
Ideally, you'll need about 2-3 teaspoons of crushed herbs to make one incense cone.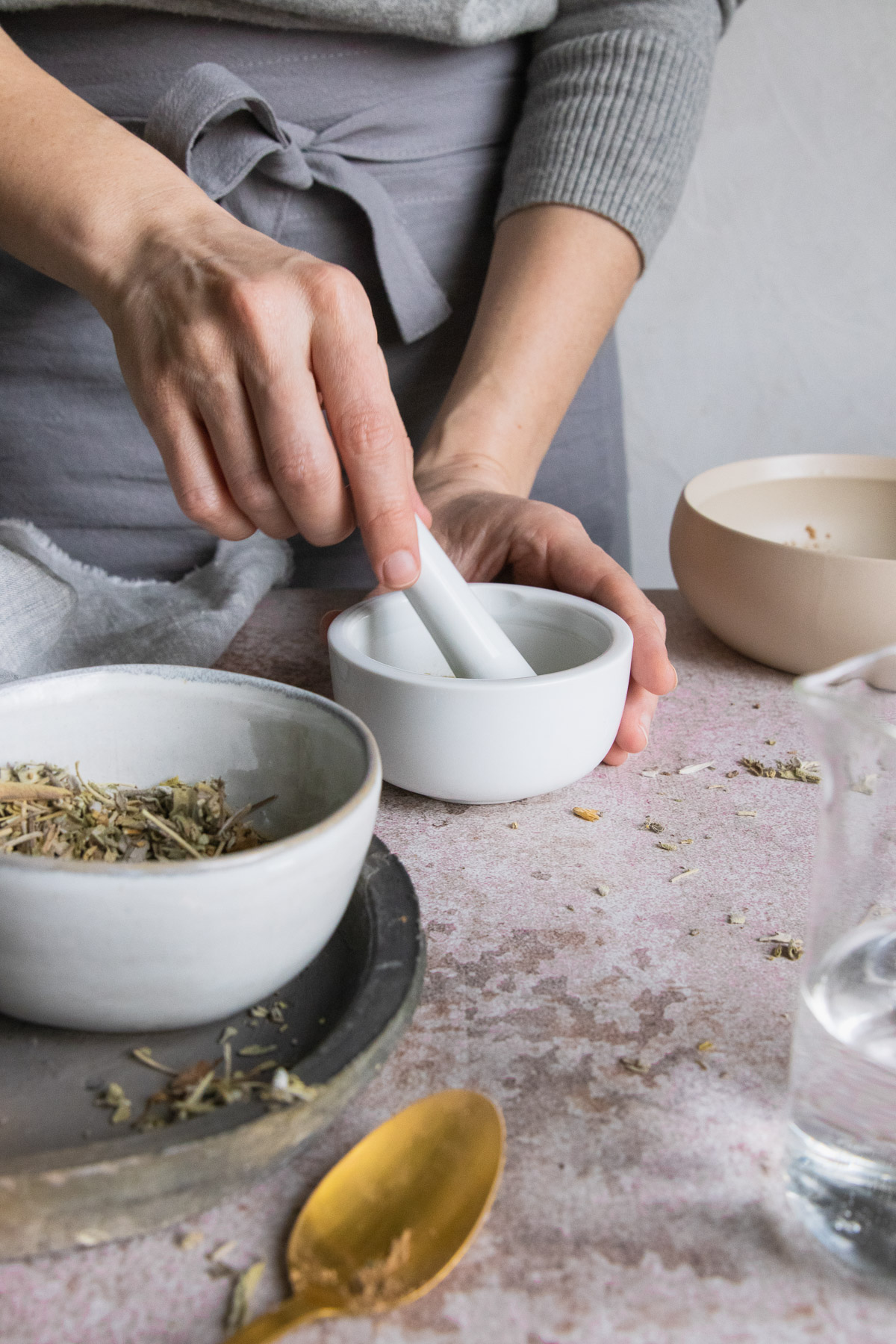 Step 3 | Add Makko Powder
Makko powder, also known as incense powder, is made from the bark of the Machillus Tree. It's what binds the herbs together and gives your DIY incense a slow burn. If you can't find makko powder, feel free to use cedarwood powder, sandalwood powder, or powdered charcoal in its place.
You'll need approximately 1 teaspoon makko powder for every 3 teaspoons ground herbs.
Step 4 | Form a Paste
Once you've combined the dried herbs and makko powder, you'll want to add a few drops of distilled water to make a doughy paste. I use the back of a spoon to mix everything together, adding water a couple drops at a time as I go. When the dough holds together easily, I know I have added enough water.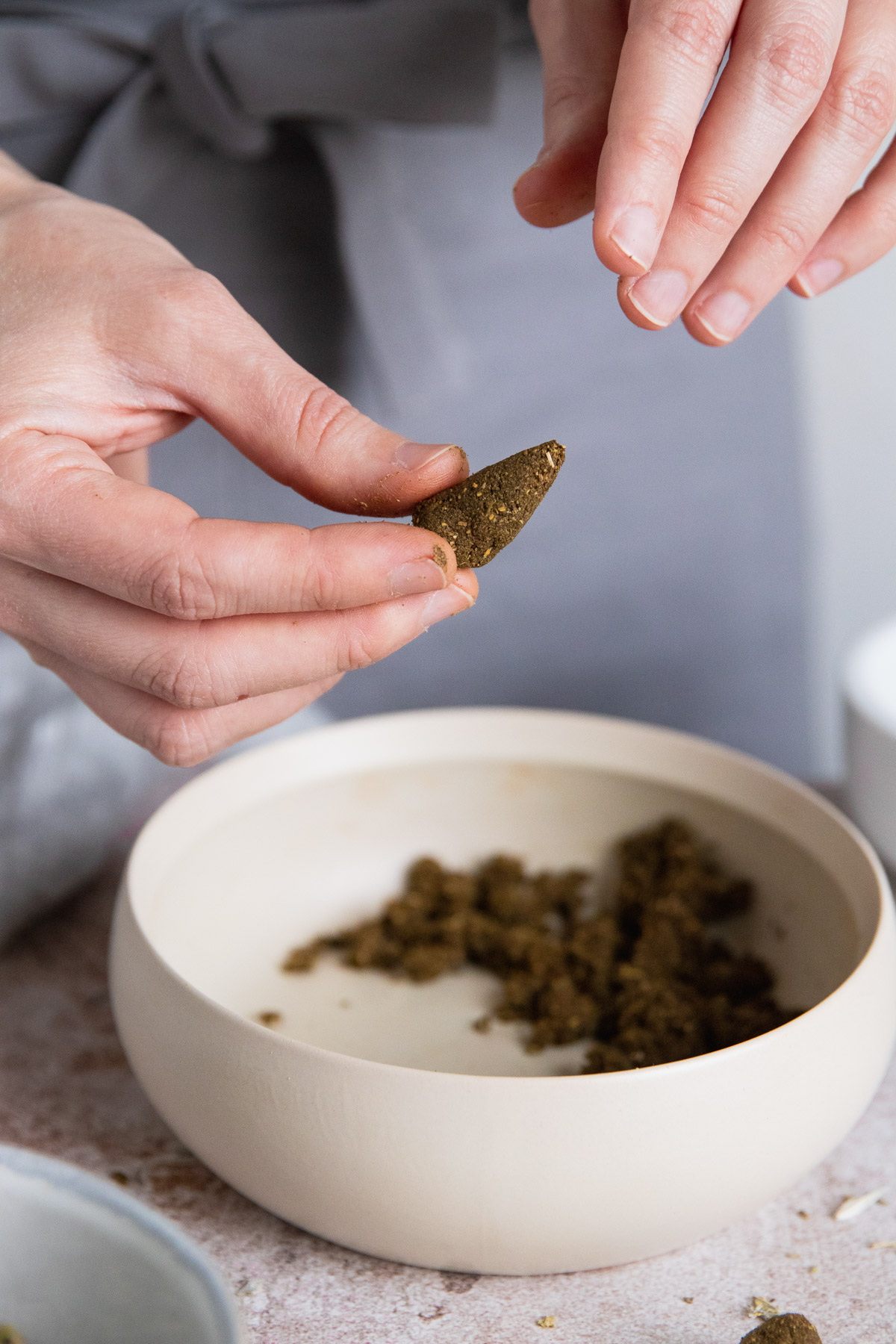 Step 5 | Shape the Dough into Cones
Using your hands, shape the dough into cones approximately 1" tall by ½" wide. If you have trouble creating a cone shape, you can always press the dough into the metal tip of a piping bag. Use a toothpick to release the cone and smooth out any imperfections with your fingers.
When you're done, place the cones on a lined baking tray and let dry for at least 12 hours. Flip the cones halfway through, so the sides dries evenly.
Step 6 | Light
Place a cone in the center of a heat-proof bowl (an incense bowl is preferable) and light the tip of the cone. After several seconds, blow out the flame. The cone should continue to emit smoke until there's nothing left but ash.
Incense Safety Tips
Even though you can't really see an open flame, incense can still pose a safety hazard if you don't burn it correctly.
-Always make sure to place incense in a fire-safe container before lighting it.
-Keep lit incense away from fabric, children and pets.
-Only burn incense in a well-ventilated space. If needed, turn on a fan or crack a window to keep air circulating and cut down on aerosols.
-Keep incense away from drafts, which can blow hot ash into the air.
-Run incense remnants under cool water to extinguish any lingering flame before it tossing in the trash.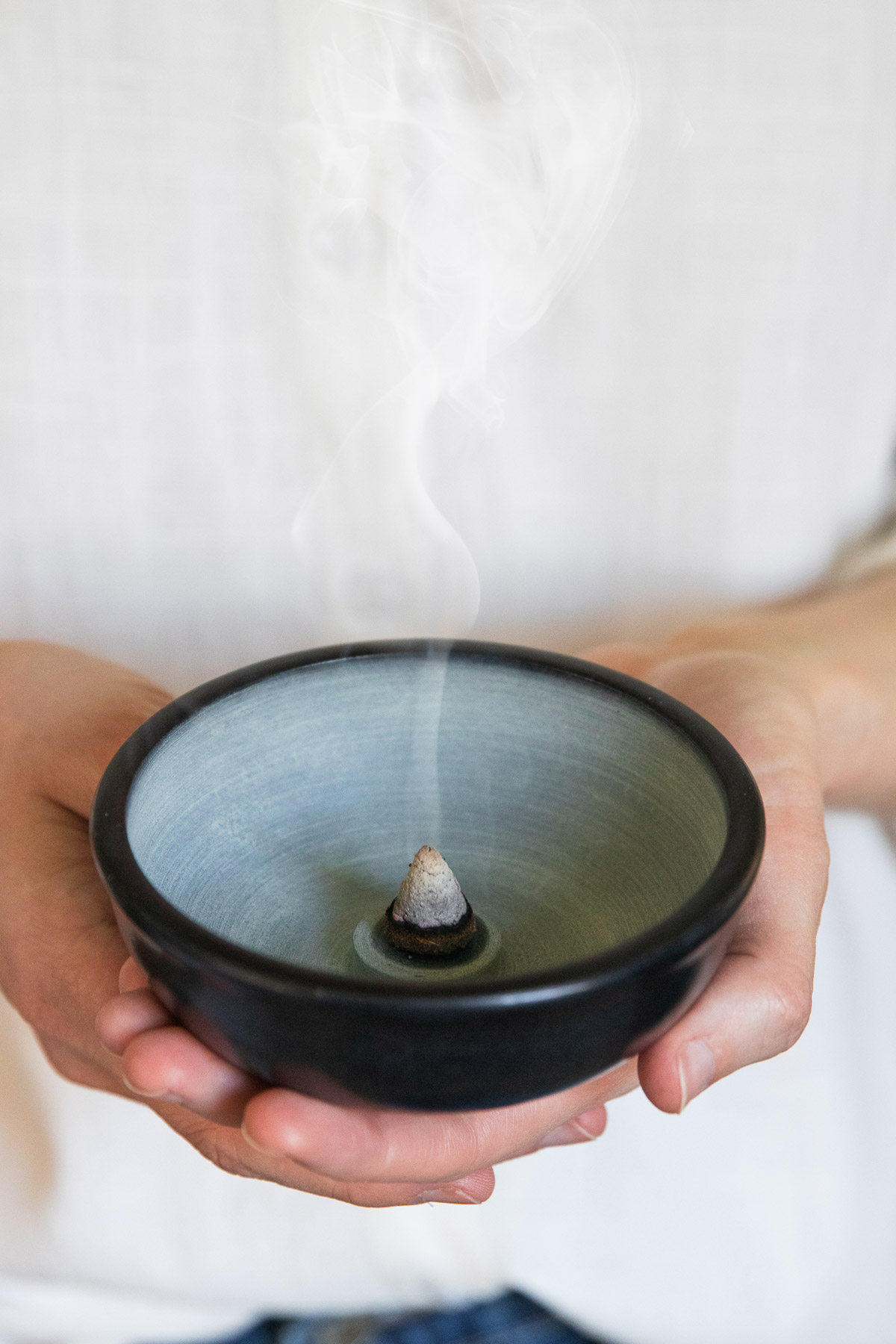 Making Incense FAQ
How do I make DIY incense sticks?
Making incense sticks is slightly more complicated than making cones because you need something to make the powder adhere to the sticks. Rather than creating your own incense sticks from scratch, I recommend purchasing pre-made, unscented incense sticks and scenting them with essential oils. There are plenty of tutorials online if you need if you need more specific instructions.
What incense is best for cleansing?
Sage, juniper, pine and rosemary are traditionally used for cleansing the energy in a space.
What herbs smell good when burned?
I recommend frankincense, sage, lavender, myrrh and rose for incense with a nice-smelling aroma.
How do I use incense around the house?
There are plenty of ways to to that, from aromatherapy to energy cleansing. We have an entire article on the topic, and you can read it here.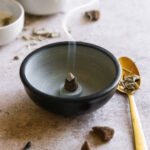 Print
How to Make DIY Incense
Ready to make your own incense? All you need is some dried herbs, makko powder and water.
Equipment
Dropper

parchment paper

Small bowl

Mortar and pestle
Instructions
Using a mortar and pestle, crush the herbs into a fine powder.

Combine 3 teaspoons powdered herbs with 1 teaspoon makko powder in a small bowl. Stir well.

Add several drops of distilled water at a time until you reach a dough-like consistency. When the dough holds together and is easily shaped with your hands, you've added enough.

Using your hands, shape the dough into cones approximately 1" tall by ½" wide. Place the cones on a lined baking tray and let dry for at least 12 hours, rotating halfway through.

When completely dry, place a cone in the center of a heat-proof bowl. Light the tip of the cone and let it burn for several seconds before blowing out the flame. The incense should continue to smoke for between 30 minutes and an hour.
Notes
Store incense in an airtight container away from heat and direct light. Use within 6 months to a year. If the cones begin to fall apart before you have had a chance to use them, it's best to toss them out and make a fresh batch.
5