Composting is a great way to manage excessive household waste, reduce greenhouse gases and landfill, and to boost the health of your own plants and gardens. By combining your organic waste with some dry materials such as newspaper and leaves, you can effectively transform scraps into a rich, usable soil fertilizer.
Whether you have a the outdoor space to build a larger compost pile, or choose to go with a smaller prefab indoor compost bin, you'll need to get savvy–not only about how to go about the composting process, but also about what sorts of food scraps and waste to include.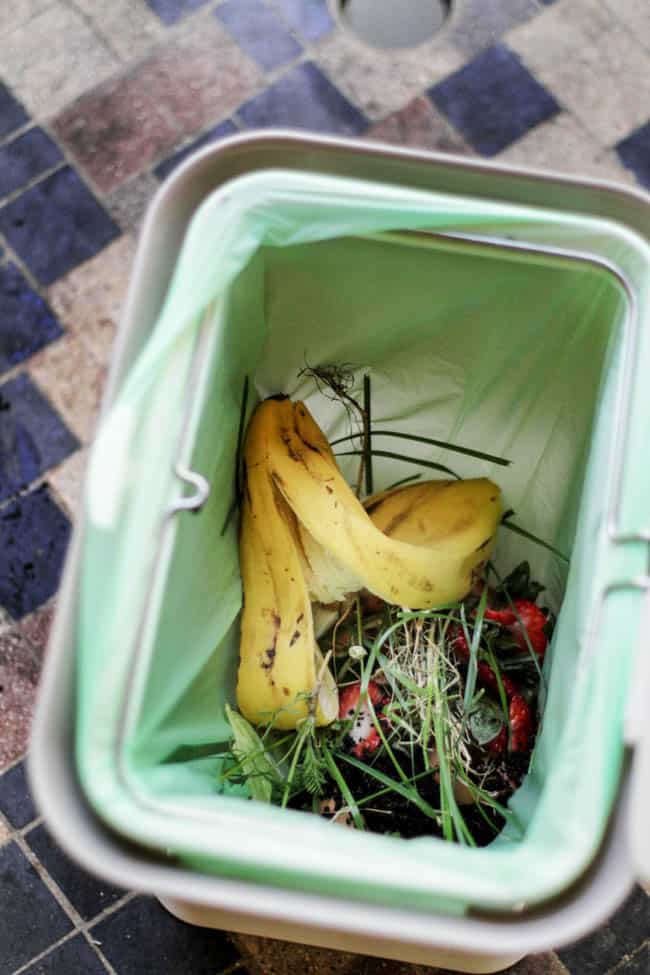 There are a few reasons why certain foods are better for composting than others. As a general rule of thumb, if it grew in the soil, it can be easily decomposed back into it. Animal products, fats, and cooked foods on the other hand tend to rot, smell badly, attract a wide variety of unwanted pests, break down slowly, and upset the optimal conditions needed for a healthy composting system.
For your compost ecosystem to have what it takes to effectively transform your organic waste, you'll need to establish the right balance of "green" and "brown" items—too much green and your mixture will become soggy and smelly, whereas too much brown means you'll lack the moisture necessary to break down the scraps.   
Here's a quick guide to help you know what goes in to the bin, and what stays out:

What to include in your compost bin:
Greens:
-raw vegetable matter including rinds, peels, pits, cores, stems, and leaves
-plain (cooled) cooked vegetables (boiled/steamed, no added fats or dressings)
-dried vegetables or fruit
-nuts
-plain tofu
-onion/garlic in moderation (too much can kill the natural microorganisms that help to break down the scraps)
-citrus in moderation (too much acidity can throw off the ideal pH balance necessary for decomposition)
-used coffee grounds as well as the paper filters
-loose leaf tea, or tea in paper bags (note: some tea is packaged in a fine plastic mesh and cannot be included)
-egg shells
-fruit and veg pulp
-grass clippings
-corn husks and cobs (though they will take a long time to break down)
-dead flowers
Browns:
-paper towels, paper napkins, uncoated paper plates and cups
-newspaper
-leaves, straw
-any compostable containers/lids/straws or sugarcane styrofoam from eco-friendly takeaway
-dry cereals and grains, stale bread/tortillas/pizza crust/crackers, plain dry noodles/rice/barley, stale plain/dry cookies such as digestives (bury these scraps deeper in your mix)
-unbuttered popped or unpopped popcorn
-pine needles
-shredded toilet paper or paper towel rolls
-facial tissues
-dog and human hair after cleaning out the brushes
-100% cellulose fibre sponges
Things to keep out of your compost:
-inorganic materials such as glass, plastic, styrofoam, rubber
-dairy products (cheese, yogurt, butter, etc.)
-fats and oils
-meat and bones
-fish and bones
-leftovers (any food–raw or cooked– that has been prepared with meat or dairy, oils, sauces, or dressings)
-dog poo
-sawdust from treated wood
-dryer lint
-biodegradable products (not the same thing as "compostable")
-gum and candy, sugary foods 
*Note: for those looking to compost cooked foods and meats, it is possible but you'll need to use a different method.
If your local municipality runs a city-wide composting program as mine does, there may be some variability in terms of what they will accept (i.e. meat products and dog poop are incorporated into our green bin waste), but for home composting, keep it simple.
Building your own bin (or pile) is such an easy and effective way to transform your organic trash into treasure for your plants and once your system is up and running, you'll quickly get the hang of what to toss in to the mix and what doesn't belong.
1