I have been hoarding these 3 for $1 mini planters for ages, just waiting for spring. Because how adorable are they? They're so little and cute! And 33 cents each!
I've also been hoarding stencils, which I haven't been able to use because… I'm complete crap at home painting projects. I mean, the only thing we've stenciled before was a laundry basket. So the stencils sat there, staring at me. But peel & stick stencils + nail polish = adorable mini seed starters.
The stencils are so easy to use – whoever decided to make reusable, re-positionable stencils was a genius. I used nail polish instead of paint because all pots need a dash of polish, if you ask me. (The Dollar Store is great for picking up glittery polish.) The teeny pots are too small to hold even my tiniest succulents, but they are the perfect size for starting seeds.
Supplies needed
Mini terracotta pots
Sticker paper hole reinforcers
Nail polish
Soil
Seeds

How To Decorate Mini Planters With Nail Polish
Since this project involves painting, you'll want to lay out a sheet of newspaper to protect whatever surface you're working on. Also, choose nail polish colors that complement each other so that your pots look nice together once they're all finished.
The hole reinforcer stickers are common office supply variety that you would buy at any Office Max or Staples, and you might even have them lying around the house already. Place a few of the stickers all over one pot to create a polka dot effect or paint around the circles to create an inverse pattern.
Just position the stencil where you want it – it found it easier to position the stencil vertically rather than wrapping it around the pot. Yes, my stencils got a covering of polish but that's okay. You want to create a thick coat of paint so that the pattern is easily visible. When you're done, peel the stencil away, reposition and paint your way around the pot.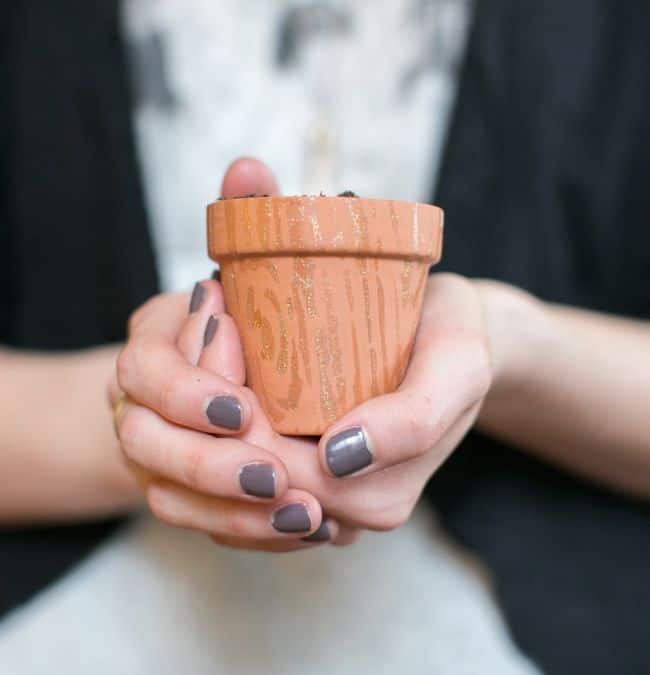 Let the mini planters dry completely before planting. Then fill them with soil and plant your favorite seeds. Place them somewhere sunny and let them grow!
Which seeds are you most excited about for spring? I'm loving anything heavily scented – particularly chamomile, thyme and sage. There's nothing like a windowsill full of pretty pots giving off sweet scents to get you ready for warmer weather!
9