Candles are such an easy mood setter, don't you think? When we think relaxation or romance even, we think candles! But while practicing that ujjayi breath for yoga, we've been inhaling toxins from a surprising source: our beloved candles! The culprits can vary: a wick that contains traces amounts of lead, or one that's too big for the container; paraffin wax; or the dreaded and mysterious "fragrances," an umbrella term for any number of non-disclosed ingredients used to create the candle's perfume.
To stay on the safe side when burning candles, look for 100% beeswax, soy wax or coconut wax, a cotton or wooden wick, and essential oils for scent. We selected a few non-toxic candles that would feel cozy in your home but remember that you can always make your own!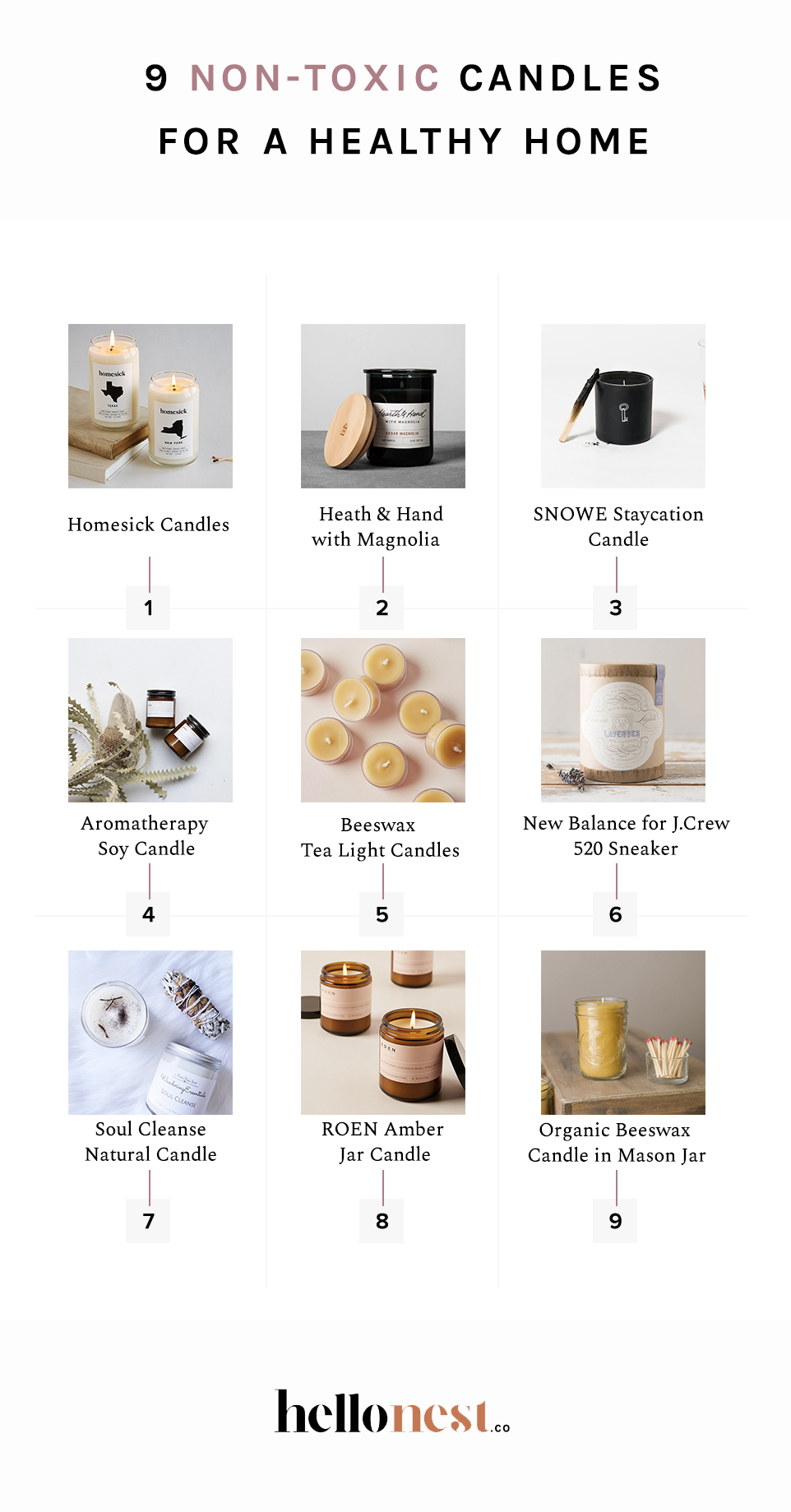 1. Homesick Candles // Missing home? These soy wax candles are the remedy! Carefully crafted to replicate the scent of each state, these candles are a wonderful gift (also to yourself).
2. Hearth & Hand with Magnolia // The floral, woodsy aroma of cedar and magnolia is tightly packed in a black glass jar, which looks perfect for reusing once the candle is burnt.
3. SNOWE Staycation Candle // Staycation is the new vacation! At least with this tonka bean and cardamom hand poured soy wax candle it is.
4. Aromatherapy Soy Candle // We especially love the Full Moon aromatherapy candle from this collection, scented with orange, frankincense, and cedarwood essential oils.
5. Beeswax Tea Light Candles // There's something about tiny tea light candles that bigger candles just don't have! Made from beeswax in the US, these cuties are non-toxic, too.
6. Linnea's Lights Candle, Lavender // Lavender, rosemary, and bergamot are combined with soy wax and lead-free cotton wicks to create these spring-worthy candles.
7. Soul Cleanse Natural Candle // Infused with lemon, cedarwood, eucalyptus, lavandin, patchouli, and spearmint essential oils, these coconut wax candles are the perfect companion for a long soak in the tub.
8. ROEN Amber Jar Candle // Rose, black currant, and oak moss tickle your sense of smell in these coconut and soy wax candles, hand poured in LA.
9. Organic Beeswax Candle in a Rustic Mason Jar // These simple beeswax candles naturally smell like warm honey, but you can also customize them with a scent of your choice.
17