There's something so special about receiving a bouquet of fresh flowers, the kind that comes wrapped in paper and twine and looks like it came fresh from a fancy market stand. But when you don't have the budget or the time to head to a flower shop, a couple bouquets of grocery store flowers and yesterday's newspaper can easily be elevated to Instagram-worthy status. All it takes is a few pro tricks to turn a pre-made, store-bought mix into these pretty mini-bouquets.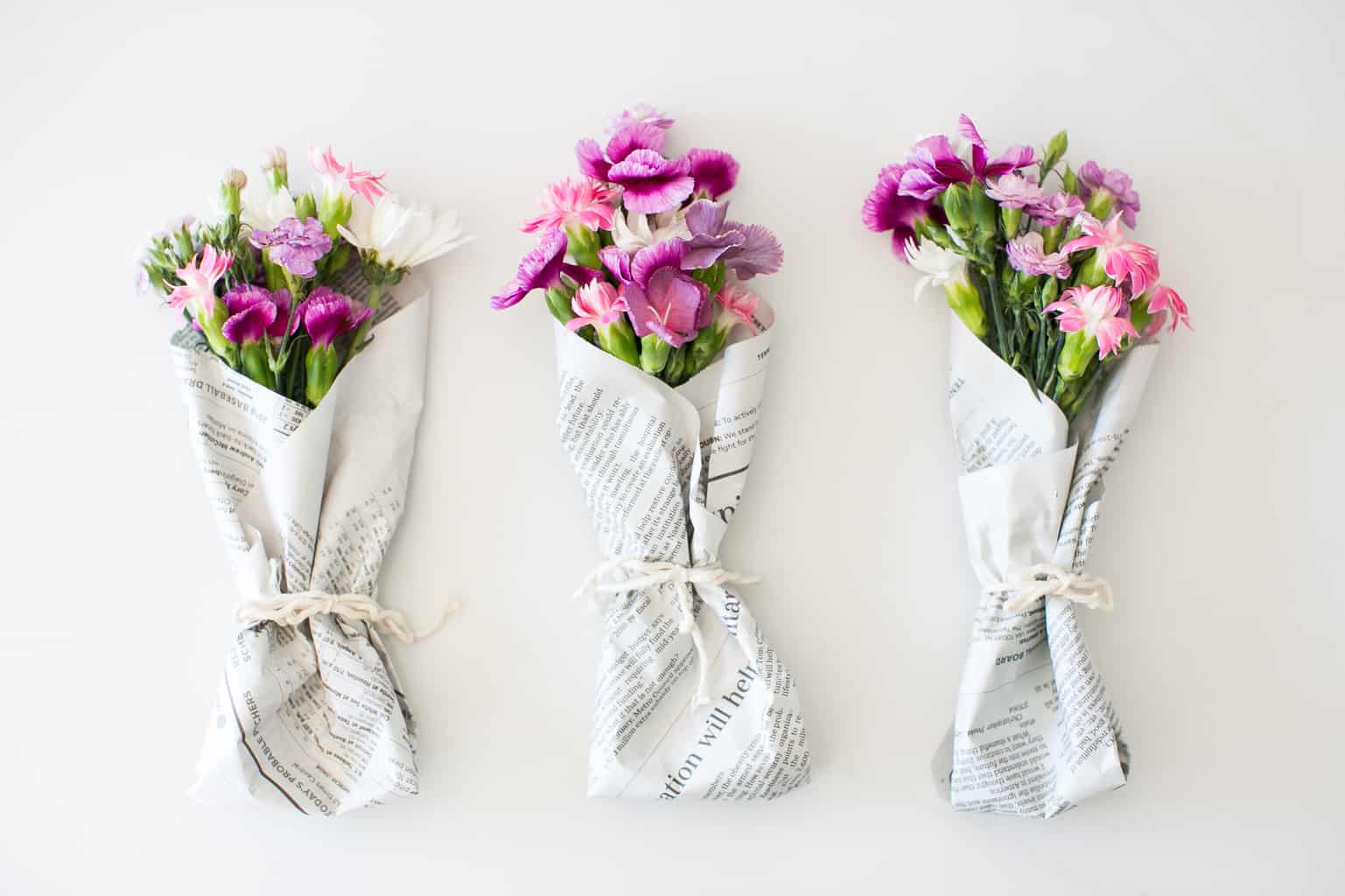 The best part? If you're hosting a girls night or having friends over for dinner, these bouquets double as both a centerpiece and as favors for your guests, saving you money and time. This is also a great DIY to keep in your bag of tricks for an inexpensive hostess gift or for birthdays and holidays.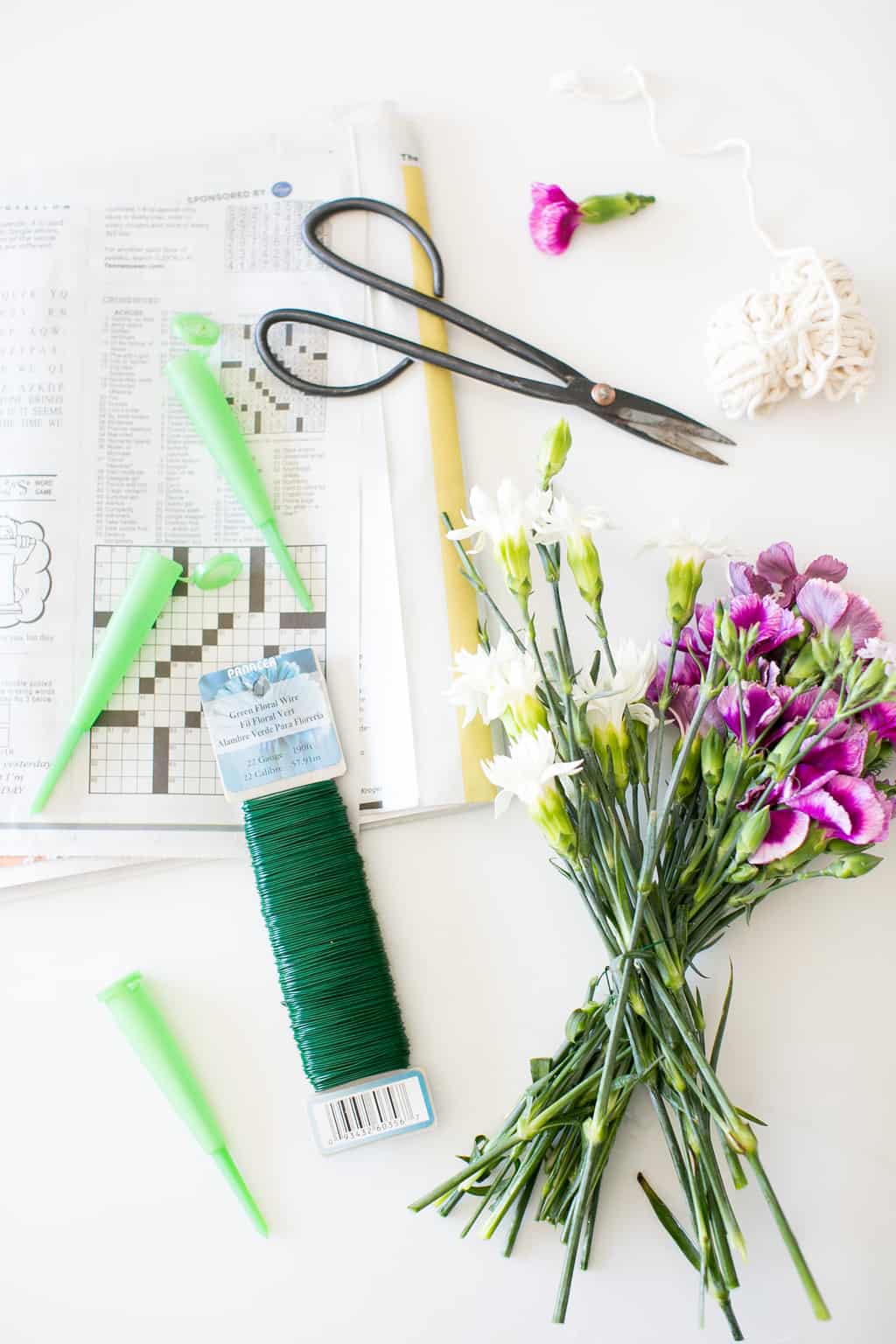 DIY Grocery Store Flower Bouquets
Here's what you'll need:
2 bouquets of supermarket flowers (ours were mixed carnations of all sizes)
Newspaper
Scissors
Twine

Step 1: Prep flowers.
Cut flower stems to about 6 to 7 inches in length and remove any leaves on the bottom half of stems. Place in a container filled with clean, cool water.
Step 2: Prep your supplies.
Our two supermarket flower bunches made six small bouquets with enough leftovers to fill a small vase, so we'd suggest prepping enough supplies to make at least six bouquets. First cut floral wire for each bouquet into lengths of 3 inches. Then remove caps of six floral tubes, fill each tube with fresh, cool water, and replace caps tightly.
Step 3: Cut newspaper wrapping.
Cut each broadsheet of newspaper into fourths. If you're using a typical newspaper, like your local Sunday edition, you'll have sheets of newspaper where the front and back pages are connected. You'll take these pages and cut them in half along the length and width.
Step 4: Make your bouquets.
Group six to eight flowers together in each bouquet, working to ensure you have a good variety of floral sizes, colors, and textures in each bouquet. Use your pre-cut floral wire to hold bouquets together, wrapping and twisting wire around the middle of each bouquet. Tuck in sharper ends of wire to avoid cuts and scrapes later.
Step 5: Place bouquet in floral tubes.
The plastic floral tubes filled with water are the secret to keeping your bouquet fresh. Place each bouquet into its own floral tube. If you've only used six to eight stems per bouquet, the stems should fit easily (but snugly) into each tube. If not all stems fit in the flower tube, gently remove one stem from your bouquet by pulling it out of the bouquet from the bloom end.

Step 6: Place bouquet in newspaper.
First dry the outside of the floral tubes to ensure that newspaper isn't damaged. Orient the newspaper in a diamond shape with one corner facing upward. Place each bouquet on a single sheet of your cut newspaper with an inch or so of the bouquet peeking out above the top corner of the newspaper.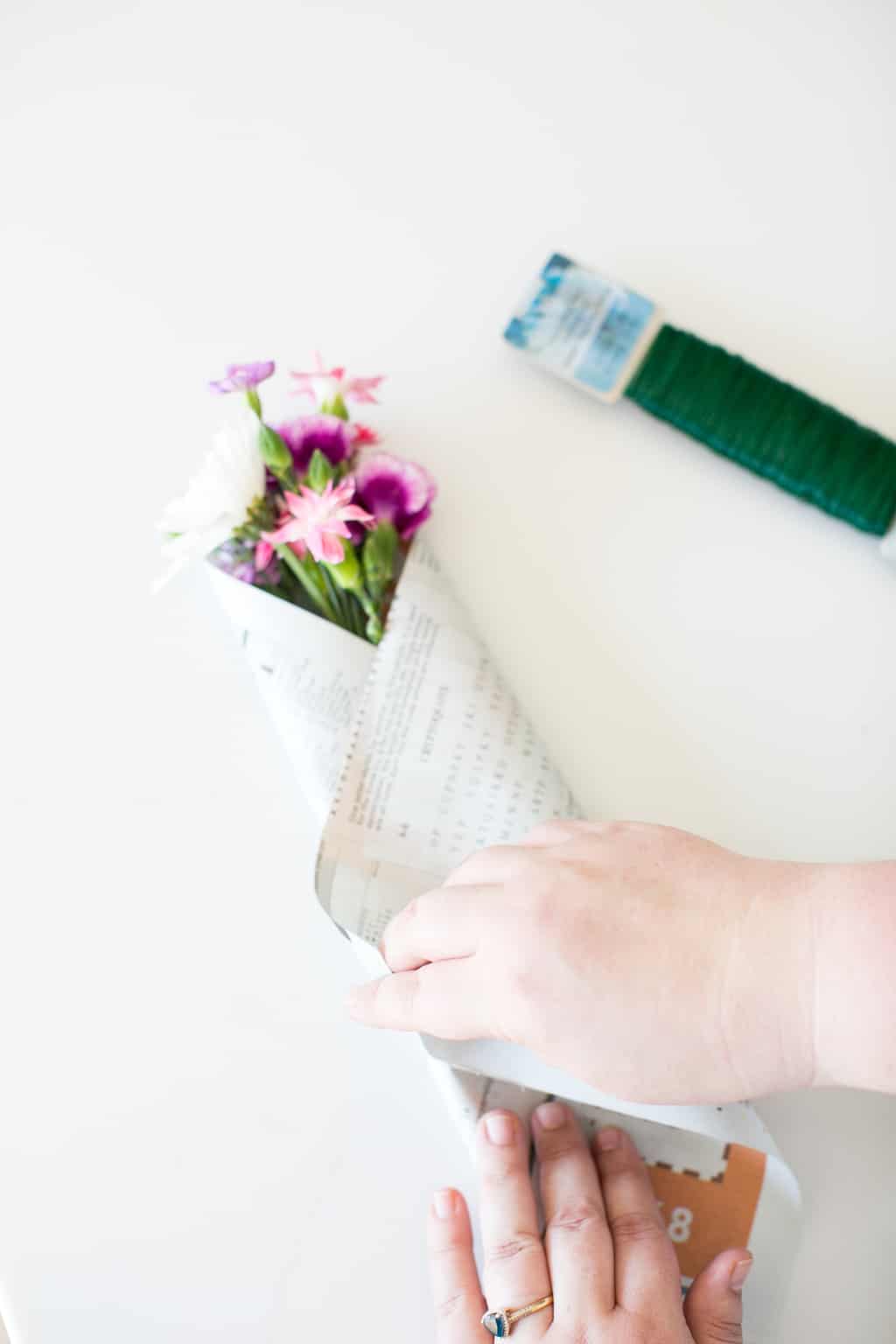 Step 7: Wrap bouquet.
Take the left corner of the newspaper and fold it over the bouquet, about 2/3 of the way over the right side of the newspaper. Repeat this step with the right corner of the newspaper. This time, pull the right corner all the way around to the back of the bouquet. Take the bottom of the newspaper and fold it underneath and behind the bouquet.

Step 8: Tie bouquet.
Wrap a small length of twine around the newspaper, ensuring that the ends of newspaper tucked behind the bouquet are secured. Tie a bow to finish it off.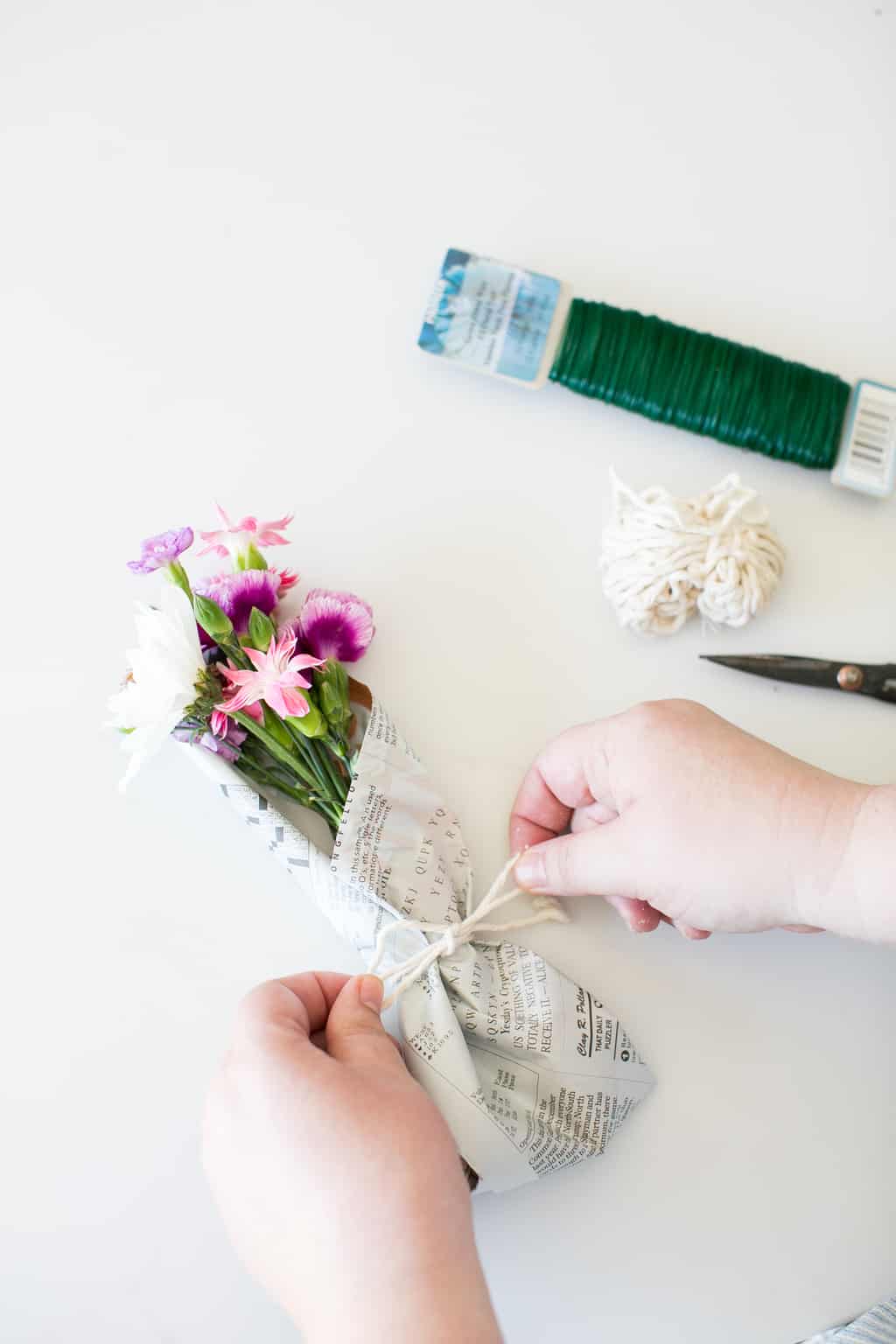 If you'd like to get more bang for your buck, display arrangements as your centerpiece or use them as party decor. Simply display them upright in a glass vase or clear glass hurricane and give to each guest as they're leaving the party. For this centerpiece, I staggered three hurricanes along the middle of a table runner.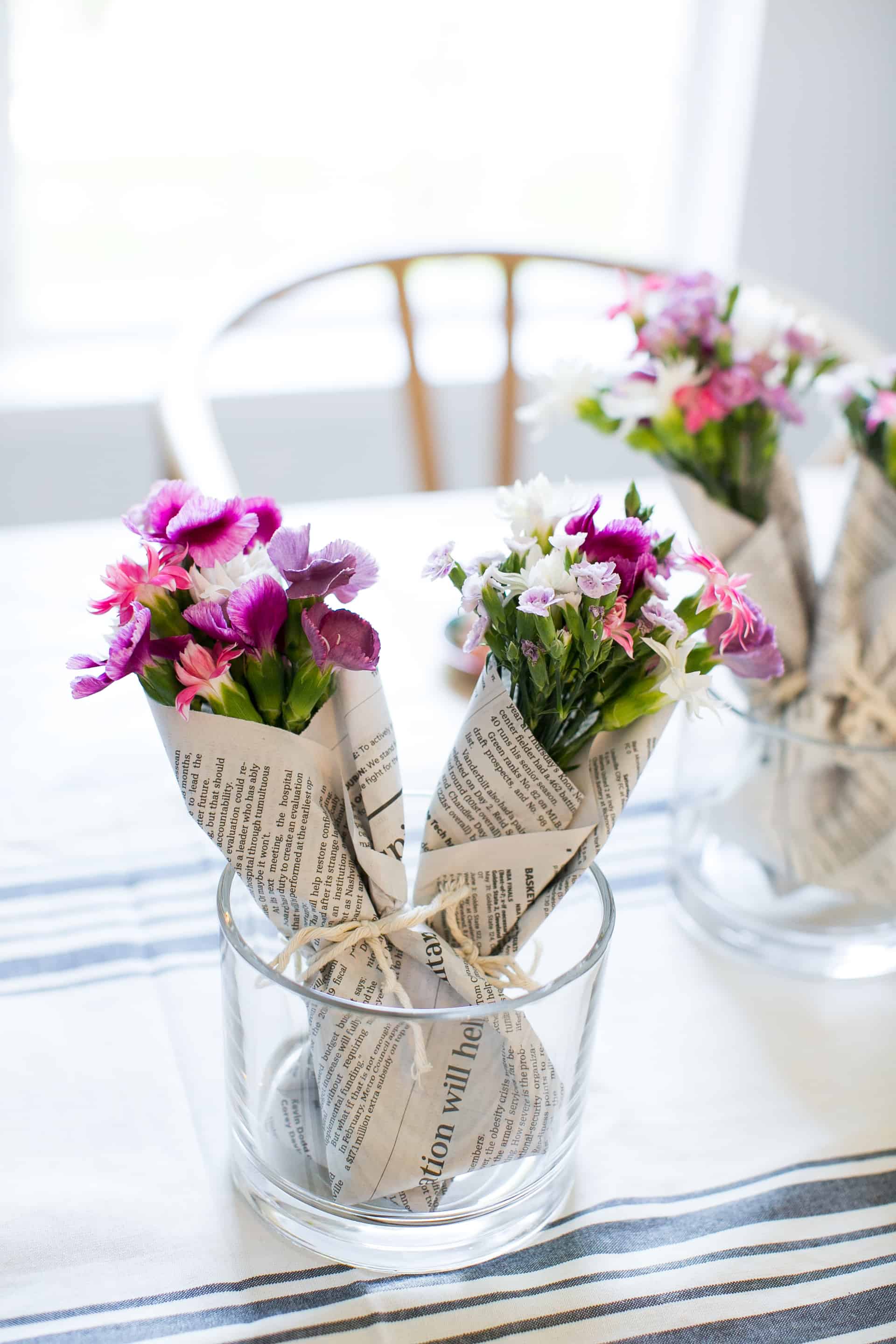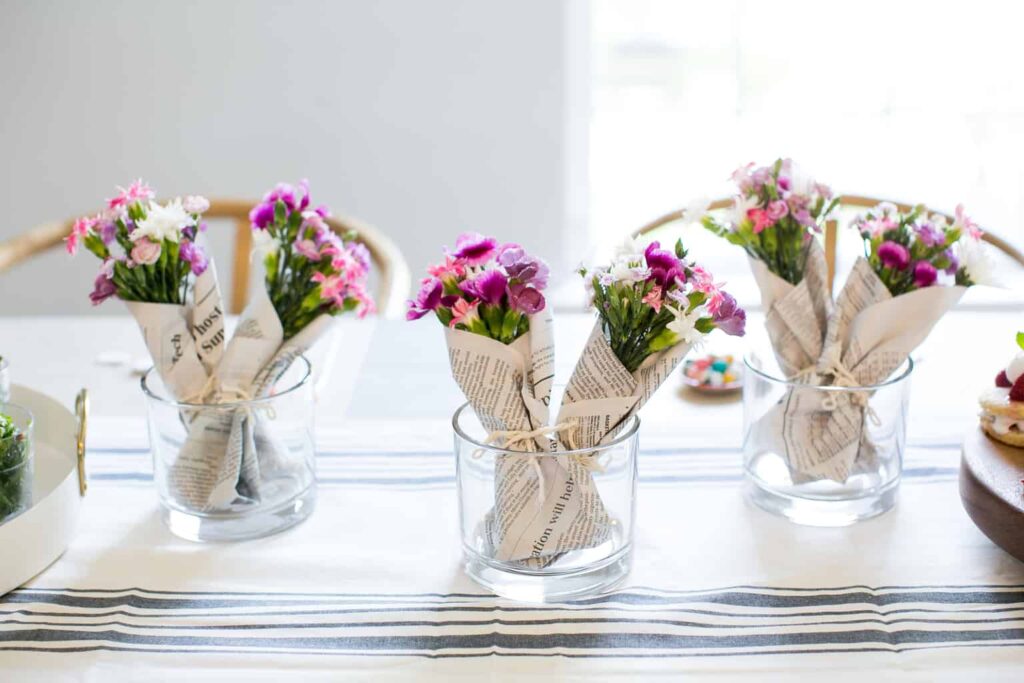 If you don't have room for a centerpiece, these would also make the sweetest place cards! Simply write guests' names on paper tags, tie to the bouquet with your twine, and set at each diner's place setting. To make the most out of these flowers, follow these tips that will have them last longer.
5