Everybody wants to find greener, more eco-friendly cleaning methods, but it can be difficult to know where to start. It's so easy to just grab products off the shelf without thinking; there's also a perception that cleaning the green way is costly, ineffective and time-consuming—but it's not! In fact, since you can use so many of the same (inexpensive) recipes for all your green-cleaning concoctions, the cost can be much lower.
Plus, by using homemade natural cleaning products you're helping save the environment, decreasing your family's exposure to toxins and chemicals, and probably getting better results than with store-bought products. Sounds like a win-win to us!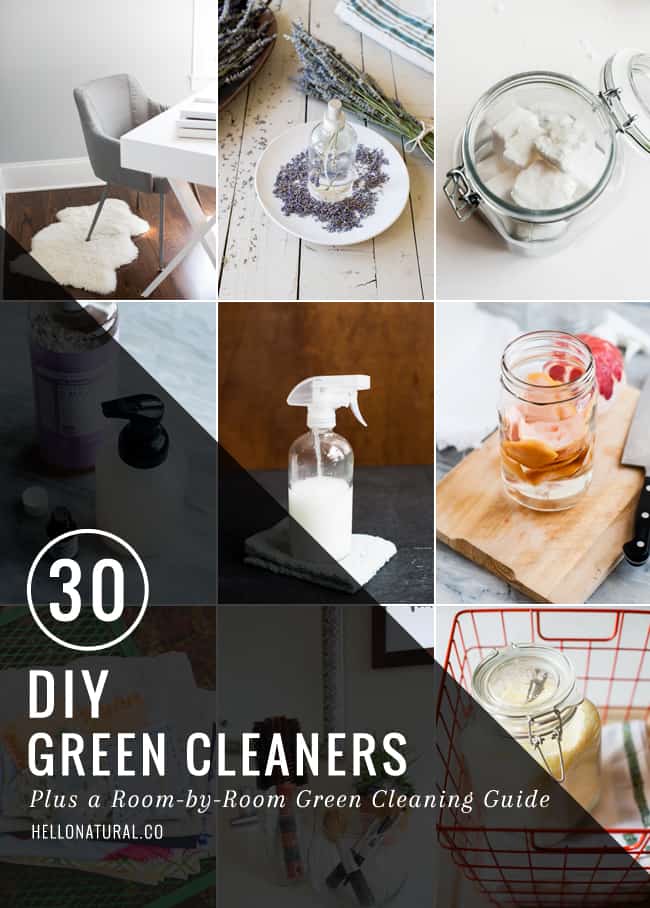 Below is everything you need to know about cleaning your home the green way: a room-by-room checklist and guide with easy DIYs for products you're probably buying at the store, plus a shopping list to get you started. Once you have all these household items on hand (you probably already have many of them at home), you can easily whip up any of these DIYs and get cleaning in no time!
Room-by-Room Cleaning Guide
To help you get organized, here's a checklist of what to do in each room.
Green Cleaning Shopping List
Get a printable PDF of everything you need to clean your whole house the eco-friendly and non-toxic way (including all the recipes below) here: Green Cleaning Shopping List | HelloGlow.co)
30 Easy DIY Green Cleaners
18